One of the most consolidated and verified paradigms in the culture of design sees architecture and design as comparable to writing. In both cases in order to define a space it is necessary to establish a theme and develop a language but also to carefully control the consistency and effectiveness of every little detail by constant rereading and revision. What rarely happens in literature however and that instead is completely allowed in the case of architects and designers, is the rewriting, sometimes even radically, of places and environments: a hypertextual operation metaphorically assimilable to the action of a time machine and destined to have more and more prominence in the future of the hyper-densified west. A recent example of particular significance regarding this particular design condition comes to us from Switzerland. Not far from the city of Lausanne, is the small town of Fey where MEL Architecture is based, a team of four people founded seven years ago by Marie-Eve Laurant, EPFL architect who develops both urban and rural projects characterised by their sustainable philosophy together with clean and simple aesthetics.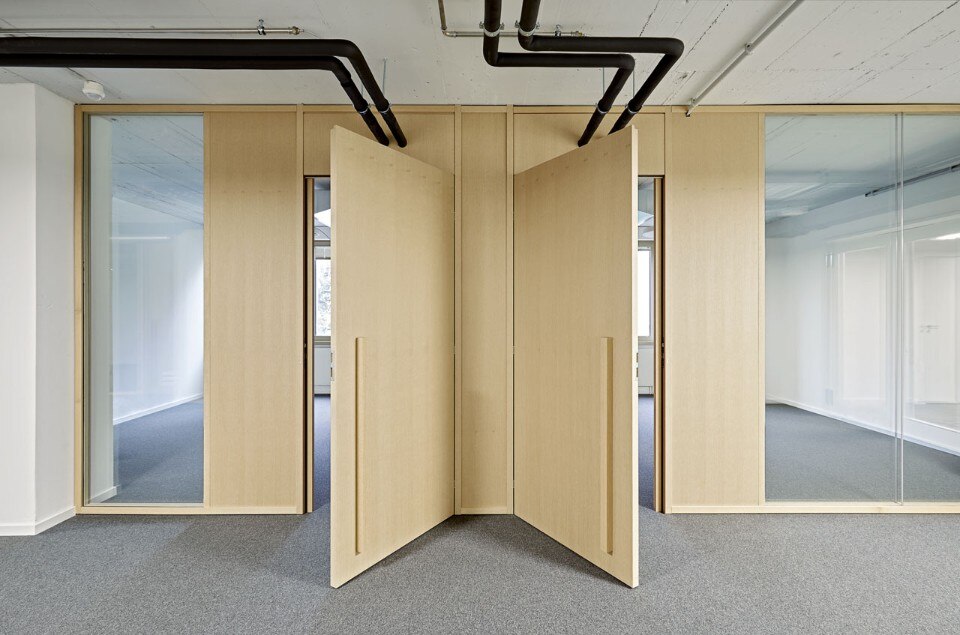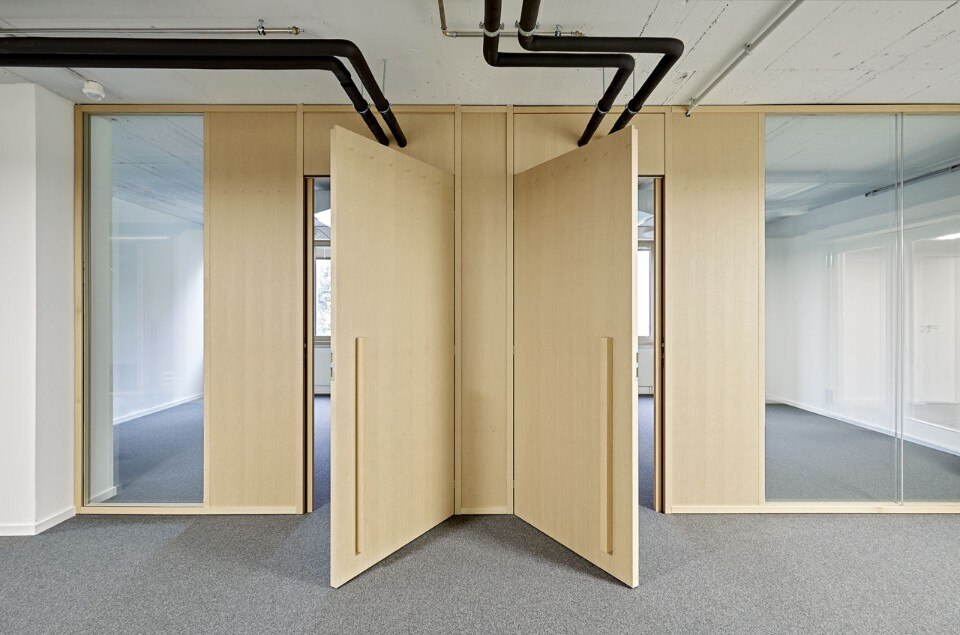 In 2017 MEL Architecture were given a commission for a large project by Frontiers, an Open Science platform founded in 2007 that today is one of the biggest open-world publishers worldwide. Over the years Frontiers have actively involved scientists from top universities around the world, publishing thousands of research papers about sustainability: from renewable energy to urban development, from marine conservation to climate change. After starting out small, the publisher has grown quickly and now employs a staff of 400 people from 41 different countries, spread across offices in Lausanne, Madrid, London, Seattle, Brussels, Trivandrum and Beijing. In order to cope with this exponential growth, the company decided to build a new headquarters in Lausanne to house offices for 300 people. With this in mind they asked MEL Architecture to seek out a building in the city centre, a choice aimed at making commuting easier for their numerous employees, as well as to absorb the energy and vitality of the city. After an extensive analysis, the decision fell on a space of 2600 square metres, located opposite one of the largest public parks in the city. Built in the 1980s, the complex required however radical restructuring in order to satisfy the demands of a sophisticated user projected into the contemporary world.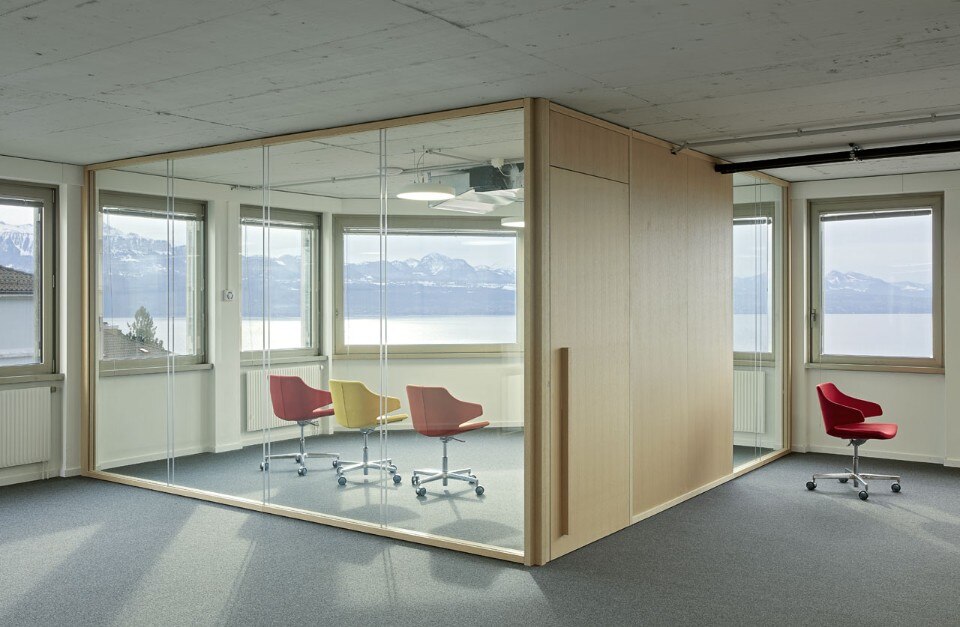 Distributed over three floors, the original environment was characterised by its fragmentation into individual compartmentalised offices, with low ceilings and very little natural light. The high-tech and open-access character of Frontiers required on the other hand an open and dynamic space, able to encourage interaction and the exchange of ideas and skills: a single, open-planned office where the spirit of collaboration could be optimised. So building began on a conversion that went on for five months during which all the walls and ceilings were demolished, leaving exposed the network of suspended pipes and cables. At the same time new meeting areas were constructed separated by large partitions in transparent glass, with the aim of ensuring the necessary privacy for dedicated meetings. All the communal spaces, including kitchens and toilets, have been grouped together around a single, central block, placed at the centre of each floor: a solution that optimises flow and thanks also to the strategic placing of acoustic panels, keeps noise levels to a minimum. Arranged around a central block and along the windows, the work stations optimise the use of natural light, at the same time offering all employees an oxygenated view of Lake Lemàno and the surrounding mountains. The location on the semi-basement level of a large multi-purpose space and cafe is wisely calibrated to keep noise and distraction at a distance from the working areas.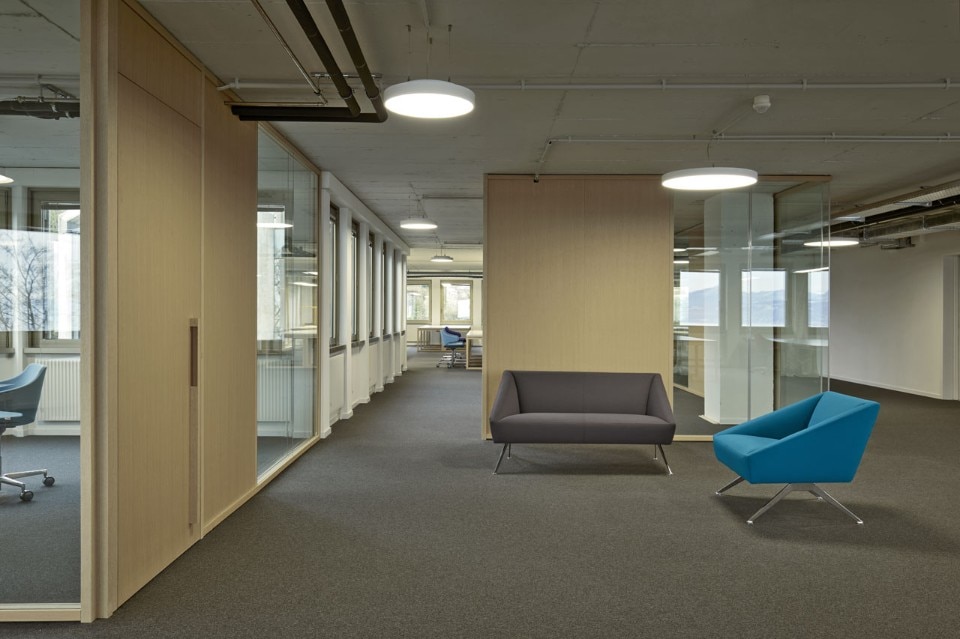 An essential part of MEL's design was the definition of the interiors and these were also developed in line with the corporate values of sustainability. An "Essential Design" approach was chosen, that involved the use of mainly wood and glass, as well as construction materials and furniture that were as close to "zero km," as possible, coming only from Europe. In keeping with this strategy, Citterio was nominated as a specialist contractor and technical partner and developed a new concept of wooden desks designed in colours and finishes to promote maximum harmony in the workspaces. Citterio also made the special accessorised partition walls that accentuate the aesthetic and technological qualities of the spaces. For the chairs and soft furnishings the studio MEL brought in another Italian company, Luxy, who placed at the centre of the design an ergonomic product with a low environmental impact. The synergetic interaction between the two brands thus became part of a consolidated strategy of collaboration, aided by the fact that both their products integrate perfectly with one another, both from the point of view of design and in terms of functional qualities, without disharmony or overlapping. In this way, an important case history was established that fully embodied highly contemporary concepts such  as "corporate critical mass" and "widespread industry": principles that are increasingly relevant for contractors looking to the future but that are often still difficult to apply. Yet another way in which this project proved to be open.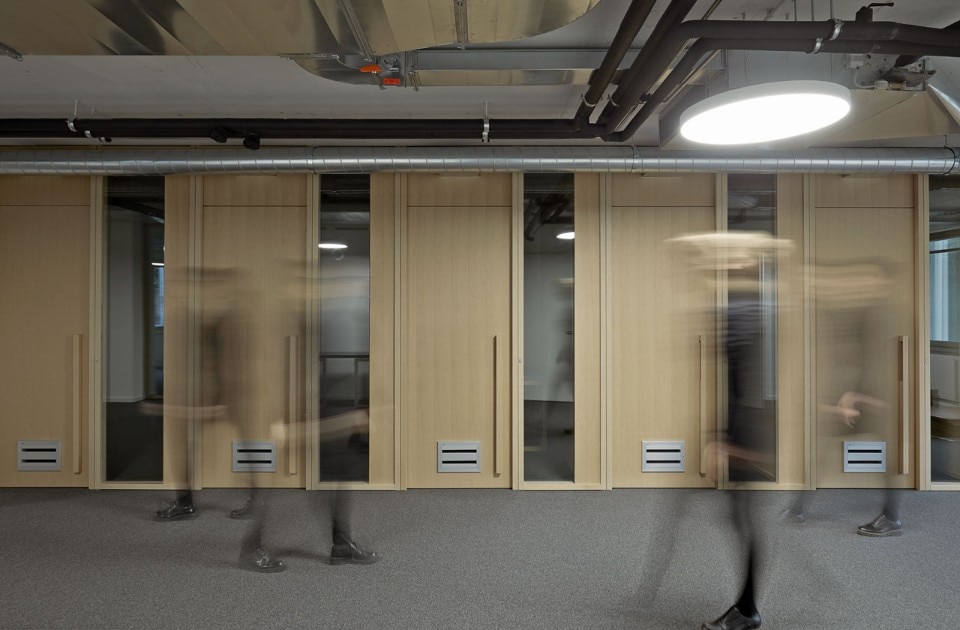 Opening imgage: the office spaces in the building looking out onto Lake Lemàno: the design of the special desks by Citterio and chairs by Luxy work extremely well together
Project:

Open Science

Client:

Frontiers Media

Architectural design and site supervision:

Architect Marie-Eve Laurent (MEL Architecture)

Partition walls, desks and tables:

Citterio

Chairs and soft furnishings:

Luxy