Kurz Architects progetta un ufficio lampo, mantenendo la struttura a vista e arredando in modo eclettico gli interni.
A renovation that connects interior spaces and opens them towards the park, giving an illusion of continuity with the surroundings.
On display at the Design Museum Holon in Israel, the first retrospective of the New York firm Sagmeister & Walsh is an invitation to look for beauty in everyday objects.
The project forms part of a Welsh industrial designer study into the potential of 3D printing. From Domus 1026, July/August 2018.
Following a series of iconic objects, the first bathroom furnishings company to collaborate with designers presents the ceramica light concept.
Totally sustainable is the wooden "passive house" designed by Atelier Ordinaire in Beaune, France. Furniture is by Stattmann Neue Moebel.
From car design to the world's lightest shoe: the designer of complexity recounts a life's work driven by the wild urge to create and design.
Light and free like a butterfly, extending and folding like a folding screen, ORIGAMI, designed by Alberto Meda, is an electric plug&play radiator that liaises with its surroundings.
Square mirror with lacquered metal frame, mocha or burnished brass finish. Central mirror available in different shades.Fascinating reflections and precious finishes enrich with refined simplicity every single public or private habitat.
A symmetrical bamboo-effect interlocking puzzle characterises Mr. Zheng coffee tables by Roberto Lazzeroni, which name underscores its Far East inspiration.
Xia is a a "living" sit, a speaking stool that produces the note "A" when it is used. It is in ash wood and burel textile.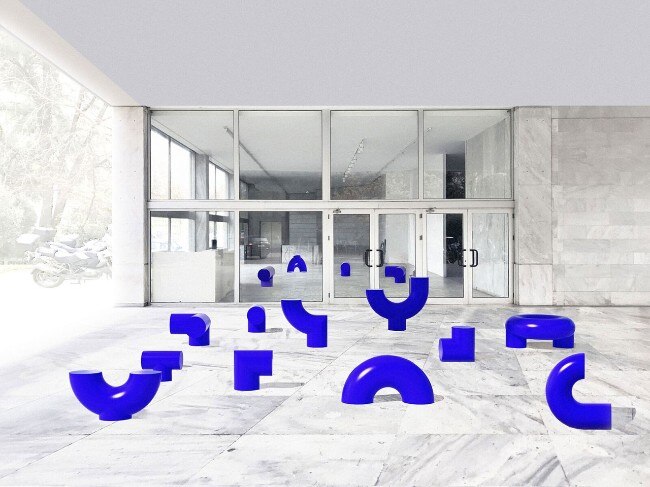 Referencing to their Greek roots, Eleni Petaloti and Leonidas Trampoukis created a still life installation in Athens that calls for interaction and play.
The light touch of Sebastian Wrong: a classic Murano blowing technique used as an anti-decorative function, like a Zen practice.
The French designers talk about their first solo exhibition now underway at a gallery in Copenhagen, where the room is lit up by their sunny furniture and objects from the Riviera.