When Ettore Sottsass Jr. documented for Domus the boutiques of the English capital at the apex of the Swinging London.
If Virgil Abloh is an alchemist of contamination, the flagship store of his brand Off-White aims at finding the same effect: mixing some ideas about Paris and fashion, without fearing heterogeneity.
With just a few touches, the Sicilian architect designs an environment that can be used both for planning and and to experience light directly.
Batek Arkitekten renovates a 1933 cinema hall: the Blauer Stern interiors are now more functional, transformed by the use of wallpaper and LED lights. 
In the project by Gambardellarchitetti, a masterly and feisty use of geometry, light and color challenges the aesthetics of a little bourgeois flat, turning it into a "photonic storm".
A playful space, a miniature city: in Moshe Safdie's iconic hotel in Jerusalem, Israeli designer Sarit Shani Hay's project makes room for the little ones.
Stone walls, niches and corners reminiscent of nature: designed by Wutopia Lab, the mysterious spaces of Toyou Bookstore combine the past and future of Chinese culture.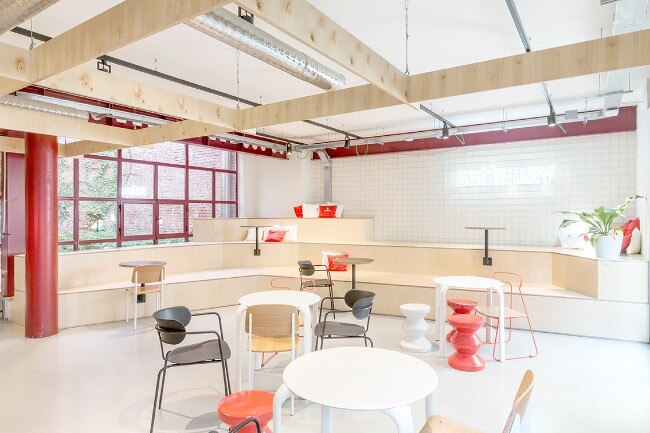 Balance Architettura transforms a late 19th century building into a workplace for 200 people, redistributing pathways and defining social-oriented environments. 
In 1967 Kevin Roche and John Dinkeloo designed a new type of building in New York: a lush and bright courtyard where people could work sheltered from the pollution and surrounded by nature.
Challenging norms and habits repeated unconsciously, Spanish studio Burr redistributes a former retail space and prepares it to meet the upcoming needs of its inhabitants.
In a traditional nursery school in Sarov, Russia, MERA makers designs Kid's Island, a playground for children who are free to play creatively together.
Office Costline designed a kiosk café open to the community, placing a multifunctional counter with curved covering in the centre of the space.
Blaarchitettura revisits a residential building of the early Twentieth century without sacrificing the components that tell its story.
Lialawlab's project in Hangzhou gives life to interiors similar to extra-planetary colonies dominated by the unavoidable presence of grey.