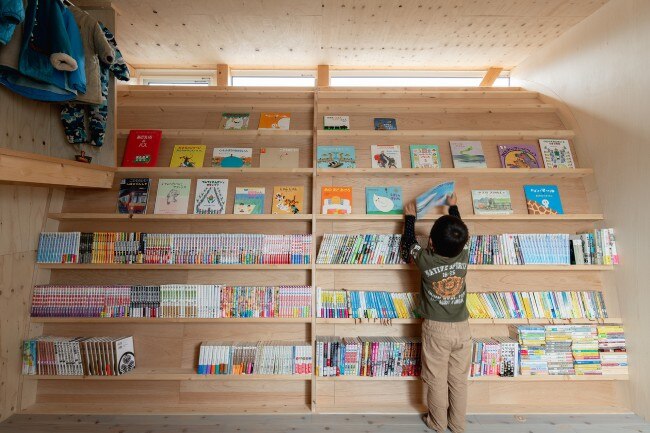 On the island of Hokkaido, enveloping domestic spaces define the conversion of this single-family house by Yoshichika Takagi+associates.  
Ab Rogers Design takes care of the interior of the new pastry shop of the Connaught Hotel, where pink walls blend with uniforms and packaging reminiscent of Wes Anderson's Grand Budapest Hotel.
In the renovation project for a bedroom, DVDV Studio Architetti inserts an exposed shower and creates an equipped boiserie with hidden washbasin.
PUUR design studio has redesigned the interiors of a contemporary building to house the new spaces of the American company, inspired by the materials of Belgian architecture.
In between care and reception areas, StudioX4 designs a circular counter that works as a hinge to limit patients' movement.
An extended living area and a lengthened bedroom access transform the features of a 1960s flat redesigned by architect Miguel Marcelino.
A new central furnishing device becomes a key element in the distribution of space in the flat renovated by a25architetti in the hills of Lecco.
Civilivn designed the new offices of Newlab, a technology community based in New York City: shared and individual work spaces are combined with the original structure made of beams and bricks.
Today, as in the 1960s, holiday homes are once again the favorite summer destination. The spaces, optimized and flexible, inspired by the vernacular architecture of the Mediterranean, welcome the landscape, the guest of honor.
With its insistent horizontality and continuous glass casing, the house designed by Cas Architecten a few kilometres from Brussels blends in with the undulating landscape of the garden and reflects on the pool water.
Fala Atelier adapts the spatial features of a former shop into an apartment. The intervention involves the creation of a source of light in the back facade and a play of hypergeometric finishes.
Monochrome environments distributed on three levels immerse visitors in a scenario defined by tiles, metal and curvilinear surfaces. 
In the historical plant in Bra, Italy, the new exhibition space represents the brand's journey and its experimental approach with almost 500 materials on display.
Tokyo-based studio Schemata Architects gives new life to a sentō, maintaining its original function of socialization and inserting new areas such as a sauna and a beer bar.