Ronan & Erwan Bouroullec è uno degli studi di design più noti e prolifici al mondo. Stando a una stima approssimativa, negli ultimi 20 anni hanno firmato oltre 200 progetti con le migliori aziende del settore: Artek, Alessi, Axor Hansgrohe, Cappellini, Established & Sons, Flos, Hay, Kettal, Kvadrat, Kartell, Glas Italia, Issey Miyake, Ligne Roset, Magis, Iittala, Mattiazzi, Mutina, Nani Marquina, Samsung, Vitra. Fondato a Parigi dai fratelli Ronan (classe 1971) ed Erwan Bouroullec (classe 1976), conta in studio appena sei persone, come una bottega artigiana. Tra gli innumerevoli lavori noti, ricordiamo i Vases combinatoires, i primissimi vasi per Cappellini prodotti nel 1998; le tende separé fai-da-te Twigs and Algues, del 2004 prodotte da Vitra; il tavolino pieghevole Central per Magis del 2010 o la panca ad anello Ring installata attorno a un grande melo del Vitra Campus. A sorpresa, dietro la ricca produzione di design scopriamo un'altrettanta rigogliosa produzione artistica di uno dei due fondatori, Ronan Bouroullec.  
Nelle scuole di design insegnano che il disegno è lo strumento primario per diventare un buon progettista. Mostrano come i maestri del passato fossero accomunati da una grande abilità nel disegno a mano libera. Gio Ponti, Alessandro Mendini, Ettore Sottsass disegnavano di continuo, instancabilmente: il disegno era la loro forma di comunicazione e di pensiero. Nonostante questa tecnica non sia più il discrimine tra un bravo o un cattivo progettista (per fortuna), oggi il disegno a mano resta il comune denominatore di molti progettisti noti. Basti pensare al tratto fumettistico dell'archistar Bjarke Ingels o quello dell'architetta messicana Rozana Montiel. Tra i designer, Ronan Bouroullec fa un passo avanti. I suoi disegni astratti, un susseguirsi di linee sinuose e colorate, cancellano la divisione tra designer e artista portandoci a chiedere se per essere un bravo designer non bisogna, innanzitutto, essere un bravo artista. "Metto passione in entrambi gli ambiti, non vedo alcuna gerarchia: mi occupo del disegno tanto quanto dello spazio", risponde Ronan Bouroullec.
Nato in Bretagna nel 1971, mancino, ha avviato il suo studio di design insieme al fratello Erwan nel 1998. Diciassette anni dopo, nel 2014, ha postato per la prima volta un disegno sul suo account Instagram (@ronanbouroullec). Da allora delizia i suoi fan con post di disegni dalle forme organiche fatti con pennarelli, grafite o biro, che raccolgono migliaia di like. Ciò che però vediamo in un riquadro di pochi pixel nella realtà sono grandi disegni di almeno 60 x 80 cm, realizzati con una precisione e una perizia quasi maniacali, anzi "ossessivi" come li definisce Sarah Cosulich, curatrice e direttrice della Pinacoteca Agnelli. Per chi volesse osservarli dal vivo, a Milano è ancora aperta la mostra "The sound of my left hand" (aperta fino al 20 maggio 2022), curata da Sarah Cosulich e allestita a Casa Mutina in via Cernaia 1°, in cui i disegni di Ronan Bouroullec sono esposti insieme ai prodotti realizzati proprio con l'azienda di ceramiche Mutina. "Il senso della mostra è creare un'atmosfera che restituisca il sapore della bellezza nella vita, dalle piastrelle per il bagno ai disegni bizzarri. È il mio piacere personale, è tutto ciò che so fare", spiega Ronan Bouroullec.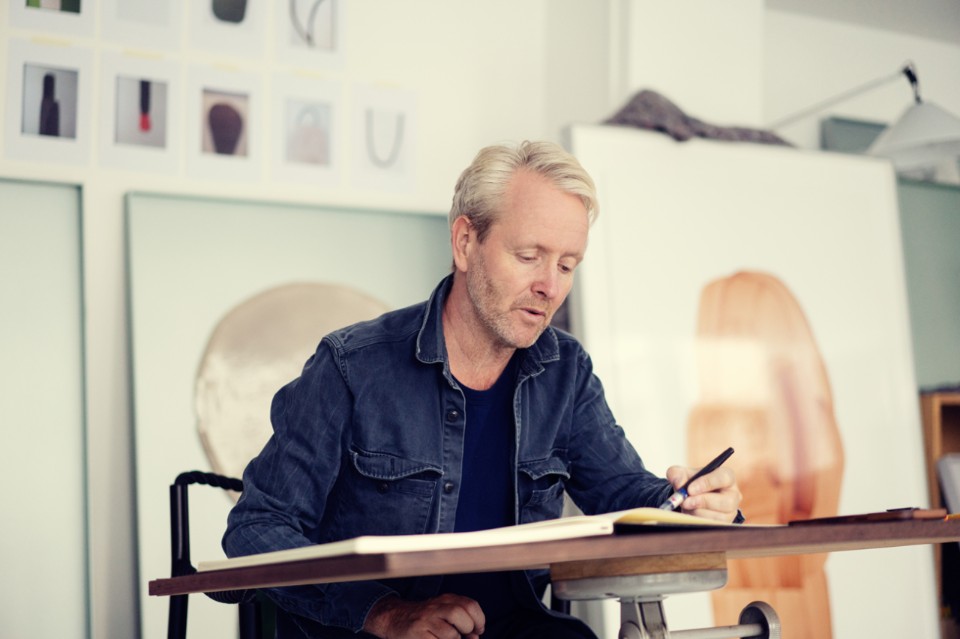 Alla domanda su cosa significhi il disegno nel suo mestiere di designer, risponde che "disegnare è qualcosa che faccio durante la notte, a fine giornata, nel fine settimana". "È un lavoro che svolgo completamente da solo, fuori dal mio studio, in cucina o in salotto. È una pratica molto intima, estremamente libera, nel senso che quando inizio non so cosa farò, non è qualcosa che pianifico. È molto intuitiva, istintiva. È come la meditazione. Comincio con un foglio bianco e poi linee, linee e linee fino a creare una forma. Quando poi è finita, me ne dimentico".
Il disegno è un modo per guarire dai meccanismi del design, è una pratica quotidiana, una soddisfazione istantanea che nessuno può alterare, che è totalmente gratuita.
Il suo lavoro è stato descritto da critici d'arte e designer, con parole raccolte nel catalogo The sound of my left hand, pubblicato da Mutina for Art. Qui Sara Cosulich descrive il lavoro artistico di Ronan Bouroullec come "antropomorfo od organico", una pratica introspettiva dove la costante osservazione della realtà "viene ridotta a forma viscerale". La designer francese Inga Sempé si sofferma sulla difficoltà tecnica dei suoi lavori, "nei suoi disegni le traiettorie non ammettono errori. L'attenzione che guida la mano non è frammentata in episodi: è come il mare che, se fotografato a distanza di qualche ora, non ha più né la stessa forza né gli stessi riflessi. Un disegno è una serie intessuta tutta insieme, senza distrazioni, dal primo tratto all'ultima curva". Il critico d'arte Nicolas Trembley invece spiega che i disegni che Bouroullec realizza da molto tempo gli sembrano essere il prosieguo di pratiche artigianali ancestrali. "Queste forme grafiche costituite da linee sinuose accostate una all'altra rimandano all'arte della calligrafia giapponese. C'è qualcosa di spirituale in questo esercizio, uno spazio meditativo nel quale la linea viaggia per poi fermarsi al ritmo silenzioso del respiro. Una routine che inizia al centro del foglio per poi arrivare alla casualità del gesto che l'artista paragona alla tecnica della tessitura".  
Ma qual è la differenza tra disegnare linee astratte e progettare un prodotto di design? "Il design è una situazione collettiva in cui si lavora con l'ingegnere, con l'azienda", risponde Bouroullec, "è un processo molto lungo e spesso molto frustrante perché ci sono ondate di felicità per un'idea, seguite dalla depressione quando si scopre che è troppo costosa o ci vuole troppo tempo per realizzarla. Il disegno è un modo per guarire da questo meccanismo, è una pratica quotidiana, una soddisfazione istantanea che nessuno può alterare, che è totalmente gratuita. E mi piacciono entrambe le cose".
Immagine di apertura: Ronan Bouroullec, disegni, via Instagram, @ronanbouroullec