Uno spaccato della vita, lavorativa e non, nella Silicon Valley. Siamo in California a sud della San Francisco Bay: l'area che comprende e ospita 7.6 milioni di persone è icona di miti e speranze del millennio; il fotografo Ramak Fazel l'ha immortalata in maniera impeccabile. Il progetto dal titolo Real Life in Silicon Valley, voluto e sostenuto da Tod's Italia all'interno del progetto Tod's No_Code, capitanato da Michele Lupi, è nato alla fine di Dicembre del 2019, poco prima dell'inizio della pandemia. L'indagine investiga la quotidianità di questo fremente angolo del mondo, e in maniera più ampia i cambiamenti della società in cui stiamo vivendo oggi, ed è divenuta un volume per Rizzoli International, appena arrivato sul mercato.
la Silicon Valley è un non luogo. Non ci sono cartelli stradali che la indichino con precisione e sulle mappe non è segnata: ciò significa che, da un punto di vista prettamente geografico, "la Silicon" non esiste.
Il tour della "valle della speranza", dove il sogno americano insegna a teenager (e non solo) che sì in America tutto è (forse) ancora possibile, si sviluppa in più tappe, dalle immagini del garage al 367 di Addison Avenue a Palo Alto da cui nel 1939 due studenti di Stanford, Bill Hewlett e David Packard (HP) creano quella che diventerà una delle più grandi multinazionali dell'informatica (hardware e software, la Hewlett Packard appunto) a una sosta di buon auspicio al monumento di quasi 10 metri di altezza dedicato alla Vergine Maria, la Mary Our Lady of Silicon Valley Shrine di Santa Clara, cittadina head-quarter del colosso del primo software anti-virus McAfee, fondato nel 1987. 
La Silicon Valley non è un posto: "la Silicon Valley è un non luogo. Non ci sono cartelli stradali che la indichino con precisione e sulle mappe non è segnata: ciò significa che, da un punto di vista prettamente geografico, "la Silicon (in gergo) non esiste", come si legge nel volume con testi di Michele Lupi e Sarah Thornton. "La Silicon Valley oggi è un luogo molto controverso, al centro di numerosi dibattiti anche in America: come in tutte le cose ci sono i pro e i contro e noi abbiamo cercato con il nostro lavoro di scavare un po' più in profondità rispetto alla narrazione ufficiale di luogo ultra-tecnologico", sottolinea Lupi, che aggiunge nel testo introduttivo: "si pensa che la Silicon Valley sia un luogo dove tutto è meccanizzato e i colori del sole si riflettono sulle facciate di alluminio. Un mondo popolato di automobili a guida autonoma il cui l'orizzonte è dominato da laboratori che sembrano ispirati alla fantascienza. La realtà è brutalmente diversa".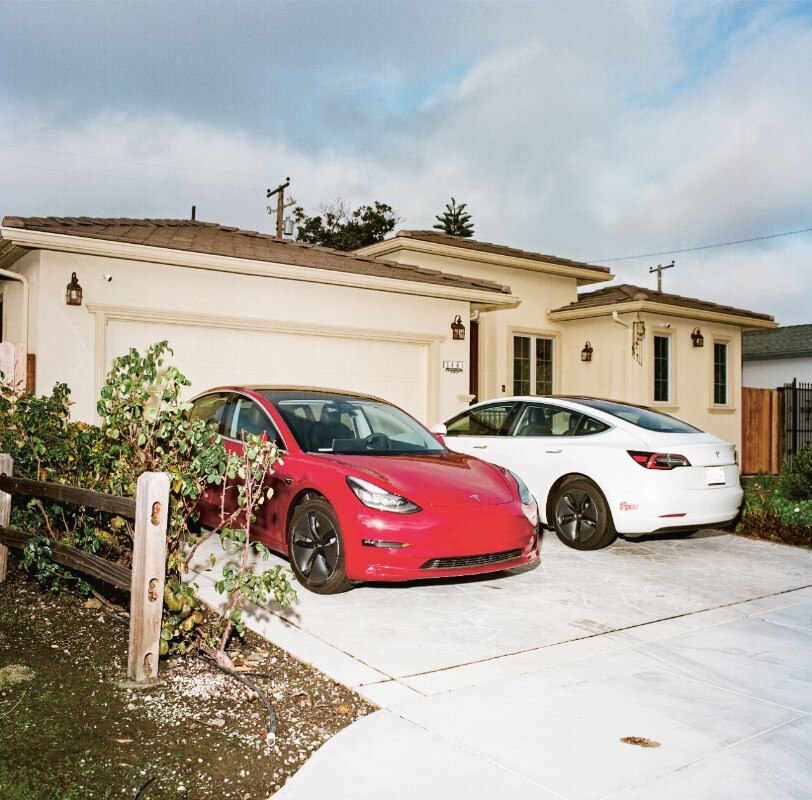 Il reportage di Fazel si snoda come una sorta di pellegrinaggio sacro nella "spiritual home of Big Tech", toccando i punti caldi che qui chiamano birth-places: la casa di Steve Jobs al 2066 di Christ Drive a Los Altos, dove creò nel 1976 il primo Macintosh con l'altro Steve, ossia Wozniak, il quartier generale globale di Yahoo a Sunnyvale (701, first Avenue), ma anche il bar Paul and Eddy's Monte Vista Inn di Cupertino, dove gli ingegneri informatici si ritrovano dopo il lavoro per giocare a biliardo e perfino il inossidabile club delle bocce di Palo Alto. Quello di Fazel si direbbe è un obiettivo pronto a cogliere il momento lirico, narrativo e più inusuale della vita quotidiana per ritrarre una realtà che va oltre lo stereotipo del nerd e non, e che attraverso costumi e rituali rappresenta le speranze e i sogni di chi oggi è in cerca del domani. Da CEO a stagisti. "Dal 2014 ho iniziato a collaborare con SFAI, il San Francisco Art Institute in qualità di visiting lecturer e da allora ho notato la precarietà delle condizioni degli studenti nella Silicon Valley – alcuni di loro forzati addirittura a dormire nelle proprie auto. Visitando nuovamente quei luoghi mi sono tornati alla mente quei vecchi ricordi. Per questo progetto abbiamo creato molto materiale, creato una vasta scelta di immagini, tante delle quali scattate in maniera casuale, quasi rubate. Abbiamo interrogato il territorio e la sua gente, e solo in seconda battuta abbiamo definito la nostra narrazione visiva", racconta il fotografo a Domus.
Nelle immagini nate dalla pellicola della macchina Rolleiflex di Ramak Fazel (interessante usare uno strumento degli anni '60 per ritrarre uno dei posti più avanzati al mondo) notiamo l'insistente uso della luce artificiale che gli ha permesso di restituire con coerenza il suo vocabolario visivo analogico. "Queste immagini devono essere considerate intenzionalmente false; ogni priorità estetica ha seguito un framework formale deciso a priori", aggiunge il fotografo che ha vissuto in Iran, Italia e Stati Uniti. Immancabile la presenza italiana negli scatti che ritraggono Enrico Dente, ingegnere torinese oggi consulente e innovation expert per Plug and Play, a Sunnyvale e il direttore creativo di Apple Media Products David Moretti in sella a Slate, il suo cavallo bianco. Come un eroe che cavalca veloce verso il futuro in uno di quei film d'altri tempi: "la Silicon Valley è come Hollywood: un mito e un business", commenta l'autrice Sarah Thornton. Ma c'è anche chi afferma che "la Silicon" potrebbe evolversi da luogo fisico a mero state-of-mind. Forse è già successo.