OGR – Officine Grandi Riparazioni ha scelto di posizionarsi con una certa autonomia rispetto alla sovraffollato panorama della recente Art Week torinese, aprendo a inizio mese con due potenti riflessioni sul rapporto tra architettura e pratiche del vivere umano, individuale e collettivo. Nelle parole di Nicola Ricciardi, curatore e direttore artistico di OGR, As walls keep shifting di Monica Bonvicini e History as Landscape di Mauro Restiffe in un certo modo si combinano: "Se da un lato Bonvicini riflette in maniera critica sulle condizioni abitative standardizzate e sul concetto di domesticità, dall'altro Restiffe ci offre uno sguardo intimo e confidenziale sulle creazioni di architetti straordinari quali Oscar Niemeyer, Piero Portaluppi, Carlo Mollino e Carlo Scarpa."
Co-curata da Ricciardi e Samuele Piazza, As walls keep shifting muove da un lavoro di documentazione fotografica per poi veicolare la posizione dell'artista sulle contraddizioni insite nella casa e nell'abitare contemporaneo, attraverso il mezzo dell'installazione site specific a scala reale. Le immagini di Italian Houses raccontano in una sequenza ossessiva la trasformazione di una tipologia di villette bifamiliari del Nord Italia da impianto standardizzato, livellante e seriale a gran cabaret della provincia individualista, dove diviene impossibile persino la comunicazione tra vicini di muro.
La casa prende poi corpo nel controcanto dell'installazione vera e propria, una struttura lignea di casa dove Bonvicini fa collidere tutti i temi della sua critica al  sistema-casa, teatro di un clash tra individualità e generi: il tappeto-coperta di cinghie di cuoio (Belted Flat 2019), il fascio caotico di luci di White Out (2019), l'omoerotismo di Go Wet (2019) stampato su aludibond e collocato in cucina, i suoni violenti,  stridenti, regolari e meccanici della produzione che interrompono Our House di Crosby, Stills, Nash and Young.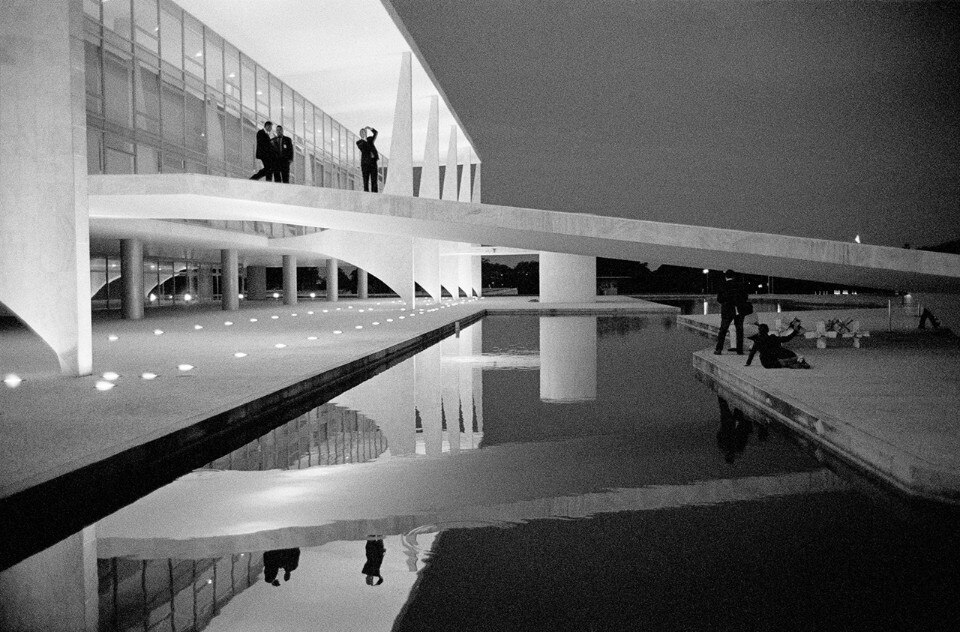 Mauro Restiffe sceglie sempre un approccio site specific per la sua History as Landscape, co-curata da Ricciardi e Giulia Guidi, ma la direzione della grande installazione — che combina 78 fotografie di dimensione e scala di dettaglio assai diversificata — è dichiaratamente quella del costruire un romanzo sull'architettura. Per OGR, Restiffe aggiunge un capitolo italiano alla sua esplorazione di architetture moderne e moderniste che già si è potuta confrontare con Wright e Niemeyer. Proprio come nel caso dei funerali di quest'ultimo — raccontati nella dimensione delle persone che staccano tende, muovono oggetti e animano spazi dentro una sua architettura — le fotografie indagano, nella grana specifica del loro sviluppo analogico, l'interfaccia molto spesso sfumato tra l'edificio nel suo statuto iconico e una familiarità che con esso si costruisce, attraverso le pratiche quotidiane, individuali e collettive.
Come l'opera d'apertura Photograph of Photographs of Photographs (2013) suggerisce, combinando l'architettura, la sua interpretazione in fotografia e un gesto reale come quello di fotografare una fotografia, le pratiche in gioco sono quelle che costituiscono a volte le vite, a volte la storia. 
Mostra:

As the walls keep shifting

Artista:

Monica Bonvicini

A cura di:

Nicola Ricciardi, Samuele Piazza

Date d'apertura :

31 ottobre 2019 – 9 febbraio 2020

Mostra:

History as Landscape

Artista:

Mauro Restiffe

A cura di :

Nicola Ricciardi, Giulia Guidi

Date d'apertura :

31 ottobre 2019 – 5 gennaio 2020

Luogo:

OGR - Officine Grandi Riparazioni

Indirizzo:

Corso Castelfidardo 22, Torino