When time has come for a positioning within the overcrowded panorama of 2019 Turin Art  Week, OGR – Officine Grandi Riparazioni has chosen a certain autonomy, debuting in early November with two powerful reflections on the relationship between architecture and the practices of human living, be it individual or collective. In the words of  Nicola Ricciardi, curator and artistic director of OGR, As walls keep shifting by Monica Bonvicini and History as Landscape by Mauro Restiffe can somehow combine: "While Bonvicini  proposes a critical reflection on conditions of standard dwelling and the idea of domesticity, on the other side Restiffe offers an intimate and confidential gaze on the creations of extraordinary architects such as Oscar Niemeyer, Piero Portaluppi, Carlo Mollino and Carlo Scarpa."
Co-curated by Ricciardi and Samuele Piazza, As walls keep shifting starts form a work of documental photography to consequently convey the position of the artist on the contradictions affecting concepts such as home and contemporary dwelling to the medium of real-scale, site-specific installation. The images from Italian Houses (2019) establish an obsessive sequence depicting the transfiguration of a typology of semi-detached house from Northern Italy, from a standardized, flattening, mass-produced program to the gran cabaret of self-centered suburbs, where even the communication between neighbors becomes an unachievable endeavor.
The evocated house becomes real, materializing in a wooden structure where Bonvicini makes all her critical points collide, tackling the home system as a subject of inter-individual and inter-gender clash: the carpet-blanket made of leather belts (Belted Flat, 2019) is animated by a chaotic bundle of lights (White Out, 2019) the homoerotic expression of Go Wet (2019), printed on aludibond and placed in the kitchen, is surrounded by the violent, screeching, still regular and mechanic sound of production, abruptly interrupting Our House by Crosby, Stills, Nash and Young.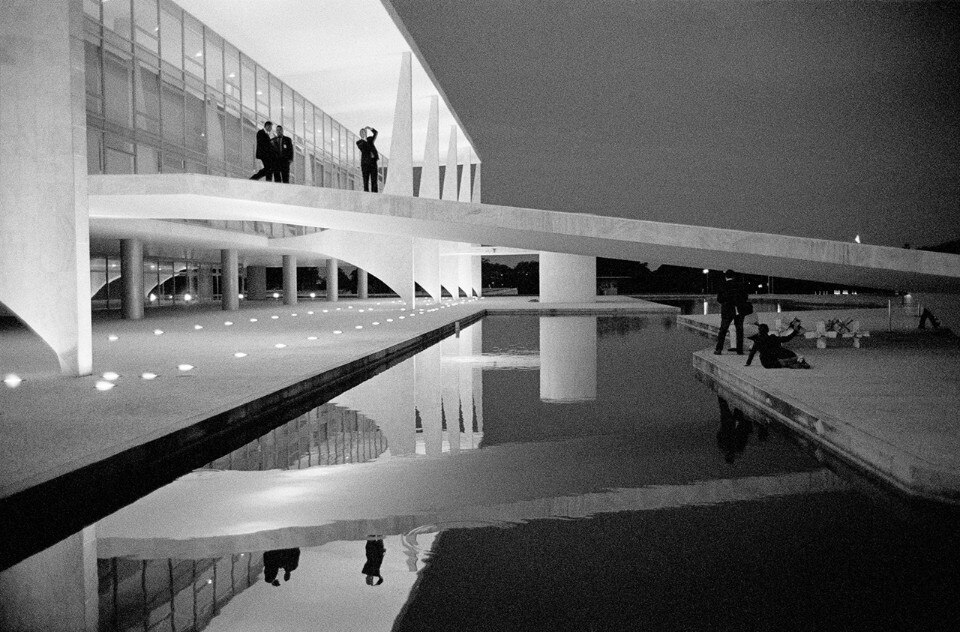 Photographer Mauro Restiffe chooses once again a site-specific approach for his History as Landscape, co-curated by Ricciardi and Giulia Guidi, still the large installation — combining 78 photographs featuring a multiplicity of dimensions and scales of detail — is oriented towards the construction of a "novel about architecture". For OGR, Restiffe adds an Italian chapter to his exploration of modern and modernist architecture, that already revealed entire worlds such as F.L.Wright's and Niemeyer's. As in the case of Niemeyer's funeral — narrated through the depiction of people detaching curtains, moving objects and animating spaces inside one of  the master's famous architectures — the images investigate, in the peculiar texture of their analog development, the blurred interface between the building in its status of icon, and the familiar kin we can establish with it, through individual and collective everyday practices.
As the opening work Photograph of Photographs of Photographs (2013) can suggest — combining architecture, its photographic interpretation, and a common gesture from nowadays such as taking a picture of a picture — practices stand at the core of a possible understanding of architecture, those practices that sometimes create lives, sometimes history in itself.
Mostra:

As the walls keep shifting

Artista:

Monica Bonvicini

A cura di:

Nicola Ricciardi, Samuele Piazza

Date d'apertura :

31 ottobre 2019 – 9 febbraio 2020

Mostra:

History as Landscape

Artista:

Mauro Restiffe

A cura di :

Nicola Ricciardi, Giulia Guidi

Date d'apertura :

31 ottobre 2019 – 5 gennaio 2020

Luogo:

OGR - Officine Grandi Riparazioni

Indirizzo:

Corso Castelfidardo 22, Torino