The Floating Piers, che sarà attuato e aperto sul Lago di Iseo dal 18 giugno al 3 luglio 2016, è il titolo dell'opera che segna il ritorno di Christo e Jeanne-Claude in Italia dopo 40 anni.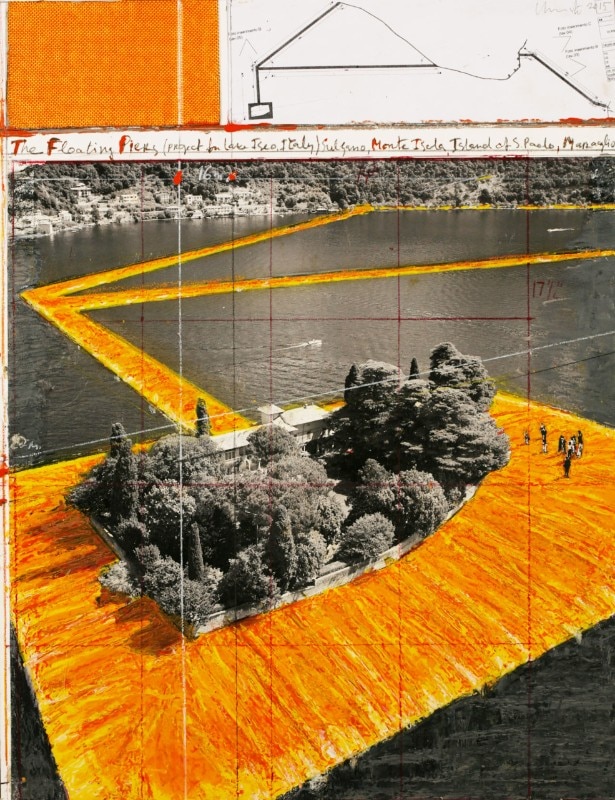 L'opera consentirà al pubblico di camminare sulle acque e sulle sponde del Lago per una lunghezza di 3 km. È realizzata con 70.000 mq di scintillante tessuto arancione, che si appoggia su una sequenza modulare di pontili galleggianti larghi 16 m e costruiti con 200.000 cubi di polietilene ad alta densità. Il percorso comprenderà il transito da Sulzano a Monte Isola e si svolgerà tra terra e acqua per includere l'Isola di San Paolo.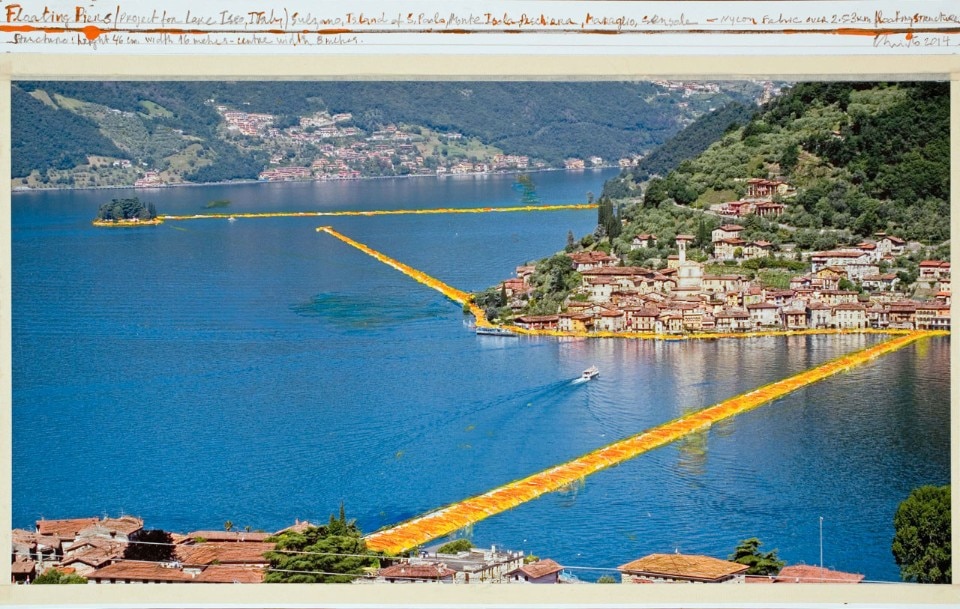 Prima dell'installazione, il 7 aprile, inaugurerà invece al Museo di Santa Giulia di Brescia la mostra "Christo and Jeanne-Claude. Water Projects". Sempre curata da Germano Celant, in collaborazione con l'artista e il suo studio, l'esposizione presenta per la prima volta i progetti di Christo e Jeanne-Claude legati all'elemento acqua, nei quali gli artisti hanno lavorato in stretta relazione con paesaggi rurali e urbani caratterizzati dalla presenza di mare o lago, oceano o fiume.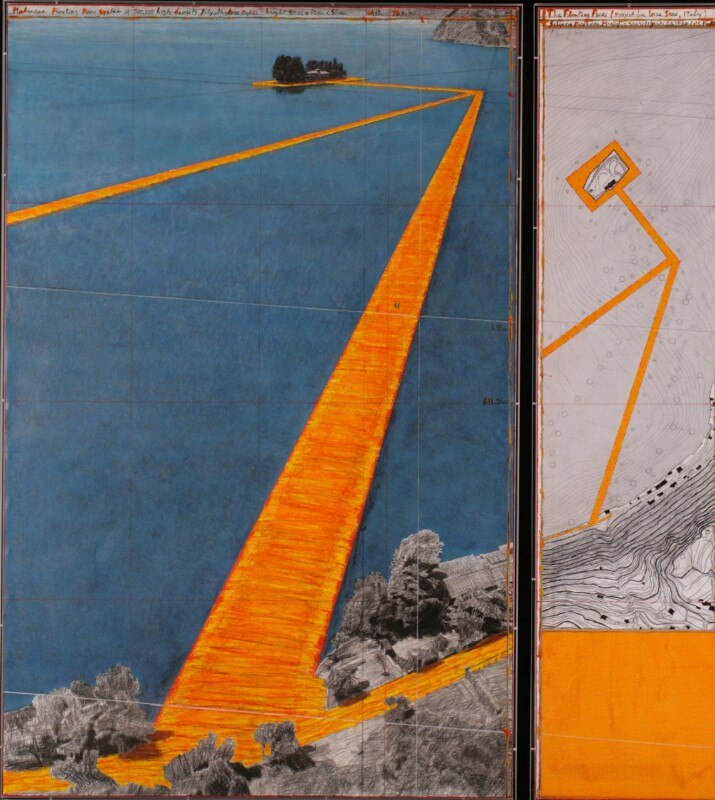 Attraverso oltre 150 tra studi, disegni e collage originali, ai quali si aggiungono i modelli in scala, le fotografie dei progetti realizzati, i video e i film relativi, Christo and Jeanne-Claude. "Water Projects" presenta una cronologia dei progetti monumentali dai primi anni Sessanta e sviluppa, in grandi sale museali, i sette Water Projects, da Wrapped Coast, One Million Square Feet, Little Bay, Sydney, Australia, 1968-1969, a The Floating Piers, Project for Lake Iseo, Italy, 2014-16, Lago d'Iseo, Italia. L'intento è di mostrare e di contestualizzare storicamente, in relazione al loro percorso storico, dal 1961 a oggi, le diverse fasi progettuali e realizzative degli interventi legati all'acqua: dalla loro prima ideazione testimoniata dai bozzetti, al loro sviluppo nei disegni, nei collage e nei modelli, fino alla realizzazione concreta, documentata tramite fotografie e video.
Una sezione informativa e interattiva, che aprirà a giugno, sarà dedicata alla costruzione in progress dell'intervento ambientale. Qui saranno proiettati e esposti materiali, in forma fisica e virtuale, prodotti dall'artista, sul processo di realizzazione, mentre sarà possibile vedere in live streaming foto e video postate in diretta dalle persone che visiteranno l'opera sul Lago d'Iseo.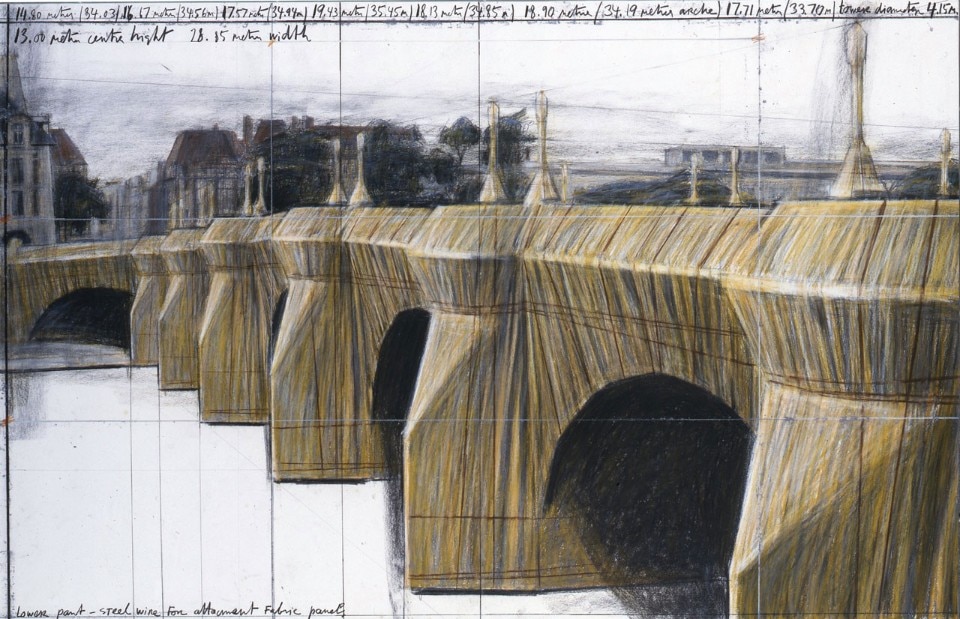 Christo and Jeanne-Claude, Wrapped Cost, One Million Square Feet. Little Bay, Sydney, Australia, 1969
Christo, Surrounded Island, Biscayne Bay, Greater Miami, Florida. Collage, 1982 (28 x 35,5 cm). Matita, fotografia di Wolfgang Volz, smalto, gesso, pastello a cera e adesivo. Photo Eeva-Inkeri © Christo 1982
Christo, Running Fence, Sonoma e Marin Counties California, 1972-1976. 100 x 150 cm. Photo Wolfgang Volz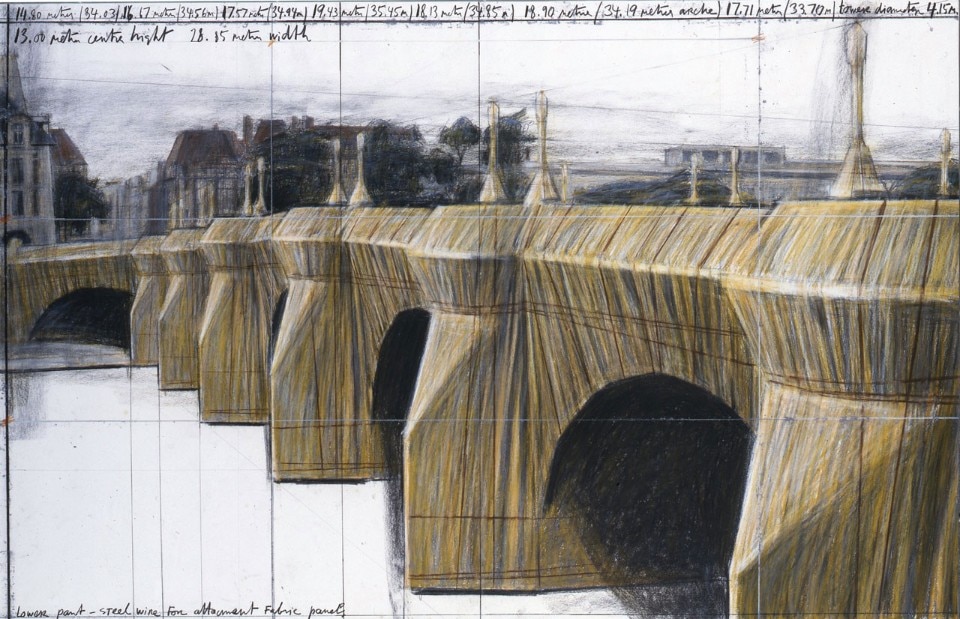 Christo, The Pont Neuf, Wrapped (Project for Paris). Disegno del 1985 in due parti: 38 x 165cm e 106,6 x 165 cm. Matita, gesso, pastello a cera, pastello, mappa e campione di tessuto. Photo André Grossmann © Christo 1985
Christo, Over the River, Project for Arkansas River, State of Colorado. Collage del 2010 in 2 parti (dettaglio). Matita, tessuto, pastello, pastello a cera, gesso, smalto, spago, fotografia aerea con elevazione topografica e campione di tessuto. Photo André Grossmann © Christo Ref

7 aprile – 18 settembre 2016
Christo and Jeanne-Claude – Water Projects
Curatore: Germano Celant
Museo di Santa Giulia, Brescia

18 giugno – 3 luglio 2016
The Floating Piers
Lago d'Iseo