Guardando le foto di Akinbode Akinbiyi succedono principalmente due cose, forse semplici ma a loro modo inaspettate.
La prima è che ritroviamo, chiaro e distinto, quel "paesaggio sociale" che solitamente pensiamo essere a esclusivo appannaggio di certa fotografia sì illuminata ma anche, con una linea di sangue che da Walker Evans arriva ai New Documents di Arbus, Winogrand e Friedlander passando per Robert Frank e William Klein, geograficamente limitata agli Stati Uniti.
La seconda, come dimostra proprio il caso di Robert Frank, è che a volte sono proprio gli stranieri a riuscire meglio nel rendere lo spirito di un luogo e quello del tempo.
Nigeriano di origine (benchè nato nel 1946 a Oxford) ma Berlinese di adozione, Akinbiyi prova contemporaneamente le due tesi, ovvero che si possa applicare con efficacia uno stile di stampo americano al (fotograficamente) più esotico paesaggio sociale africano, e che si possa ritrarre il paese di cui si è ospiti come e meglio di chi di cultura locale è imbevuto.
Che si tratti di Lagos, Bamako, Dakar, Khartum, Johannesbourg o della sua Berlino, come di Atene o Chicago, da quarant'anni il suo sguardo internazionale costruisce una mappa sentimentale che travalica confini e, attraverso la fisicità del viaggio e della fotografia analogica, connette realtà sociali diversissime con un approccio che è al contempo umano e oggettivo, caldo e pungente, autobiografico e documentario.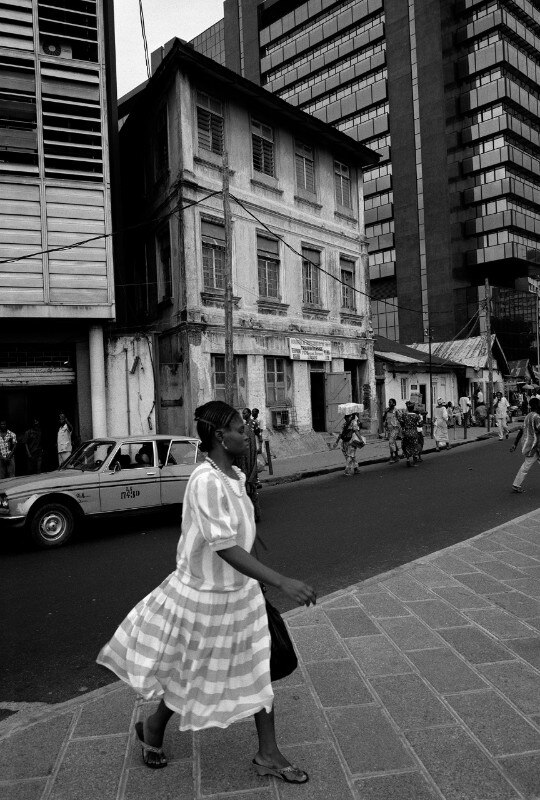 A tre anni dalla sua partecipazione a documenta 14, dal 6 febbraio al 17 maggio il Gropius Bau di Berlino gli dedica finalmente una grande retrospettiva, Six Songs, Swirling Gracefully in the Taut Air, costituita da una selezione del suo vasto archivio pensata ad hoc, e che spazia da Lagos: All Roads a Sea Never Dry (due lavori ongoing dagli anni '80) passando da quell'African Quarter che è la personale lettera d'amore di Akinbiyi per Berlino: attraverso l'incontro, casuale, cercato, costruito, con la comunità africana del quartiere di Wedding, fin dalla fine degli anni '90 l'artista va costruendo il ritratto di una città fluida, visivamente inafferrabile, in bilico tra accoglienza e razzismo, e allo stesso tempo delinea una propria storia personale, in un presente che deve fare costantemente i conti con l'eredità del colonialismo.
Fedele al suo motto «making rather than taking images» (che si potrebbe rendere con "cercare più che trovare le immagini"), con Six Songs, Swirling Gracefully in the Taut Air Akinbiyi sottolinea anche quella predisposizione all'ascolto che, ancora una volta semplicemente ma anche inaspettatamente, è il segreto di ogni buona fotografia.
Titolo:

Six Songs, Swirling Gracefully in the Taut Air

Apertura:

Dal 6 febbraio al 17 maggio

Curata da:

Natasha Ginwala

Luogo:

Gropius Bau

Indirizzo:

Niederkirchnerstraße 7, 10963 Berlino, Germania