Looking at the pictures of Akinbode Akinbiyi two main things happen, maybe simple but also unexpected in their own way.
The first is that the so called "social landscape" is clearly and distinctly present, while it is commonly believed to be exlusive prerogative of an illuminated but — in a bloodline that originated with Walker Evans and, through Robert Frank and William Kline, brings to the New Documents of Arbus, Winogrand e Friedlander — geographically limited photography.
The second, as Robert Frank himself demonstrates, is that sometimes foreigner photographers are best suited to convey the spirit of a given place (and of the time).
Born in Oxford to Nigerian parents in 1946, but Berlin–based since the 1990s, Akinbiyi proves both the thesis to be right: that an American inspired style can be effectively applied to the (photographically) more exotic African social landscape, and that it is possible to depict the host country as well as — or even better — than from a native point of view.
Whether it's Lagos, Bamako, Dakar, Khartoum, Johannesbourg or his own Berlin, as well as Athens or Chicago, for forty years his international gaze has been drawing a sentimental map that crosses borders and, by the phisicality that lies in travels and in the analogue photography, builds a connections among pretty different social realities with an approach both human and objective, warm and stinging, autobiographic and documentary.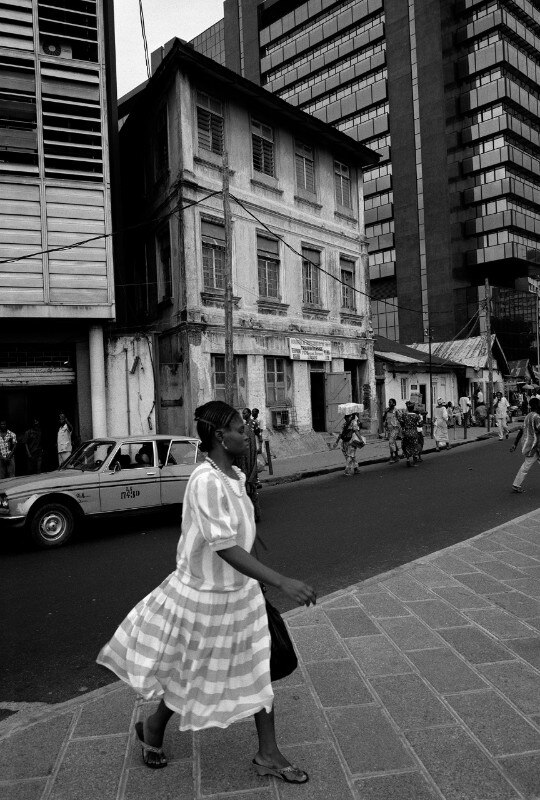 Three years after being featured in documenta 14, from February 6th to May 17th the Gropius Bau in Berlin will pay him a tribute with Six Songs, Swirling Gracefully in the Taut Air, a big retrospective exhibition showcasing an ad hoc selection from his huge archive, spanning from Lagos: All Roads to Sea Never Dry (both ongoing from the 1980s), passing by African Quarter, which is Akinbiyi's personal love letter to Berlin: through the — random, searched, built — encounters amidst the African diaspora and Afro–German communities in the neighborhood of Wedding, since the late 1990s the artist has been conceiving a portrait of a fluid, visually elusive, borderline welcoming and racist city, and at the same time has been writing a personal history, in a present that has to costantly deal with the inheritance of Colonialism.
True to his personal motto «making rather than taking pictures», with Six Songs, Swirling Gracefully in the Taut Air Akinbiyi also underlines the aptitude to listening which, once again simply but also unexpectedly, is the secret to all good photographs.
Title:

Six Songs, Swirling Gracefully in the Taut Air

Exhibitions date:

From 6 of February to 17 of May

Curated by:

Natasha Ginwala

Venue:

Gropius Bau

Address:

Niederkirchnerstraße 7, 10963 Berlin, Germany