Accostarsi alla natura oggi per un artista non significa più misurarsi con il potere creativo dell'universo, questo accadeva in un passato ormai remoto quando al centro dell'arte c'era il concetto di mimesi e quando obiettivo dell'arte era superare la natura stessa.
Nel mondo contemporaneo – e ancor di più di questi tempi – invece, un artista che s'interessi alla natura dovrebbe farlo adottando un approccio culturale che gli consenta di trasmettere un messaggio forte, oltre che un'esperienza estetico-sensoriale intensa.
È il caso di Daniel Steegmann Mangrané, artista spagnolo, classe 1977, stabilitosi dal 2004 a Rio de Janeiro. La sua più ampia mostra personale arriva immediatamente dopo i disastrosi incendi avvenuti durante l'estate nella Foresta Amazzonica, mentre le cronache mondiali hanno ancora i riflettori putati sulla vicenda e in un momento della storia in cui l'attenzione per il pianeta e le tematiche a questo connesse sono al centro del dibattito culturale. Così, sebbene Mangrané lavori su questi temi da tempi non sospetti, il messaggio che le sue opere sono in grado di veicolare avrà forse (speriamo) un impatto maggiore e una diffusione più ampia, col potere di avvicinarsi magari anche a sensibilità lontane dal mondo dell'arte.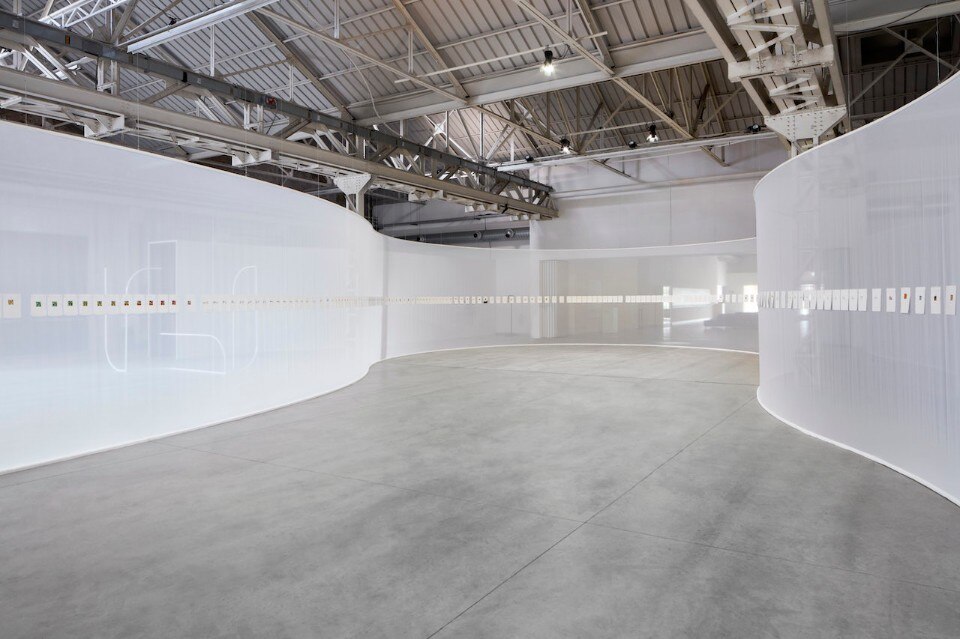 Alla base di tutto il lavoro dell'artista c'è infatti l'idea che uomo e natura siano un tutt'uno, cioè che l'uomo non sia, come siamo ormai abitualmente indotti a credere, qualcosa di altro rispetto al resto del creato e che, seguendo alcune teorie dell'antropologia brasiliana (in particolare di Eduardo Viveiros de Castro e Tânia Stolze Lima) ciò che accomuna tutti gli esseri viventi è proprio l'umanità, tutte le creature sono umane. È proprio in questo senso che Mangrané, quando gli si chiede in che modo l'arte potrebbe esprimere un punto di vista su quanto sta accadendo intorno a noi, risponde che il potere dell'opera è forse quello di tentare d'innescare un meccanismo culturale nuovo nei confronti della natura.
In questa mostra l'idea di farci sentire parte di qualcosa di più grande è espressa già attraverso una modulazione dello spazio leggera e "gentile" (come l'ha definita lo stesso artista), dalle forme sinuose e realizzata con un tessuto semitrasparente, una sorta di architettura avvolgente che accompagna il visitatore durante il percorso espositivo e lo fa sentire fisicamente parte di un ambiente.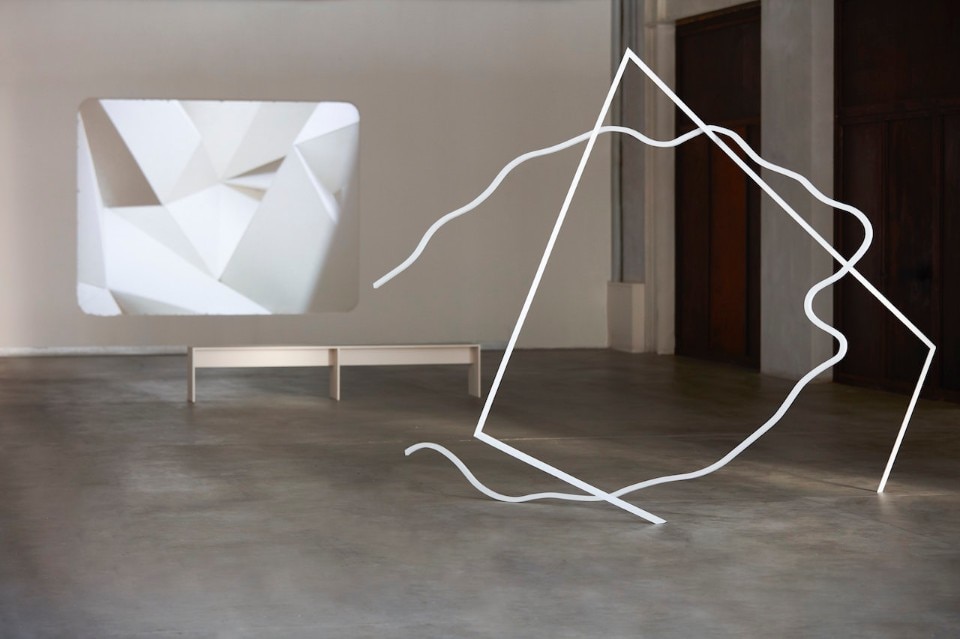 Grazie alle opere poi l'artista fa vivere al visitatore l'esperienza dell'entrare dentro alla foresta, accade con Phantom del 2015, un'opera che attraverso la realtà virtuale ricostruisce la Mata Atlantica, permettendo a chi indossa il visore di spostarvicisi all'interno; oppure in 16mm del 2007-11, film in cui una cinepresa si addentra senza operatore all'interno della foresta spostandosi su un cavo sospeso a mezz'aria, immergendo l'osservatore dentro a una fitta vegetazione; o ancora in Spiral Forest (2013-15) che riprende la vegetazione da angolazioni inusuali.
Ipnotico è invece il film Phasmides (del 2012) il cui protagonista è l'insetto stecco (phasmides appunto), animale per cui l'artista ha una fascinazione, sia probabilmente per le sue capacità mimetiche, sia evidentemente per le sue forme tanto simili a quelle di un ramo. Queste ricorrono in tutta l'opera di Mangrané a partire dal Table with Object (1998-in corso), una sorta di raccolta di oggetti/archivio mentale da cui prendono vita i lavori e le riflessioni dall'artista, ma che ritroviamo anche nei Rotating Table del 2018, sculture in cui dei rami normalmente statici sono posati su dischi a specchio rotanti, dello stesso sapore le forme composte da linee spezzate negli affascinanti vetri soffiati dal titolo Systemic Grid (del 2015 e 2019) oppure negli ologrammi e lastre olografiche.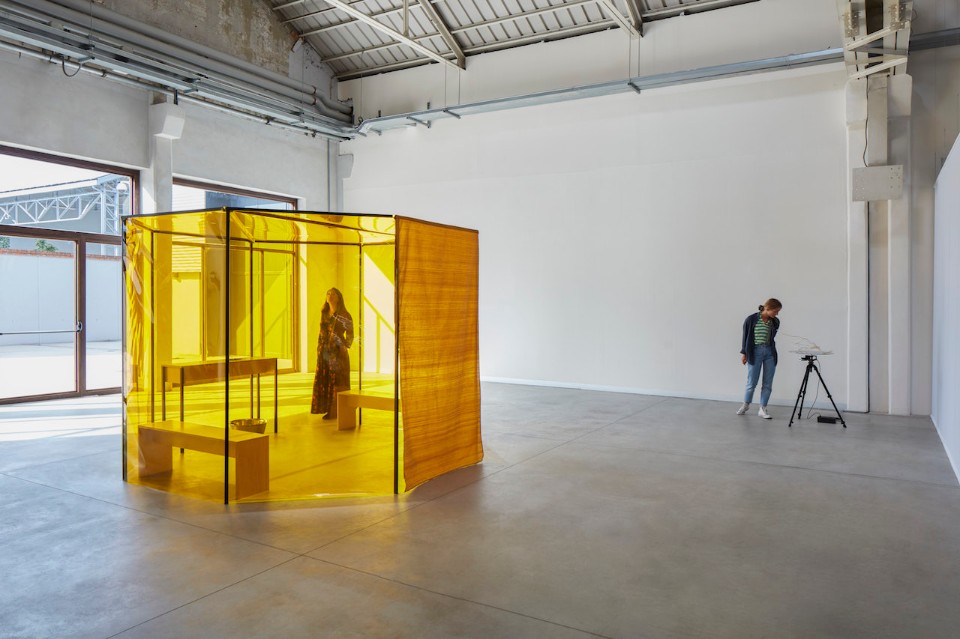 Ancora un ambiente immersivo è quello del padiglione Orange Oranges (2001) in cui è possibile entrare, prepararsi e gustarsi una spremuta comodamente seduti all'interno di uno spazio trasparente completamente arancione, dal quale una volta usciti si prova una sensazione di straniamento. A mettere alla prova la nostra percezione c'è anche A Transparent Leaf Instead of the Mouth (2016-17), un grande terrario in cui sono piantate specie vegetali locali e nel quale vivono instetti stecco, insetti foglia e mantidi. Si tratta di esseri molto difficili da individuare e che inducono a spostarsi durante la ricerca, ma che fanno anche tornare a riflettere su quel senso di unità indistinguibile tra creature viventi che si trova alla base della poetica dell'artista. Un equilibrio, quello della natura, nel quale non bisogna irrompere e che per non essere guastato va contemplato con delicatezza, esattamente come la fragile foglia essiccata e tagliata al laser che l'artista presenta in Elegancia y Renuncia del 2011.
Mostra:

A Leaf-Shaped Animal Draws The Hand

Artista:

Daniel Steegmann Mangrané

Curatori:

Lucia Aspesi e Fiammetta Griccioli

Dove:

Pirelli HangarBicocca, Milano

Date di apertura:

12 settembre 2019-19 gennaio 2020