The Sound of Screens Imploding è il titolo della Biennale dell'Immagine in Movimento, nata a Ginevra, che dopo trent'anni vede la presentazione in sedi e città diverse. Oltre il capoluogo svizzero, OGR-Officine Grandi Riparazioni e la città di Torino ospiteranno questa nuova tappa della Biennale attraverso un'idea dello spazio sempre più allargata.
Il titolo stesso del progetto a cura di Andrea Lissoni e Andrea Bellini parte infatti dall'idea di schermo come cornice di un'immagine che si espande fino a comprendere la realtà che ci circonda sia materialmente che virtualmente. Nell'esperienza dell'immagine rimane centrale il ruolo dell'osservatore, necessario non solo per la visione, ma anche per l'attivazione personale e soggettiva.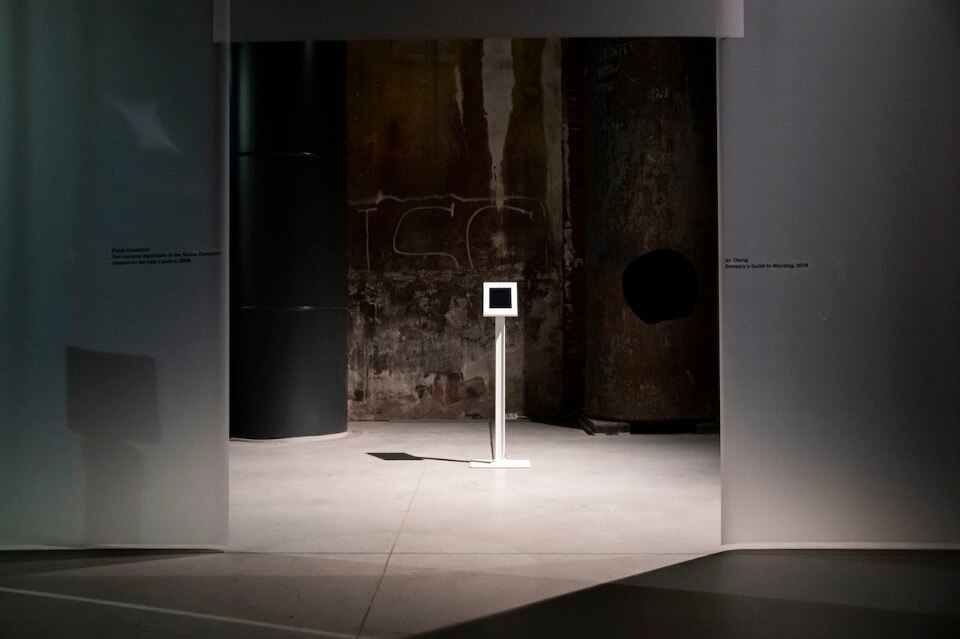 Di questo è consapevole Andrea Angelidakis, già architetto della Biennale di Berlino 2014 e di Documenta 2017, che concepisce lo spazio delle OGR come un unico grande schermo. Le superfici di separazione tra i diversi lavori sono dei grandi pannelli semi-trasparenti di materiale simile al lattex che catturano luci e ombre. Lo spettatore si aggira tra queste membrane per approdare nelle stanze dove le immagini letteralmente fuoriescono dallo schermo per invadere l'ambiente circostante con sculture e suoni.
Altro elemento fondamentale è infatti quello del suono che contamina lo spazio trasportando vibrazioni. Merem Benanni, Lawrence Abu Hamdan, Tamara Handerson, Kahlil Joseph, Kokakrit Arunanondchai & Alex Gvojic, Andreas Angelidakis, Elysia Crampton, Ian Cheng sono gli artisti invitati che, attraverso opere inedite, commissionate e prodotte per l'occasione, abitano gli ex-binari  di OGR e offrono visioni diverse del nostro tempo, producendo però un'unica voce: "il suono degli schermi che implodono". 
Evento:

Biennale dell'Immagine in Movimento – The sound of Screens Imploding

Architetto:

Andrea Angelidakis

Curatori:

Andrea Lissoni e Andrea Bellini

Luogo:

OGR- Officine Grandi Riparazioni

Dove:

Corso Castelfilardo 22, Torino

Date:

21 giugno-29 settembre