Lakeside Plugin Tower è un prototipo abitativo progettato da People's Architecture Office (PAO) in collaborazione con lo Shenzhen Institute of Building Research per la nuova area di Xiong'an, a 100km a sud est da Pechino. Il governo centrale ha voluto sperimentare una serie di interventi innovativi e sostenibili in alternativa al cemento e alla congestione della capitale.
People's Architecture Office, Lakeside Plugin Tower, Xiong'an, 2018
Lo studio cinese è stato scelto per il suo approccio radicale, ispirato dalle avanguardie europee degli anni Sessanta e Settanta e dall'esperienza dei Metabolisti in Giappone.
Architetture pop-up, dispositivi mobili, interventi reversibili e low cost fanno parte del vocabolario di PAO, che in questo caso interpreta il concetto di "plug-in". Preso in prestito dal mondo dell'informatica, il termine rappresenta i programmi che espandono e completano le funzionalità di determinato sistema.
Nel loro caso si tratta di una struttura modulare e prefabbricata, pensata per essere installata rapidamente e senza bisogno di manovalanza specializzata. Nel tempo l'edificio può essere esteso in modo flessibile e senza compromettere l'uso delle parti già abitate.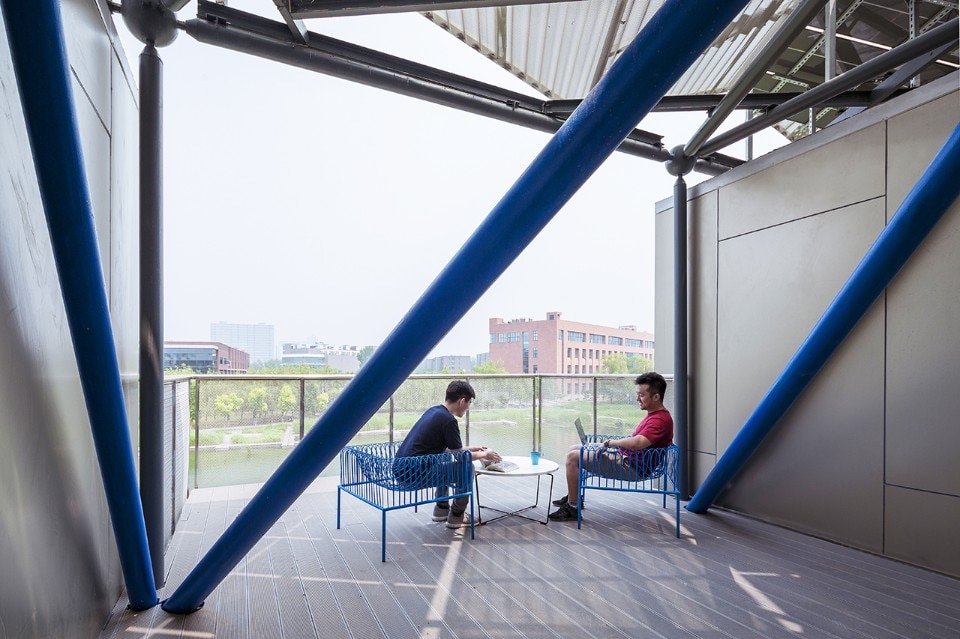 Nonostante la sua estetica, Lakeside Plugin Tower è un edificio attento all'ambiente e a energia netta zero. Gli spazi abitabili sono rialzati per avere un impatto minimo sul suolo, favorendo l'assorbimento dell'acqua piovana e la crescita ininterrotta della vegetazione.
Tra le strategie adottate per una gestione delle risorse efficienti troviamo i pannelli solari sul tetto, un sistema fognario con trattamento delle acque off the grid, e i Plugin Panel che integrano l'isolamento termico e finestre a tutta altezza per ottimizzare la ventilazione naturale.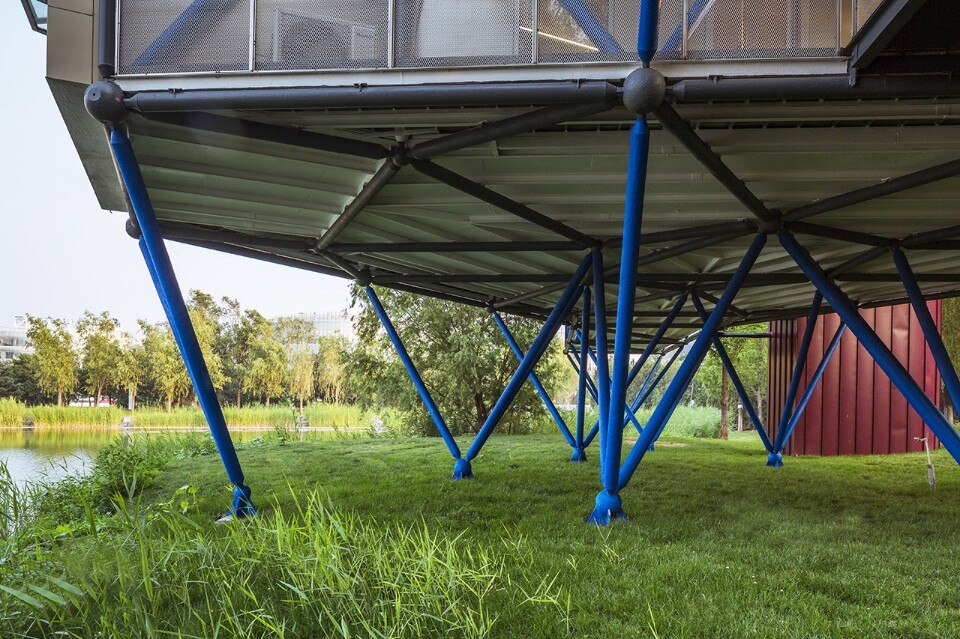 La struttura reticolare era stata già sperimentata in altre occasioni: la prima Plugin Tower, una struttura temporanea installata nella corte centrale di un hutong a Pechino, e la People's Station, un centro culturale progettato per rigenerare il quartiere di Kwan-Yen a Yantai, in Cina.
Progetto:

Lakeside Plugin Tower

Luogo:

Xiong'an, Cina

Architetto:

People's Architecture Office – He Zhe, James Shen, Zang Feng

Team di progetto:

Li Zhenghua, Feng Ziqing, Xiang Weixing, Zhou Yuxi, Liang Guoqiang, Wang Yaxin

Superficie:

475 mq

Completamento :

2018