Between Prada and Guido Canali there are 20 years of close collaboration. Their silent and intimate relationship has been consciously kept under the radar to achieve consistent results. Mostly representing the aims at the basis of the synergy between the two is the formulation of the concept "fabbrica-giardino", typological solution combining the landscape with the productive infrastructures through the displacement of the planes.
The structure has been completed in 2017 and inaugurated in June 2018. It's sited in Valvigna, a location nearby Arezzo reclaimed by Prada group. Exemplary for grafting harmoniously within the rural context, it protects and supports the hosting landscape, rather than jeopardizing it. Guido Canali designs respecting the balance between the worker, the production chain and the territory.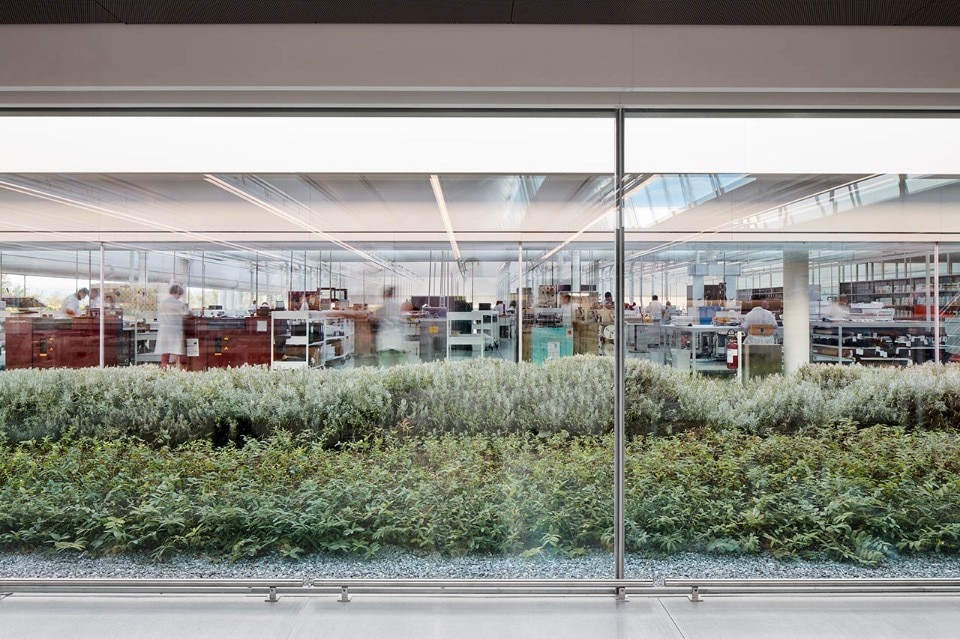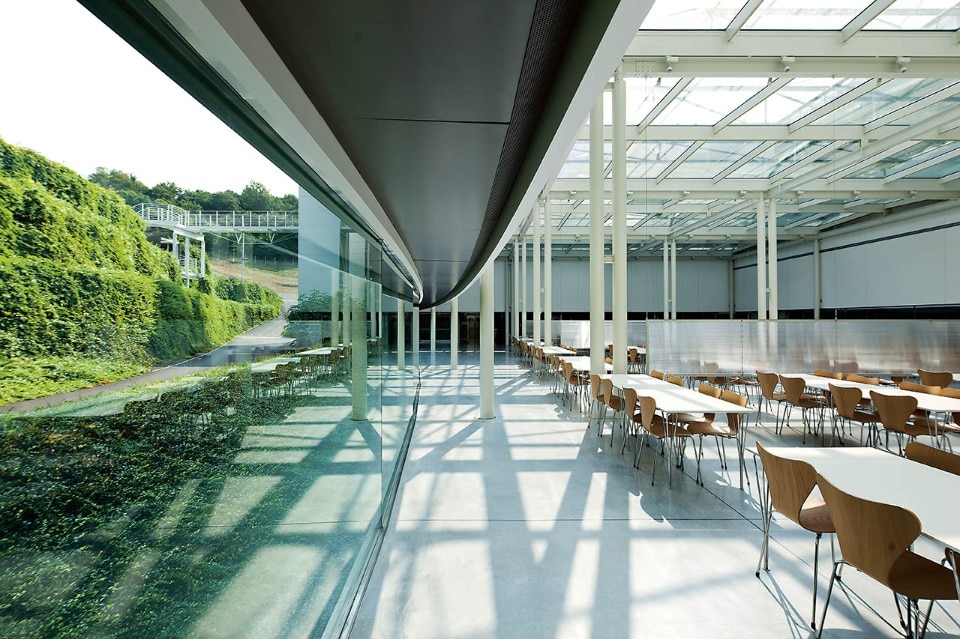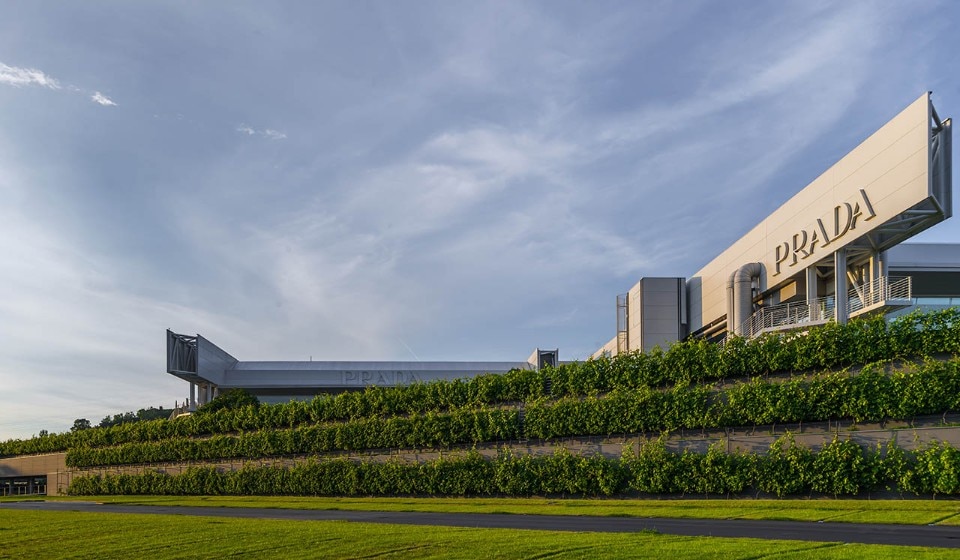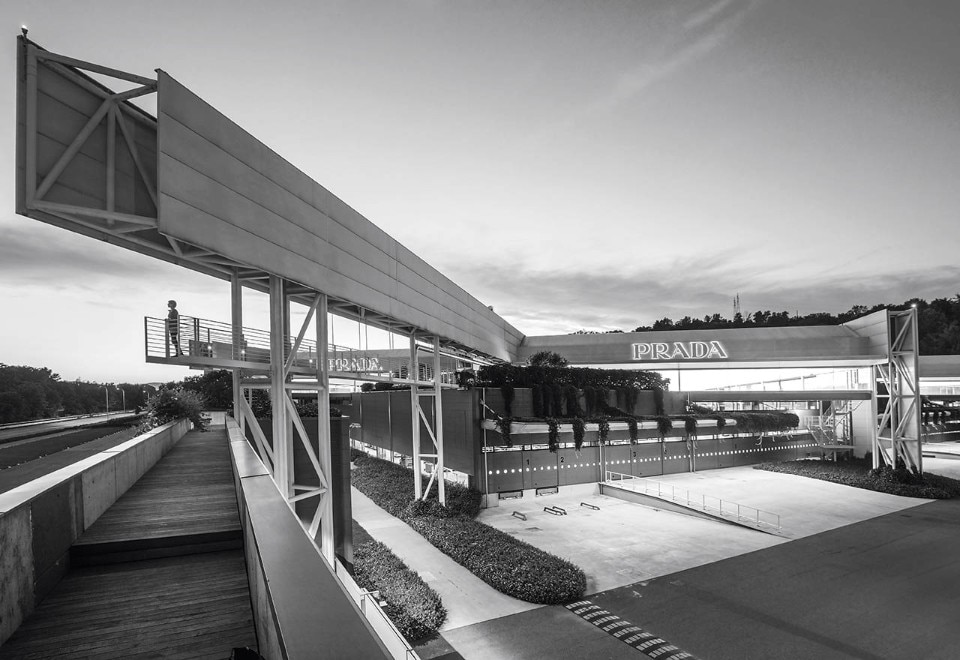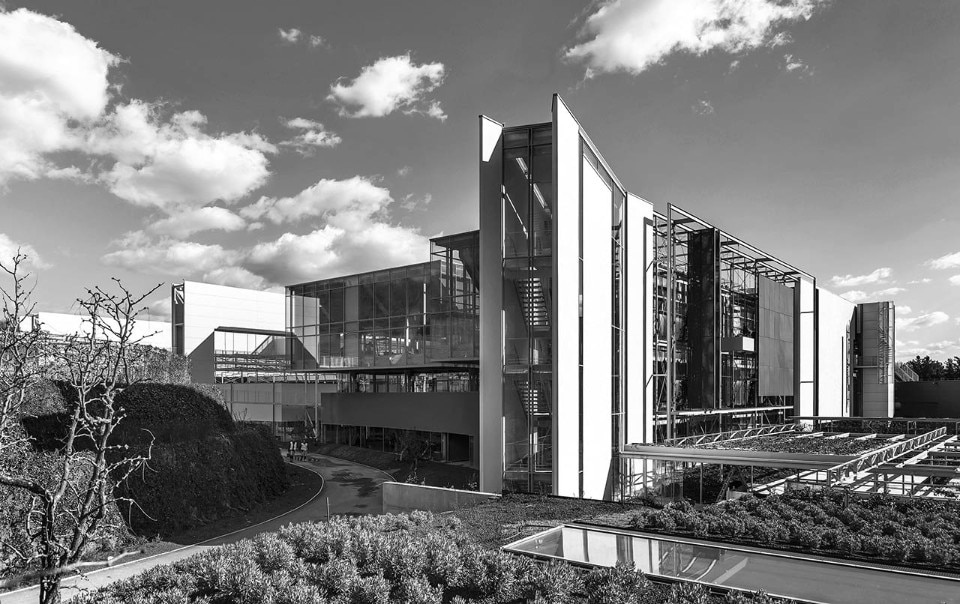 Img.3 Following what has already been done in Montevarchi and Montegranaro, the building is first thought of as part of the landscape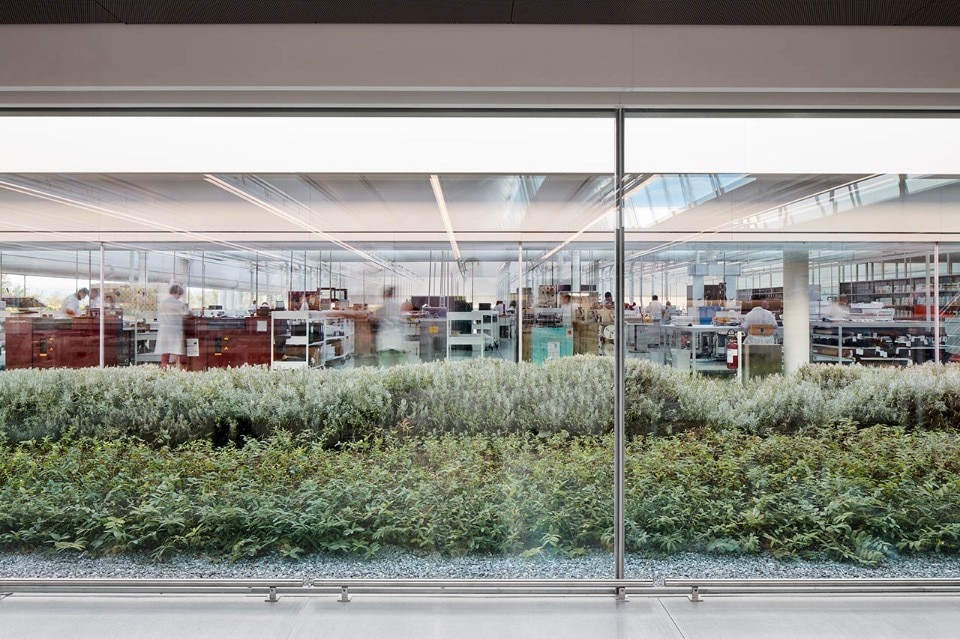 Img.1 The presence of gardens and green spaces, the diffused luminosity, represent the instrument of effective restoration from the fatigue of labour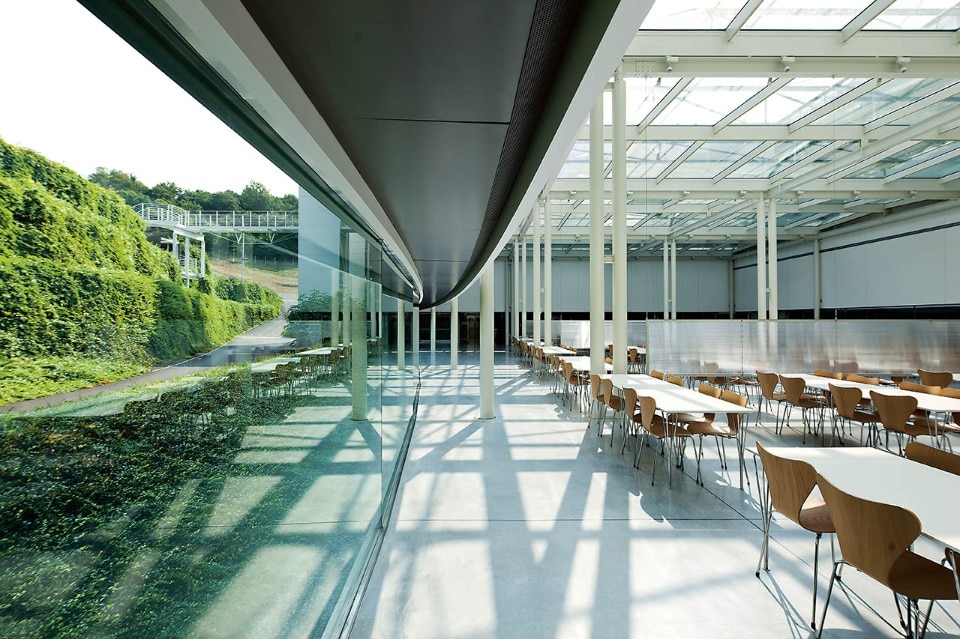 Img.2The building is designed as a place in relation to the needs of those who will inhabit it, to the eye of those who will see it along the highway, to the surrounding environment that pre-exists and which will remain once finalized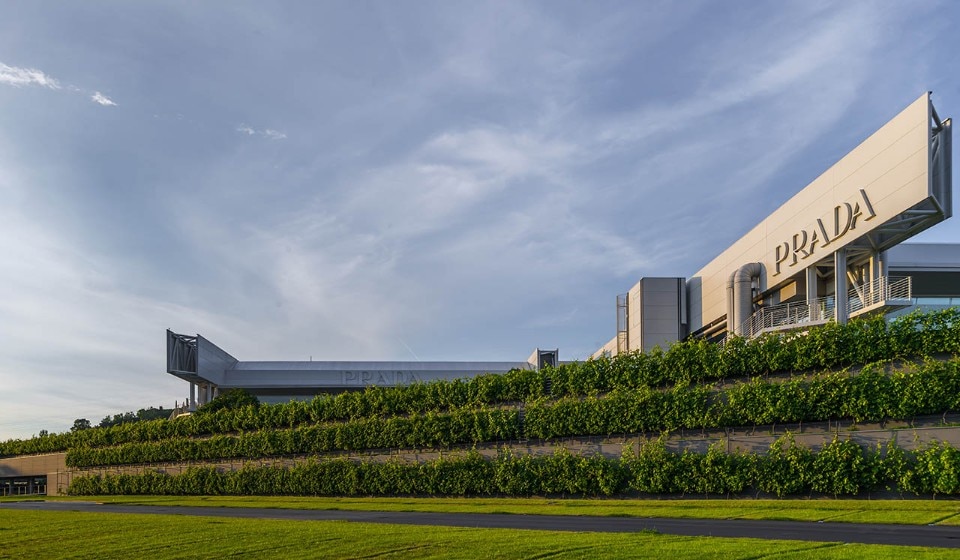 Img.4 The horizontal orientation of the steps marks the whole length of the lot, becoming permeable to the view where the heavy volume of the building disappears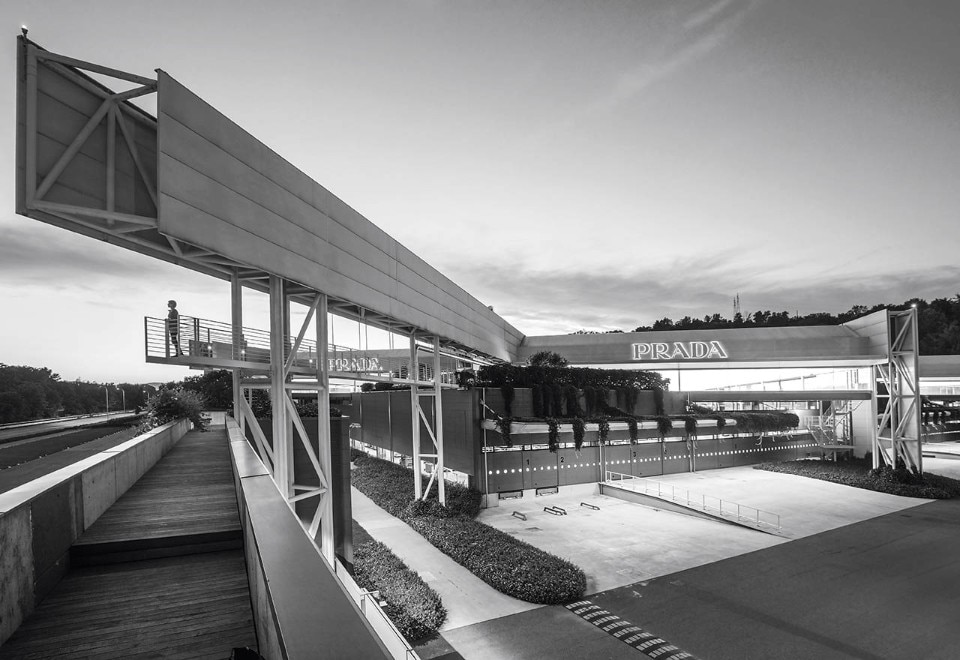 Img.5 As inspiring element there is the belief that workplaces need not be a response to functional and productive needs but on the contrary, must be places of man and for man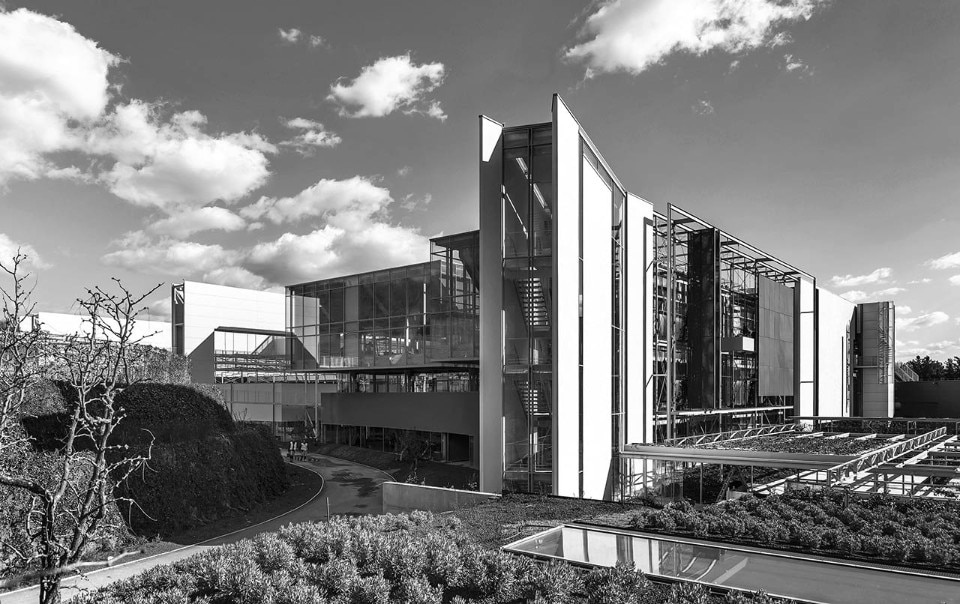 Img.6 The continuous search for balance between garden and building, between the rigor of architectural design and the freedom of natural elements
The distribution scheme is clear and well defined: four volumes dimensioned to host program's variety and flexibility. The building accommodates storages, the historical archive of the previous collections, administrative offices, an auditorium, the production division and the development of Miu Miu and Prada's collections, technical spaces and the datacentre of Prada group. It's an autonomous and complete diorama of Prada logistics. Yet, the planar displacement, the choice of one single structural system, the scenographic framing of nature, the manifest duality between the main structure and the spatial interface are all characteristics that render a certain bias for the infinite.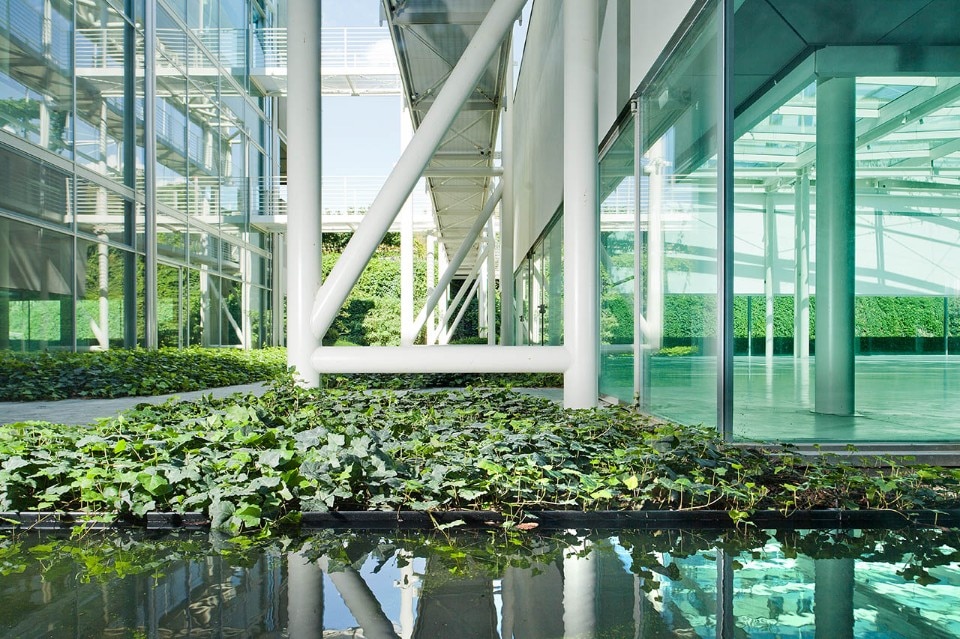 The attitude toward the incomplete recalls the academic experiments on the concept of endlessness introduced by Gerhard Kallman, deepen by the Smithson and Price, and inoculated into the provocations of the Archigram. The concept of industrial endlessness is present in Canali's project, rather declined in a gentle logistic, embracing the landscape, which is embedded in the building by mean of green terraces, water spots and hanging garden. Prada built in Valvigna an architecture living in symbiosis with the landscape.
Project:

Prada productive headquarter

Architect:

Guido Canali

Client:

Prada group

Program:

Factory

Location:

Valvigna

Total area:

93.125 sqm

Built area:

32.431 sqm

Covered surface:

19.000 sqm

Shrubbery:

29.000

Co2 absorbed:

20 ton/year

Completion:

2017