Completing studio OMA's original concept for the Fondazione Prada in Milan, the Torre building proposes an interesting dialogue between the past and the present. Overlooking the whole architectural complex, the 60 metres white tower – connected to the requalified warehouse by a diagonal concrete buttress that hides a panoramic elevator – is composed of nine floors, six of which are dedicated to art exhibitions. For a total space of more than 2,000 square metres.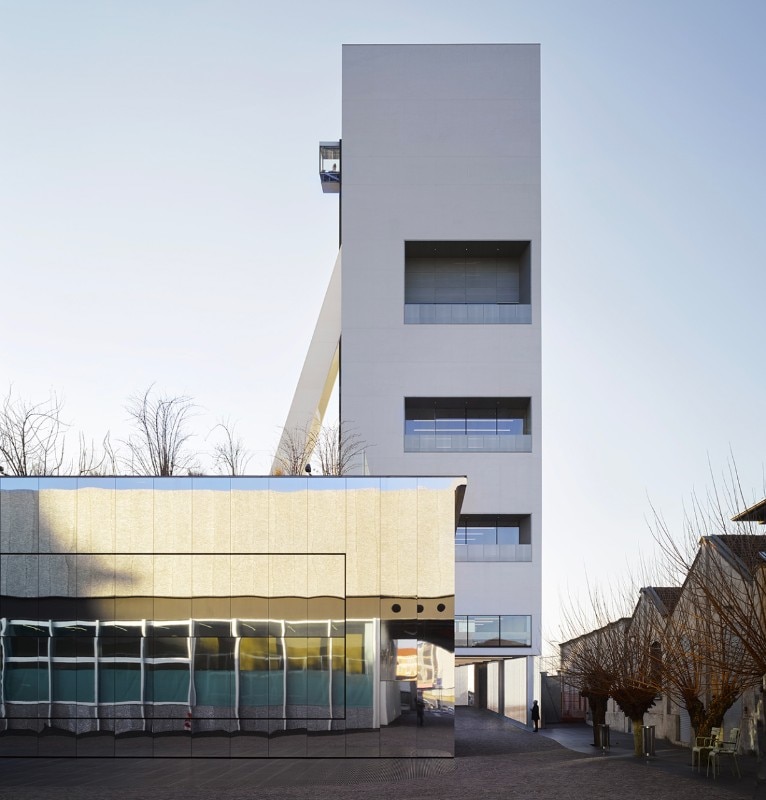 Designed to host large-scale art installations, each floor is thought as a unique space with its own specificities. So, while half of the floors are developed following a trapezoidal plan, the remaining ones adopt a rectangular shape. Such an interplay not only gives to Torre its distinctive facade shape, but it also enables an adroit variation of ceiling heights – that range from 2.7 metres on the first floor to 8 metres on the ninth.
Thanks to this alternation of plans, the facade of the Torre makes the most of Milan's bright sun as it faces both the north, the east and the west, while the last floor enjoys a zenithal light. In addition to the wide exhibition spaces, the building also features three gastronomic venues: a restaurant, a wide panoramic terrace and a rooftop bar. Like a metaphor of the whole architectural complex – which cannot be captured in a single picture – the white tower is fragmented and plural. As Rem Koolhaas explains, "the complexity of the architectural project contributes to the development of one open and constantly evolving cultural programming".