The showroom in the very centre of Milan is an incubator of Italian excellence, capable of enhancing the identity and creating synergies between four design brands: TM Italia, Henry Glass, Kristalia and Penta.
Via Larga 3 in Milan is a place for excellence and contamination, a center dedicated to the encounter and the project. Located in the heart of the city, the space welcomes four companies - TM Italia, Henry Glass, Kristalia and Penta - that share the same vision of design and home furnishings: unmistakable styles, custom projects and high professionalism.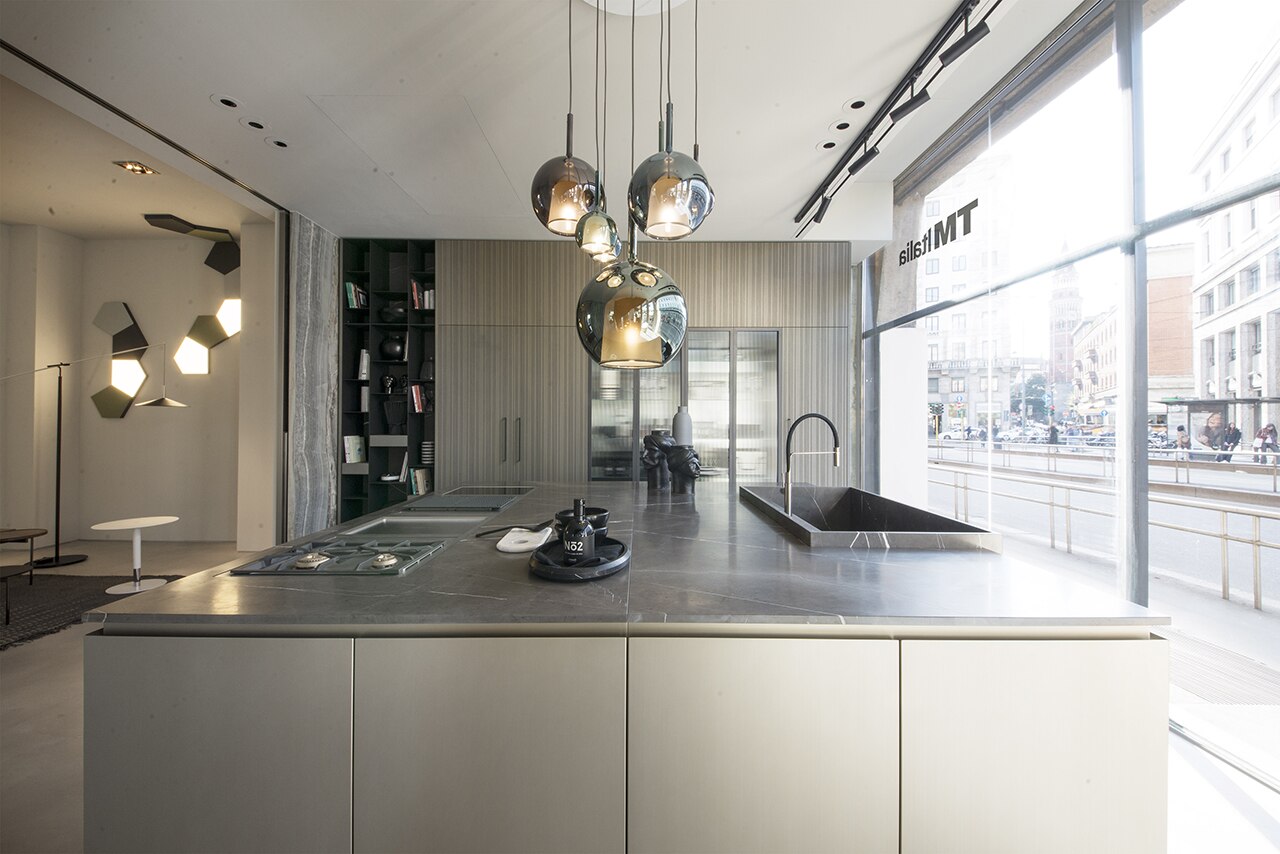 TM Italia
More than 60 years of entrepreneurial culture animated by three key values: tailoring, innovation and research. Kitchen projects rigorously made to measure with selected materials and worked by cultured and expert hands, applying the latest technologies. 350 materials, 50 different wood essences, more than 50 colours, 50 marbles and natural stones, 5 depths, 5 heights. The matrix of the combinations is almost infinite and no kitchen project is ever the same as another. TM Italia has always combined respect for the territory with an international distribution network.
Company:

TM Italia

Address:

via Enrico Mattei, 24, zona ind.le Campolungo, Ascoli Piceno

Website:
Henry Glass
HenryGlass is an all-Italian company that offers tailor made furnishing doors and closing systems, developed through a philosophy of continuous research and experimentation. The skilful processing of glass, the company's core business, and the numerous patents contribute to making HenryGlass doors true furnishing elements capable of embellishing and making unique any space, public or private.
Company:

Henry Glass

Indirizzo:

via Portobuffolè 46, Mansuè

Sito web:
Kristalia
Kristalia is a company with an international outlook but with a base strongly rooted in the territory of Pordenone. In order to produce contemporary furniture, the Friulian group looks to the local production excellence - mountain boots, automotive components, clothing and knitwear - borrowing details and materials and applying them to the world of design. Kristalia encourages the free expression of the designers with whom it collaborates, in order to have in its catalogue products that are always unique and recognizable.
Company:

Kristalia

Address:

via A. Durante 28, Prata di Pordenone

Website:
Penta
The Penta Group is made up of four companies, each of which is excellent in its own sector, offering 360° lighting solutions. Penta Light with decorative lamps of great design. Penta Architectural is a manufacturer of complex LED lighting systems, entirely made in Italy. P Custom deals with custom made solutions for hospitality and contract. Arredoluce Milano 1943, offers the great re-editions of the lamps designed by the Masters who made the history of design.
Company:

Penta Group

Address:

via Trieste snc, Meda

Website: