L'ICD/ITKE Research Pavilion 2014-15 dimostra il potenziale architettonico di un nuovo metodo di costruzione ispirato alla costruzione del nido sottomarino del ragno palombaro.
Attraverso un innovativo processo di fabbricazione robotizzata un cassero pneumatico inizialmente flessibile è stato progressivamente irrigidito rafforzandolo con fibre di carbonio dall'interno. La forma leggera e rigida che ne risulta forma un padiglione con qualità architettoniche uniche, dalla struttura altamente efficiente.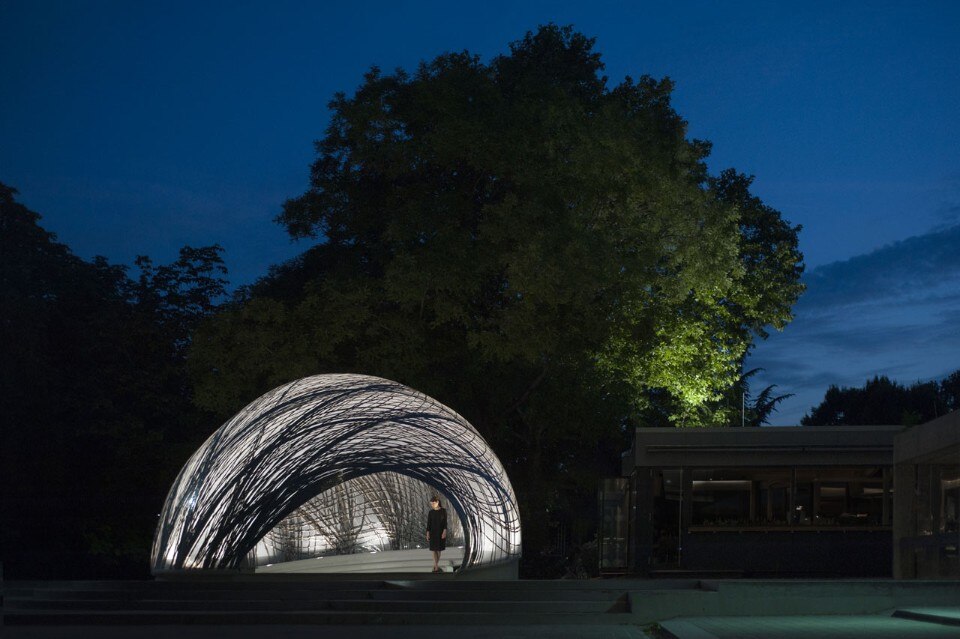 Con il nuovo ICD/ITKE Research Pavilion 2014-15 costruito presso l'Università di Stoccarda l'Institute for Computational Design (ICD) e l'Institute of Building Structures and Structural Design (ITKE) continuano la loro serie di padiglioni di ricerca, che esplorano le potenzialità applicative di processi innovativi di progettazione, simulazione e fabbricazione computazionale in architettura.
Il padiglione è stato sviluppato grazie alla collaborazione dei due istituti nel contesto del programma interdisciplinare e internazionale ITECH MSc. Questo progetto è il risultato di un anno e mezzo di sviluppo da parte di ricercatori e studenti di architettura, ingegneria e scienze naturali.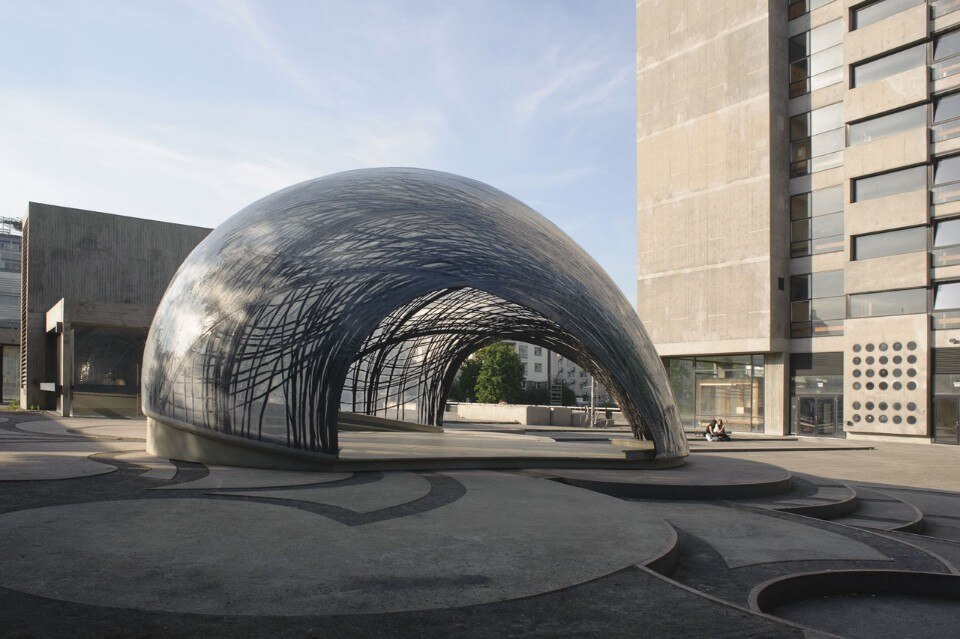 Il cncept è basato sullo studio dei processi di costruzione biologici per le strutture fibrorinforzate. Questi processi sono rilevanti per le applicazioni in architettura, in quanto non richiedono casseforme complesse e sono in grado di adattarsi alle diverse esigenze delle singole costruzioni.
I processi biologici formano strutture fibrorinforzate personalizzate in modo altamente efficaci dal punto di vista del materiale e funzionale. In questo senso il processo di costruzione del ragno palombaro, (Argyroneta aquatica) ha dimostrato di essere di particolare interesse. Così è stato esaminato il processo di costruzione del nido di questi animali, analizzando i modelli comportamentali e le regole di progettazione e trasferendoli in un processo di fabbricazione tecnologica.

ICD/ITKE Research Pavilion 2014-15
Tipologia: padiglione
Team di progetto: Institute for Computational Design – Prof. Achim Menges; Institute of Building Structures and Structural Design – Prof. Jan Knippers
Sviluppo scientifico: Moritz Dörstelmann, Valentin Koslowski, Marshall Prado, Gundula Schieber, Lauren Vasey
Sviluppo del sistema, fabbricazione e costruzione: Hassan Abbasi, Yassmin Al-Khasawneh, Yuliya Baranovskaya, Marta Besalu, Giulio Brugnaro, Elena Chiridnik, Tobias Grun, Mark Hageman, Matthias Helmreich, Julian Höll, Jessica Jorge, Yohei Kanzaki, Shim Karmin, Georgi Kazlachev, Vangel Kukov, David Leon, Kantaro Makanae, Amanda Moore, Paul Poinet, Emily Scoones, Djordje Stanojevic, Andrei Stoiculescu, Kenryo Takahashi e Maria Yablonina; Rebecca Jaroszewski, Yavar Khonsari, Ondrej Kyjanek, Alberto Lago, Kuan-Ting Lai, Luigi Olivieri, Guiseppe Pultrone, Annie Scherer, Raquel Silva, Shota Tsikoliya; Ehsan Baharlou, Benjamin Felbrich, Manfred Hammer, Axel Körner, Anja Mader, Michael Preisack, Seiichi Suzuki, Michael Tondera
Con il supporto di: Ehsan Baharlou, Benjamin Felbrich, Manfred Richard Hammer, Axel Körner, Anja Mader, Michael Preisack, Seiichi Suzuki, Michael Tondera
In collaborazione con: Departement of Evolutionary Biology of Invertebrates, University of Tuebingen, Departement of Palaeontology of Invertebrates, University of Tuebingen, Institute for Machine Tools, University of Stuttgart, Institute of Aircraft Design, University of Stuttgart
Sostegno economico: KUKA Roboter GmbH, GettyLab, tat aiRstructures, SGL Carbon SE, Sika Deutschland GmbH, Daimler AG, Walther Spritz- und Lackiersysteme GmbH, Lange+Ritter GmbH, Gibbons Fan Products Ltd, igus® GmbH, Peri GmbH, HERZOG Maschinenfabrik GmbH & Co. KG, AFBW – Allianz Faserbasierter Werkstoffe Baden-Wurttemberg e.V., Reinhausen Plasma GmbH, Reka Klebetechnik GmbH, HECO-Schrauben GmbH & Co. KG, Airtech Europe S.A., Mack Gerusttechnik GmbH, RentES, Stahlbau Wendeler GmbH + Co. KG, CARU Containers GmbH, EmmeShop Electronics, STILL GmbH, SH-Elektrotechnik, GEMCO, Zeppelin Rental GmbH & Co. KG
Completamento: 2015