The ICD/ITKE Research Pavilion 2014-15 demonstrates the architectural potential of a novel building method inspired by the underwater nest construction of the water spider.
Through a novel robotic fabrication process an initially flexible pneumatic formwork is gradually stiffened by reinforcing it with carbon fibers from the inside. The resulting lightweight fiber composite shell forms a pavilion with unique architectural qualities, while at the same time being a highly material-efficient structure.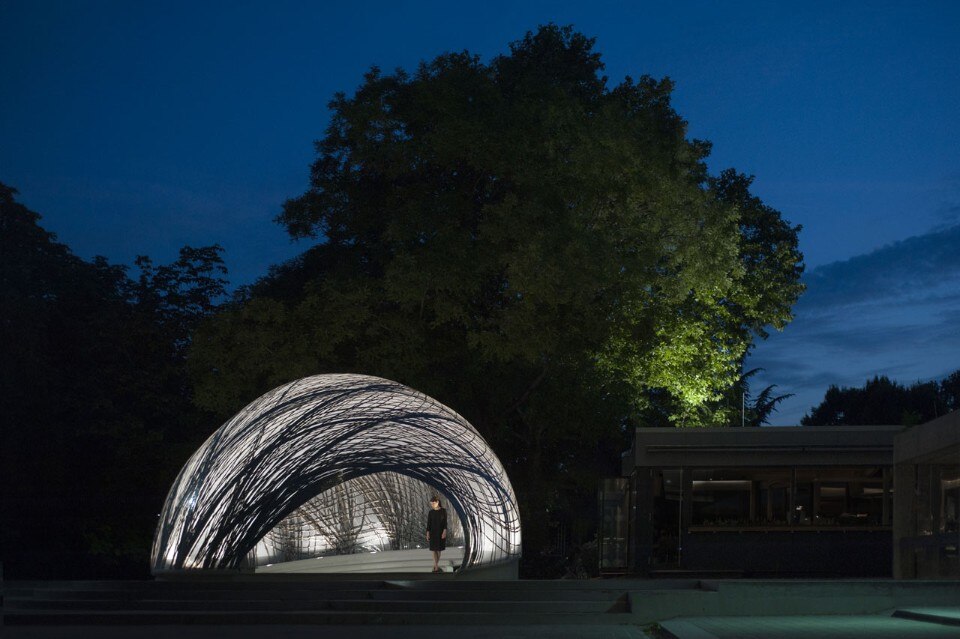 The Institute for Computational Design (ICD) and the Institute of Building Structures and Structural Design (ITKE) continue their series of research pavilions with the new ICD/ITKE Research Pavilion 2014-15 at the University of Stuttgart.
These building prototypes explore application potentials of novel computational design, simulation and fabrication processes in architecture. The pavilion was developed at the intersection of the two institute's research fields and their collaborative teaching in the context of the interdisciplinary and international ITECH MSc program. This prototypical project is the result of one and a half years of development by researchers and students of architecture, engineering and natural sciences.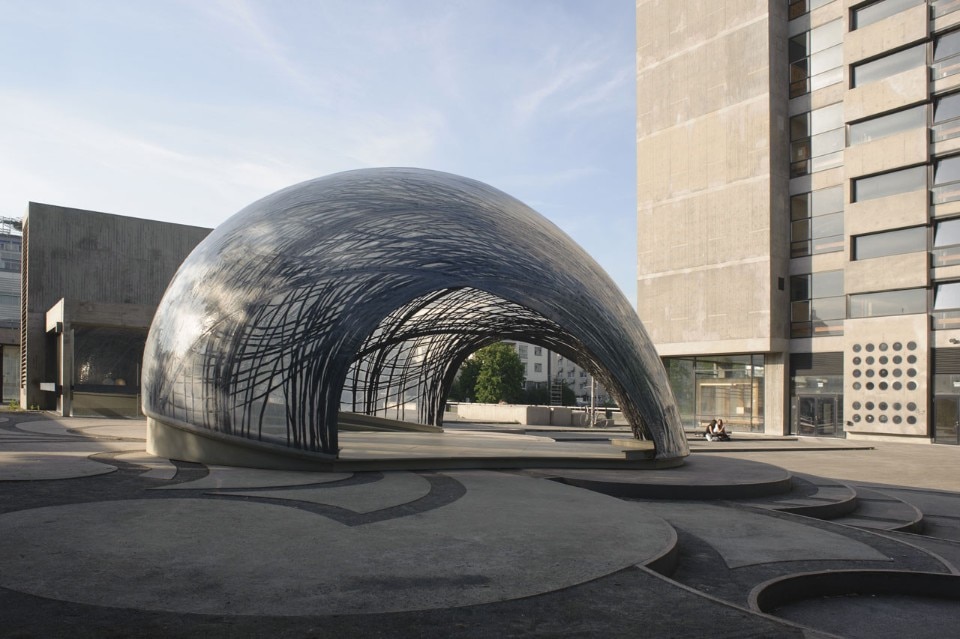 The design concept is based on the study of biological construction processes for fiber-reinforced structures. These processes are relevant for applications in architecture, as they do not require complex formwork and are capable of adapting to the varying demands of the individual constructions.
The biological processes form customized fiber-reinforced structures in a highly material-effective and functionally integrated way. In this respect the web building process of the diving bell water spider, (Argyroneta aquatica) proved to be of particular interest. Thus the web construction process of water spiders was examined and the underlying behavioral patterns and design rules were analyzed, abstracted and transferred into a technological fabrication process.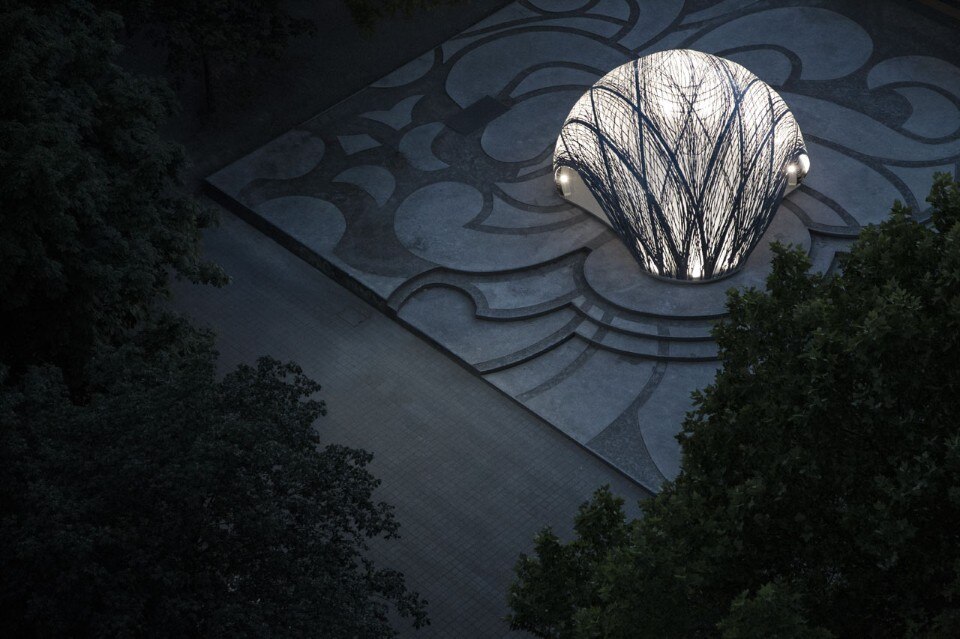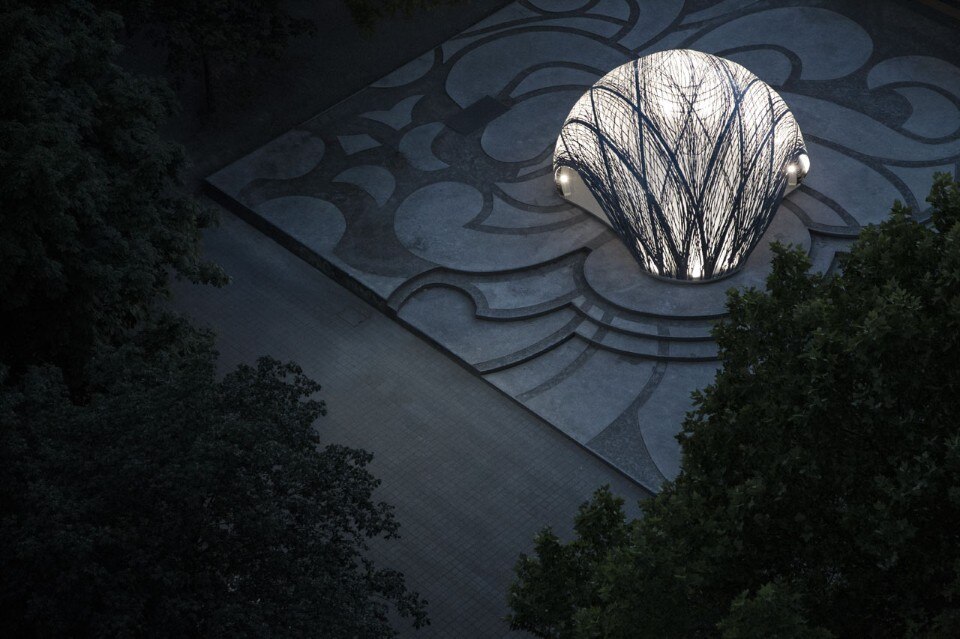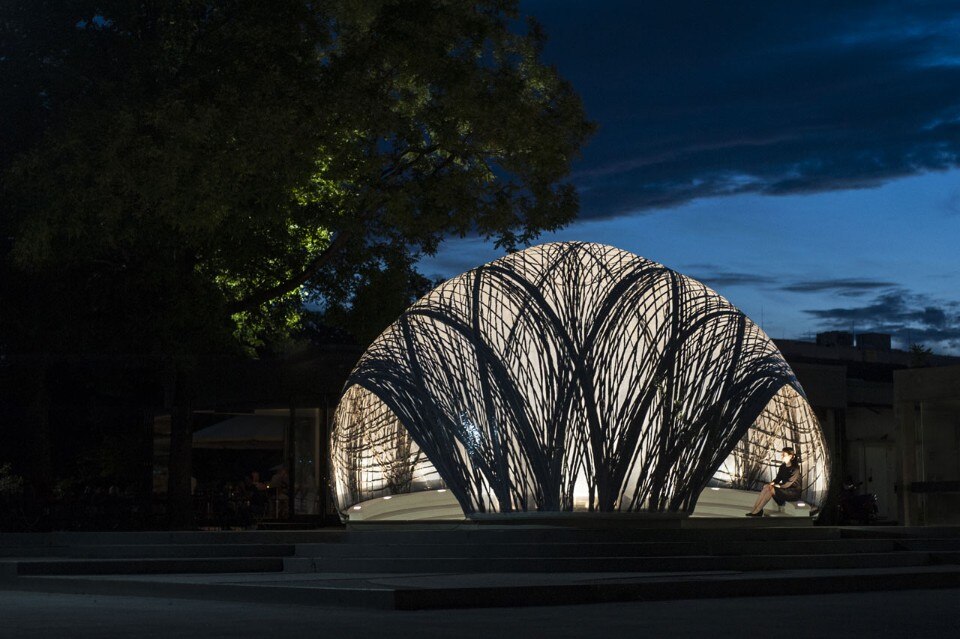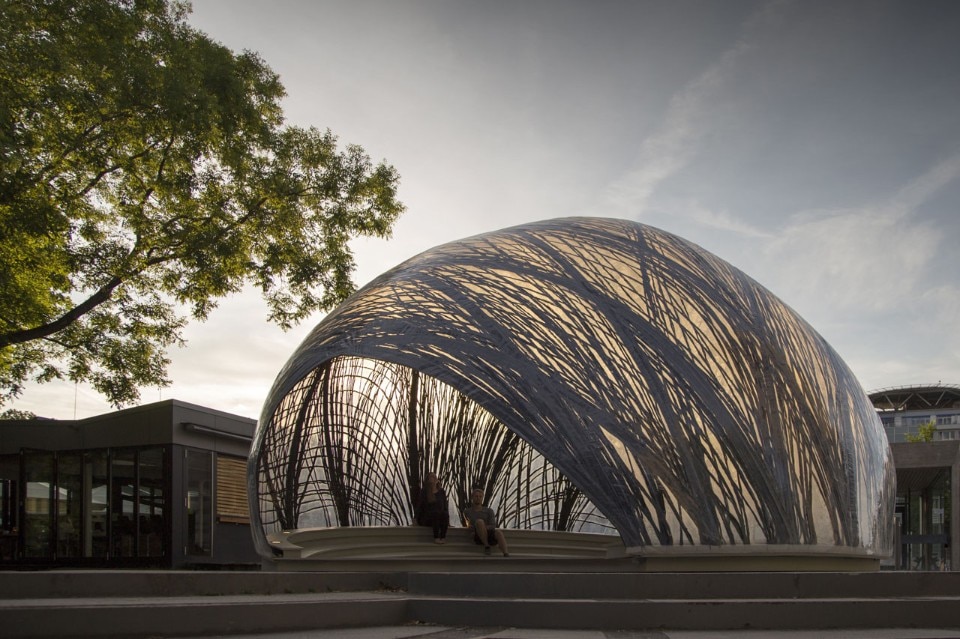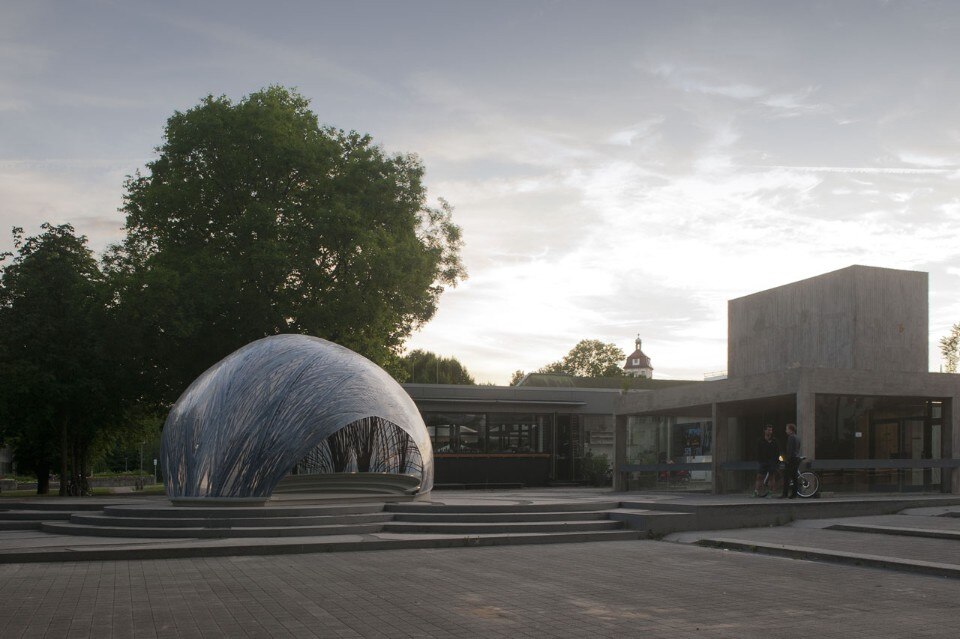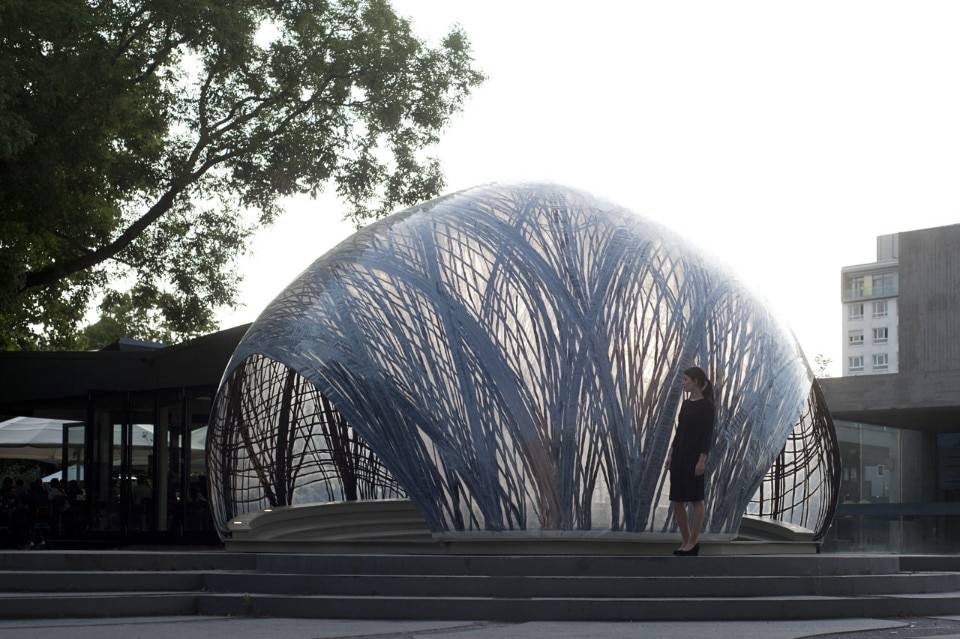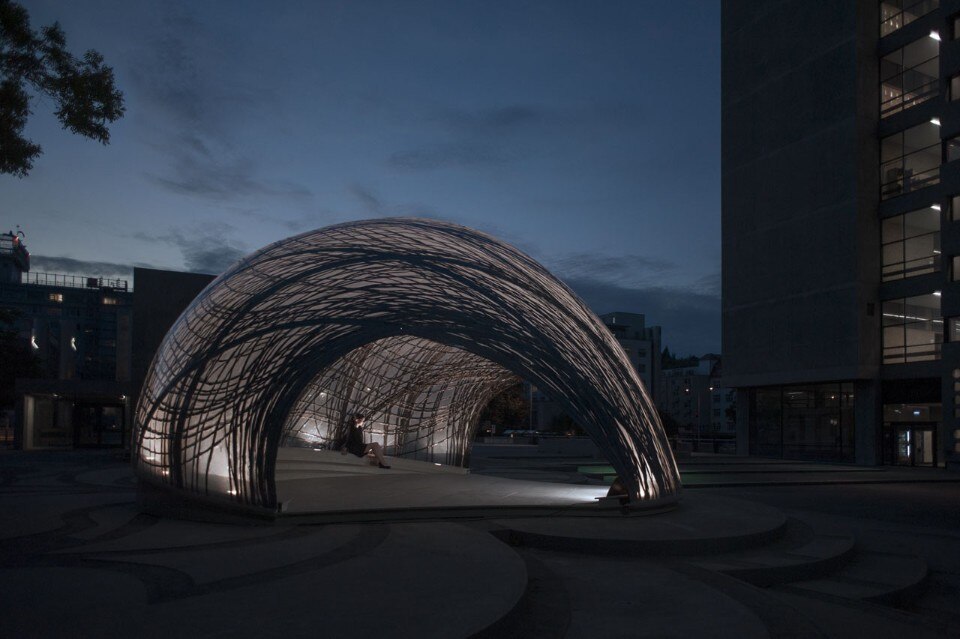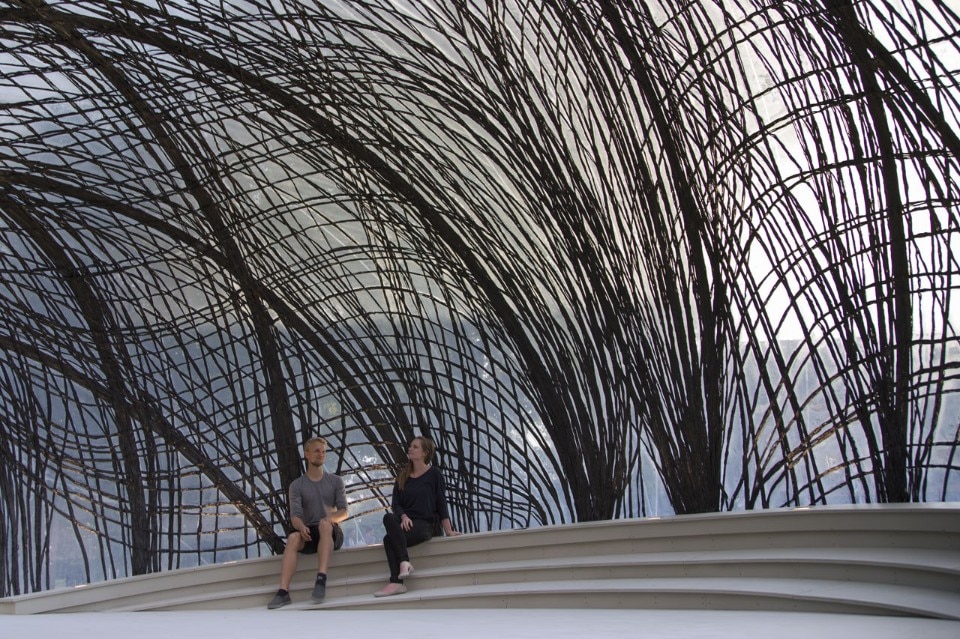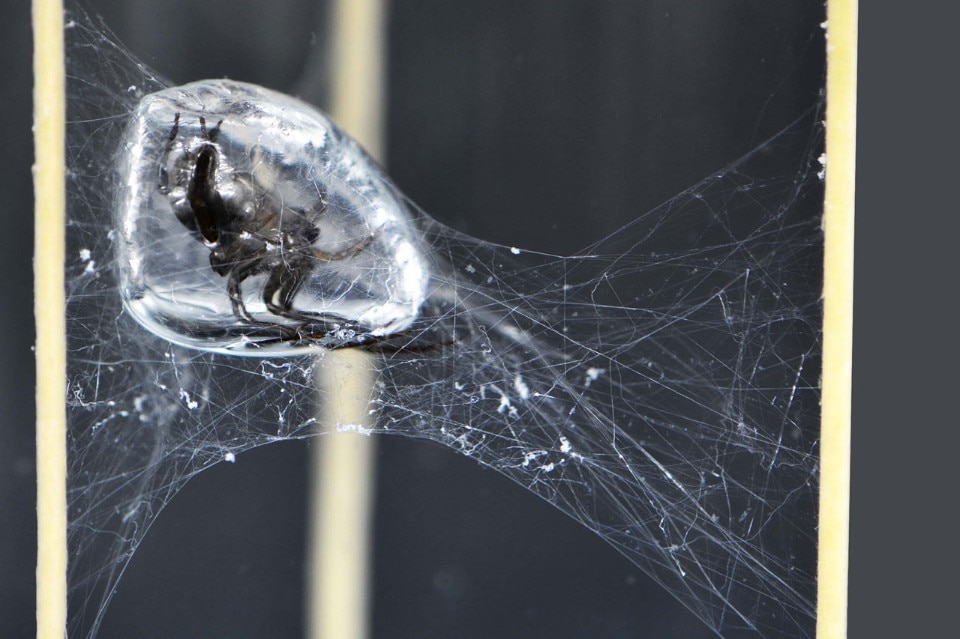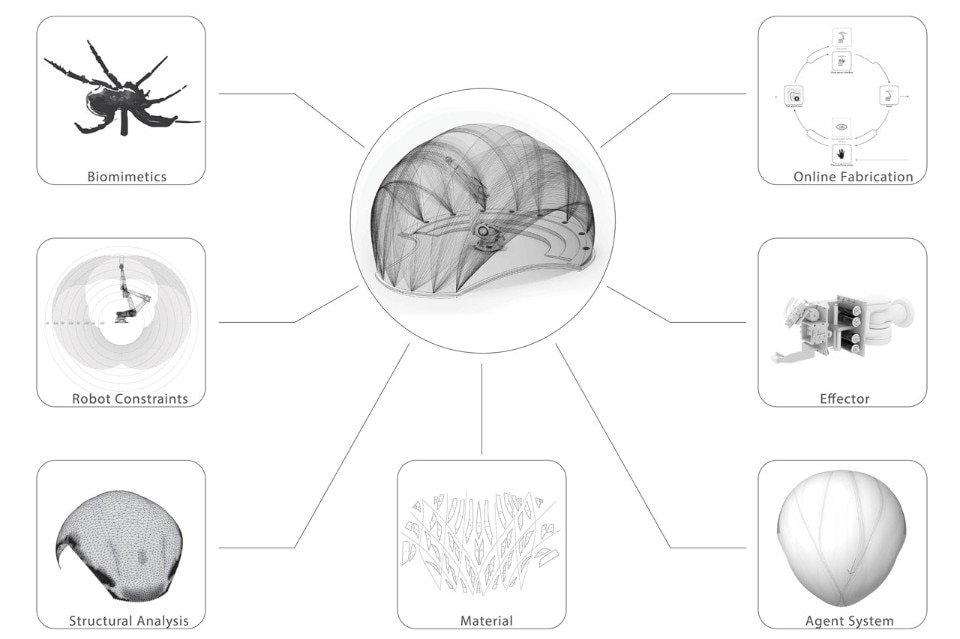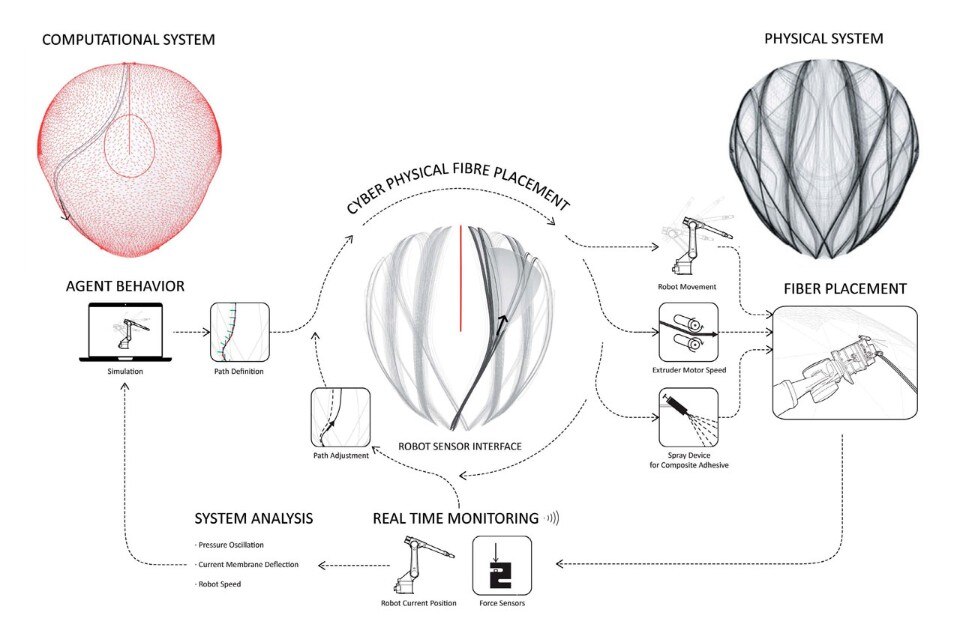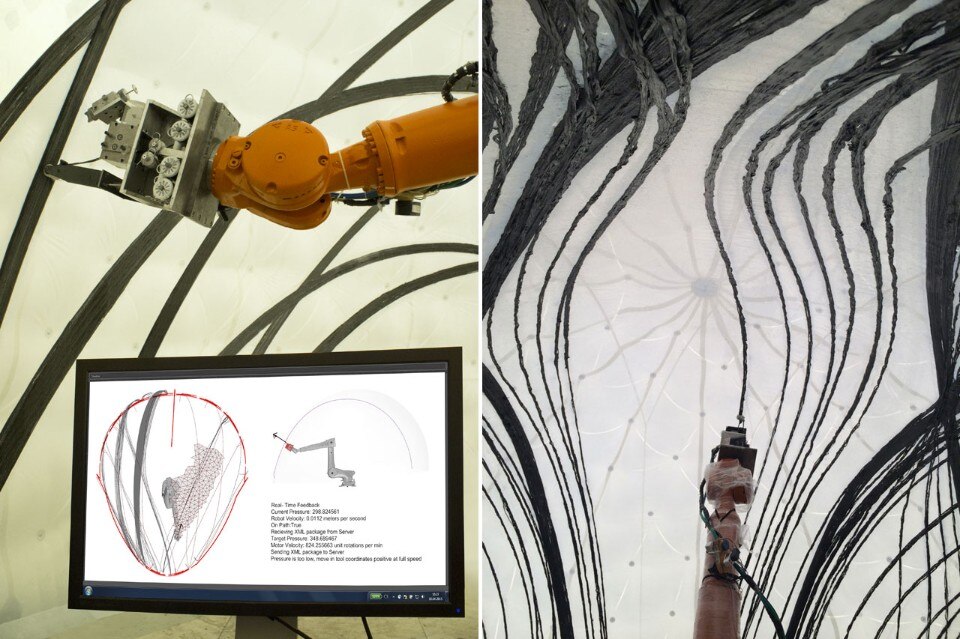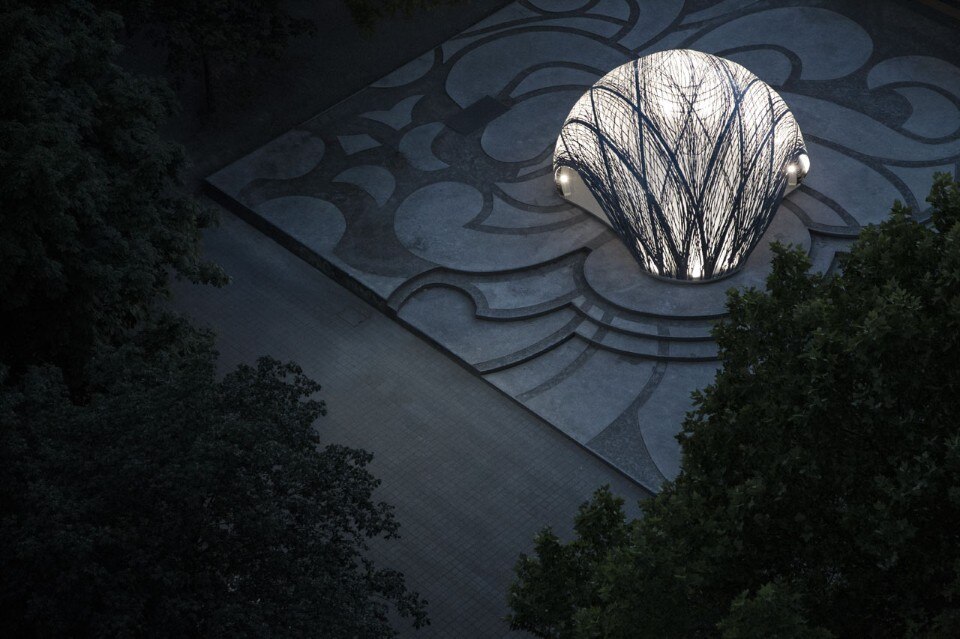 ICD/ITKE Research Pavilion 2014-15, Stuttgart. Photo © ICD/ITKE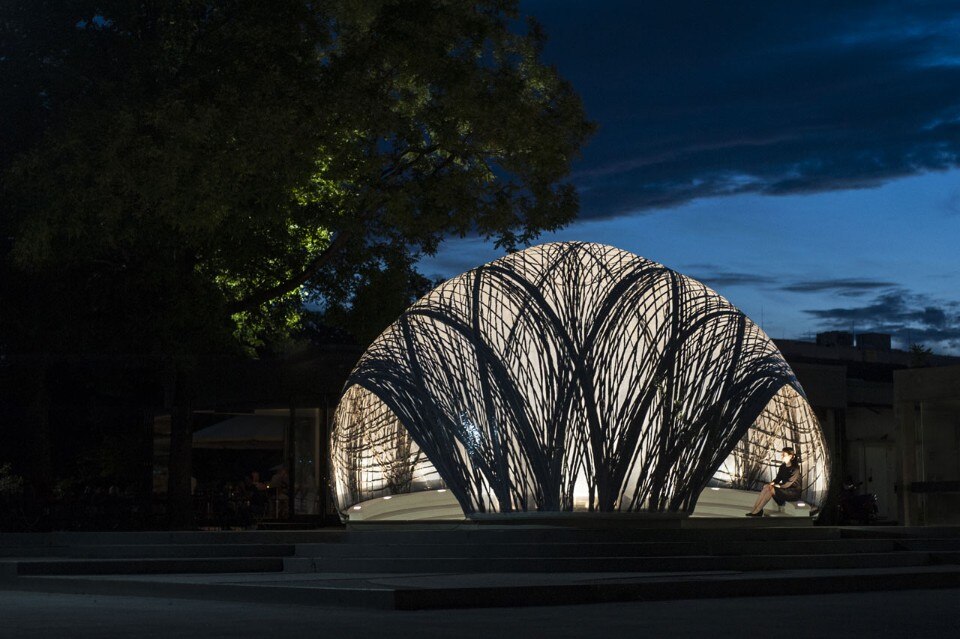 ICD/ITKE Research Pavilion 2014-15, Stuttgart. Photo © ICD/ITKE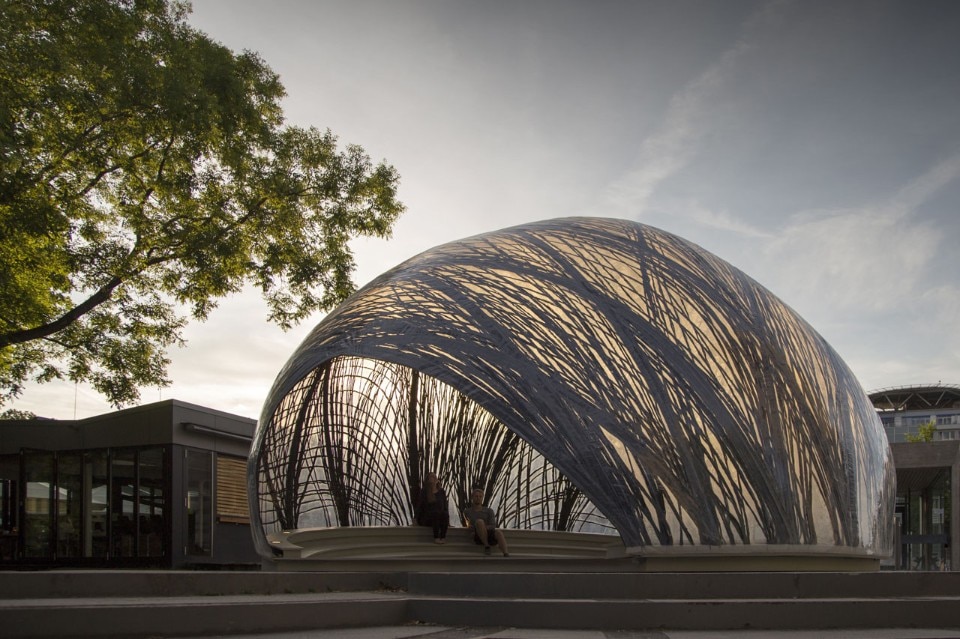 ICD/ITKE Research Pavilion 2014-15, Stuttgart. Photo © ICD/ITKE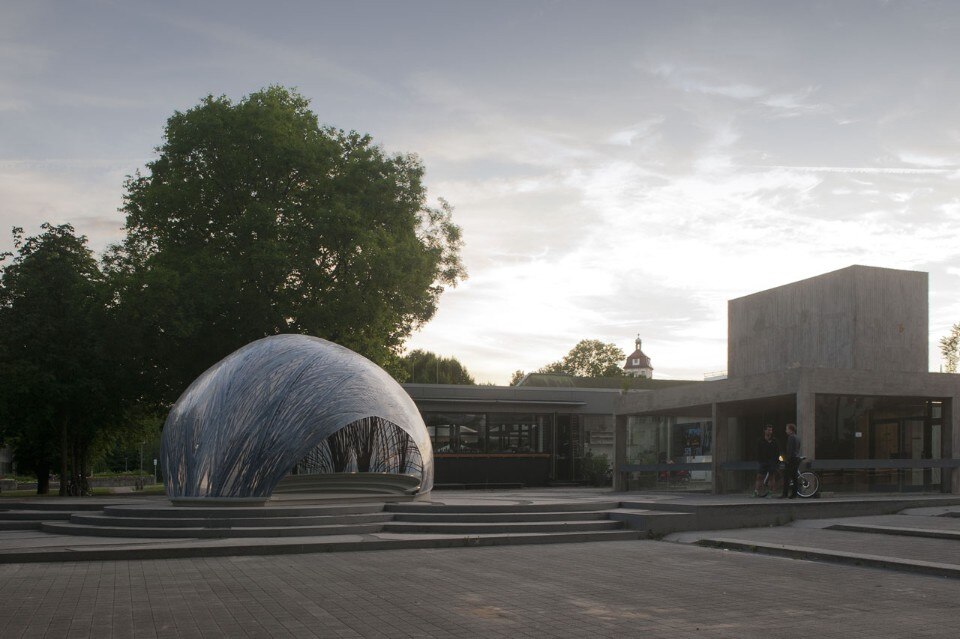 ICD/ITKE Research Pavilion 2014-15, Stuttgart. Photo © ICD/ITKE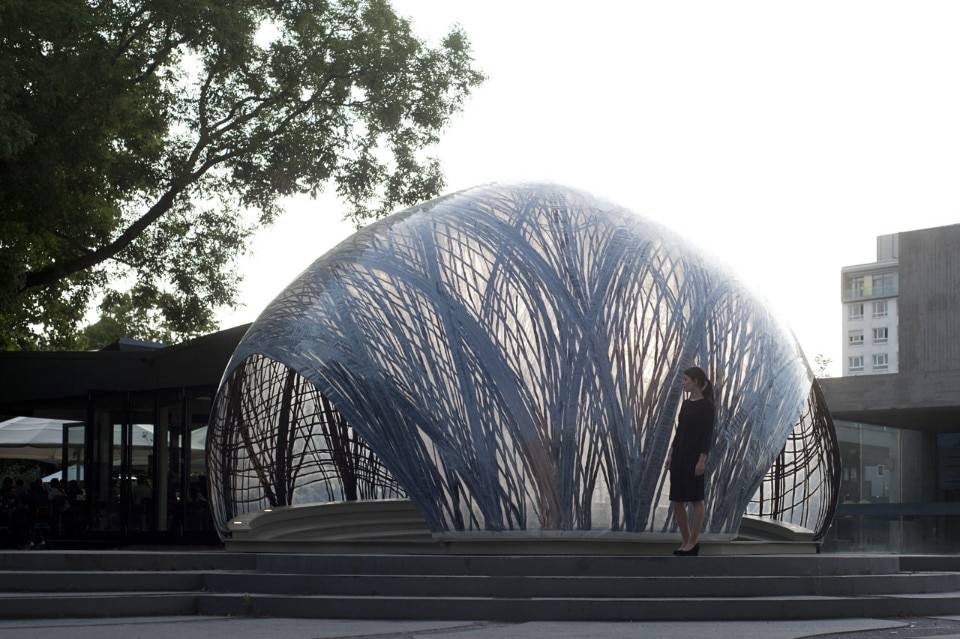 ICD/ITKE Research Pavilion 2014-15, Stuttgart. Photo © ICD/ITKE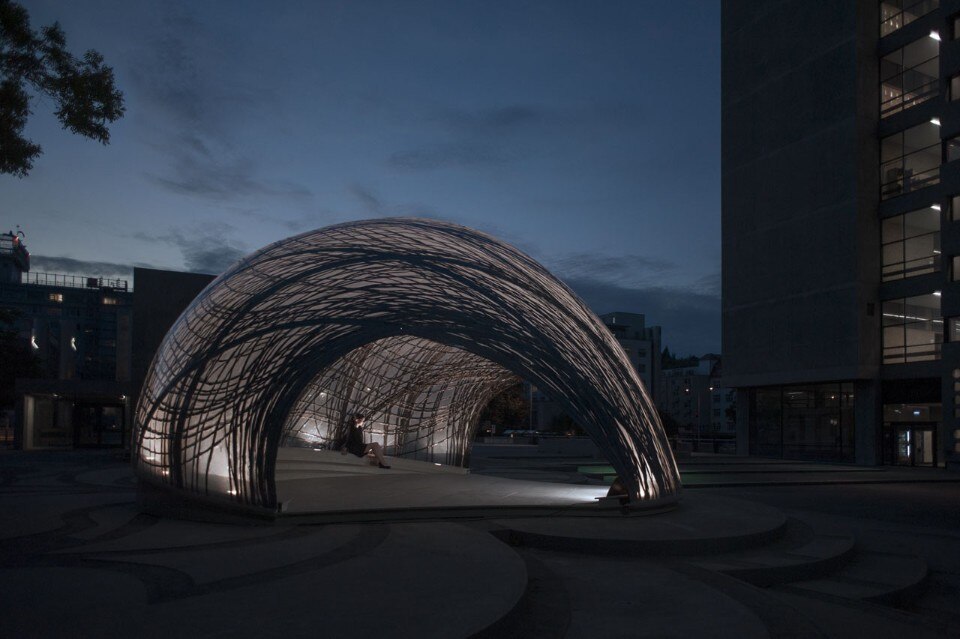 ICD/ITKE Research Pavilion 2014-15, Stuttgart. Photo © ICD/ITKE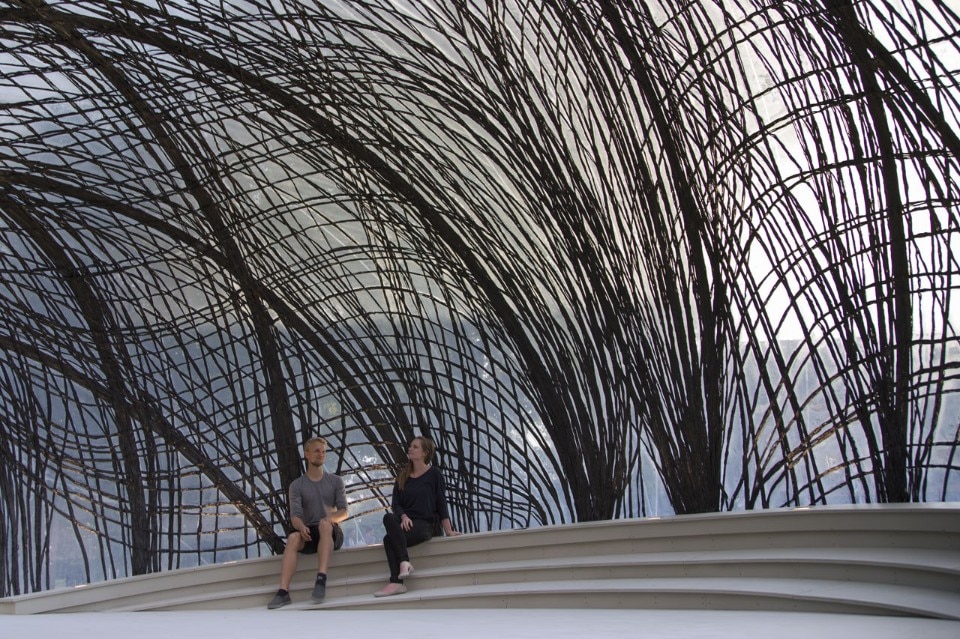 ICD/ITKE Research Pavilion 2014-15, Stuttgart. Photo © ICD/ITKE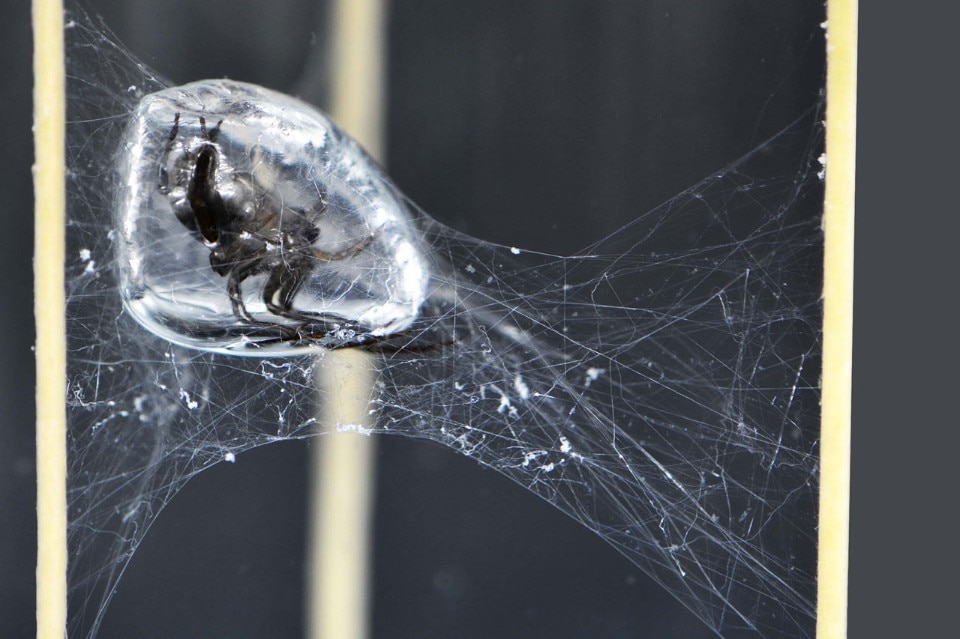 Diving Bell Water Spider (Agyroneda aquatica) reinforcing an air bubble from the inside for the ICD/ITKE Research Pavilion 2014-15. Photo © ICD/ITKE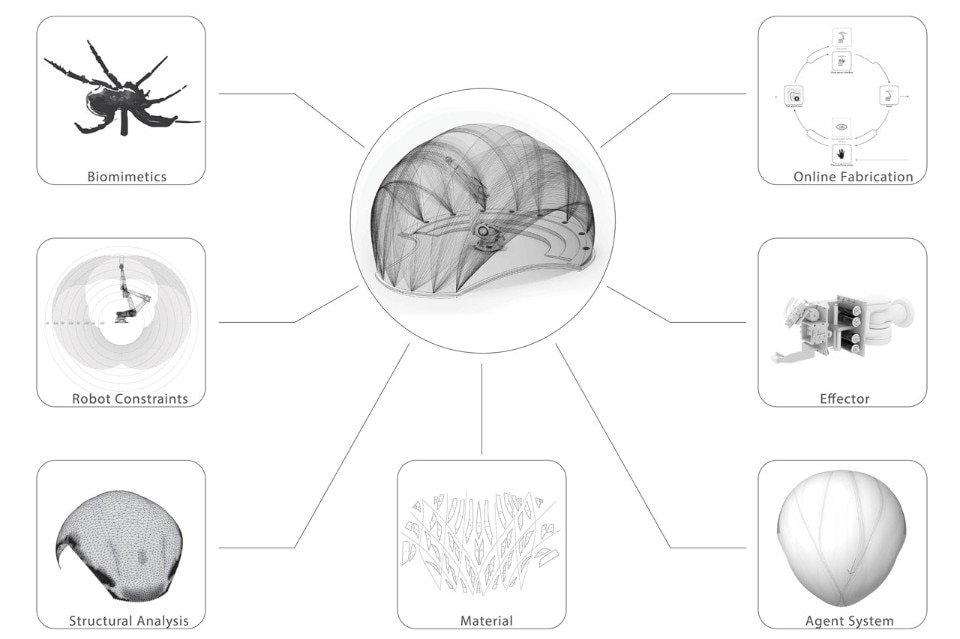 overall diagram
Diagram of integrated design criteria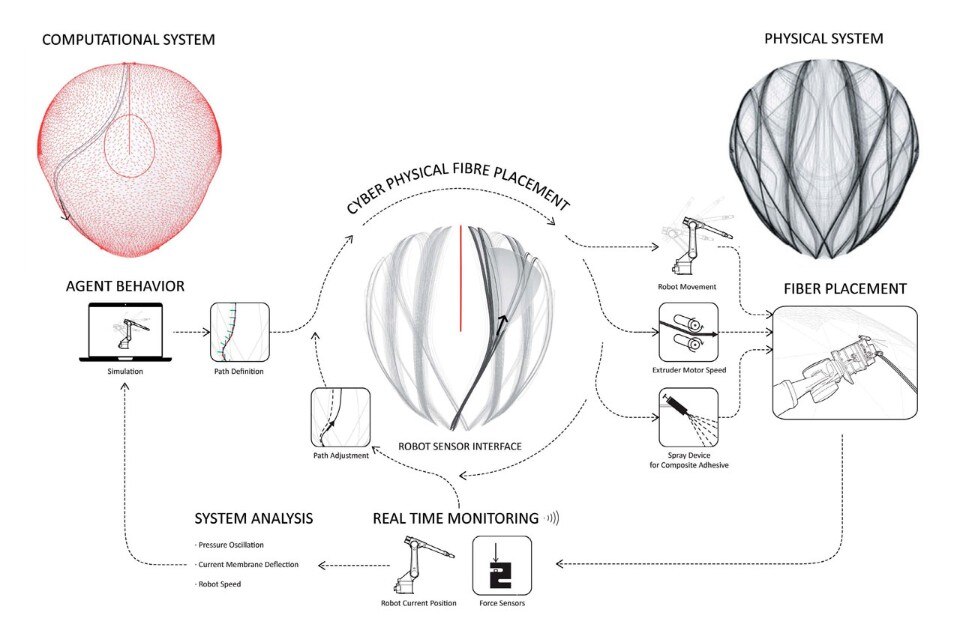 Cyber-physical fibre placement process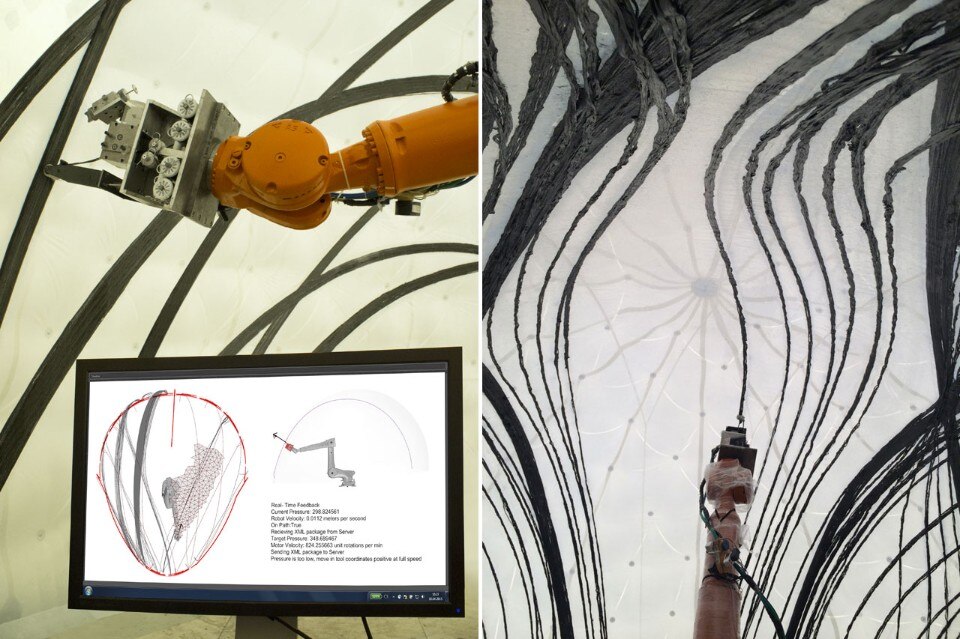 Left: On-site sensor interface for adaptive fiber placement process. Right: On-site robotic fiber placement of reinforcement fibers with parallel distribution

ICD/ITKE Research Pavilion 2014-15
Program: pavilion
Project team: Institute for Computational Design – Prof. Achim Menges; Institute of Building Structures and Structural Design – Prof. Jan Knippers
Scientific development: Moritz Dörstelmann, Valentin Koslowski, Marshall Prado, Gundula Schieber, Lauren Vasey
System development, fabrication and construction: Hassan Abbasi, Yassmin Al-Khasawneh, Yuliya Baranovskaya, Marta Besalu, Giulio Brugnaro, Elena Chiridnik, Tobias Grun, Mark Hageman, Matthias Helmreich, Julian Höll, Jessica Jorge, Yohei Kanzaki, Shim Karmin, Georgi Kazlachev, Vangel Kukov, David Leon, Kantaro Makanae, Amanda Moore, Paul Poinet, Emily Scoones, Djordje Stanojevic, Andrei Stoiculescu, Kenryo Takahashi and Maria Yablonina; Rebecca Jaroszewski, Yavar Khonsari, Ondrej Kyjanek, Alberto Lago, Kuan-Ting Lai, Luigi Olivieri, Guiseppe Pultrone, Annie Scherer, Raquel Silva, Shota Tsikoliya; Ehsan Baharlou, Benjamin Felbrich, Manfred Hammer, Axel Körner, Anja Mader, Michael Preisack, Seiichi Suzuki, Michael Tondera
With the support of: Ehsan Baharlou, Benjamin Felbrich, Manfred Richard Hammer, Axel Körner, Anja Mader, Michael Preisack, Seiichi Suzuki, Michael Tondera
In collaboration with: Departement of Evolutionary Biology of Invertebrates, University of Tuebingen, Departement of Palaeontology of Invertebrates, University of Tuebingen, Institute for Machine Tools, University of Stuttgart, Institute of Aircraft Design, University of Stuttgart
Funding: KUKA Roboter GmbH, GettyLab, tat aiRstructures, SGL Carbon SE, Sika Deutschland GmbH, Daimler AG, Walther Spritz- und Lackiersysteme GmbH, Lange+Ritter GmbH, Gibbons Fan Products Ltd, igus® GmbH, Peri GmbH, HERZOG Maschinenfabrik GmbH & Co. KG, AFBW – Allianz Faserbasierter Werkstoffe Baden-Wurttemberg e.V., Reinhausen Plasma GmbH, Reka Klebetechnik GmbH, HECO-Schrauben GmbH & Co. KG, Airtech Europe S.A., Mack Gerusttechnik GmbH, RentES, Stahlbau Wendeler GmbH + Co. KG, CARU Containers GmbH, EmmeShop Electronics, STILL GmbH, SH-Elektrotechnik, GEMCO, Zeppelin Rental GmbH & Co. KG
Completion: 2015