La corsa a chi sale più in alto non è l'unica gara nel mondo dell'architettura. Anzi, la tendenza predominante, negli ultimi anni, sembra sia quella di voler innovare la tipologia del grattacielo: invece che competere per avere il grattacielo più alto del mondo, le grandi metropoli globali vedono crescere enormi oggetti iconici, le cui forme richiamano oggetti di uso quotidiano, le sagome di animali...
The Helix, la nuova sede statunitense di Amazon, è solo l'ultima delle stranezze in ambito architettonico, figlia di un mercato che antepone l'impatto estetico dell'intervento alla sua funzionalità.
Il centro globale di questa tendenza è senza dubbio Londra, dove negli ultimi anni è di moda dare un soprannome ai grattacieli per esaltarne la loro iconicità. Il nuovo skyline è ormai caratterizzato dall'accumularsi di strani oggetti architettonici come the Gherkin (il cetriolo), the Cheese Grater (la grattugia), the Shard (la scheggia), the Walkie-Talkie, o the Boomerang.
Altro luogo di concentrazione di grattacieli e edifici strani è la Cina, che oltre all'iconicità degli edifici presenta improbabili riproduzioni di strutture occidentali come la Casa Bianca, l'Arco di Trionfo o la Tour Eiffel. Qui, però, nel 2016, il Consiglio di Stato e il Comitato Centrale del Partito Comunista hanno emesso una direttiva che va contro l'architettura "sovradimensionata, esterofila e strana", indicando che gli edifici dovrebbero essere "appropriati [al contesto], economici, sostenibili e piacevoli alla vista."
Possiamo dire che questo fenomeno recente sia un'evoluzione – o degenerazione – dell'interesse critico di Robert Venturi e Denise Scott Brown verso le "architetture brutte e ordinarie" (così è intitolato un capitolo di Learning from Las Vegas).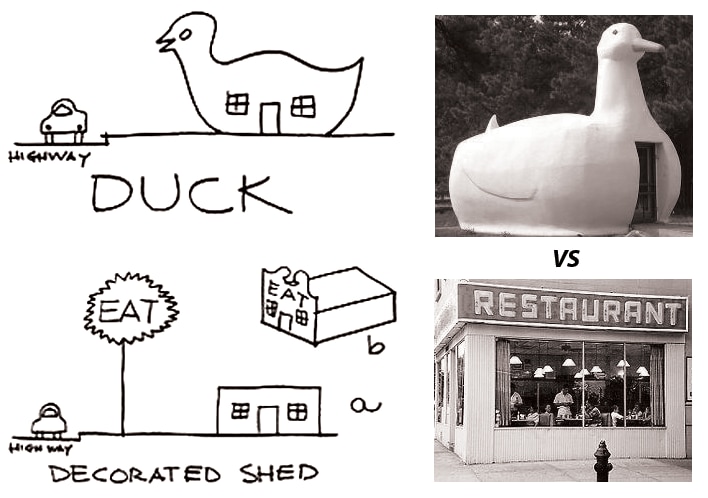 "The duck is the special building that is a symbol" si legge nel celeberrimo libro del 1972, commentando un edificio a forma di anatra. Dalla questa alla 💩 il passaggio non è poi così breve e articolato, ma non è nostro il compito di raccontare la storia dell'architettura strana. Piuttosto preferiamo guardare al futuro, e vedere quali altre "grandi opere" il mondo delle costruzioni ha in serbo. Dai serpenti alle curve di Beyoncé, dai Tulipani alle lune crescenti, abbiamo fatto una selezione dei grattacieli più strani attualmente in costruzione.