It was 2005, and some kind of a textbook generational clash  was being staged on Domus: refereed by Stefano Boeri, Joris Laarman as the neo-decorativist and provocative enfant terrible, and Vico Magistretti as the heroic  master of rational design, were sharing a conversation:
"Joris: 'Overall, you can say that I look at objects as autonomous entities. I look at an object and ask myself what it really wants to be. Why do we put all radiators in the same uniform and hide them like they do not exist?'
Vico: 'I could say that I do not agree at all with all he is saying, but I do understand the meaning of what he would like to say. In my case, I'm used to explaining my design in a clear concept, not with drawings, with style. I'm used to explaining them by telephone. I explain them with simple shapes ( a square, a triangle) and measurements. You can even explain why you want to use that shape and not another, by telephone. (…) Simplicity is intellectually more elegant. It is difficult because ypu have to imagine something simpler than before, but with a better use.'"
(Joris vs Vico, Vico vs Joris, Domus 878, February 2005)
Magistretti was taking part to the conversation as a total and undisputed living, icon, but unlike properly defined icons he was fully alive and kicking, way far from being crystallized or eternal, completely immersed into a debate where he was an active element. He did not talk in the name of a style, and that came as no surprise, because just a little earlier had declared in an interview to Hans Ulrich Obrist:
"In my perception, we are nowadays facing a different trend, a stylistic trend (the word might not be totally correct though). The word style has always been a word that expressed the sense of Italian design — if any sense has ever been —the wrong way"
(Interview 01: Vico Magistretti, Domus 866, gennaio 2004)
The 2000s were saluting Magistretti as an icon, and he was still beng a relevant character of those years. So, according to a common narrative scheme of 2000s TV series, we can step back to five decades before, to explore how the figure of Magistretti consolidated through the pages of Domus.
You will notice less of his rectilinear expressions as you walk across them, because they are aspects, openings, thresholds: you will walk past them. His curvilinear patterns instead: they will stop you. You enjoyed this in Arenzano, in Carimate, in Ello. It's him. (Gio Ponti, 1963)
The first years of Magistretti on the public scene were marked, more than by iconization, by iconoclasm. No portrait would appear in fact, no face, but, in perfect compliance with editorial trends of the time, his works. The 50s and 60s Magistretti is Magistretti making houses: "A new villa by Magistretti…" is the claim introducing his villa in Carimate, after those in Arenzano, Ello, and Azzate had already been published (Domus 363, 405, 409). Far from joining any "style team", Magistretti is deeply engaged in building by himself the era he belongs,  having his voice sounding together with those froim the great names of Italian architecture, such as the postwar Franco Albini and Gio Ponti, the Castiglioni brothers and Luigi Caccia Dominioni. Their productions would equally be integrated in his projects, the same way it happened to the chairs by Mies and Arne Jacobsen. In 1963, Ponti hiself reviewed the  house in Azzate:

"Between interior and exterior, he creates, as here, an architecture of vast informal arcades, porches, a display of architect's resources, an unveiling of unexpected views and shades of light. Well done indeed.
(…) And the inside: you will notice less of his rectilinear expressions as you walk across them, because they are aspects, openings, thresholds: you will walk past them. His curvilinear patterns instead: they will stop you. You enjoyed this in Arenzano, in Carimate, in Ello. It's him."
(Una casa di Magistretti, in collina, Domus 409, December 1963)

A language has been iconized forst of all, both visual and spatial, eclectic and modern, made of carved surfaces and coexistence of materials from different origins, both industrial and sometimes vernacular — part of the reason why his project in Arenzano became at the  same time the symbol of an independent design philosophy and the subject of criticism from the last CIAM in Otterlo in 1959.
A familiar presence in Italian architectural and cultural landscape already, Vico Magistretti gradually became a name.
In 1966, his villa in Carimate could therefore be announced in such terms:

"A new villa by Magistretti, joining the others we already published, continuing somehow the formal discourse they started – a more or less complex discourse, case by case; a more and more 'Magistretti discourse'."
(Vico Magistretti: una casa sul colle, Domus 444, November 1966)
His products were increasingly present in his interiors — the glass globes for Venini, the Carimate chair, born for a countryside golf club who could not afford the expensive Danish design, to later spread across countless Italian interiors. His sign becomes recognizable and recognized, communicated and channeled by critics.

In the 70s and 80s, one next step: Magistretti became a brand.
"Design: Vico Magistretti". A signature expression accompanying constant appearences of his design pieces on different pages on Domus: those were the years of the Atollo and Snow lamps for O-luce, chairs like the Selene being mentioned in great innovation and trend reviews. Magistretti had become a brand, and he would work for brands, at all the scales of his activity, including architecture, designing showrooms for Artemide and Cassina (Domus 508 and 602).
The proper iconization process would nonetheless start in the 90s: Magistretti would also become a face , in the end, a constant presence also in physical terms; still, it was hard to get him playing the icon, if the rules were not of his own.
Exhibitions, interviews, monographic publications started to spring. Keeping away from both the uniforms of social engagement and designer-as-craftman rhetoric — frequent attempts took place to force him into some of these uniforms — Magistretti always communicated himself, his figure, through the most impenetrable and ironic understatement.
In 1991, as a review tried to investigate his positioning within the Postmodern condition, he would answer through the lines of his book curated by Vanni Pasca:
"One of the  things making me proud is that I designed almost 120 objects, and at least 80% of them is still in production. Selling is a biological fact, it concerns the relationship between objects and history. We don't make paintings; we have to sell quickly enough that our products don get put out of the catalogue.
(…) I had to build a house, and it got me a nervous breakdown. I thought: well, if I do design, it might pay my golf club membership."
(from the review on Domus 731, October 1991)

Critics would question curators in their choices to narrate the master — he could be called like that by that time. The master, in the meanwhile, could find the space to narrate his practice, made of close relationship with production, relational genesis of design concepts, to narrate his projects born on the phone, such as the Chimera lamp for Artemide. 
Having to do with people who live in a house but get themselves represented by someone else, delegating someone else to build an image for them, is typical of an uncultured world.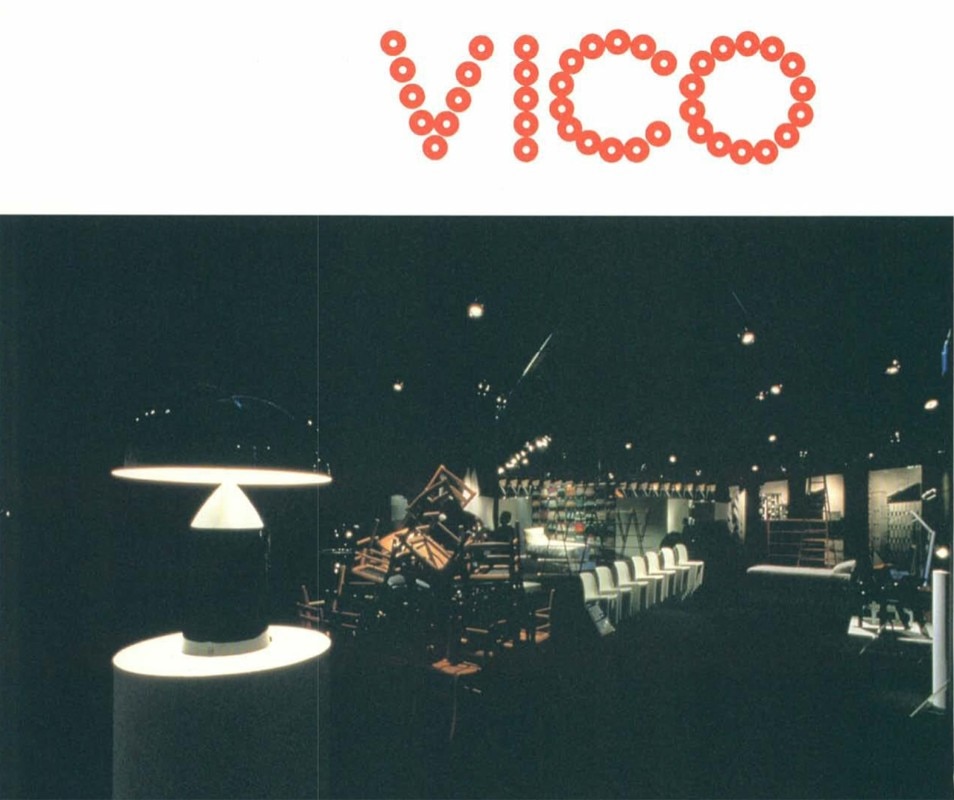 Let icons be icons, in the end: their story, their rules, their vision. Mostly if, by the time of their canonization, these icons are still designing and producing full steams for several brands such as Tisenntanta, dePadova, Cassina (Vico Magistretti: opere tra il 1992 e il 1995, Domus 767, January 1995). Such autonomy could be perceived also in 1993, when he was called together with other architects, to outline his landscape of references:
"I love English park benches, the Mini Minor, Burberrys, the map of the London underground. Beautifull things, mainly because their 'beauty' is secondary to utility. It is their repetition that makes them so extraordinarily beautiful.
(…) A piece of furniture becomes eternal if it can survive at least 50 years: after that, it is forever. It involves exact meanings and references."
(Gli arredi degli architetti, Domus 748, April 1993)
So we can make our way back to the Obrist interview, where the icon enjoys sharing some of his fundamental statements:

"I hate style. I don't care about it. I'm interested in other things.
Basically, there are two ways to make design. One is the typical styling design, American cars from the 50s to the 80s, for instance.  They would just  add some chrome-plated detail, and it would became the new model-year.
The only thing I'm interested in is concept design. I believe that, between all aspects of what has been Italian design, what struck me the most has been conceptual simplicity. Should someone ask me what I wish I designed, I'd like to answer: the umbrella. I believe it's an extraordinary example of design, also because it does not refer to any style, it refers to a use.
Something that I always loved, has been the chance I have had to communicate what I wanted to do through the telephone."
(Interview 01: Vico Magistretti, Domus 866, gennaio 2004)
By the time when Domus put him on the mount Rushmore of his 869 cover, with him joining Ettore Sottsass, Enzo Mari, Andrea Branzi, Alessandro Mendini for a dream-team dinner, the independence of Magistretti had become an icon by itself. The rear guards at CIAM could not box him with the "reactionaries" in 1959, nor could anyone ever associate him to any brand that was not his own brand; in the meanwhile, he had become a constitutive element within a timeless domestic Italian landscape, so much that his Atollo lamp would figure on Domus as one of the most relevant design icons in international cinema (Le icone del design nel cinema, Domus 1001, April 2016), and the Il mio Magistretti project — an open call that in 2012 invited whoever interested to send pictures of design pieces by Magistretti that were part of their everyday habitat — is still resulting as one of the most effective in outlining at its best the status of anomalous and absolute icon of such a crucial figure for an entire century. 
Let them icons be icons, let them be it their way.