Milan, early 1960s. The euphoria of the economic boom reaches every area of society and affects entrepreneurs and designers, professionals, and young creatives in equal measure. There is a strong desire for innovation, but without forgetting – in line with the proverbial Milanese pragmatism – the lessons of tradition.
In March 1960, in Milan, the Osservatorio delle arti industriali, which had been established just a few years earlier, organised the Nuovi disegni per il mobile italiano (New Designs for Italian Furniture) exhibition, which not only inaugurated the short-lived Neo-Liberty period but also that very important phase – in the history of Italian design – characterised by the desire to overcome or at least contaminate the functionalist paradigm as well as the orthodoxy of the Modern Movement. This exhibition displayed twenty-one pieces of furniture and twelve lamps by young Milanese architects including Aldo Rossi, Vittorio Gregotti, Gabetti and Isola, Guido Canella, Virgilio Vercelloni, Umberto Riva, Giotto Stoppino, Lodovico Meneghetti, Leonardo Ferrari, Sergio Asti, and a very young Gae Aulenti.

What united the participating architects and designers was the desire to overcome a design focused only on mass industrial production, in order to restore a more lively and less standardised relationship with the domestic space and the act of living.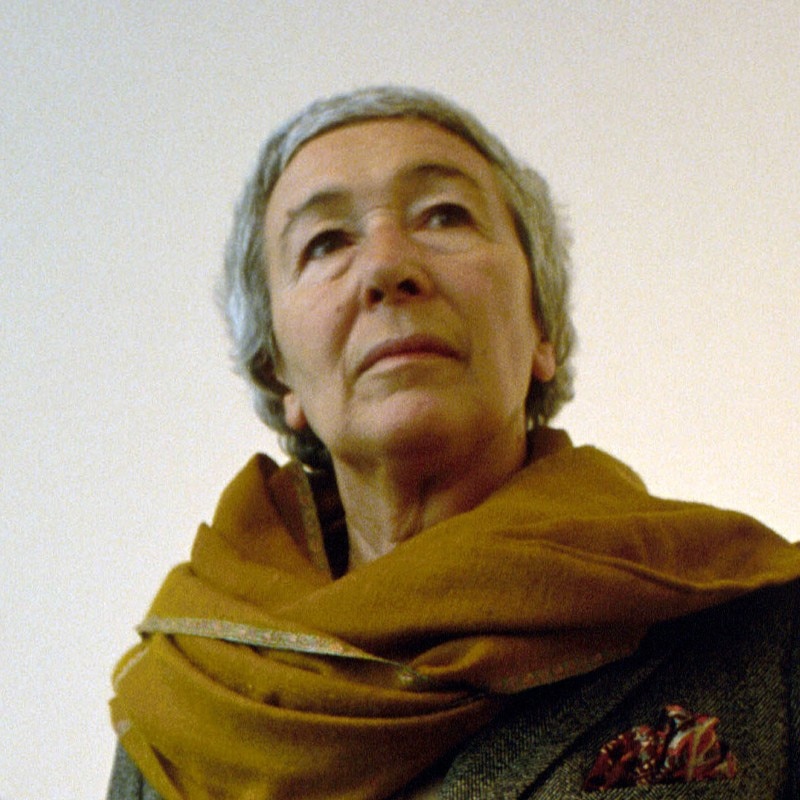 As is often the case, Gillo Dorfles described better than anyone else the direction and reach of such change: it helped us to shift – he wrote – "from a rectangular, geometric age to one of enveloping sensuality". Apart from the aforementioned exhibition, we can link to this trend pieces of furniture such as the Cavour curved wooden armchair, which was designed by Gregotti, Stoppino, and Meneghetti for Sim and was awarded the Compasso d'Oro in 1960, the Sanluca armchair, designed by Achille and Pier Giacomo Castiglioni for Gavina in 1960, characterised by dynamic forms, conceived in various moulded elements and then assembled, and the Nastro armchair (1965) by Joe Colombo, made of cane rods bent and joined together.
Gae Aulenti, who was in her early thirties at the time, made her debut as a designer with a project that can be traced back to this trend - the Sgarsul rocking chair in curved beech wood, made exactly 60 years ago, in 1962, by a small but important Tuscan company with solid craft traditions as well as a strong innovative vocation such as Poltronova, whose artistic direction was Ettore Sottsass.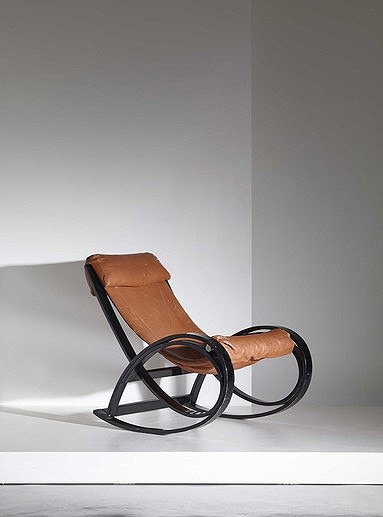 "Sgarsul", which in Neapolitan dialect means "scugnizzo" (street urchin), re-elaborates a century later the typology embodied by Thonet's 1862 rocking chair No. 1. This rocking armchair is characterised by an elegant, sinuous frame made of curved and stained beech wood, a comfortable, soft polyurethane padding and sophisticated leather upholstery. The curved beechwood frame, with its sinuous, drop-shaped lines, supports a pouch, which hugs the body, and which the designer designed to need as few stitches as possible, with a foam rubber padding within a plastic fabric.
The shape – to quote Dorfles – is decidedly enveloping. At first glance, it conveys an idea of comfort, of bourgeois cosiness, while the realisation implies the contamination of industrial manufacturing processes with more decidedly handcrafted ones. The revisitation of tradition represented by the Thonet model gives a precise idea of how Gae Aulenti understood innovation – not as a break or rejection of the past, but rather as a creative and inventive dialogue with it.