Russell Jones designed a villa characterised by a sheer white concrete and simple tectonics, in Waalre, amid a fir tree woodland and ancient dunes of sand. The site was formerly occupied by Louis Christian Kalff's villa for Frans Otten, the son in law of Anton Philips, president of the Dutch technology company Philips. At the time, the company wanted to attract an elite group of Philips managers in the area of Eindhoven and Kalff (1897-1976) – who worked as architect, designer and art director for the company – designed several villas in Waalre, where Philips had bought large pieces of woodland outside the city.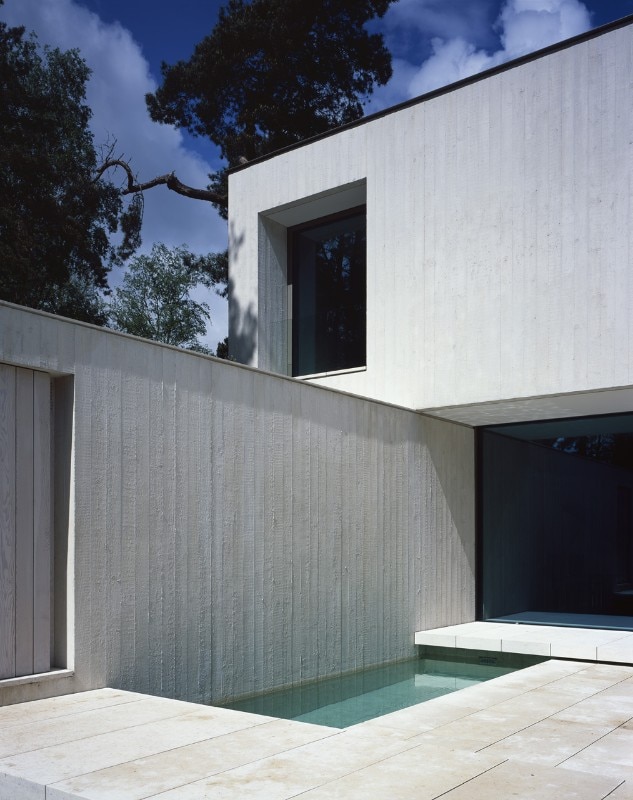 Villa Waalre, in the design by Russell Jones, is a wide building of 1,200 sqm in a plot of 7,000 sqm; the building is oriented southwards and takes advantage of the site's key natural features in establishing an exterior-interior relationship with the surroundings. Titanium dioxide has been added to the concrete enhancing its sheerness; the fluid has been cast using modules of fir boards that left a distinctive trace on the surface of the whole building. The efficiency of the building relies on the thermal separation of inner and outer wall, all made of structural concrete.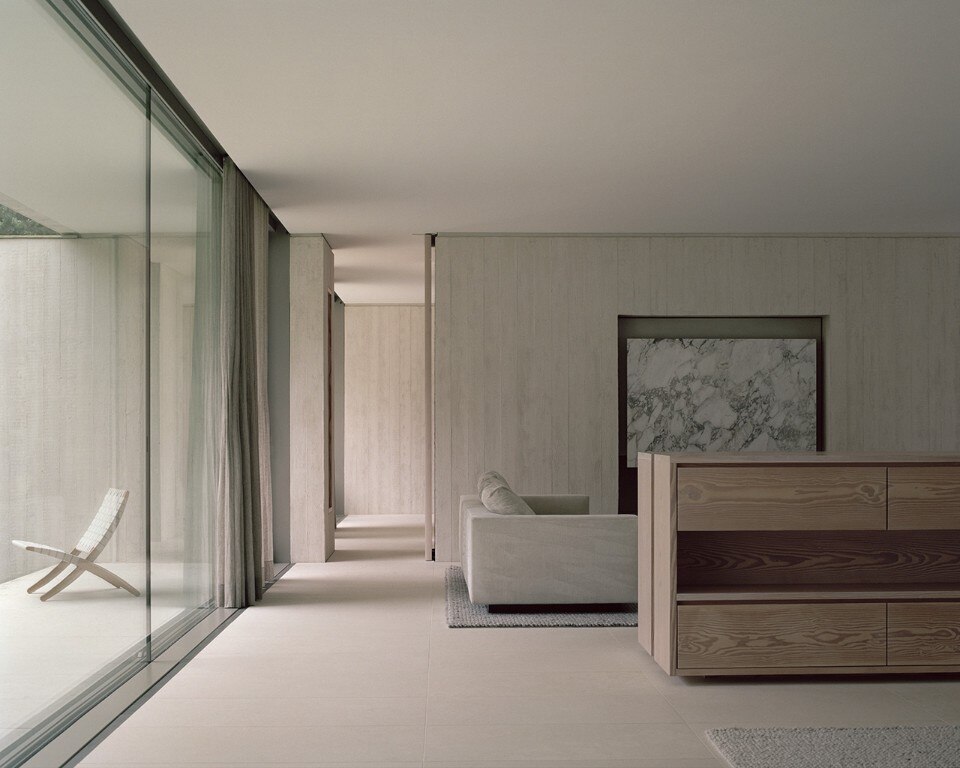 The ground floor of the building hosts the common spaces for the life of the family members, organised around a large living room, while the first floor hosts five bedrooms. The living room and most of the bedrooms are south facing and contain large glazed openings. A 25-metre long subterranean swimming pool covers most of the surface of the basement floor. Water returns in the exteriors, where several rectangular plunge pools complete the composition of the plan.
Project:

Villa Waalre

Location:

Waalre, Eindhoven area, Netherlands

Program:

single-family house

Architect:

Russell Jones

Project team:

Eleni Makri, Melissa Beasley, Malcolm Thorpe, Nicholas Ierodiaconou, Ross Tredget, Nick Vullings, Hannah Guy

Project Management :

Royal Haskoning

Main Contractor:

BurgtBouw

Structural Engineers:

Arup Amsterdam

Adviser for concrete specification:

Henk Oude Kempers

Environmental and Hydraulic Services :

Gebr. Van Hout

Electrical Services:

Mansveld

Fenestration:

TGM

Swimming and reflecting pools:

LoTec

Joinery, Cabinetry and Furniture :

Retera

Landscape strategy:

Studio Diekema

Landscape planting:

Jacques van Leuken

Area:

1200 sqm

Completion:

2015