Marcio Kogan's studio, mk27 is no stranger to radical experiments in horizontality and this private residence in Porto Feliz, in the São Paulo region makes no exception. However, the Casa Plana presents an uncommon element in the practice of the studio: a flexuous curve, a freestanding perforated brick wall on the East facade.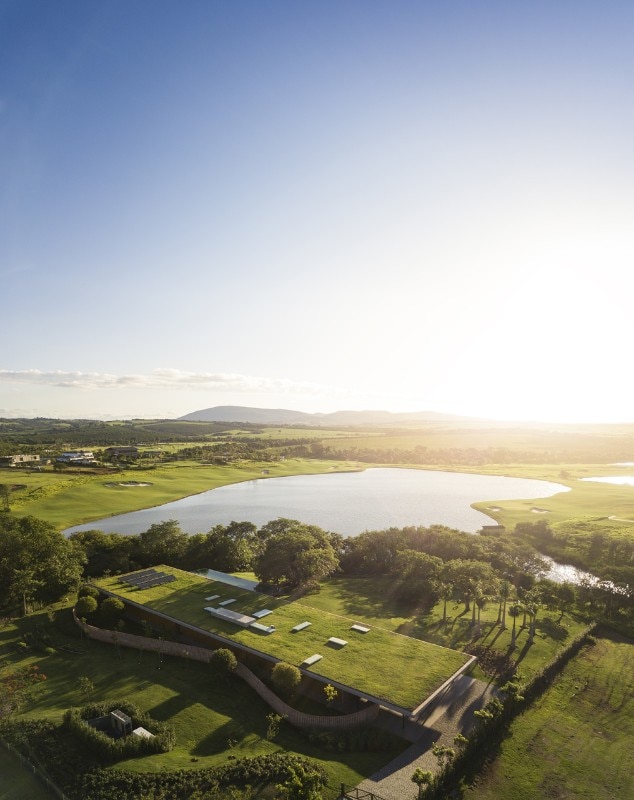 Casa Plana stands on the highest point of the plot and its perimeter is defined by the concrete rectangular slab of the roof. This element mimics the green of the surrounding lawn while enhancing thermal comfort. The geometry of this fifth facade, as defined by the architects, is punctuated by solar panels and skylights; the swimming pool is in itself a second rectangular surface, a geometric element completing the composition of the footprint.
The permeable filter of the brick wall directly confronts with the east elevation of the building, embracing and invading the Cartesian space with its concavities and convexities.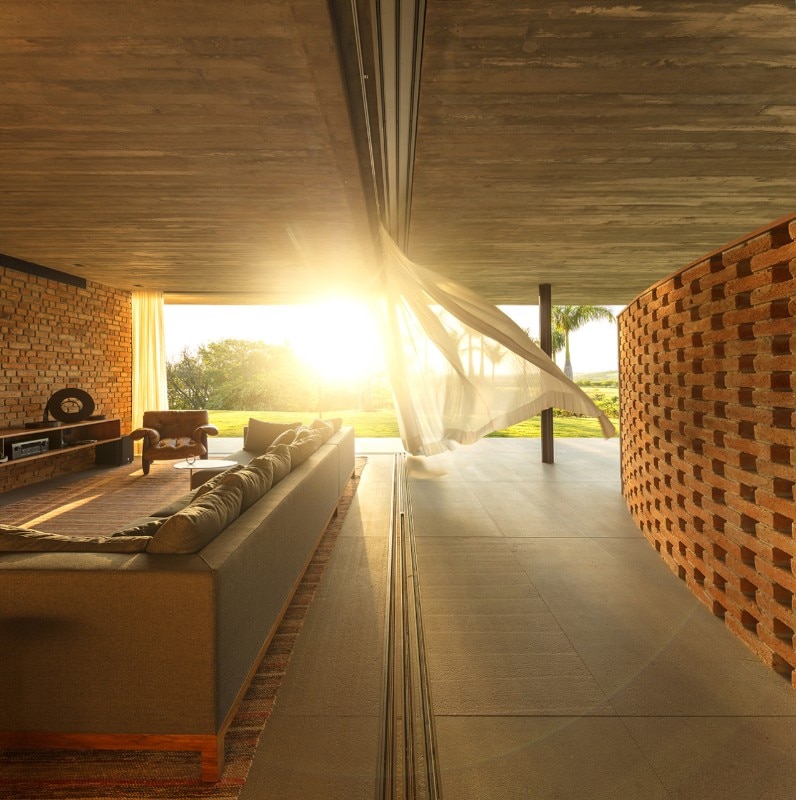 The interiors of the building are organised by a central corridor connecting the two living rooms at the extremities. The distribution therefore determines a spatial division of two wings of bedrooms: the suite-bedrooms for the family members are located in the western wing, while the eastern wing hosts the gym, the kitchen and staff bedrooms. The whole interior space is contained within a glass box; this a transparent surface that can be totally opened towards the surrounding landscape in the living areas.
Project:

Casa Plana

Program:

single-family house

Location:

Porto Feliz, Brazil

Architect:

mk27 – Marcio Kogan, Lair Reis

Design team:

Carlos Costa, Carolina Castroviejo, Laura Guedes, Mariana Simas, Oswaldo Pessano, Pedro Ribeiro, Raquel Reznicek, Renato Périgo, Ricardo Ariza Miyabara, Suzana glogowski, Tamara Lichtenstein, Thauan Miquelin

Interiors:

Diana Radomysler

Landscape designer:

Maria João D'Orey

Structure and steel engineer:

afaconsult

MEP - Mechanical, electrical and plumbing engineering:

afaconsult

Area:

1000 sqm

Completion:

2018