CDC and DDG designed the stadium to be "a stadium that would help the supporters, that would help the team to win matches. I wanted to make the supporters get on the pitch" said Anibal Coutinho, who led a team of 25 architects.

The rectangular 267 by 228 metres, 43 metres tall stadium has two buildings, the main on the west side and another on the east side.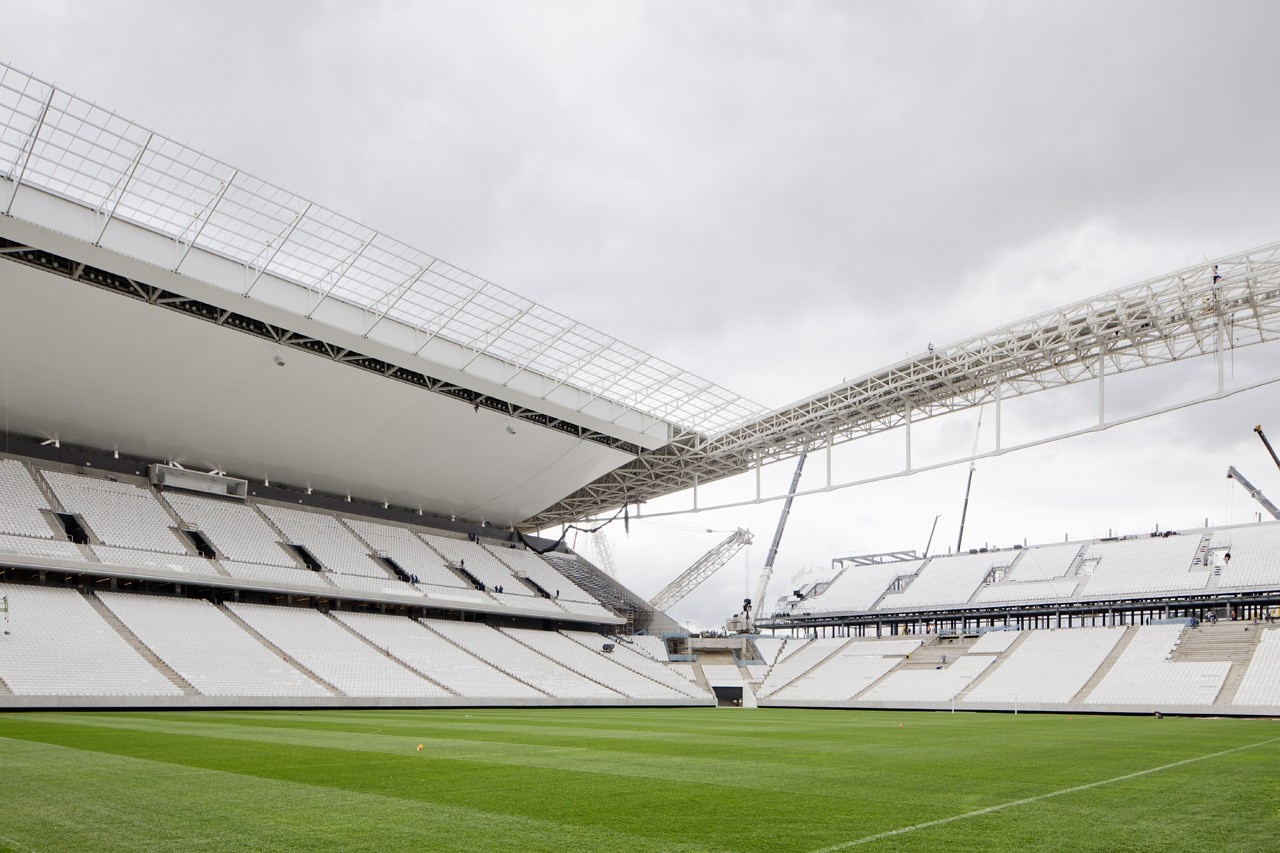 The west side has VIP seats, TV crew equipment, press and most box seats. A single entrance with reflecting pools on each side will give access to the building. Reflecting pools also work as a performance fountain, providing splash and spectacle at programmed moments during stadium events.
The glass has been designed with a curvature intended to simulate the visual effect of a ball hitting the net.

The east side houses one of the largest video screens of the world, 170 by 20 metres.

Coutinho Diegues Cordeiro Arquitetos, DDG Arquitetura, Arena Corinthians, Itaquera, São Paulo, Brazil © marcusbredt.de
Coutinho Diegues Cordeiro Arquitetos, DDG Arquitetura, Arena Corinthians, Itaquera, São Paulo, Brazil © marcusbredt.de
Coutinho Diegues Cordeiro Arquitetos, DDG Arquitetura, Arena Corinthians, Itaquera, São Paulo, Brazil © marcusbredt.de
Coutinho Diegues Cordeiro Arquitetos, DDG Arquitetura, Arena Corinthians, Itaquera, São Paulo, Brazil © marcusbredt.de
Coutinho Diegues Cordeiro Arquitetos, DDG Arquitetura, Arena Corinthians, Itaquera, São Paulo, Brazil © marcusbredt.de
Coutinho Diegues Cordeiro Arquitetos, DDG Arquitetura, Arena Corinthians, Itaquera, São Paulo, Brazil © marcusbredt.de
Coutinho Diegues Cordeiro Arquitetos, DDG Arquitetura, Arena Corinthians, Itaquera, São Paulo, Brazil © marcusbredt.de
Coutinho Diegues Cordeiro Arquitetos, DDG Arquitetura, Arena Corinthians, Itaquera, São Paulo, Brazil © marcusbredt.de
Coutinho Diegues Cordeiro Arquitetos, DDG Arquitetura, Arena Corinthians, Itaquera, São Paulo, Brazil © marcusbredt.de
Coutinho Diegues Cordeiro Arquitetos, DDG Arquitetura, Arena Corinthians, Itaquera, São Paulo, Brazil © marcusbredt.de
Coutinho Diegues Cordeiro Arquitetos, DDG Arquitetura, Arena Corinthians, Itaquera, São Paulo, Brazil © marcusbredt.de
Coutinho Diegues Cordeiro Arquitetos, DDG Arquitetura, Arena Corinthians, Itaquera, São Paulo, Brazil © marcusbredt.de
Coutinho Diegues Cordeiro Arquitetos, DDG Arquitetura, Arena Corinthians, Itaquera, São Paulo, Brazil © marcusbredt.de
Coutinho Diegues Cordeiro Arquitetos, DDG Arquitetura, Arena Corinthians, Itaquera, São Paulo, Brazil © marcusbredt.de

Arena Corinthians, Itaquera, São Paulo, Brazil
Program: stadium
Architects: Coutinho Diegues Cordeiro Arquitetos, DDG Arquitetura
Client: Corinthians Paulista
Contractor: Odebrecht
Completion: 2014