"SQM: The home does not exist", un'indagine di Space Caviar – un collettivo di design e ricerca fondato da Joseph Grima e Tamar Shafrir – commissionata da Biennale Interieur come programma culturale per l'edizione 2014, si interroga sulla validità della nozione di domesticità nel contesto dell'economia dell'informazione, della cultura della rete e della condizione di saturazione tecnologica.
Abbiamo ancora bisogno di mobili? Che tipo di prodotti richiede l'economia della condivisione? Che tipo di città sarà quella costruita da AirBnB?
In uno scenario post-crisi, se spingiamo all'estremo una serie di possibilità – se gli immobili non sono più di proprietà ma in affitto, se le valute e i governi sono decentrati, se la casa diventa la nuova frontiera della battaglia per la privacy individuale – che cosa ci possono sugggerire sulla forma fisica del nostro presente? Come la prima Biennale Interieur nel 1968 predisse un futuro di design democratico, SQM presenta una visione delle nuove sfide a cui il design deve rispondere, quasi mezzo secolo dopo.
A Kortrijk Xpo, l'installazione SQM: The Theatre of Everyday Life esplora la casa come un'unità in evoluzione spaziale, economica e sociale. I visitatori possono navigare in un paesaggio di manufatti, film, disegni, foto e infografiche in una struttura alla scala architettonica. Sentieri tortuosi e scalinate trasformano i lucernari della Rambla in spazio abitabile.
La Rambla opsiterà anche SQM: Fortress of Solitude, un film in tre parti prodotto da Space Caviar che indaga le idee alla base delle case smart. Anzichè offrirci riparo, gli spazi più privati ​​raccolgono informazioni sulle nostre vite? Le nostre case stanno diventando macchine di dati piuttosto che spazi per vivere? Il film è integrato da proposte di prodotti immaginari che seguono la vita quotidiana di una madre single.
Parte del programma SQM si svolge nel centro di Kortrijk, dove la mostra "SQM: The Quantified Home" ha occupato gli spazi abbandonati della Broelschool, che sarà presto demolita. Per l'allestimento della mostra, Space Caviar e i graphic designers di Folder hanno organizzato il Broelschool Demolition Workshop, in cui un gruppo di dieci partecipanti ha scolpito percorsi alternativi attraverso la costruzione, per formare una linea temporale dello spazio domestico.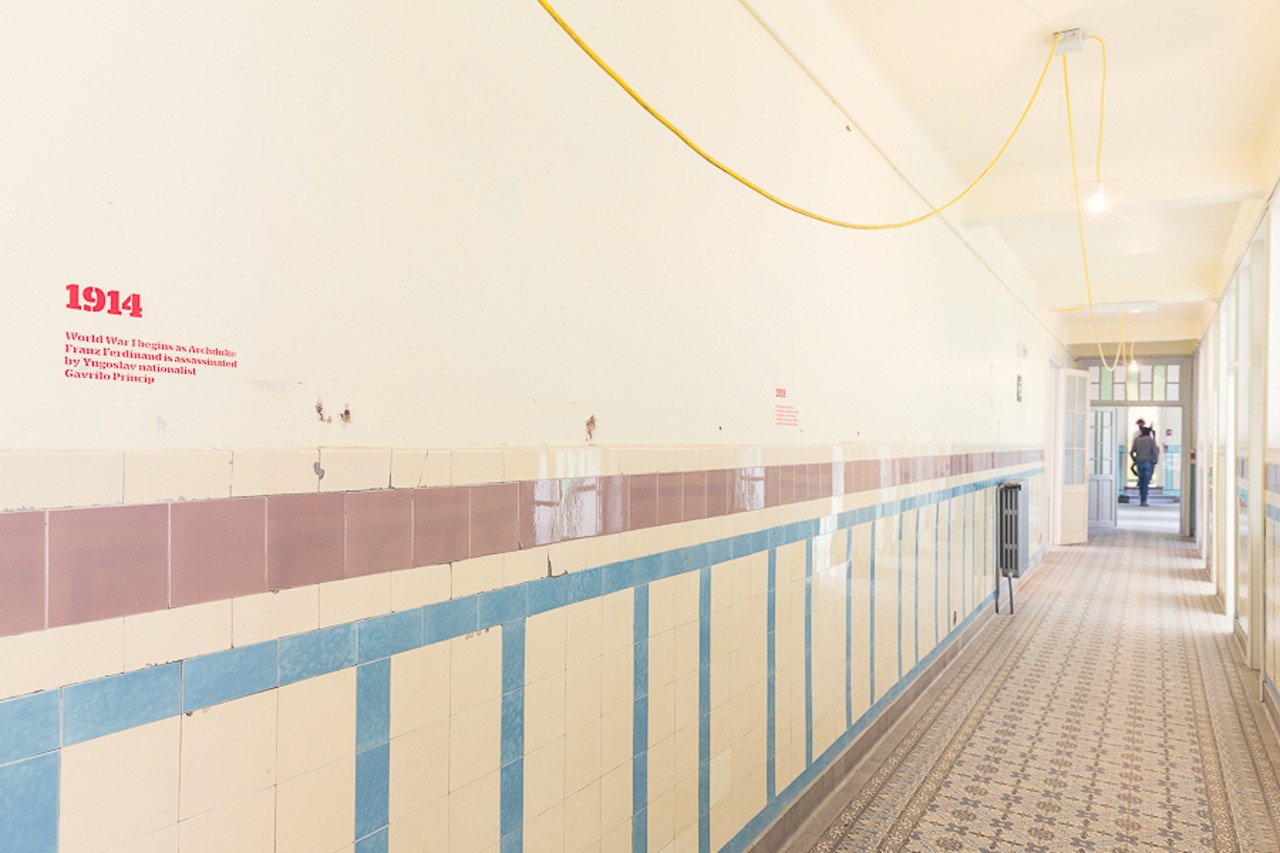 Unendo citazioni, dati e diagrammi, la timeline conduce i visitatori a esplorare le idee mutevoli di casa che si sono succedute nel tempo. SQM: Roomba Ballet rappresenta la fine della timeline, nella palestra della scuola. Si tratta dell'apoteosi della casa intelligente, una coreografia di aspirapolveri robotici Roomba.
Il progetto SQM è completato dal libro SQM: The Quantified Home (pubblicato da Lars Muller), in vendita con il catalogo di Biennale Interieur. MQ: Il testo combina saggi, grafica e narrativa redatti da un gruppo di importanti autori internazionali ed esplora i molti modi in cui le nostre case sono cambiate, dalle cucine moderniste alla vita in appartamento nell'epoca di Airbnb.
Space Caviar, "SQM: The Quantified Home", Broelschool, Kortrijk. Photo © Delfino Sisto Legnani
Space Caviar, "SQM: The Quantified Home", Broelschool, Kortrijk. Photo © Delfino Sisto Legnani
Space Caviar, "SQM: The Quantified Home", Broelschool, Kortrijk. Photo © Delfino Sisto Legnani
Space Caviar, "SQM: The Quantified Home", Broelschool, Kortrijk. Photo © Delfino Sisto Legnani
Space Caviar, "SQM: The Quantified Home", Broelschool, Kortrijk. Photo © Delfino Sisto Legnani
Space Caviar, "SQM: The Quantified Home", Broelschool, Kortrijk. Photo © Delfino Sisto Legnani
Space Caviar, "SQM: The Quantified Home", Broelschool, Kortrijk. Photo © Delfino Sisto Legnani
Space Caviar, SQM: Roomba Ballet, Broelschool, Kortrijk. Photo © Delfino Sisto Legnani
Space Caviar, SQM: Roomba Ballet, Broelschool, Kortrijk. Photo © Delfino Sisto Legnani
Space Caviar, SQM: The Theatre of Everyday Life, Kortrijk's Xpo. Photo © Delfino Sisto Legnani
Space Caviar, SQM: The Theatre of Everyday Life, Kortrijk's Xpo. Photo © Delfino Sisto Legnani
Space Caviar, SQM: The Theatre of Everyday Life, Kortrijk's Xpo. Photo © Delfino Sisto Legnani
Space Caviar, SQM: The Theatre of Everyday Life, Kortrijk's Xpo. Photo © Delfino Sisto Legnani
Space Caviar, SQM: The Theatre of Everyday Life, Kortrijk's Xpo. Photo © Delfino Sisto Legnani
Space Caviar, SQM: The Theatre of Everyday Life, Kortrijk's Xpo. Photo © Delfino Sisto Legnani