Il Salone, sempre più anticipato con inaugurazioni e cocktail che hanno intercettato la Milano Art Week, Broken Nature e il nuovo Museum of Italian Design alla Triennale, in realtà è iniziato venerdì scorso.
Piazza Duomo è sigillata da una gigante poltrona di Gaetano Pesce trafitta da mille frecce, le giraffe innamorate di Marcantonio si annusano amabili in Statale, e gli allestimenti promettono un totale godimento dei sensi, come per Les Anarchistes di Studiopepe o per il black&white del Korean Craft a Superstudio.
Per il primo giorno ufficiale di Fuorisalone, la redazione di Domus propone cinque appuntamenti da non perdere.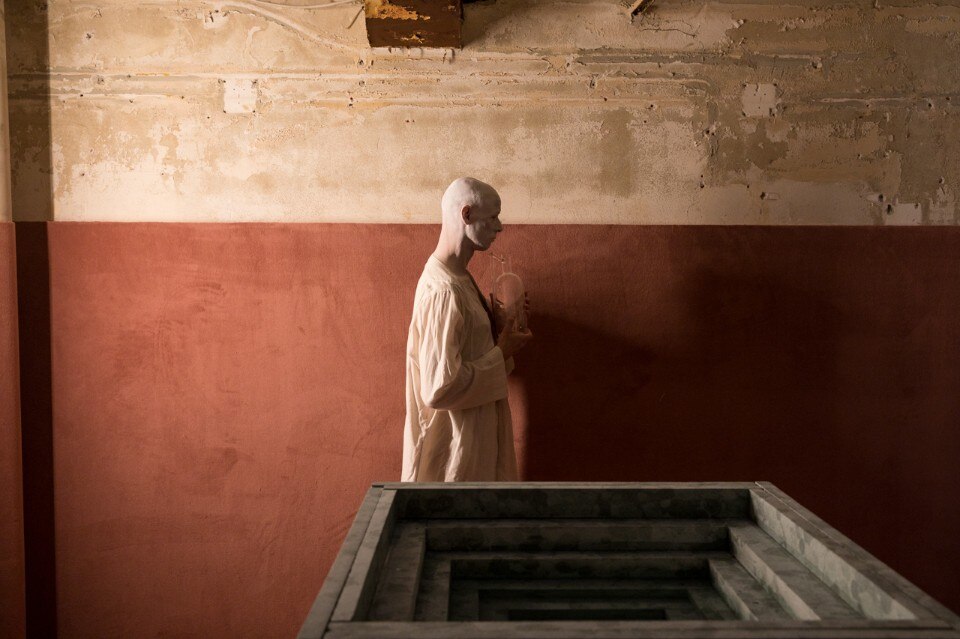 Nilufar Depot
In via Vincenzo Lancetti 34, Nina Yashar offre tre mostre nel suo generoso Nilufar Depot: "FAR" è un allestimento immersivo fatto di enormi parassiti gonfiabili curato da Studio Vedèt e Space Caviar, seguito da "New sculptural presence" curata da Libby Sellers e allestita da Patricia Urquiola e infine la mostra di design da collezione "Nilufar and the Great Italian Masters". 
Cinque mostre alle 5VIE
Uno dei distretti più ricchi del Fuorisalone, le 5VIE meritano di sicuro più tappe. Per il primo giorno di Salone suggeriamo le cinque mostre personali di Roberto Sironi, Carlo Massoud, Anton Alvarez, Ugo La Pietra e Kiki Van Eijk con Joost Van Bleiswijk. In via Cesare Correnti 14 le due mostre "Design Territoriale" di Ugo La Pietra sull'artigianato sommerso, e "Connect" di Kiki van Eijk e Joost van Bleiswijk sul tema dell'empatia e della chimica tra le persone.
Al SIAM in via Santa Marta 18 si può visitare "Human Code" di Roberto Sironi a cura di Annalisa Rosso, che rivela anni di ricerca su antropologia, tecnologia e materia. "L'ultima cera", a cura di Nicolas Bellavance-Lecompte, mostra le estrusioni di Anton Alvarez con cera e bronzo, all'interno della Chiesa di San Bernardino alle Monache in Via Lanzone 13. All'Oratorio della Passione in Piazza Sant'Ambrogio "Il pesce e gli astanti" a cura di Maria Cristina Didero presenta per la prima volta in Italia il lavoro del designer libanese Carlo Massoud.

Hermès Maison
In serata, negli spazi de La Pelota in via Palermo 10 verranno presentate le nuove collezioni per la casa di Hermès Maison. L'anno scorso la maison parigina aveva allestito uno spazio metafisico di pareti colorate ricoperte di piastrelle irregolari, nelle sale della Permanente. 
Alcova + Alcova Sassetti
Aperta in via Popoli Uniti 11-13, zona Centrale, l'anno scorso è stata la grande novità del Fuorisalone. Seguiamo Alcova anche in questa edizione, a cura d Space Caviar e Studio Vedèt, che si arricchisce di un'appendice in zona Isola con Alcova Sassetti (via Sassetti 31), a cura di Alice Stori Liechtenstein. Alcova si autodefinisce un'istituzione culturale itinerante che con l'arte e il design riattiva temporaneamente i luoghi abbandonati della città.
Knoll celebrates Bauhaus
Curata da OMA in collaborazione con Domitilla Dardi, l'ormai attesa mostra "Knoll celebrates Bauhaus" verrà allestita e inaugurata in serata nello showroom di piazza Bertarelli. Ripercorrendo la storia dell'azienda con la figura di Florence Knoll in primo piano. La mostra celebra il centenario del Bauhaus durante la Milano Design Week.