Immersa nell'atmosfera tradizionale dei campus universitari di Cambridge, la nuova biblioteca del Magdalene College, progettata da Níall McLaughlin Architects, integra armonicamente le esigenze del presente con il senso della storia e del luogo a cui appartiene. I profili svettanti dei tetti a falde, il ritmo serrato dei camini, le murature in mattoni e le strutture in legno, in particolare CLT (cross laminated timber), sono tutti elementi che alludono a forme, materiali e caratteri costruttivi sedimentati nei secoli, che il progetto riconosce, fa propri, e reinterpreta in chiave contemporanea. 

Concepito per durare "almeno 400 anni" e grazie anche alla grande cura nelle fasi esecutive del progetto, l'edificio si inserisce nel contesto con una presenza – come la definirebbe Adam Caruso in The feeling of things – che innesca un dialogo profondo con l'intorno.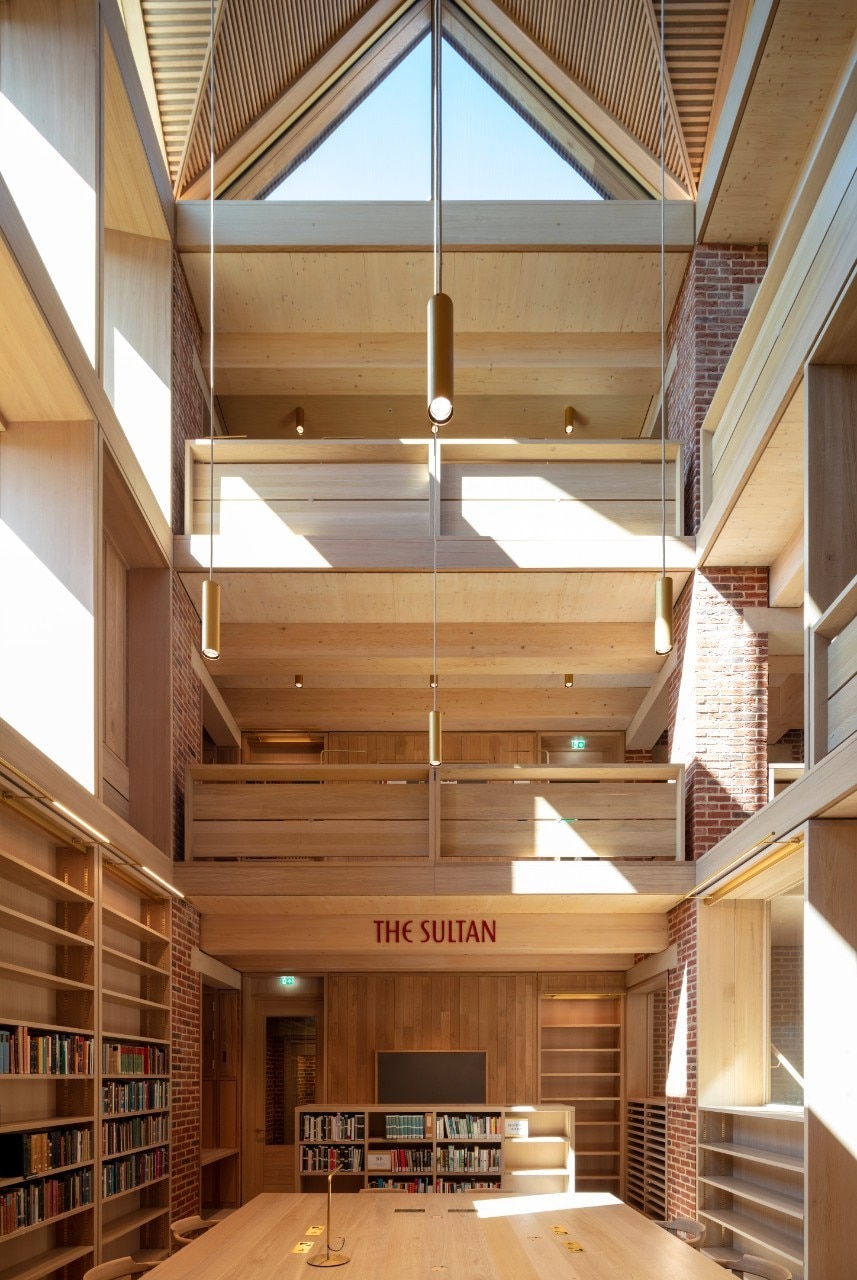 Se esternamente il volume appare composto da una ripetizione regolare di moduli quadrati impostati su un reticolo tipo tartan, all'interno lo spazio si articola in ambienti prima compressi, coincidenti con le campate quadrate, poi dilatati, sia in verticale che orizzontale. Muoversi all'interno dell'edificio significa quindi attraversare spazi sempre diversi sia per proporzioni, con doppie e triple altezze, sia per diffusione della luce naturale, che entra in modo zenitale o laterale. Diverse tipologie di postazioni lettura offrono diversi gradi di intimità comprendendo sia grandi tavoli per attività da svolgere in condivisione sia sedute più isolate, affacciate talvolta su una doppia altezza e talvolta su una finestra.
Ad una apparente rigidità di impianto si contrappone una sorprendente varietà nell'esperienza dell'architettura, varietà che si traduce nella possibilità per i lettori di interagire con persone e spazi in relazione alle proprie necessità e stati emotivi. Non manca una riflessione sulla sostenibilità, che si può riassumere in tre punti: scelta strategica dei materiali costruttivi, adozione di strategie di ventilazione passiva, e volontà di costruire per durare nel tempo.