Domestic Hats (letteralmente "cappelli domestici") è il titolo della mostra curata nel 2014 da Jennifer Bonner al Goat Farm Arts Center di Atlanta. Una sequenza di candidi modelli volumetrici riflettevano sulle tipologie di tetti delle case unifamiliari di Atlanta, riconoscendone le ricorrenze (ad esempio la doppia falda) ed estremizzandone le possibili combinazioni e variazioni.
Haus Gables, completata da Bonner con il suo studio MALL nella capitale della Georgia, riprende la riflessione sulla forma della copertura, utilizzata come strumento per mettere in crisi i paradigmi spaziali consolidati della produzione edilizia. "Dopo il free plan di Le Corbusier e il raumplan di Adolf Loos" afferma Bonner "qui è il roof plan ad organizzare l'architettura".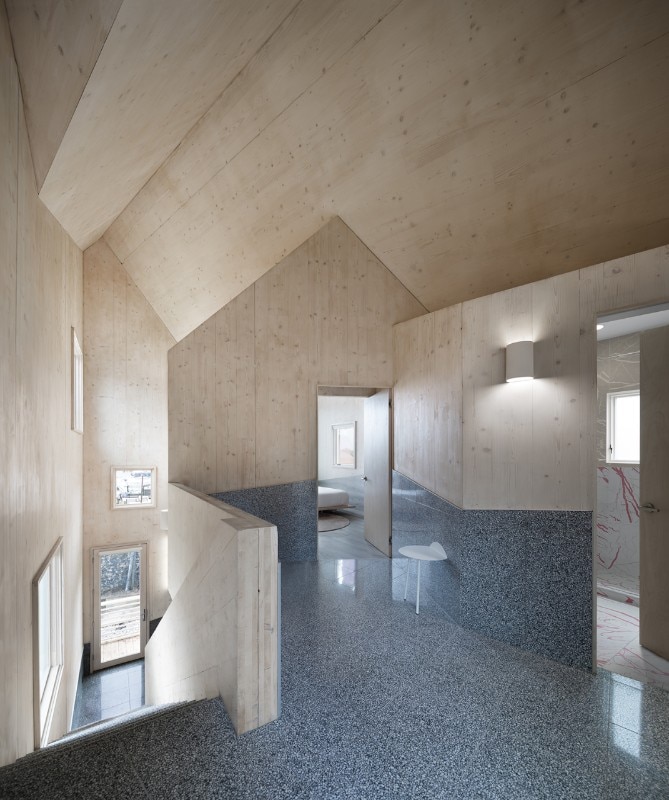 In un edificio dall'impronta al suolo ridottissima, sequenze inedite di stanze, passerelle e ambienti a doppia altezza inondati di luce si allineano alle valli e alle creste dei sei tetti a falda. All'esterno, l'alternarsi di pendenze e contropendenze rende l'edificio inafferrabile, quasi un gioco illusionistico. Bonner ragiona qui al tempo stesso sull'instabilità dell'immagine architettonica nell'epoca dei social media e sulla possibile traduzione progettuale del vernacolo del South statunitense – tema, quest'ultimo, che esplora anche in A Guide to the Dirty South. Atlanta, pubblicata nel 2017.
Il rapporto tra la realtà e la sua rappresentazione è pure all'origine della selezione certamente non scontata delle finiture. Haus Gables è una delle pochissime residenze in legno lamellare di tutti gli Stati Uniti, patria del balloon frame, ma la sua struttura performante e ad alta tecnologia è, per così dire, sdrammatizzata da un caleidoscopio di faux finishes, "materiali falsi (…) colorati, azzardati, deludenti". Finti mattoni, finto terrazzo, finto marmo e tanti altri, partecipano tutti alla costruzione di un nuovo linguaggio domestico, tutt'altro che purista, omaggio molto pop alla tradizione decorativa locale.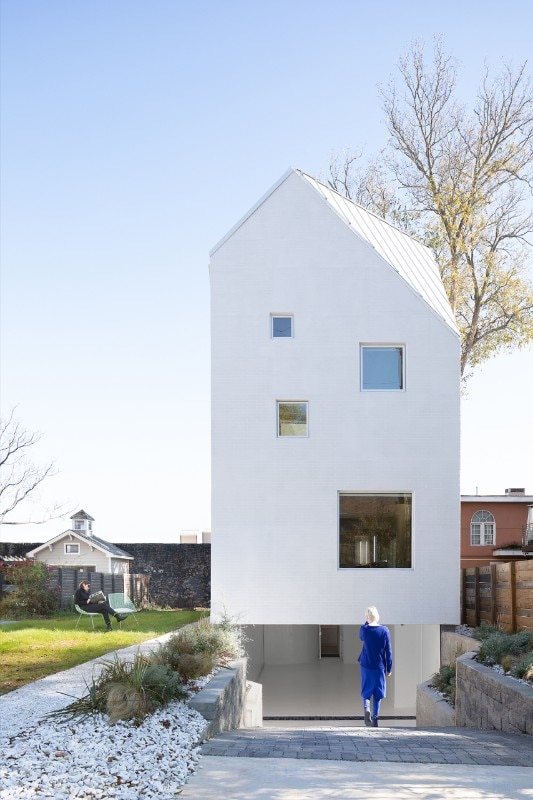 Progetto:

Haus Gables

Programma:

residenza

Luogo:

Atlanta, Stati Uniti

Architetti:

Jennifer Bonner / MALL

Architetto associato:

Olinger Architects

Progetto strutturale:

AKT II (Hanif Kara), Bensonwood, PEC Structural Engineering, Fire Tower

Impresa costruttrice:

Principle Builders Group

Produzione CLT:

KLH USA

Messa in opera CLT:

Terry Ducatt

Progetto di paesaggio:

Carley Rickles

Superficie:

204 mq

Completamento:

2018