Domestic Hats is the title of an exhibition curated by Jennifer Bonner at Atlanta's Goat Farm Arts Center in 2014. A sequence of snow-white massing models investigated the roof typologies of Atlanta's detached houses, showing their recurrences (such as the double-pitch shape) and exaggerating their possible combinations and variations.
Haus Gables, completed by Bonner with its office MALL in the capital city of Georgia, carries on the reflection on the shape of the canopy, used as a tool to undermine the construction industry's well-established spatial paradigms. "Following Le Corbusier's free plan and Adolf Loos's raumplan, it's the roof plan which organises architecture here," Bonner explains.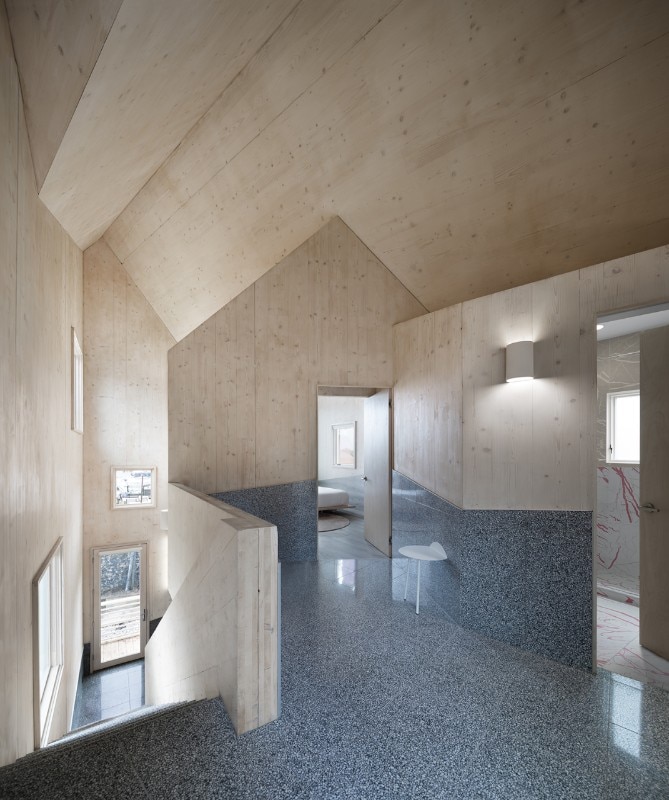 Within a very limited footprint, unusual sequences of rooms, catwalks and double-height spaces filled with natural light align to the ridges and valleys of the six gable roofs. On the outside, the alternate rhythm of slopes and counter slopes make the building uncatchable as if it was an illusionist's game. Bonner is here suggesting at the same time the instability of the architectural image in the age of social media and the possibility to draw inspiration from the American South's vernacular – a topic which she also explores in A Guide to the Dirty South. Atlanta, published in 2017.
The daring selection of finishes is yet another way to question the relationship between reality and its representation. Haus Gables is one out of only a handful of houses constructed of cross-laminated timber in the United States, home to the balloon frame technique, but its high-performance, high-technology structure is, so to speak, defused by a kaleidoscope of faux finishes, "fake materials (…), colourful, bold, deceiving". Fake bricks, fake terrazzo, fake marble and many others participate in the outlining of a new domestic language, which is anything but purist, a joyful, much pop-oriented tribute to the local decorative tradition.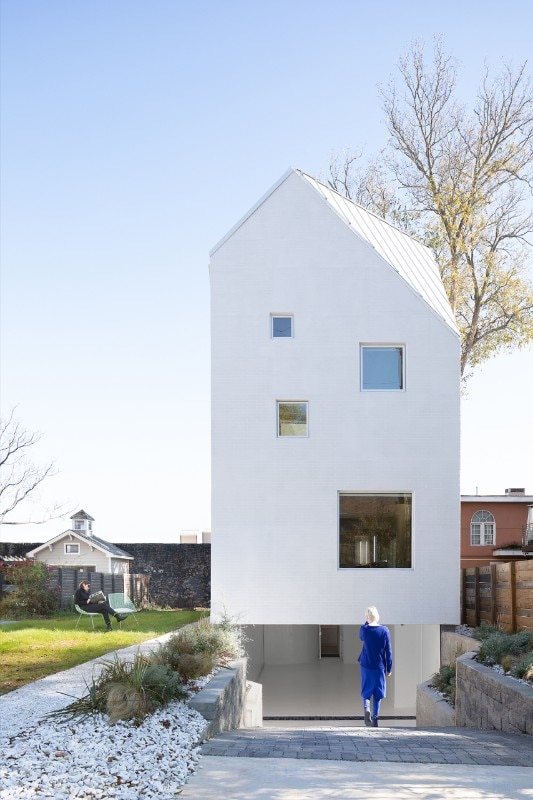 Project:

Haus Gables

Program:

residential

Location:

Atlanta, United States

Architects:

Jennifer Bonner / MALL

Associate architect:

Olinger Architects

Structural Engineers:

AKT II (Hanif Kara), Bensonwood, PEC Structural Engineering, Fire Tower

Contractor:

Principle Builders Group

CLT Manufacturer:

KLH USA

CLT Installation Specialist:

Terry Ducatt

Landscape design:

Carley Rickles

Area:

204 sqm

Completion:

2018