Danish design company Normann Copenhagen has opened its new headquarters in the heart of the capital: a space that represents the brand's soul, a place to connect with clients and design enthusiasts, which is also – obviously – a working environment, and which houses an exclusive restaurant on the top floor with a panoramic view of the city.
Corporate headquarters projects are undoubtedly among the most interesting to follow. They are not simply workplaces, but environments through which brands communicate their values, involving customers and users with set-ups that go beyond functionality, and have rather a narrative or experiential approach. Not only do we find unusual hybrids between classic office and conviviality areas, but we can also find interesting functional mixes and new relationships between public and private.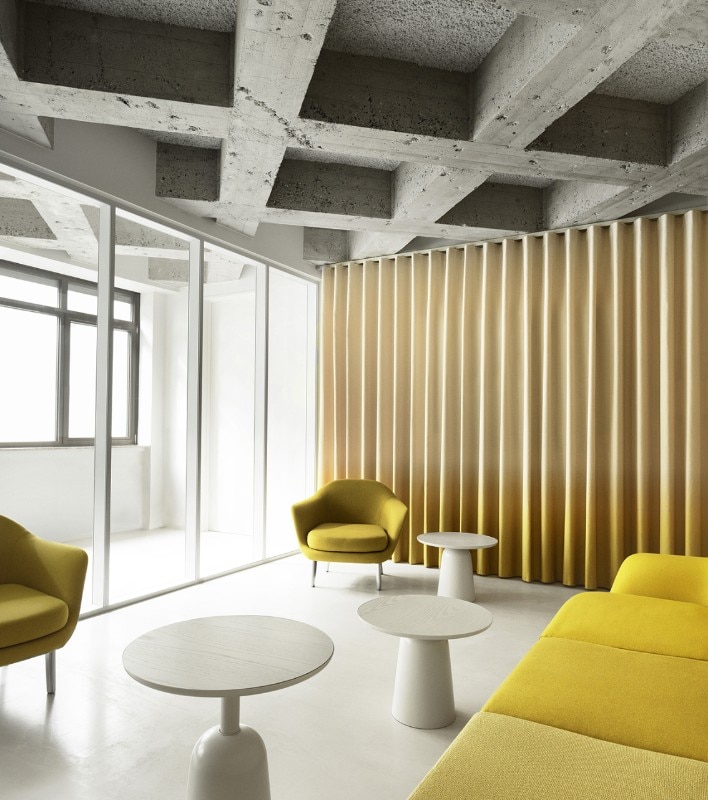 The new corporate space is located in an industrial building built in 1936 and previously used as a printing works. The work of the company's in-house design department has preserved the original character of the building and in particular one of its architectural elements with great scenic impact: the coffered ceilings made of rough concrete.
The project develops on seven levels, each of which is characterised by a chromatic theme. Floor after floor, the grey concrete is matched with mint green and flesh-coloured walls, ruby red or poppy red elements, blue or canary yellow furnishings... The result is a language that unites the classic but raw architecture with the brand's collections, characterised by timeless design, which combine the company's well-known pieces with a whole series of new products.
Normann Copenhagen's new headquarters is therefore a new destination to see for all design lovers who want to discover the different faces of Danish creativity.