This article was originally published in Domus 1023, April 2018.

Issey Miyake is calm and wise. He looks you in the face, but sees beyond. He makes you feel slightly in awe of him, sufficiently so to exact respect, but not to keep at a distance. This is simply because he also expresses a great deal of respect and is quick to manifest surprise and admiration. He works extensively with others and involves colleagues, designers, photographers, graphic designers and architects, all the creative people around him, deeply in his work. He possesses a superior culture of the image and immediately distinguishes the new and foreseen from the unpredictable.

Issey Miyake is certainly not a fashion designer, couturier or tailor, or someone who produces clothes, though he is well known in the fashion world. Of course, what he does has nothing to do with the seasons, the colours or the fabrics of the moment, trends, and all those other things that garment-makers constantly keep under control so as not to lose contact with their consumers. Just as it is difficult to imagine a sage agitated and stressed, it is equally difficult to imagine this cultivated Japanese man worrying about the evolution of taste and analysing trends in lifestyles month after month. For one simple reason: he already knows them and he is the one who points them out. The meeting with Issey Miyake, whose clothes I have worn all my life, makes me think of this, of how few people are able to determine trends in behaviour, tastes and choices, without belonging to the world of fashion. Men and women who, by their own research, impassioned work and constant self-denial, seek within their own sensibility to capture the roots of their satisfaction and dissatisfaction, their ability to be surprised or bored.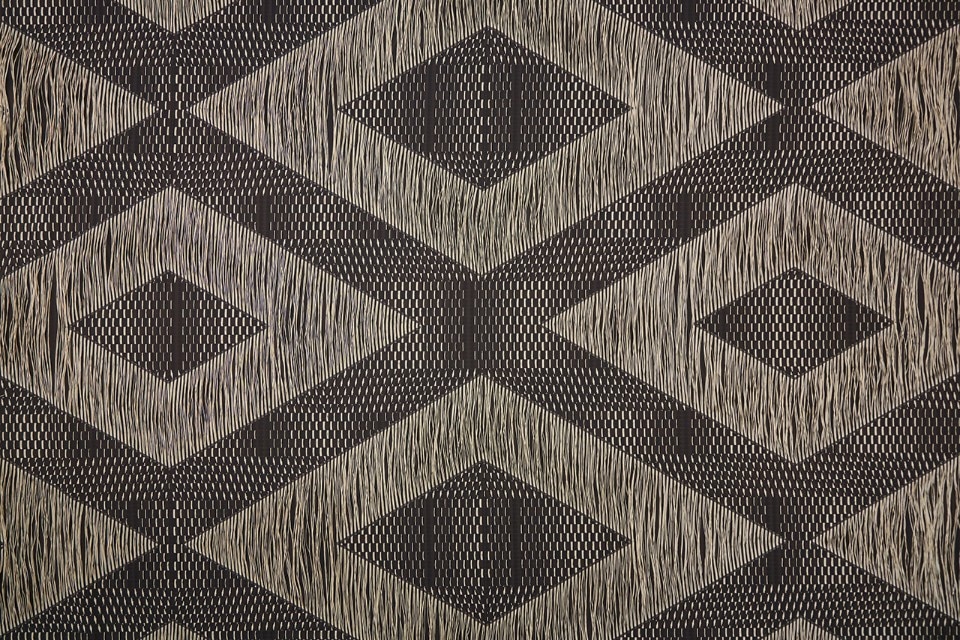 Issey Miyake is a progettista as we say in Italian, a designer in the truest sense of the word, which is applied to those who devote their lives to the project, without using convenient shortcuts, without sticking their beaks into others' work, without being content with facile results. They are satisfied only when their work corresponds to what they sought, desired and willed. They are passionate about their exacting wishes, paid for by their own judgment and approval. Issey Miyake has the root of the graphic artist, accustomed to dealing with two dimensions, colour, signs, two-dimensional features, but he is captivated by the third dimension and has made its exploration the framework of his work. The graphic connotation of a fabric is just the beginning of his research, which tends to transform it and make it three-dimensional, and acquires a special significance when it has to do with a living body. All his work is born in the fabric and the quest for its three-dimensional potential, almost as if it harboured within itself an aspiration to three dimensions. And if it is there, he will certainly find it. He constantly moves between two and three dimensions in the design of clothes as of accessories, in installations as well as spatial set-ups.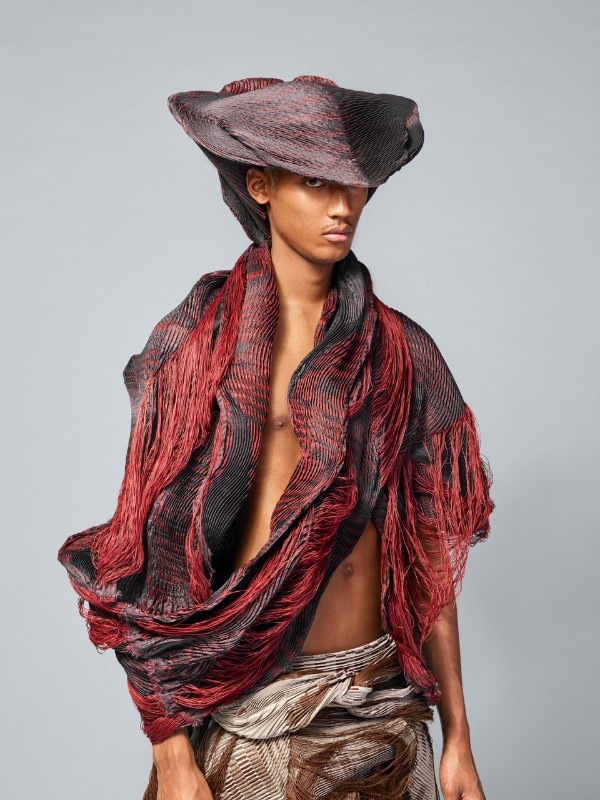 We find our bearings in Issey Miyake's world through the words that identify projects and collections: Pleats Please for pleating, Bao Bao for triangle-based structures, 132 5 for garments with a graphic structure, IN-EI for origami lamps, A-POC (A Piece Of Cloth) for garments made from a single fabric, and so forth. The latest project, which has not yet been presented or included in any production programme, is tentatively called Session One and was born out of A-POC. Issey Miyake introduces a new connotation, never before experienced, in all respects surprising, completely unexpected. Its "wild character".
Starting from a fabric made with special care, after a controlled passage through steam, he obtains a thick, dense material, rough in appearance but extremely soft to the touch, with fringes and fraying. The inspiration comes from the world of the prehistoric man of Jomonese culture, which emerged in Japan some 5,000 years ago. The result does not produce clothes for wearing, but that was not the objective. A mysterious yearning for spatiality in flat surfaces always lies at the centre of his thought and is expressed in all his work. There is a hint of scientific research, of quantum physics, analysis of subatomic particles, a need to add a third dimension that transforms a flat pattern into a solid object, a sign into a sculpture, a trace into a pure art object.