From the minimalist approach of the first room to the geometric superstructures of the final one, Tightrope Walking and Its Wordless Shadow reflects the different extremes that are touched by Haegue Yang's ongoing process of experimentation. Along this path, large-scale installations, collages, mobile sculptures and videos invade three La Triennale's rooms, where old works, key stages in her oeuvre from 2000s, are grafted onto her most recent works. Her practice in the wide-open spaces enhances recurring abstractions and polygonal geometries, clinking movement and performative sculptures, involving developments and envelopments of linear components.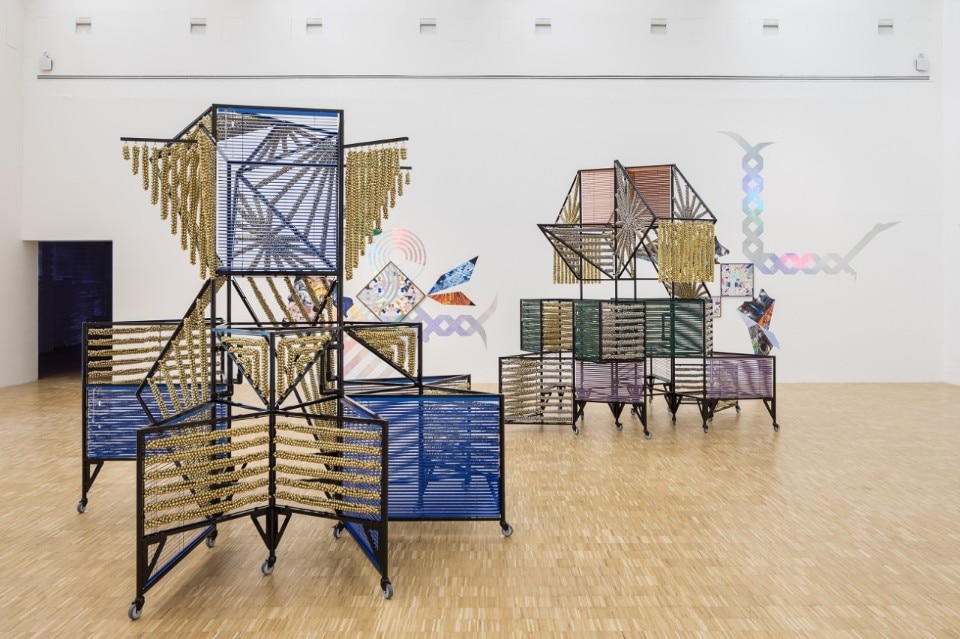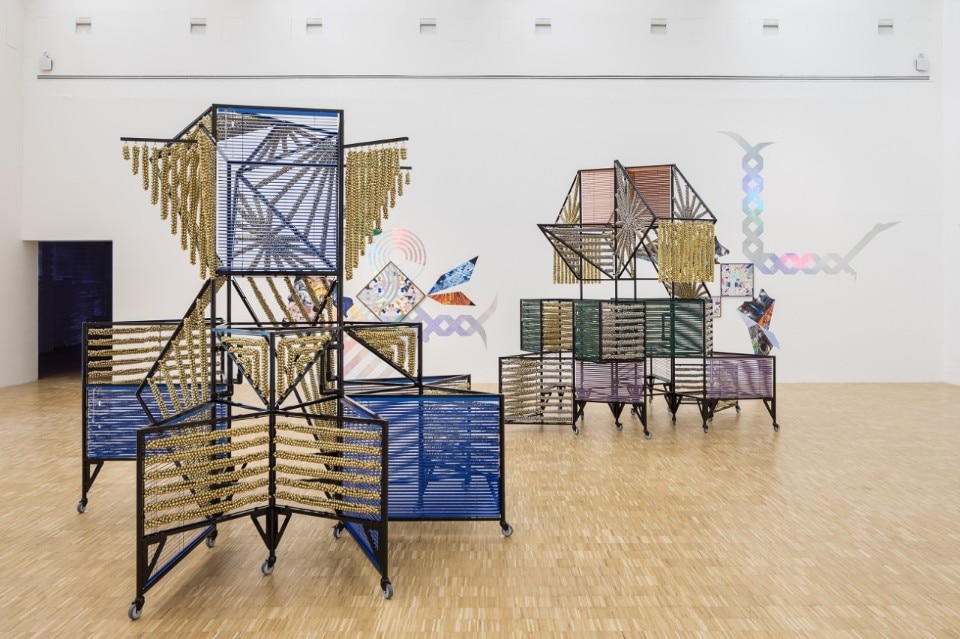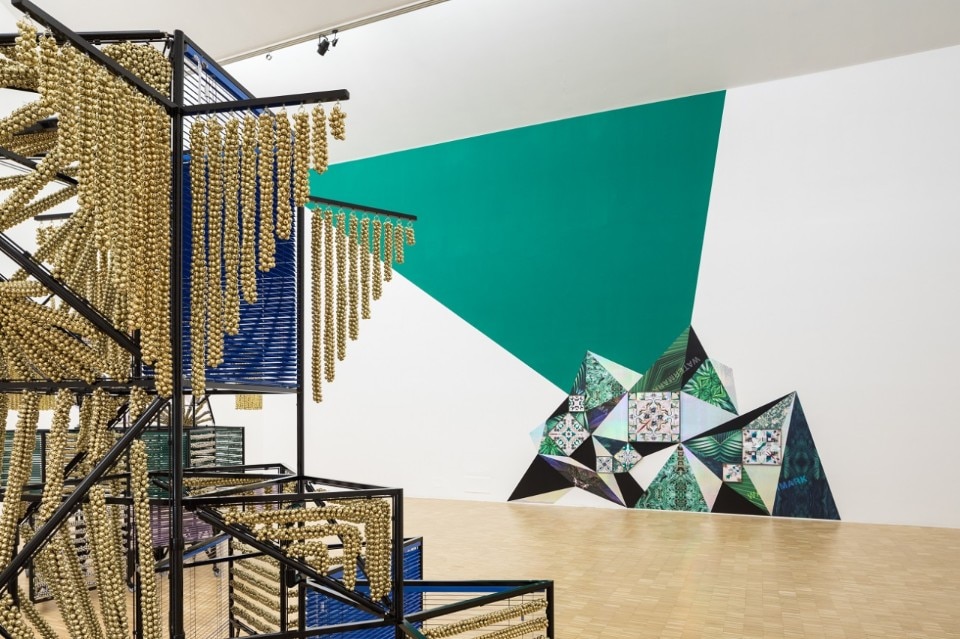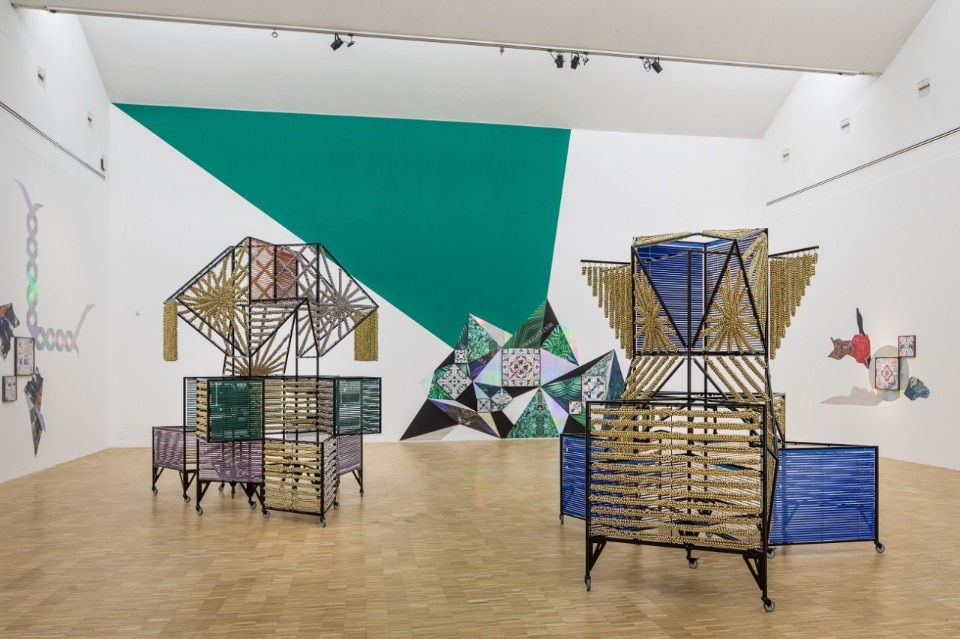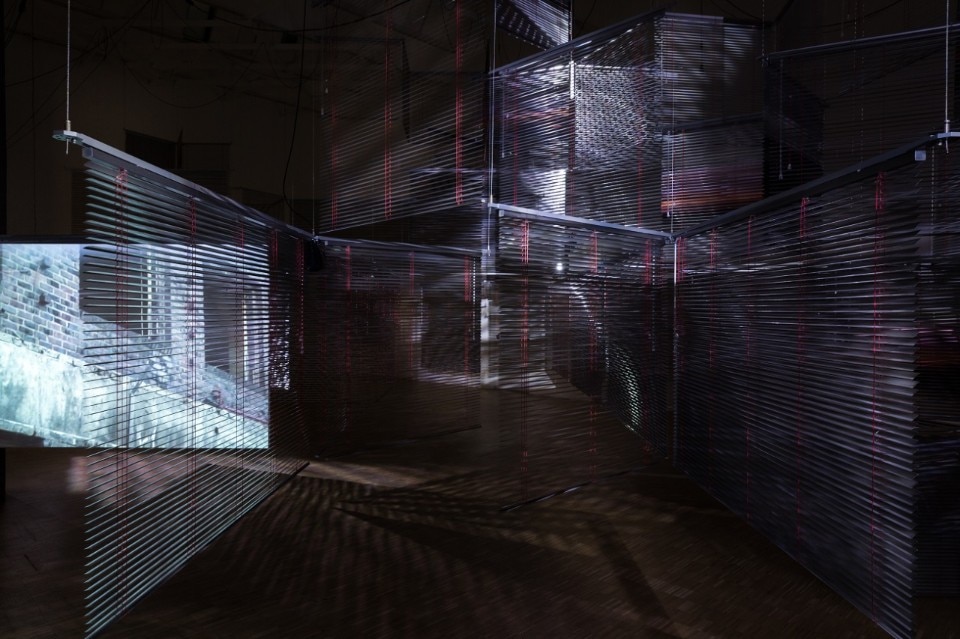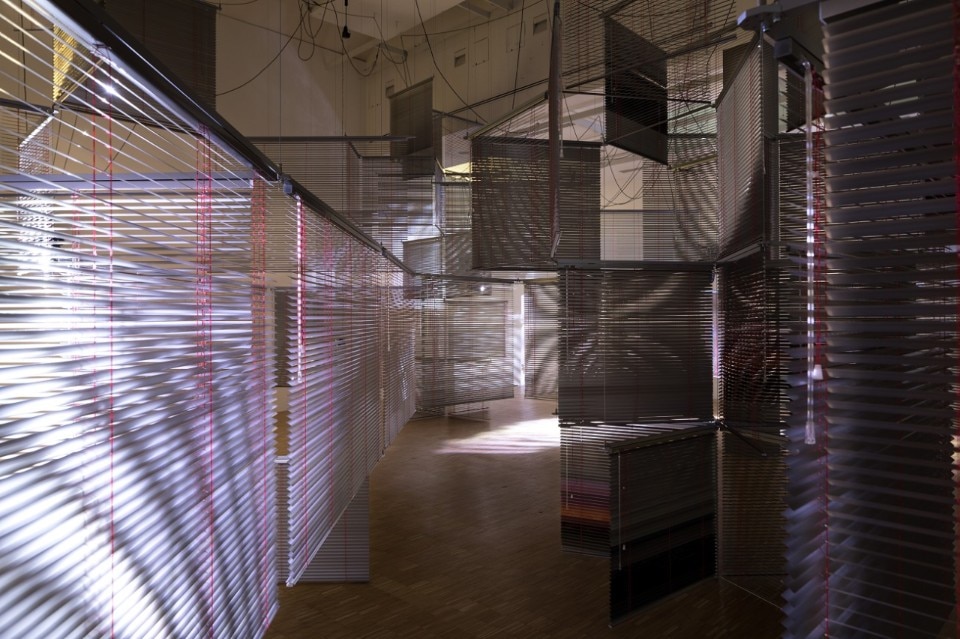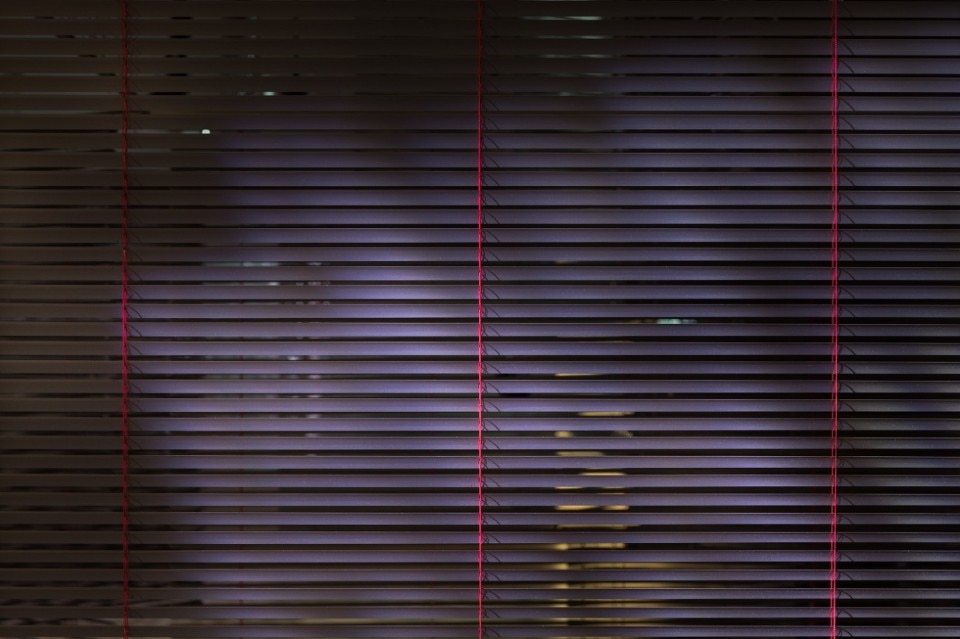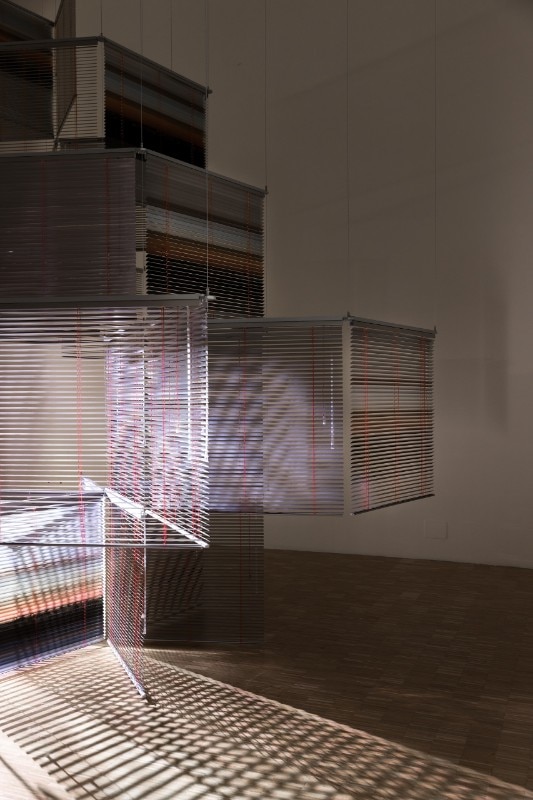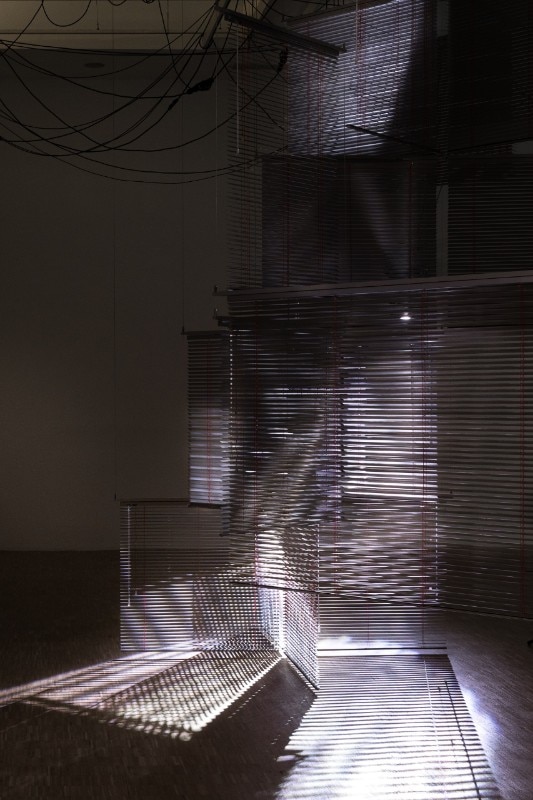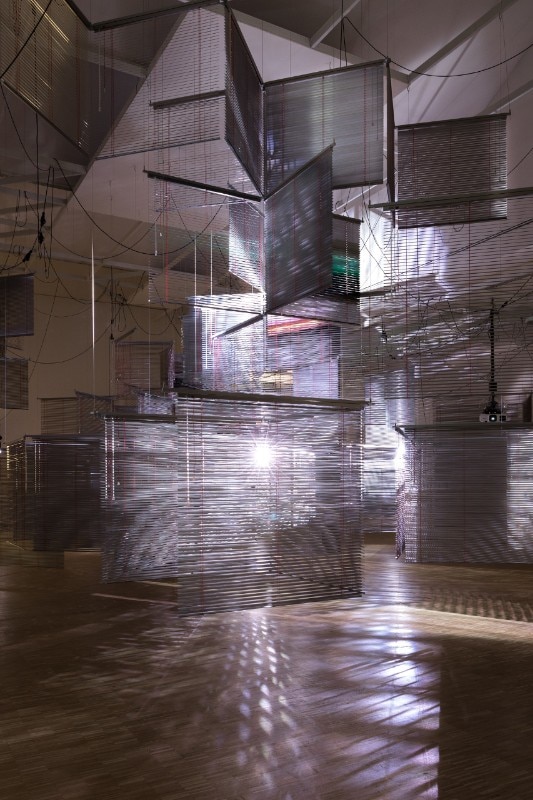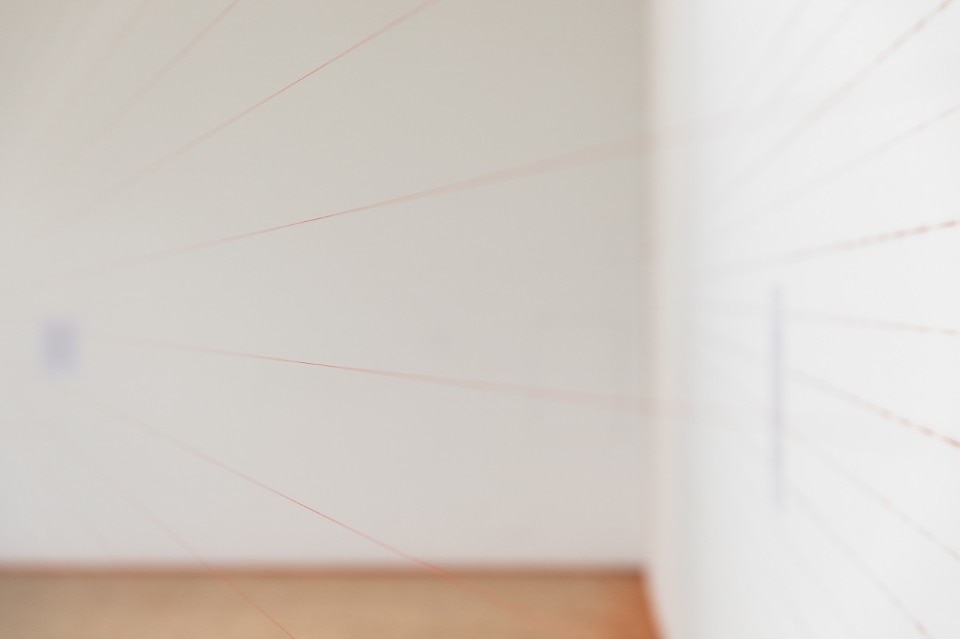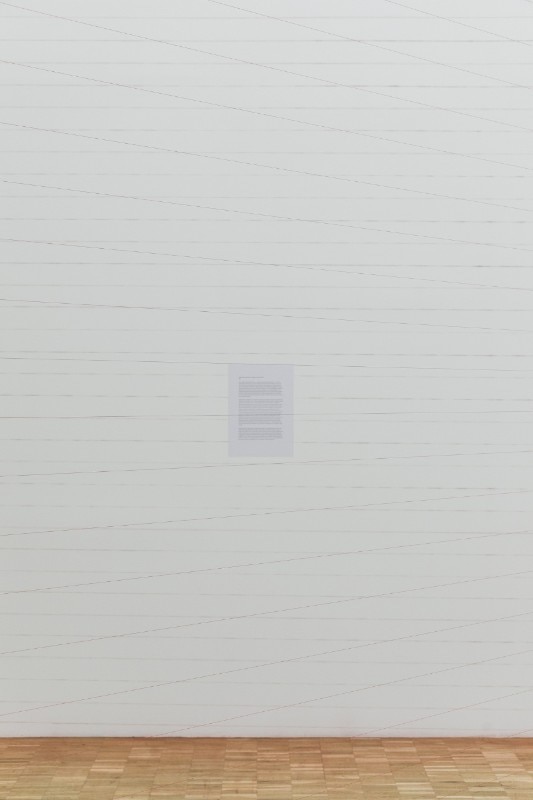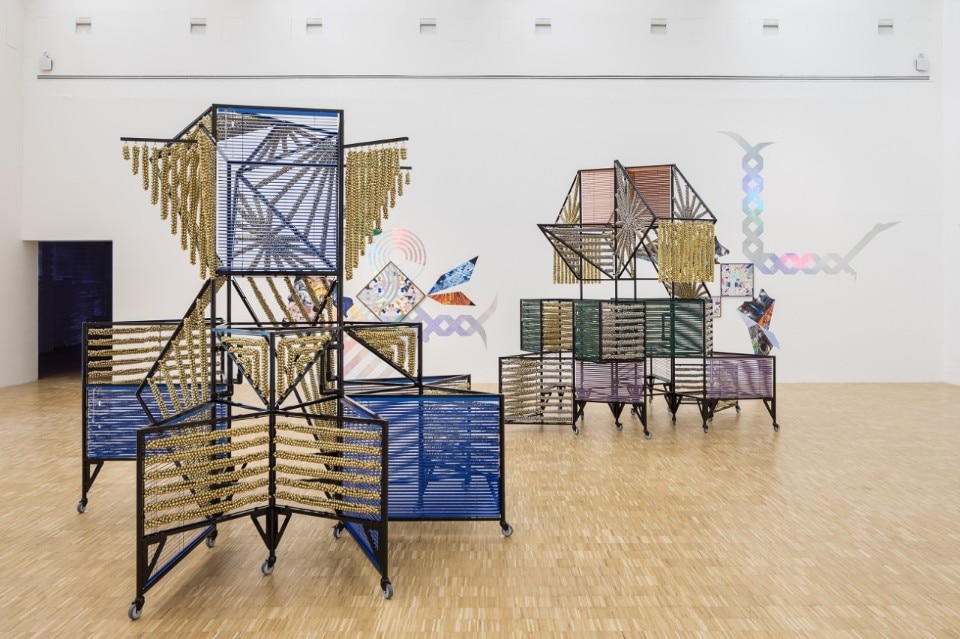 Pic.2 Exhibition view, Furla Series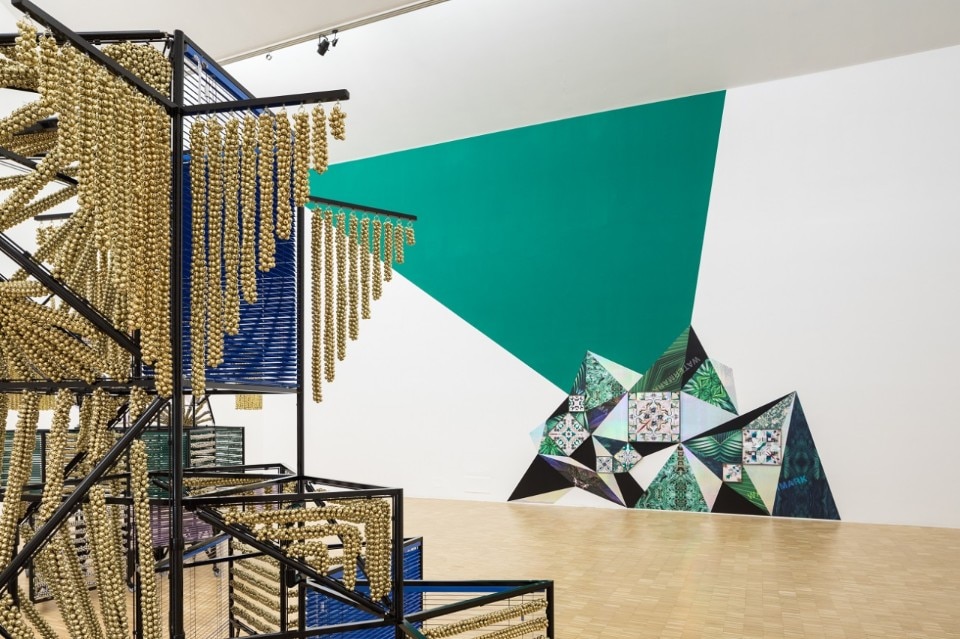 Pic.3 Exhibition view,, Furla Series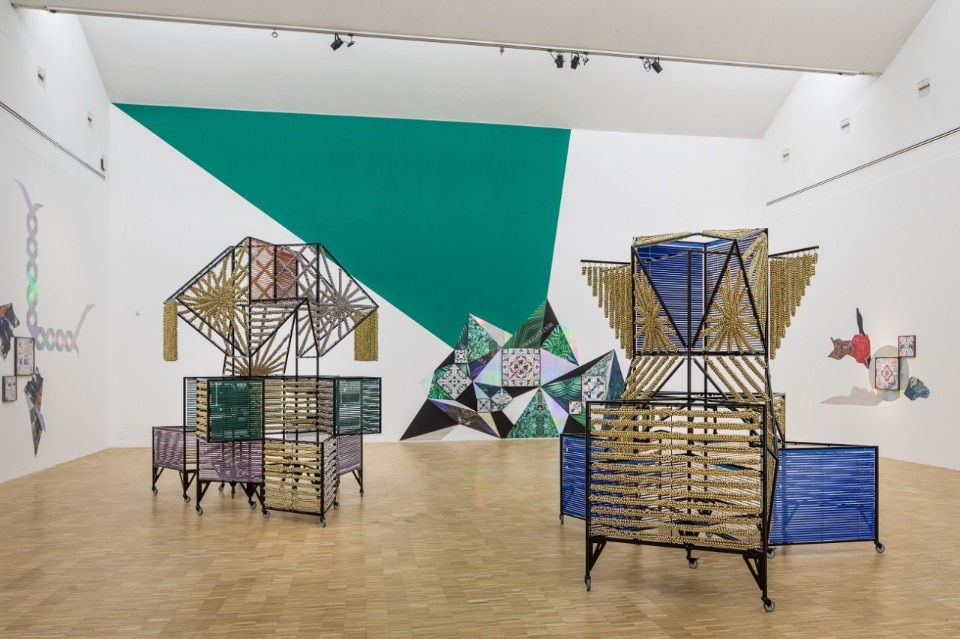 Pic.4 Exhibition view, Furla Series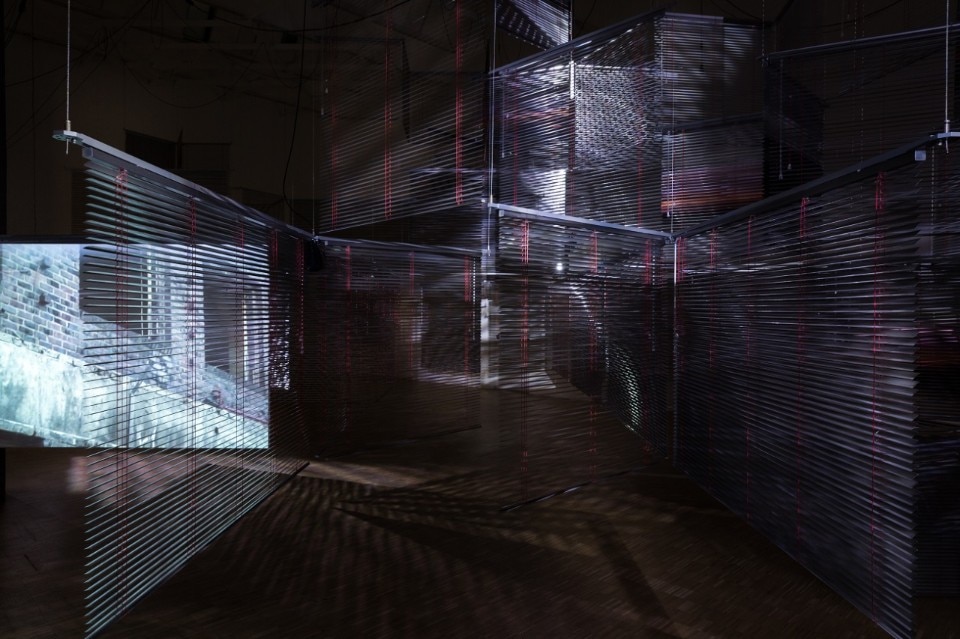 Pic.5 Exhibition view, Furla Series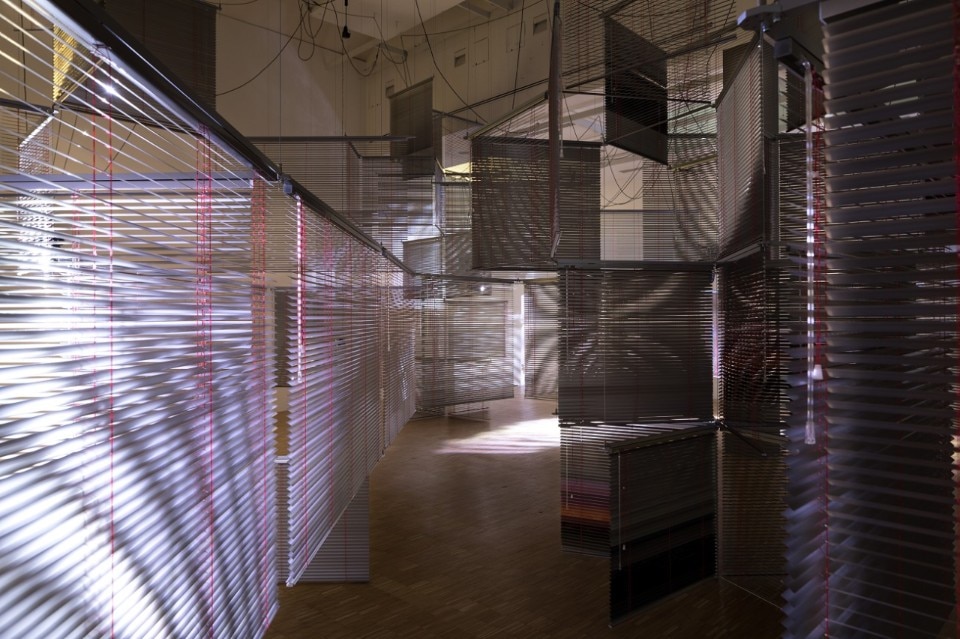 Pic.6 Exhibition view, Furla Series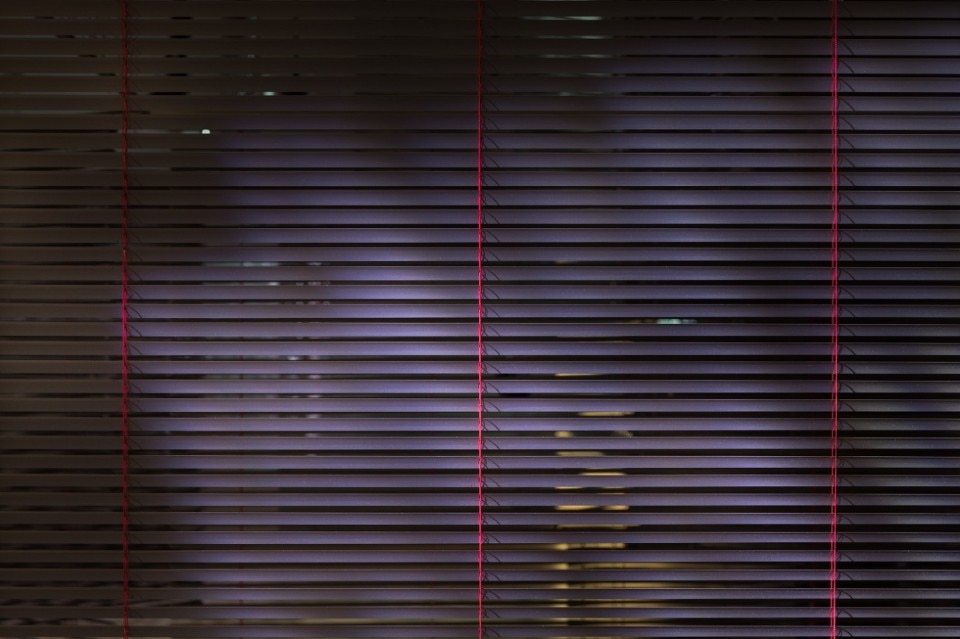 Pic.7 Exhibition view, Furla Series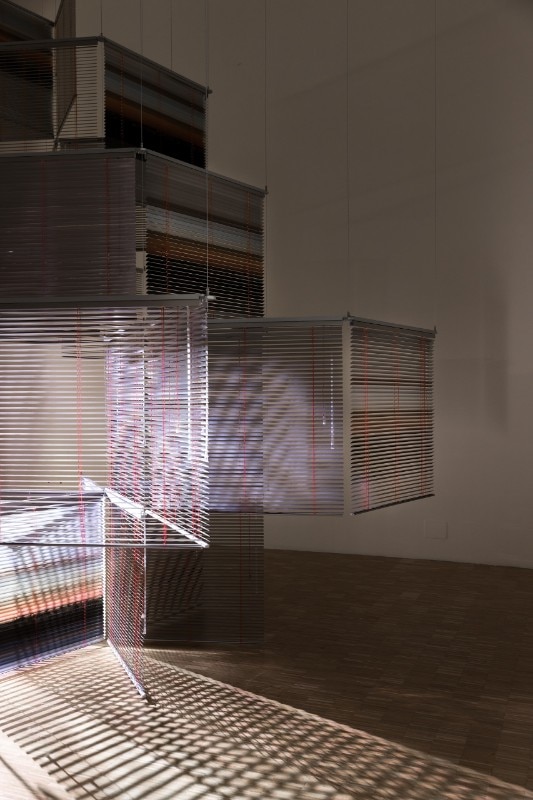 Pic.8 Exhibition view, Furla Series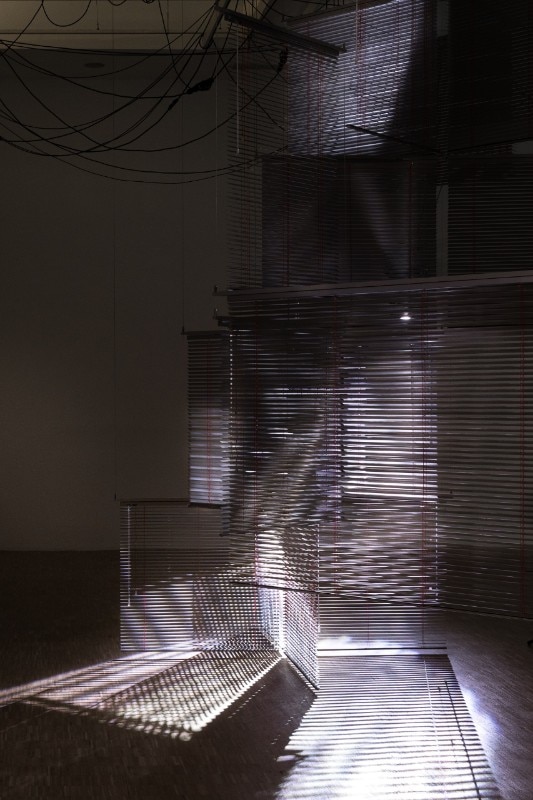 Pic.9 Exhibition view, Furla Series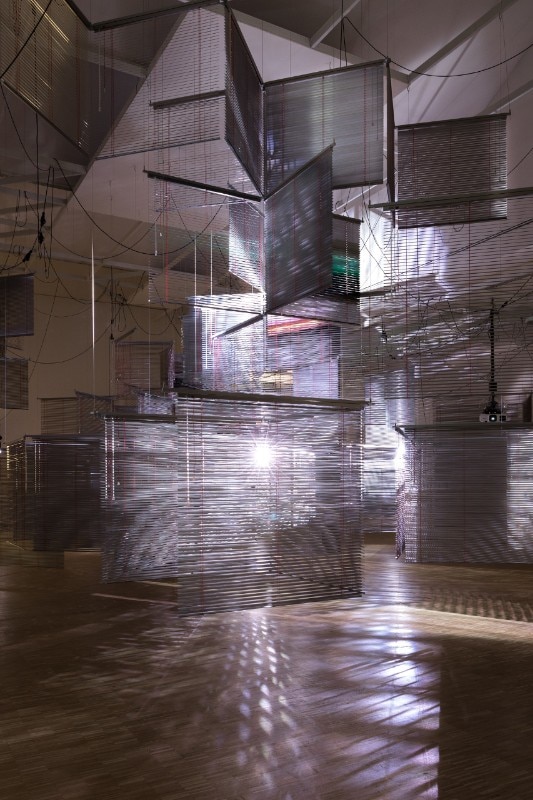 Pic.10 Exhibition view, Furla Series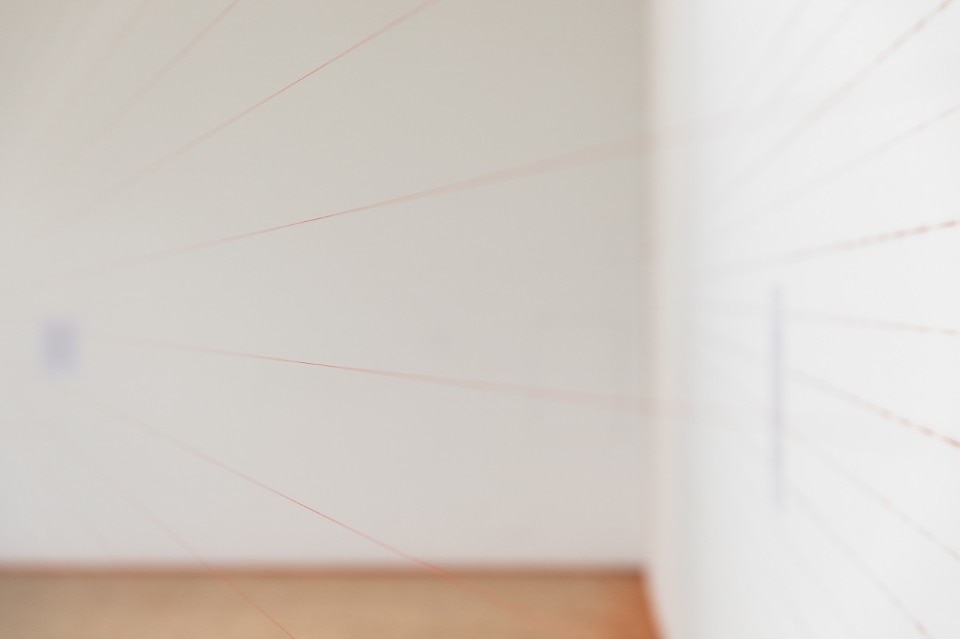 Pic.11 Exhibition view, Furla Series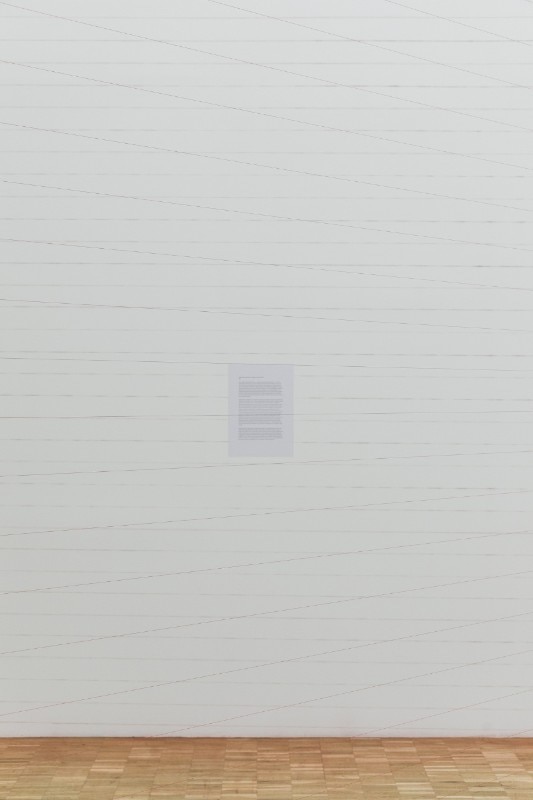 Pic.12 Exhibition view, Furla Series
Pic.13 Exhibition view,Furla Series
Since the first room, Thread Installations (2000/2018) and Chalk Line Drawings (2002/2018), represent a series of volume and space measurements, entities the installations occupy and delineate. Thread Installation,134.9 m³ appears an almost invisible barrier of red cotton threads, stretched between two walls at ten-centimetre, threads which isolate and block off one corner of the room. Their pattern seems to continue on the walls behind them in the Chalk Line Drawing, 81 m²: a sequence of straight lines drawn in red chalk, which extend and visually merge with the thread, creating an optical effect of subtle movement. Not too far from the text on paper titled Science of Communication #1 – A Study on How to Make Myself Understood (2000), Mirror Series - Back (2006) presents one oval portrait on a non-functional mirror, which simply rejects the concept of reflecting visitors and artworks around. Inspired by literary figuration in works such as Herman Melville's Bartleby, the Scrivener (1853), each mirror of this series articulates a mysterious yet strong and precise desire to be contained.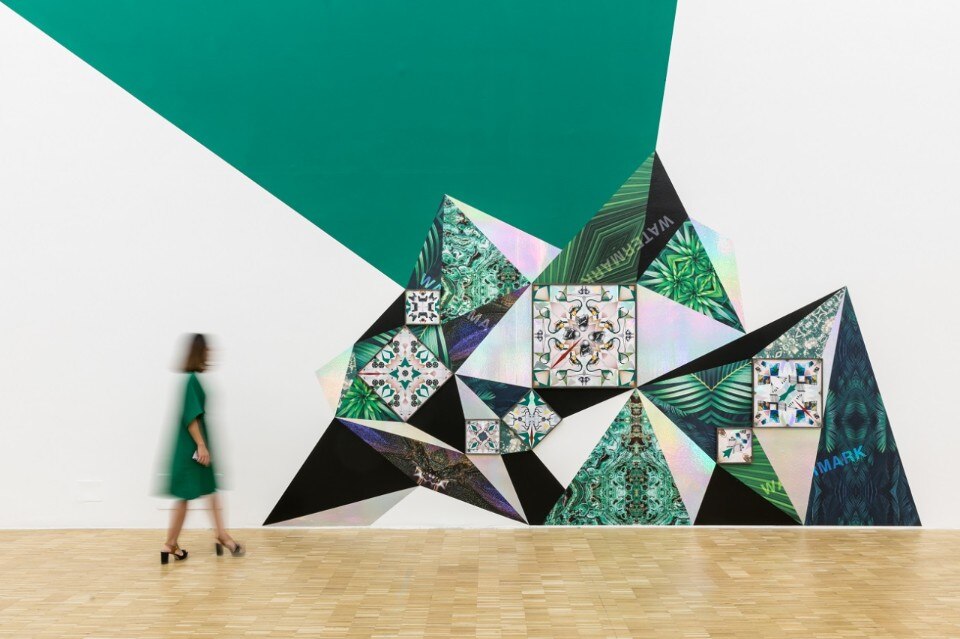 In the second room, almost two hundred aluminium venetian blinds, steel wire rope, moving spotlights and also a scent emitters system compose Cittadella (2011), one of the most extended installation within Tightrope Walking and Its Wordless Shadow. Visitors here experience an intricate modular structure, altered by an hypnotizing choreography of light, while the space is rarefied by exoticism-evocative scents: Asian Garden, Fresh Cut Grass, Mahogany, Ocean, Ocean Mist, Oudh, Tamboti Wood and Tobacco Flower. The installation title recalls the fragile concept of an invulnerability illusion. Walls, made of slats, are permeable to the gaze and to rays of moving light; thus the openings in the geometric footprint of the structure invite viewers to walk into and through it.
In the third room, a recent graphic series, ongoing since 2010, (from Prosthetic Locomotion – Trustworthy #357 to Crystalline Hovering and Projecting – Trustworthy #361), accompanies Sonic Dress Vehicle – Hulky Head (2018), a performative sculpture conceived specifically for this exhibition. Haegue Yang, pushing this gigantic structure, made of aluminium venetian blinds assembled with brass and nickel plated bells, expresses the true weight of dancing, hiding the burden of a very heavy and scenographic appearance mechanism.
Exhibition Title:

Tightrope Walking and Its Wordless Shadow

Opening dates:

From September 7 to November 4, 2018

Curated by:

Bruna Roccasalva

Organized by:

Fondazione Furla e La Triennale di Milano

Venue:

La Triennale di Milano

Address:

Viale Alemagna 6, 20121 Milano