Until the end of July it will be possible to visit the installation GaiaMotherTree in Zurich, the latest work by the Brazilian artist Ernesto Neto. Built within the city's Central Station, the monumental work occupies the twenty meters high main hall and it is made of brightly colored hand-knotted cotton strips. The intervention, promoted by Fondation Beyeler, functions as a meeting place for interaction and meditation, where to host a varied program of events with music, workshops and performances.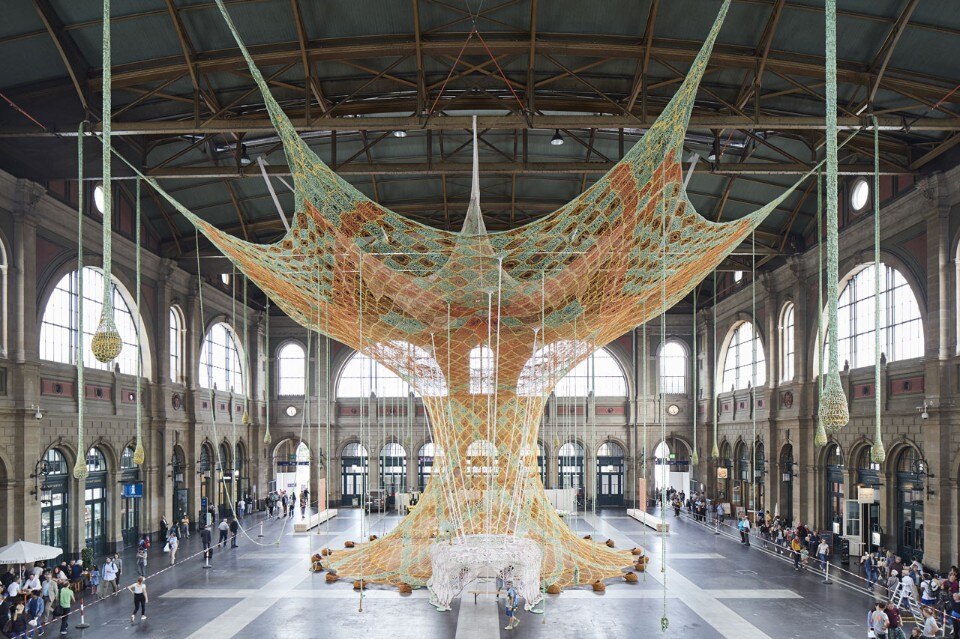 Since 2013 Neto has been working in cooperation with the Huni Kuin, an indigenous community living in the Amazon region near the Brazilian border with Peru. The works inspired by this artistic and spiritual exchange invite the viewer to pause and reflect, but also to engage collectively with themes such as the relationship between humans and nature, issues of sustainability, and the preservation and dissemination of knowledge from other cultures. GaiaMotherTree is entirely made by hand and recalls a tree whose crown covers the ceiling of the station concourse. At the base visitors can linger and rest on seats arranged in a circle. Drop-shaped elements hanging from the branches are filled with aromatic spices and seeds.
Born in Rio de Janeiro in 1964, Ernesto Neto is one of Brazil's most important contemporary artists, with his work exhibited all around the world. His work, that often features biomorphic forms and organic materials, is influenced by the Brazilian Neo-Concrete movement of the 1960s and also by Minimal and Conceptual Art, and Arte Povera. Interacting with his installations, the viewer can perceive their intrinsic spirituality, humanism, and ecology, along with transparency, sensuality, and a spirit of community. The pieces can be touched, walked through or moved, activating every sense.
Title:

GaiaMotherTree

Artist:

Ernesto Neto

Opening dates:

30 June – 29 July 2018

Location:

Zurich Central Station

Address:

Bahnhofpl., Zurich

Promoted by:

Fondation Beyeler