If you are part of that 1% of our audience who could afford Kylie Jenner's house in Holmby Hills, California (recently sold for  $ 36.000.000) and you are positively considering buying it, instead of buying the Lovell Health House by Richard Neutra in Los Feliz, now on sale for little less than 10 millions, well: we believe we must have somehow failed our mission.
The news in fact is that, yes, the 1929 masterpiece opening the California Modern chapter of any architectural history textbook is on sale, and so are the Brazilian villa by Oscar Niemeyer (R$13.500.000), smoothly camouflaged between the greenery of Alto de Pinheiros, and Neutra's European swan song, the Villa Delcourt in Lille (€ 2.300.000).
For sure, market is flooded on a daily basis by prestige properties, prices upon request, maison d'architecte and similar expressions meant to tickle the deepest desires of the most ambitious components of society — each single group having its own starting password. Inhabiting some signature architecture, something we would label as iconic, forgotten sometimes, is totally different. It is all about the desire to live an experience, a story that has been imagined and translated into space by some of the most relevant authors in architectural history. An aesthetic narration, if we are talking about Parisian duplexes by Robert Mallet-Stevens, even an emotional one if we are choosing to live a bubble house as Pierre Cardin did in the 70s, an ideological narration indeed when it comes to  choosing one of Le Corbusier's houses in the Pessac settlement close to Bordeaux (the Maison Gratte-Ciel is on the market at € 550.000, by the way, and the Maison Zig-Zag at € 472.000).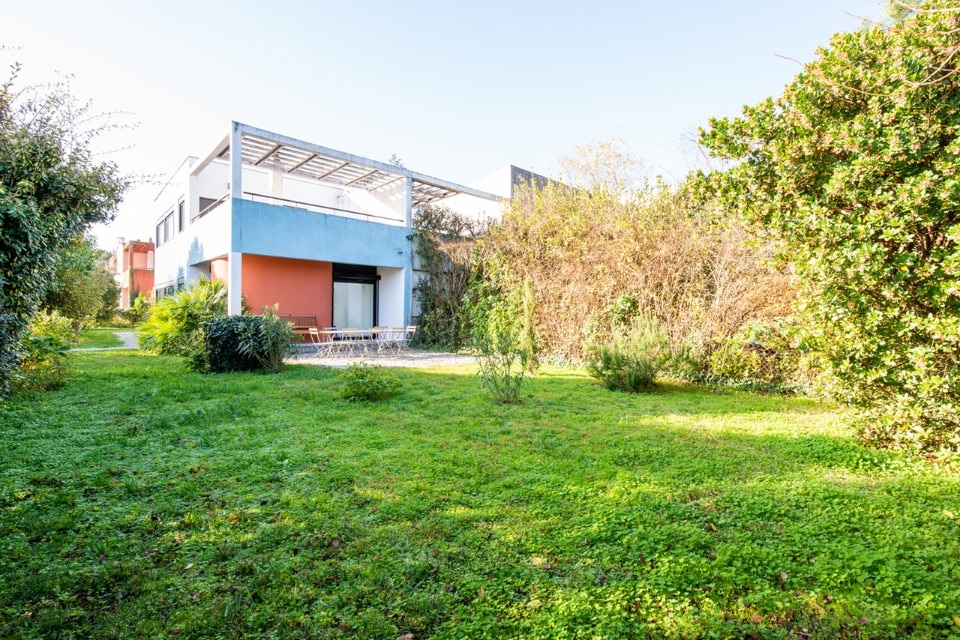 It is quite clear in any case that all this is no unrealistic, off-market fairytale: it is the very opposite instead. Real estate market in these cases is just one more channel for the valorization of excellent buildings: it is all about the value of use and continuity, instead of being based on preservative crystallization. Aurélien Vernant is the director of Architecture de Collection, a French agency developing since 2007 a commercial project aiming to valorize and share the values 20th and 21st century architectural heritage. He described such market to Domus as a niche positioned halfway between real estate market and art market: "We must position in an ethical discourse, on the preservation of those ideas that lead to the conception of the buildings we sell." 
It's not hard to recognize such principles as we browse their  portfolio, being invited to become the inhabitants, for 1 million 250.000 euros, of the sculptural (see brutalist) spaces of a country villa by Claude Parent one hour from Paris, a real manifesto of the French master's oblique line ethics, its living room merging into a pure combination of exposed concrete and landscape; or the inhabitants of the research of Joël Unal, the sculptor who ideated and realized by himself the concrete utopian maisons-bulle, including the largely published house by Antti Lovag for Pierre Cardin but also many others, created most of all with Claude Costy, the life and architecture companion of Pascal Haüsermann: one of these creations is now on sale, the one overlooking the heights and forests of Ardèche. History of modern and  contemporary architecture keeps popping up from the listings of different  agencies as well: this is how we learn that, in Italy, a villa by Leonardo Savioli close to Florence, another balanced coexistence experiment of landscape and modern concrete shapes, can be bought for  € 1.900.000; a villa by Mario Botta can be rented not far from Milan, the overwhelming rigor of its brick  geometries being contrasted by the smoothness of the segmental arches and columns surrounding an interior pool; geometry is also owning the scene in the 1936 villa designed by Raymond McGrath in St. Ann's Hill, UK, (£ 5.950.000) — an example of British country house formulated in modern terms, a white rotunda made of curtain-walls and pure surfaces open onto the countryside of Surrey.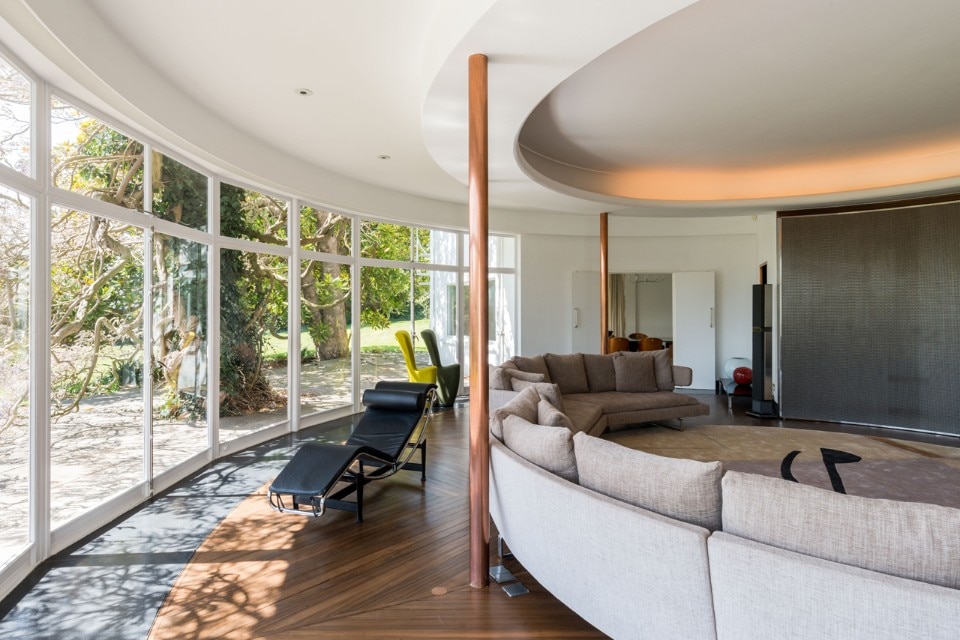 Architecture should not be only identified with the ideas of privately owned house of villa. One might appreciate a luxurious yet temporary experience, inhabitant for one day of a sumptuous art and design collection, designed by Alessandro Mendini and featuring Gaetano Pesce, Damien Hirst, Vanessa Beecroft and Alighiero Boetti: standing out form the usual art hotel experience, the one we just described can be lived at Byblos Art Hotel Villa Amistà, in Verona.
But  most of all, a very rewarding experience might come from where it is conceived as collective, as the materialization of architects' narrations on urban living. Several offers are available in this case as well, townhouses and apartments scattered between different nations and continents. They range from the master's apartment in the urban palace where Alessandro Antonelli, the author of the city landmark called Mole Antonelliana, used to live in Turin in late 19th century (€ 650.000), to the rare experiments in collective housing by RPBW (for sale in Trento, Italy)  to then extend to the most different chapters of  European Modern: once again a rationalist-brutalist sculpture in the concrete masses by Paul Chemetov and Atelier de Montrouge in Ivry-sur-Seine (€ 750.000); the Parisian views one can enjoy form the first skyscraper built in the city by Edouard Albert in 1960 (€ 1.050.000), in between steel columns, glass walls and frescoed slabs; the townhouse built by Henri Prouvé, the strictly architectural fellow soul of his brother Jean, with its interior elements — the stairs, the fireplace, the transparent ceilings — floating suspended in space (maison Brajzblat, € 625.000); a spot in the apartment block designed in 1958 by Modern Movement pioneer Berthold Lubetkin overlooking Victoria Park in London (Lakeview Estate, £ 400.000).
This list might reach its peak with masterpieces such as the Hôtel Martel, built by Robert-Mallet Stevens in 1927 a few steps off Le Corbusier's Parisian villa La Roche: inside this refined complexity of Modern, Déco and Neoplasticist elements, an atelier-apartment, flooded by the light spilling from its glass walls is ready to be inhabited (for 1 million 550.000 euros) in its pristine as-designed status.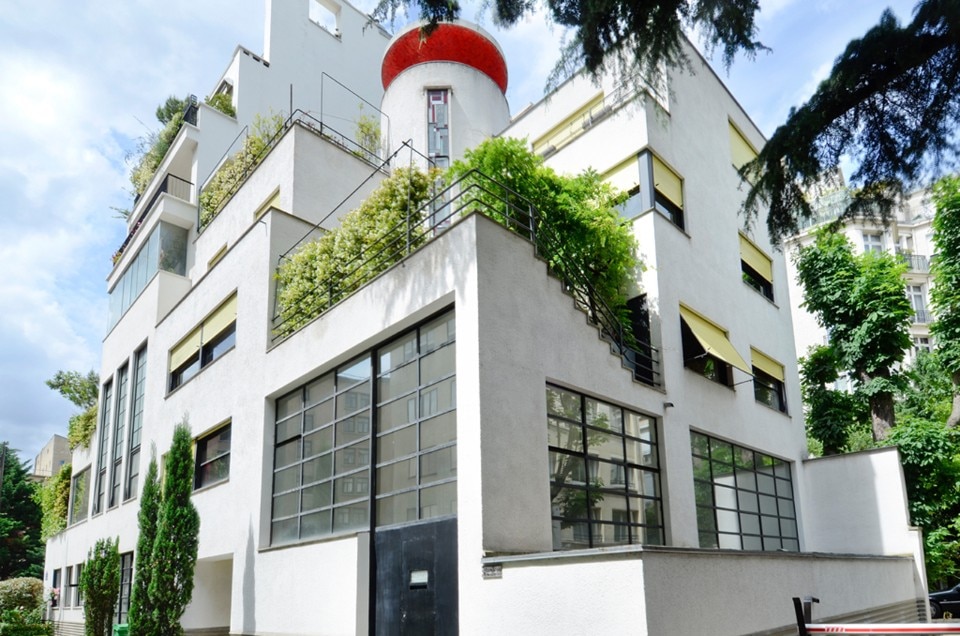 The effect of such parade of wonders should be of course to stop the 1% from buying godds we mentioned in the opening of this article. Still, some more fundamental hope lays underneath: the hope to  get all of us dreaming, for sure; but most of all the hope to show that experiences generated by architecture are not at all out of market rules, that creating harmonious spaces and audacious solutions might cost as much as any market-ready standard product. Sometimes it might even cost less.
This might even morph into a call to all designers: make good architecture, it's worth the effort.