The Pabellón Community Centre represents the geographical condition of Mexico City: a delicate balance between land and water. The project is located on a pond in Parque Lincoln, in the center of the Mexican capital. It is the result of a collective project by three local studios: TO Arquitectura, LANZA Atelier and Alberto Odériz.

The designers conceived a 26-metre water walk, half of which is enclosed by a 2.20m-high, open-air U-shaped wall. Air, earth and water – and their precarious balance – are the materials of the project. The path culminates with a rock floating in mid-air, making the experience of the project even more mystical.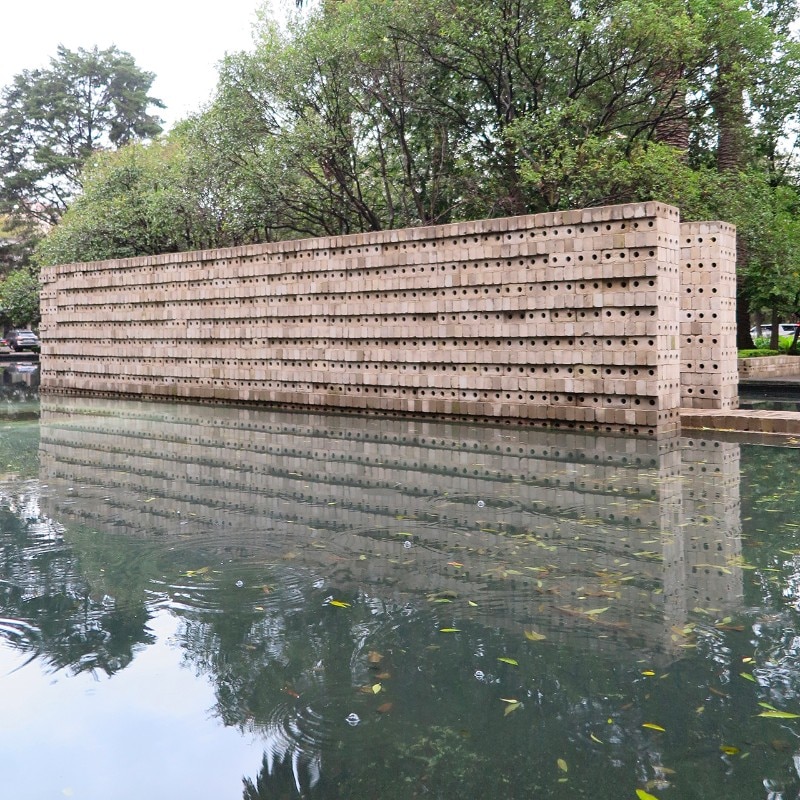 The structure is entirely made of earth, compressed in bricks. The designers say: "We decided to focus on a single material and use compacted earth blocks, a highly ecological material, because during its manufacture it used only 1% of the energy consumed in the production of average red blocks".
The pavilion was constructed for Design Week Mexico 2018. Rather than using mortar to bind the blocks together to create only a temporary installation, the architects wanted to find a way to repurpose their project. The 10,000 earthen blocks will now be reused to build a community centre in Ocuilan, a commune severely affected by an earthquake in 2017.

Project:

Pabellón Centro Comunitario

Location:

Mexico City

Architect:

TO arquitectura (Jose G Amozurrutia e Carlos Facio), LANZA ATELIER (Isabel Abascal and Alessandro Arienzo), Alberto Odériz

In collaboration with:

Alejandro Palafox, Úrsula Rebollar, Paul Ino, Juan Manuel Escobar and Francisco Escobar

With the support of:

Design Week México 2018, Arch Days, Échale a tu casa, Pienza Sostenible, Reconstruir México, #LoveArmyMexico, Fundación Origen, Fideicomiso Fuerza México

Completion:

2018