Located in the Southeastern part of Guizhou Province, the Shui Cultural Center is a gateway to Sandu County, the land of the Shui, one of the ethnic minority groups in China. The iconic shape of the cultural center by West-Line Studio pays homage to the Shui language, following the shape of the character for "mountain". The facade pattern is also inspired by Shui's traditional characters, starting again from the basic triangular shape of the mountain, which is repeated to evoke the character for "rain".
The site, which covers an area of 13,800 square meters, was created by a bend in the river, so it is surrounded by water on three sides. On the other, the West side, a water square welcomes the visitors guiding them to the entrance.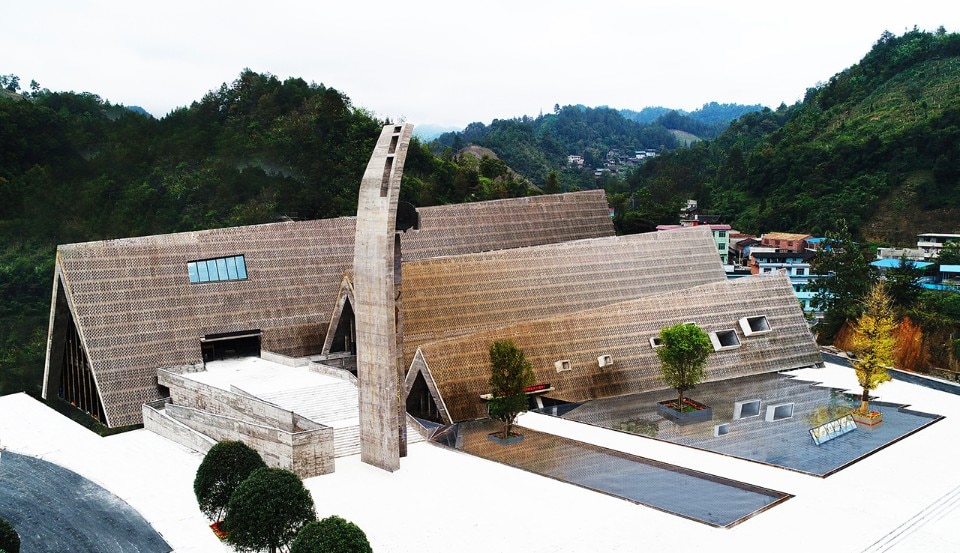 The building itself consist of three main stripes, which combine all the functions of the tourist-cultural center. The first is the ritual hall, which with its sharp edges, strong colors and narrow space aims to create a strong first impression on visitors, who are clearly stepping into a different dimension. The second stripe still keeps the sharp roof but welcomes visitors with less dramatic tones and serves as reception hall. In the third stripe, which has two floors, at the ground level we lose the pitch roof to find a more conventional space that includes all the main functions: visitor and service center, cafeteria, toilets, business center and an upstairs office area.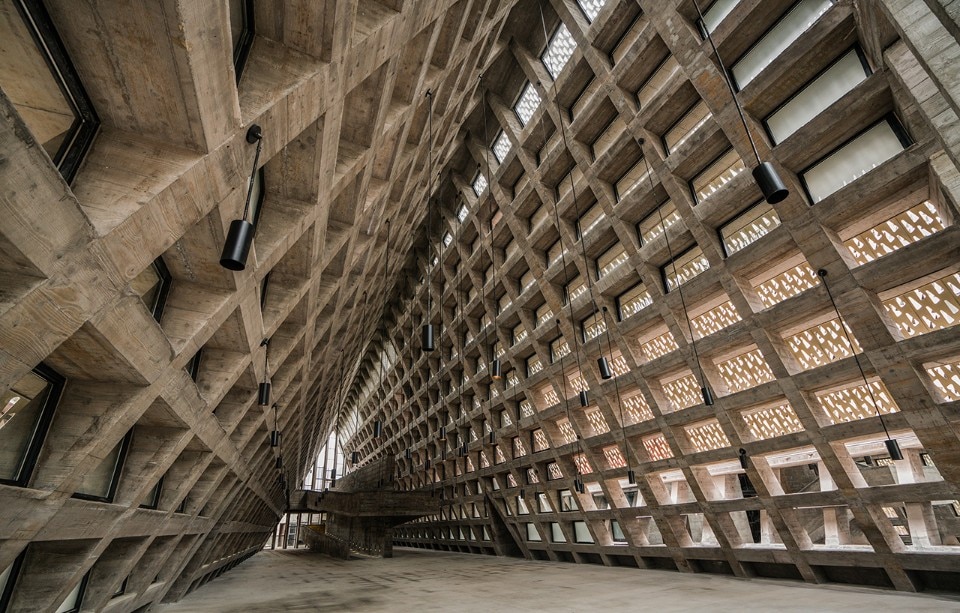 The concrete is marked strongly by a wooden pattern, given by the pine quarterdecks. Pine wood is one of the most common materials in the Sandu area and the contemporary concrete structure echoes the local traditional wooden architecture.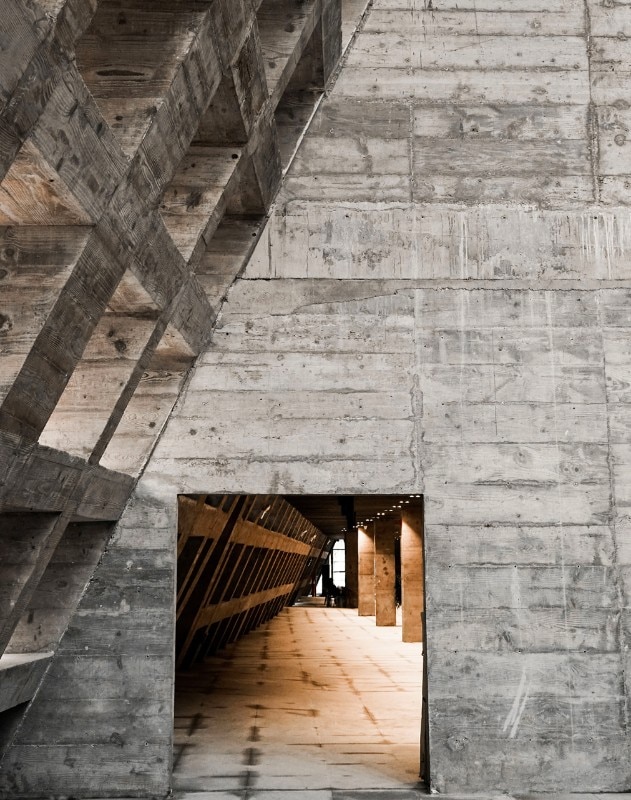 Project:

Shui Cultural Center

Location:

Sandu, Guizhou, China

Architect:

West-Line Studio – Haobo Wei, Jingsong Xie

Landscape:

Dan Hanmin, Luo Yudan

Site construction control:

Wei Haobo, Dan Hanmin, Ou Minghua

Interior design:

Martina Muratori

Structural engineering:

Li Yuanping, Yang Xiaoqiang

Equipment:

Shi Hongbo

Research:

Xu Yulan, Zhong Danjing, Yin Zhili, Shi Jing, Xu Yulan, Yang Hong

Graphic design:

Martina Muratori, Zheng Jinda

Area:

4,223 sqm

Completion:

2017