The cladding system designed by the Digital Matter - Intelligent Contruction course lowers the internal temperature up to 5°C.

With digital simulations and experimental manufacturing, the course Digital Matter - Intelligent Contruction at the IAAC in Barcelona investigates thermodynamic processes and their possible application in architectural construction.
Responsive materials, called "smart", can improve energetic performances of buildings, reducing their consumption with low cost solutions. The students of the course have developed a system called Hydroceramics, a cladding that is able to regulate the temperature and humidity of an environment according to external conditions. 

The starting point of the research is the analysis and experimentation of the Hydrogels behaviour, a class of materials able to absorb and retain water quantities equal to 500 times their own weight. These are also called Super Absorbent Polymers and are very cheap materials that are easily available on the market.
IAAC researchers tell us: "Chemically they can be insoluble polymers of hydroxyethyl acrylate, acrylamide, polyethylene oxide, and others. As a cooling aid they work by exposing the absorbed water to a large surface area. Since the heat of vaporization of water is about 0.6 kilocalories per gram, a cooling effect occurs."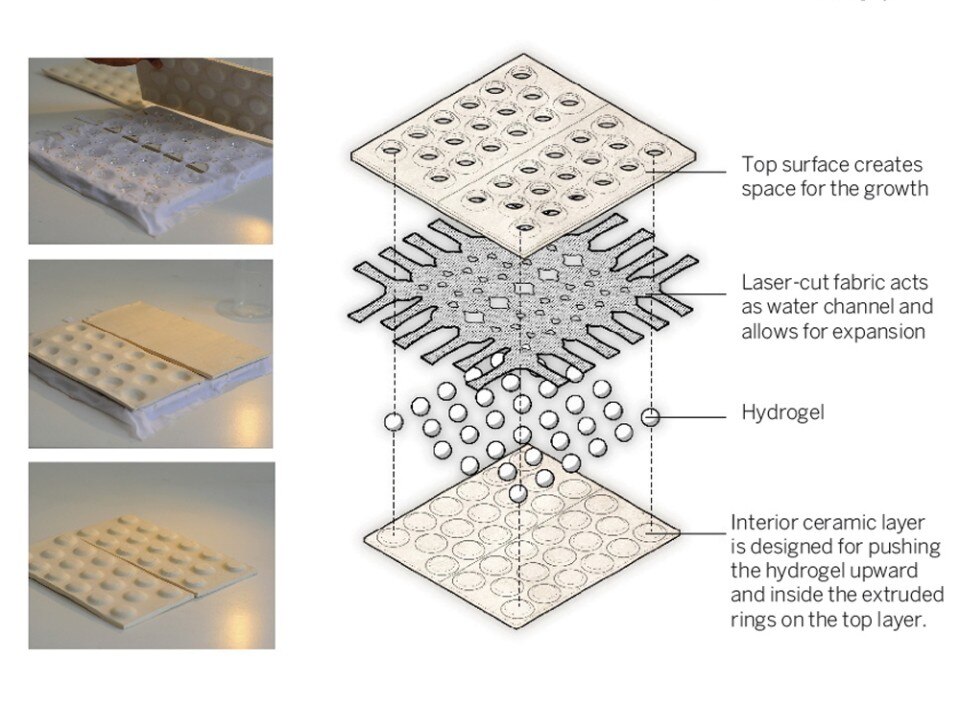 On the basis of the hygrothermal analysis (humidity and temperature), the IAAC researchers prototyped a construction element consisting of two layers of ceramic, fabric and hydrogel. The external ceramic surface has volcano-shaped protuberances facilitating ventilation and interaction between water and hydrogel, while the lower layer is very thin to facilitate temperature changes.
The evaporation of water in the hydrogels allows a reduction of the internal temperature up to five degrees Celsius. The final step of the experiment is the design of a pavilion that optimises the operating conditions of the hydrogels, demonstrating how the coating system can take various forms.