Padiglione UAE Leone d'Oro per la Migliore Partecipazione Nazionale
"Un esperimento che ci incoraggia a pensare alla delicata relazione tra spreco e produzione, proponendo un modello costruttivo capace di legare artigianalità e tecnologie", così la giuria ha motivato il premio più importante assegnato al padiglione degli Emirati Arabi Uniti, curato da Wael Al Awar e Kenichi Teramoto; commissari Salama bint Hamdam e Al Nahyan Foundation. Il padiglione ospita una vasta ricerca sulle sabkhah, l'ecosistema di saline naturali presenti negli Emirati Arabi Uniti che ha spinto i curatori a esaminare il sale come risorsa rinnovabile per le costruzioni in sostituzione al cemento Portland, la cui produzione è responsabile dell'8% delle emissioni mondiali di anidride carbonica. La ricerca è stata condotta con un gruppo di sceinziati di Abu Dhabi, Tokyo e Sharjah.
raumlaborberlin Leone d'oro per il miglior partecipante alla Mostra Internazionale "How will we live together?"
"Un approccio progettuale collaborativo di grande ispirazione che chiama alla partecipazione e alla responsabilità collettiva", così la giuria ha motivato il premio assegnato al collettivo berlinese composto da Andrea Hofmann, Axel Timm, Benjamin Foerster-Baldenius, Christof Mayes, Florian Stirnemann, Francesco Aruzzo, Frauke Gerstenbergm Jan Liesegang e Markus Bader. L'installazione Instances of Urban Practice di raumlaborberlin allestita all'interno della sezione "As Emerging Communities" in "How will we live together?", tra le più scenografiche all'interno della mostra principale all'Arsenale curata da Hashim Sarkis, è un capovolgimento che sposta l'attenzione dall'oggetto architettonico costruito ai processi di qualità: l'architettura diventa una serie di azioni che prende una posizione sociale e per l'occasione vengono presentati i processi di due importanti progetti in cui il collettivo è coinvolto: la Floating University e la Haus der Statistik di Berlino.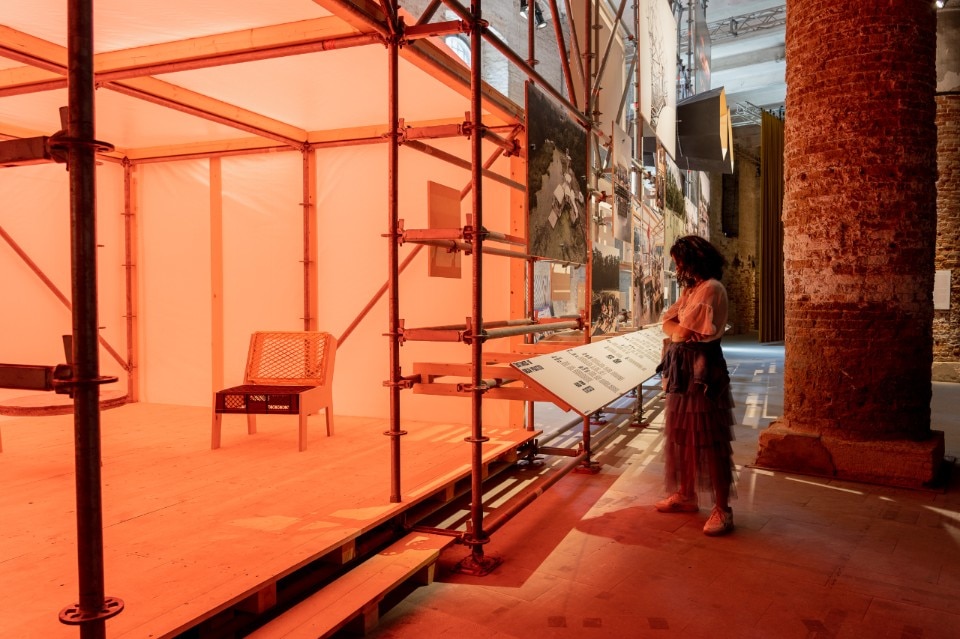 FAST Leone d'argento per un promettente giovane partecipante
"Ci invita a prendere consapevolezza delle storie divisive, le pratiche agricole, i rituali della vita quotidiana e la condizione dei nuovi insediamenti e dell'occupazione", così la giuria premia la Foundation for Achieving Seamless Territory, un'agenzia che lavora all'intersezione tra architettura, urbanistica e diritti umani con base ad Amsterdam e New York. L'installazione Watermelons, Sardines, Crabs, Sands and Sediments: Border Ecologies and the Gaza Strip ai Giardini della Biennale, all'interno della mostra principale curata da Hashim Sarkis nella sezione "Across Borders" esplora l'emergere di spazi inaspettati in risposta allo stress e alla guerra al confine israelo-palestinese. Il progetto traccia la trasformazione di una piccola fattoria a Khuza'a, un villaggio agricolo palestinese nella Striscia di Gaza dove negli ultimi decenni, la fattoria 4.000 metri quadrati, di proprietà e gestita da Abd el Haleem e Khaldya Qudaih, è stata attaccata, danneggiata e distrutta più volte da raid aerei, bombardamenti e pattugliamenti israeliani. Per la Biennale di Architettura 2021 FAST ha raccolto più di una dozzina di storie orali della vita quotidiana nella fattoria attraverso conversazioni continue con Amir Qudaih e la sua famiglia, collegando materiale banale, come angurie, sardine, sabbia e sedimenti, a protocolli burocratici, restrizioni imposte da Israele e continui atti di violenza. Queste storie, come spiegato dall'agenzia, attestano il continuo impegno della comunità Khuza'a in atti collettivi di sopravvivenza, resistenza, aiuto reciproco e solidarietà.

Menzioni speciali a Filippine, Russia e CaveBureau
La giuria ha assegnato tre menzioni speciali. La prima a CaveBureau (Karanja Kabage, Stella Mutegi insieme a densu Moseti, tutti kenioti con base a Nairobi) per l'"esplorazione visionaria e creativa di uno degli ambienti più antichi abitati dall'uomo". L'installazione The Anthropocene Museum: Echibit 3.0 Obsidian Rain all'interno della sezione "Making Worlds" indaga le caverne come strutture e spazi geologici radicati nella nostra coscienza preistorica che per migliaia di anni hanno influenzato il modo in cui percepiamo e definiamo il mondo che ci circonda.
La seconda menzione speciale è stata assegnata al padiglione Filippine curato da Framework Collaborative (GK Enchanted Farm Community e gli architetti Sudarshan V. Khadka Jr. e Alexander Eriksson Furunes) e commissionato dalla National Commission for Culture and the Arts (NCCA, presieduta da Arsenio "Nick" Lizaso), con l'installazione Structures of Mutual Support. Il sostegno reciproco è un metodo i auto-organizzazione e collaborazione tra le comunità per sviluppare le capacità di resilienza e sostenersi a vicenda nelle avversità e nelle crisi, tanto in Norvegia, pratica identificata col termine dugnad, quanto nelle Filippine (identificata dalla parola bayanihan. Alla Biennale è stato trasportato e rimontato un centro ricreativo che ospita una biblioteca autocostruito dalle comunità filippine insieme agli architetti curatori.
Il padiglione Russia curato da Ippolito Pestellini Laparelli con l'installazione Open, ha ricevuto la terza menzione per "una ristrutturazione sensibile e attenta del padiglione storico ai Giardini che si apre allo spazio esterno e al futuro". La Russia non ha esposto che  la ristrutturazione del padiglione del 1914 di Alexej Shchusev condotta dal duo russo-giapponese KASA Architects, esito di una ricerca durata due anni sul ruolo delle istituzioni culturali di oggi, e una piattaforma di gaming interattiva.

Immagine di apertura:

Padiglione UAE, foto Andrea Avezzù, courtesy La Biennale di Venezia