"All work and no play makes Jack a dull boy" dice il proverbio inglese (in italiano "troppo lavoro e niente svago rendono Jack un ragazzo annoiato") che Jack Nicholson ha reso famoso nel film Shining (1980). Ai tempi della pandemia, questa asserzione sembra non valere per il duo OrtaMiklos, che ha sfruttato i mesi di reclusione forzata per dedicarsi interamente al design e produrre un'enorme mole di lavoro (ben 22 opere), adesso in mostra a New York, alla galleria Friedman Benda.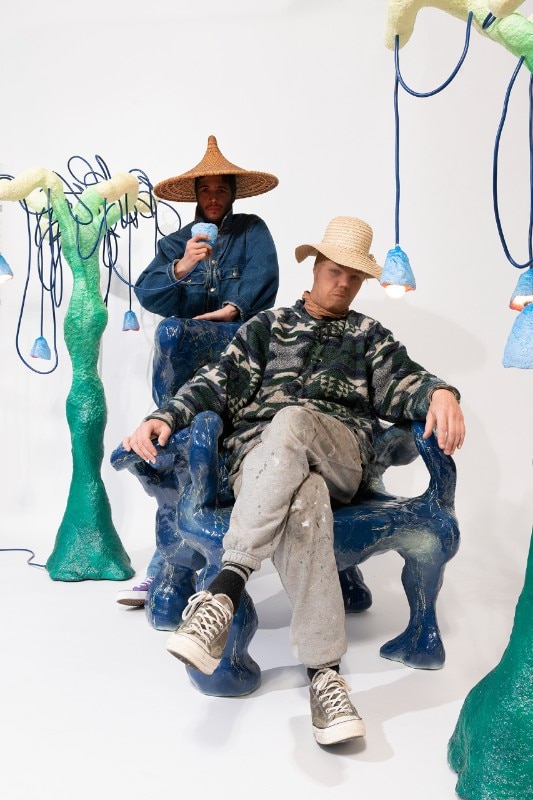 Per "6 acts of confinement", i giovanissimi Leo Orta e Victor Miklos Andersen hanno concepito sei scene separate, in cui ogni atto rappresenta una diversa risposta emotiva a questo momento storico.
Gli oggetti realizzati da OrtaMiklos nascono dal contatto diretto e violento con la materia. Sono il risultato di performance di guerriglia, traendo ispirazione da diverse pratiche ed estetiche urbane. Ad esempio, non si può non riconoscere l'influenza del mondo dei graffiti, sia nelle colorazioni di alcuni pezzi sia con la creazione di animazioni video, i cui lettering amorfi ricordano quelli della crew di writer parigini PAL.
Se con il loro design Leo e Victor rifuggono ogni tipo di serializzazione o industrializzazione del processo produttivo, allora i pezzi in mostra più significativi sono Melting Thonet e Melting Breuer. Con atteggiamento iconoclasta, il duo decostruisce e deforma due tra le sedie più iconiche del design moderno: la prima è forse la prima seduta prodotta in serie, la seconda rappresenta invece il pensiero della Bauhaus e l'unione tra industria e progetto.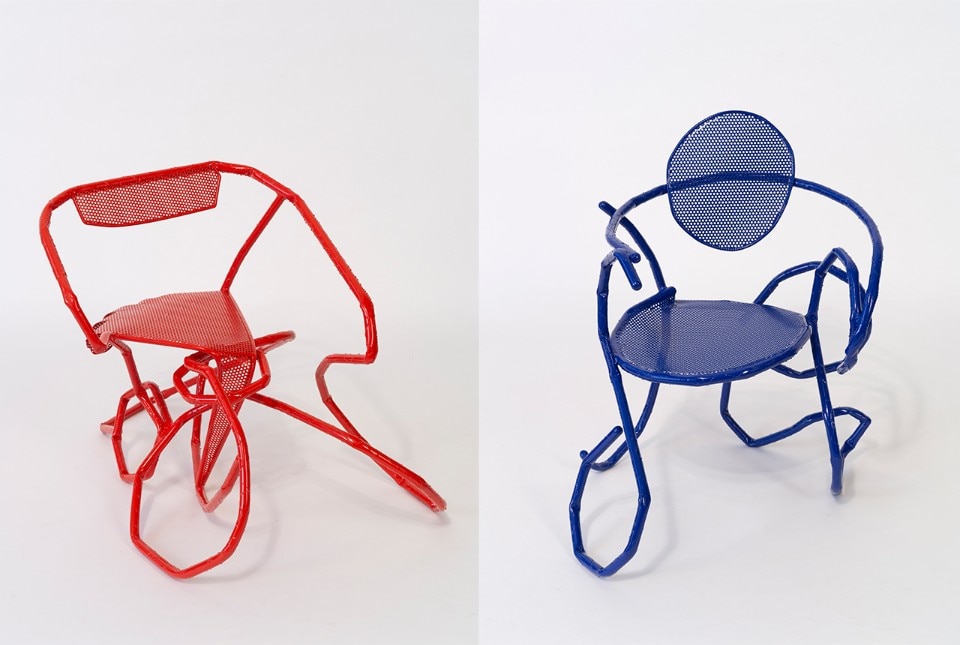 La mostra a New York è caratterizzata dalla combinazione tra le opere di OrtaMiklos e quelle di vari artisti visuali come Bráulio Amado, Coady Brown, Salomé Chatriot, Sarah Faux, Jānis Melderis e Reginald Sylvester II. Date le limitazioni della pandemia, il duo ha creato spazio digitale per la realizzazione di una delle loro performance. Parallelamente a quello della galleria, si realizza l'occupazione virtuale del tempio di Tendur, un monumento egizio, attualmente conservato al Metropolitan Museum of Art di New York, che viene trasformato in uno scenario distopico e alienante.
Spazi virtuali, performance, illustrazioni e design: Leo e Viktor compongono coerentemente una serie di media diversi per mostrandoci le loro inquietudini. Piuttosto che risolvere funzionalmente dei problemi ci propongono con completa libertà il loro immaginario ai confini della realtà. Sarà questo il futuro del design?
Mostra:

6 acts of confinement

A cura di:

Glenn Adamson

Designer:

OrtaMiklos

Artisti coinvolti:

Bráulio Amado, Coady Brown, Salomé Chatriot, Sarah Faux, Jānis Melderis, Reginald Sylvester

Performance virtuale:

OrtaMiklos (concept), Janis Melderis (digital space), Amédée De Murcia (composer), Richard Johnston (writer)

Luogo:

Friedman Benda

Indirizzo:

515 W 26th Street, New York

Date di apertura:

fino al 31 luglio 2020