By now, cities worldwide, especially metropolises, are trying to figure out how to negotiate with climate change, specifically with more frequent flooding due to the effects of climate change. A 2019 report by the Intergovernmental Panel on Climate Change, IPPC – a scientific forum formed in 1988 by two United Nations bodies, the World Meteorological Organisation and the United Nations Environment Programme – predicted a rise in sea level of 1.1 meters by the end of the century. Therefore, the floods predicted by this figure would make the already precarious balance we experience today much more vulnerable.
Cities in direct contact with the sea or with major rivers will obviously be the first to be affected. And the precautions to be taken also require major economic investment. In Italy, for example, the most discussed example is the important system of mobile dams adopted by the city of Venice: started in 2003 but not operational until 2020. Remaining in Europe, Hamburg is another port city suffering from similar problems.

But in this case, we can see how cities need to go beyond standard engineering solutions, including environmental resilience approaches, by integrating planned solutions with local communities.
Hamburg has long relied on a system of levees, but these were breached in February 1962, sweeping the north coast of Germany: the levee failed in 63 places, submerging almost a fifth of the municipality. As a result, much of Hamburg's city center and suburbs are now surrounded by a new dam – 25 kilometers of sea wall and 78 of green wall. But the engineered system cannot be used to protect HafenCity, a semi-artificial island on the banks of the Elbe River in the German port city, from rising tides. It is a once-abandoned port district, now home to major architectural works, including the Elbphilharmonie concert hall by Herzog & de Meuron. The massive development area will have around 15,000 residents and 45,000 workers when the district is completed.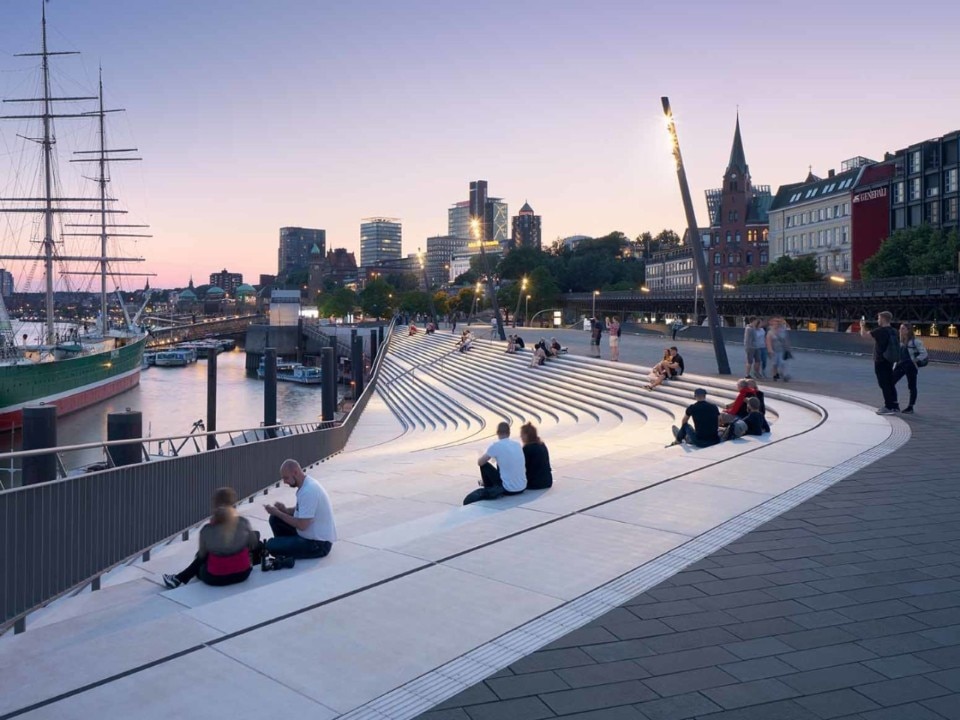 Presented by its developers as a "model for the new European city on the waterfront", HafenCity is built on an artificial sand terrace that places new buildings about 8 meters above the high tide line. The waterfront is also designed to be partially flooded, like the promenade designed by Zaha Hadid in 2006 that runs above the dam on the city's Niederhafen promenade.

Exceptions are some old buildings dating back to 1880. While remaining at their original lower level, they have been hardened to resist occasional flooding, with direct exits to the upper level and reinforced windows and other forms of waterproofing beneath.
Opening image: Herzog & de Meuron, Elbphilharmonie, Hamburg, Germany, 2016