With the start of the new year, New York City government officially shifted from the hands of Bill de Blasio to those of Eric Adams. The Democrat finds himself in a still galloping pandemic crisis, having to find quick answers on the one hand to the problems related to climate change – sea level rise and flooding – and on the other hand to the growing housing crisis, which the virus had temporarily placated.
Both predecessors de Blasio and Bloomberg had vetted plans to extend the waterfront along the East River into Lower Manhattan. But Adams could move in a much more radical direction, as the one James Barr, professor of economics at Rutgers University, has recently illustrated in a recent article published by the New York Times: by expanding Manhattan into the New York Harbor by 1,760 acres. This new proposal offers significant protection against storm surges while creating new housing – it is estimated that with a density similar to that of the Upper West Side, it could have nearly 180,000 new housing units. Like so many other interventions in the city's history, the project would reshape Manhattan's southern shoreline.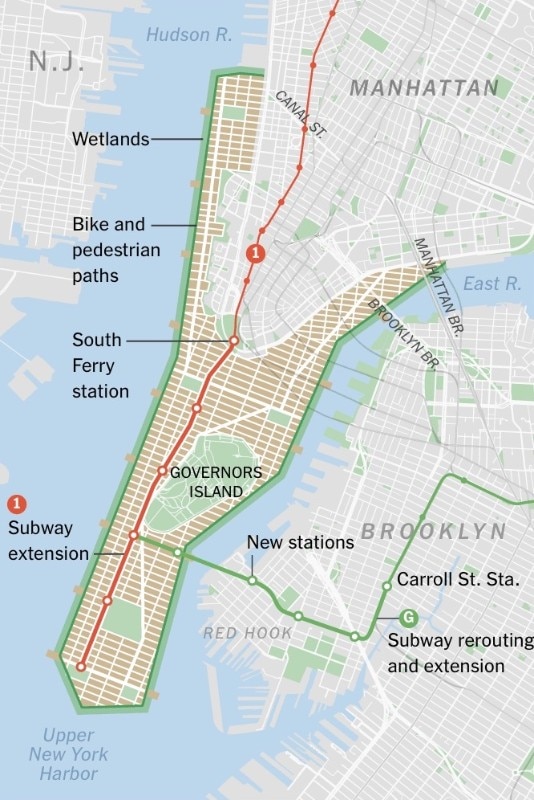 New Mannahatta – the name the Lenape originally gave Manhattan – would thus help New York City fortify itself against rising sea levels by pushing vulnerable places like Wall and Broad Streets further inland, while the peninsula can be designed with specific protections around its coastline to buffer itself and the rest of the city from flooding. Building the land at a higher elevation would further enhance its protective capacity, and the new peninsula could recreate historic ecologies and erect environmental and ecological research centers dedicated to improving the quality of New York's natural heritage.
Opening image: photo Brandon Jacoby via Unsplash