This article was originally published on Domus 1059, july and august 2021.
"How will we live together?" With this question, the 17th edition of the Venice Biennale concludes a cycle begun 11 years ago with "People meet in architecture" (Kazuyo Sejima, 2010), followed by "Common ground" (David Chipperfield, 2012), then relaunched by "Reporting from the front" (Alejandro Aravena, 2016) and resumed once again in 2018 with "Free space" by Yvonne Farrell and Shelley McNamara. An important decade, with the exception of the 2014 edition ("Fundamentals" by Rem Koolhaas), in which more and more attention has been given to the design of public space and to porous architecture full of opportunities for coexistence. This year in Hashim Sarkis's interpretation what is evident is a leap in scale, measurable not only by the total (and positive) elimination of any trace of the star system (replaced by curatorship based on research clusters and teams with different expertise), but also – as many noticed – by the paradoxical removal of architecture itself. 
Or rather, by the (implicit) affirmation of architecture as a "negligible object" (for those who remember the 1970s, an unsparing analysis on the part of Manfredo Tafuri) and its rebirth as a political gesture in which space and form (at the heart of the New Testament established by Sigfried Giedion in his monumental Space, Time and Architecture) lose all consistency by dissolving into urban and state planning. Amidst a countless infinity of installations of hermetic and naif symbolism, the Belgian pavilion seems almost like a refreshing provocation with its effective reinterpretation of an urban setting in rooms crowded with models (1:50) of existing buildings, yet recontextualized in the Aldo Rossiesque format of the capriccio: a distant evocation of John Soane's archaeologism or De Chirico's metaphysics of the city compressed into an interior. 
The post-apocalyptic landscape, staged in the Corderie and in the Central pavilion of the Giardini, is reminiscent of a utopia softened in the acid of humoristic dystopia, poised between Asimov and Orwell: an unsettling future of biology lab test tubes, of rocks unexplainably pierced by luminescent bars or instead ominously hanging like swords of Damocles over the residual certainties of human presence challenged by microbiotic communities with whom, however, we should learn to coexist. Everywhere, in all versions possible, the crawling (perhaps beneficial?) invasion of roots, mould, soil, alga, organisms of all kinds, who from invisible inhabitants of the Anthropocene become protagonists on a planetary stage where their help will play a decisive role in the intentional euthanasia of the homo sapiens. In fact, if we want to invoke the rights of nature, we need to take our eyes off the demands of "humans" in favour of new stakeholders – minerals, seeds and even ladybugs, in addition to, obviously, deserts, oceans, mountains – designing together symbiotic environments, prototypes of 21stcentury living architecture.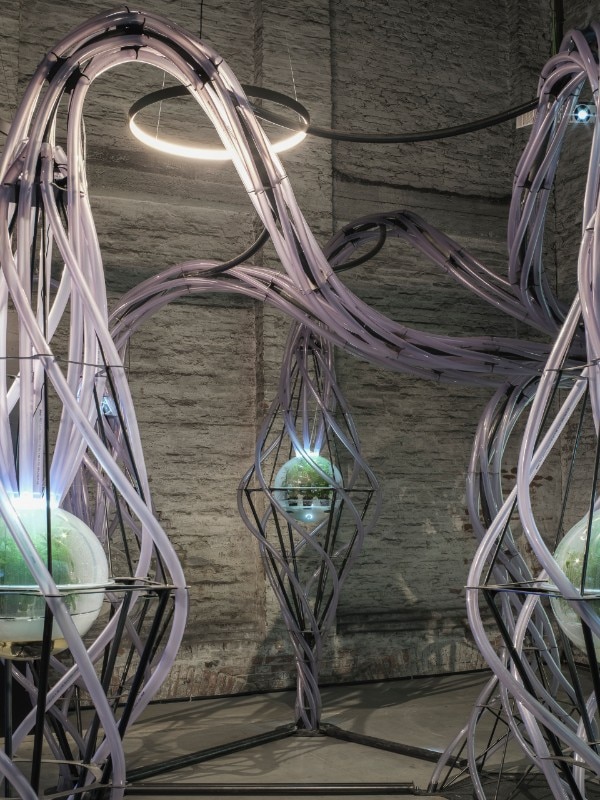 For example, the room made from structured and porous materials so as to host different microclimates for different types of microbes: after centuries in which traditional science waged an interrupted crusade of extermination in favour of hygiene sterility, a microcellular jihad has taken revenge and to which the new science attributes the emotional, social and physical wellbeing of humans. It is the "ecosystem of empathy and coexistence", the "urbanosphere" of which we are warned about by enigmatic explanations scattered everywhere with the clarity of the progressive jargon coming out of MIT's reformed Academy, the clarity of which makes us cry for even the most trite rhetoric of omnipresent "sustainability". But, if we strive to restore nature to artefact, rules of coexistence between man and machine can also be experimented, in the name of biology and, at times, by the involuntary irony of proposals like "maternity menswear" (which explores "non-female pregnancy") or Heavy Duty Love, a creation by Lucy McRae to answer the question: "Could spongy machines establish trust and connection, recreating the embrace of a deceased parent in virtue of origins made in a lab?"
There is nothing missing in this Biennale, quite similar to the format of a call for papers or a theme park with ideas expanding into infinity: migrants and the new poor, ecological emergencies and environmentalism, gender identity and artificial intelligence, Black Lives Matter and Covid-19, new materials and archaic techniques. An ever-growing pile of questions and research that nonetheless cannot respond to the banal affirmation that even today no system can beat, in terms of sustainability and resilience, the historic city. Therefore, impressive is the optimism of Sarkis who, succumbing to decades of iconic, charismatic, mass-media architecture, attributes the current failure only to politicians, setting aside for architects the role of "cordial catalyser", or even "guardian of the spatial contract" who settles the "social contract" upon which the feats of the age of extremes rested.
Opening image: Belgian Pavillion at the 17. Architecture Biennale, Venice 2021. Photo Giulia di Lenarda