After an 18-month residency at Vienna's Schwarzenbergplatz, The Morning Line sound pavilion has been permanently disassembled and donated by the Thyssen-Bornemisza Art Contemporary to Karlsruhe's Zentrum für Kunst und Medientechnologie. Here, the filigree structure created by Matthew Ritchie with Aranda\Lasch and Arup will be permanently installed as of this spring.

The structure was installed June 2011 in Vienna, in front of the Soviet War Memorial at the Schwarzenbergplatz, a dense filigree layered over the Viennese square, curling and weaving through the air which it breaks apart at certain points through the amplificaton of sound. The 53 speakers hidden throughout the structure train the ear to find new angles to appreciate space and sound, and also give artists a new spatial dimension to include in their compositions, many of which have been written uniquely for performance at the pavilion. More than 26 compositions have been broadcast from this ten metre-high, twenty metre-long site, the latest held September 2012 at the Thyssen-Bornemisza Art Contemporary's Second Festival for Spatial Sound and Advanced Music Composition. The festival featured seven new compositions and nine live performances, including musicians and sound artists Benzo / Richardas Norvila from Lithuania and Russia, Auxpan from Iceland (his Dovetailed halving Joint performance portrayed in the video), and Zavoloka + Kotra from the Ukraine.

The Morning Line is imposing and inviting at the same time, in the way it moves through the air at false angles, twisting up and winding around, inviting a movement from throughout to within, reflected in the way that the performances literally take shape, from the form of the pavilion to the layout of the notes. One could say that such a construction ironically decomposes music, takes it apart by showing it off from multiple angles, none of which is as important as another.


Video by Philippa Nicole Barr. Sound by Carlo Cossignani and Philippa Nicole Barr.

The interactive multispatial sound system was conceived by Tony Myatt of the Music Research Centre of York University, to create a portable performance space which demands a new kind of composition, a way to use the peculiarity of the site its position opposite a soviet memorial, for example, or its openness, inviting individuals to weave in and out, between and even underneath the artists and amplifyers. So it is characterised by its radical openness, its permeability on the one hand and its strength on the other, enabling us to trust it as a valuable artistic space and site of new encounters without letting us take it for granted, in the way in which we bypass the normally and eternally solid.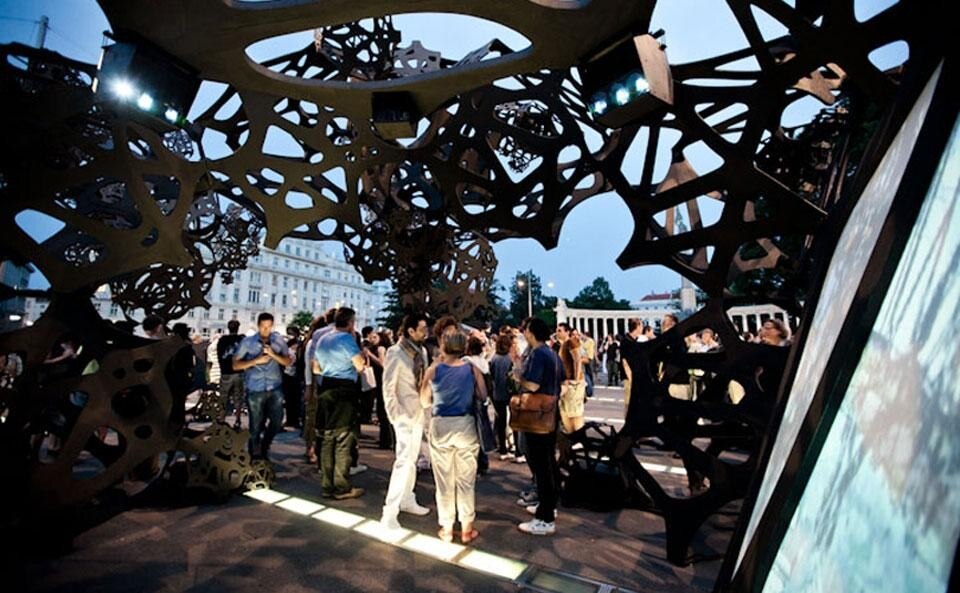 In this way The Morning Line suits the landscape of a curious and evaluative city — Vienna, and now Karlsruhe —, as well as the needs of artistic instantaneity, realising the social, technical, and even the political through the site and the act which reponds to it. Philippa Nicole Barr