Cover image: Zaha Hadid Architects, Napoli Afragola Station, Napoli, Italia, 2017. Photo © Marco Introini. From Domus 1015, July-August 2017
In 2008, at the 11th International Architecture Exhibition of the Venice Biennale, Patrick Schumacher (1960) presents his Parametricism Manifesto, describing parametric design as the "hegemonic" avant-garde of the 21st century's first decade. According to Schumacher, Parametricism is a style and "a research program based upon the parametric paradigm".
The notion of parameter, however, makes its appearance in the history of architecture (both in the fields of theory and design) several decades before. Parameter-oriented considerations inspire both the strings models produced at the end of the 19th century by Antoni Gaudí (1852-1926) for the church of Colonia Güell (1898-1914), and a few experimental, non-realized proposals by Luigi Moretti, who considered the framework of mathematical logic as a fundamental for an architecture keeping up with modernity. Such bold projects as Félix Candela's (1910-1997), Pier Luigi Nervi's (1891-1979) and Frei Otto's (1925-2015), standing out for the expressiveness of their structure, are often referred to as parametric, mostly in relation to the crucial importance of engineering calculations for their design.
In the last decades of the 20th century, the success of digital drawing and modelling gives rise to a particularly rich season of parametric experimentations. Nonetheless, Schumacher points out how software are merely tools, far from leading their users automatically towards Parametricism: "The parametric design tools by themselves cannot account for this drastic stylistic shift from Modernism to Parametricism. This is evidenced by the fact that late modernist architects are employing parametric tools in ways which result in the maintenance of a modernist aesthetics (…) using parametric modelling to inconspicuously absorb complexity". On the other hand, Schumacher believes that parametric architecture from the third millennium shall take on, organize, and make visible the ultimately "liquid" (à la Zygmunt Bauman) dynamism of contemporaneity.
In 1988, Schumacher joins Zaha Hadid Architects, the firm which he direct since 2016. Precisely Iraqi-British architect and designer Zaha Hadid (1950-2016) is universally considered as parametric architecture's most original and prolific interpret. Deeply influenced by the early 20th century avant-gardes, such as Abstract Art and Suprematism, Hadid is framed in the deconstructivist movement by the large exhibition held in 1988 at New York's MoMA (Deconstructivist Architecture, curated by Philip Johnson and Mark Wigley). In her three-decades-long career, she explores the potentials of architecture, once given up the static, trilithic composition of its elements (slabs, walls, pillars, openings), as well as its traditional space sequences. Her projects, such as the Fire Station in Weil am Rhein (1990-1994), the Hoenheim-Nord Terminus and Car Park in Strasbourg (1999-2001), the MAXXI Museum in Rome (2010) and London's Acquatics Center (2007-2012), are made of fluid voids, making their way in and around geometrically deconstructed, and sometimes more strictly organic solids.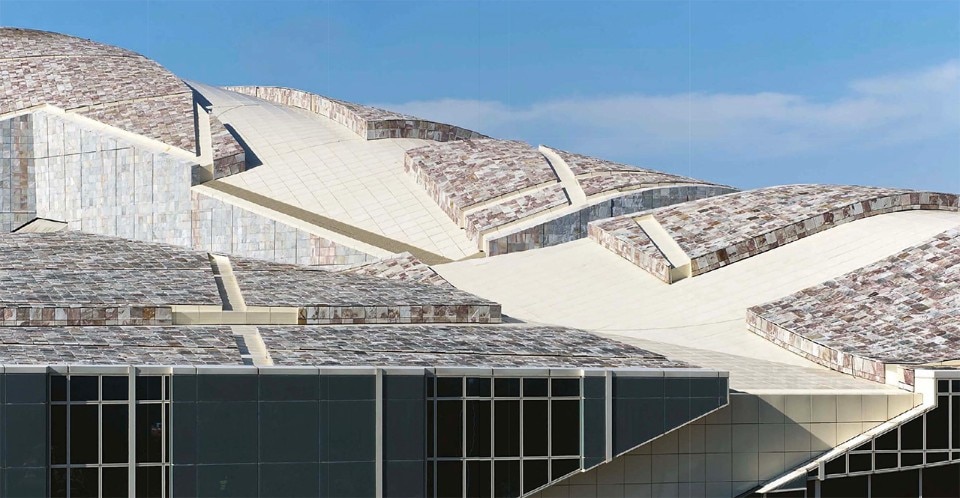 Starting from the 1980s, several "deconstructivists" have been associated to parametric architecture, as their realizations have been bringing forward more or less faithfully the principles that would later be stated by Schumacher's manifesto: Coop Himmeb(l)au, Peter Eisenman (1932), for instance with his project for the Ciudad de la cultura in Santiago de Compostela (1999-ongoing), Frank Gehry (1929), for instance with Bilbao's Guggenheim Museum (1991-1997), and Daniel Libeskind. Researches as Diller & Scofidio + Renfro's, Future Systems's and Morphosis's, amongst many others, can be traced back to the same genealogy, less because of stylistic similarities, than because they all turn to the digital to systematically challenge the conceptual, spatial and formal principles of the architectural modernity.
Many of them work on the threshold of architecture, planning and design, claiming that the parametric approach remains valid at all scales. Schumacher argues that it is possible to "pursue the parametric design paradigm all the way, penetrating into all corners of the discipline. Systematic, adaptive variation, continuous differentiation (rather than mere variety), and dynamic, parametric figuration concerns all design tasks from urbanism to the level of tectonic detail, interior furnishings and the world of products".
In the words of Patrick Schumacher:
Parametricism is the great new style after Modernism. Postmodernism and Deconstructivism have been transitional episodes that ushered in this new, long wave of research and innovation