Spanish architecture firm TAKK has completed the renovation of a 50-square-meter apartment located in Barcelona with a total material execution budget of only 10,000 euros. After already several experiments in redefining domestic space, the studio was oriented in its choices with the goal of updating the house toward new patterns of use and environmental awareness in the context of the current energy crisis and climate change.

Obviating the room-corridor spatial combination, the team worked as a first step with thermal gradients for the functional and programmatic configuration of the house. In the new proposal, a layout was chosen in which the climatic and environmental characteristics of each room are different, creating a clear hierarchy based on thermal needs. The different rooms in the house are nestled into each other, like "layers of an onion," from coldest to warmest, to take advantage of each layer of air and material without having to provide additional energy.
Per rispettare la richiesta di budget, il progetto porta con sé una riduzione della tavolozza dei materiali eliminando la necessità di rivestimenti come vernice, intonaco o piastrelle. Per le stanze isolate invece l'uso di pannelli MDF standard e di lana di pecora naturale di provenienza locale conferisce al progetto un carattere grezzo, scelti per mantenere il rapporto costi-struttura ed efficienza energetica il più equilibrato possibile. La ristrutturazione ha anche utilizzato gambe di tavoli riciclati per sollevare tutti gli elementi costruiti, consentendo di far passare liberamente gli impianti idraulici ed elettrici senza la necessità di giunzioni nelle pareti.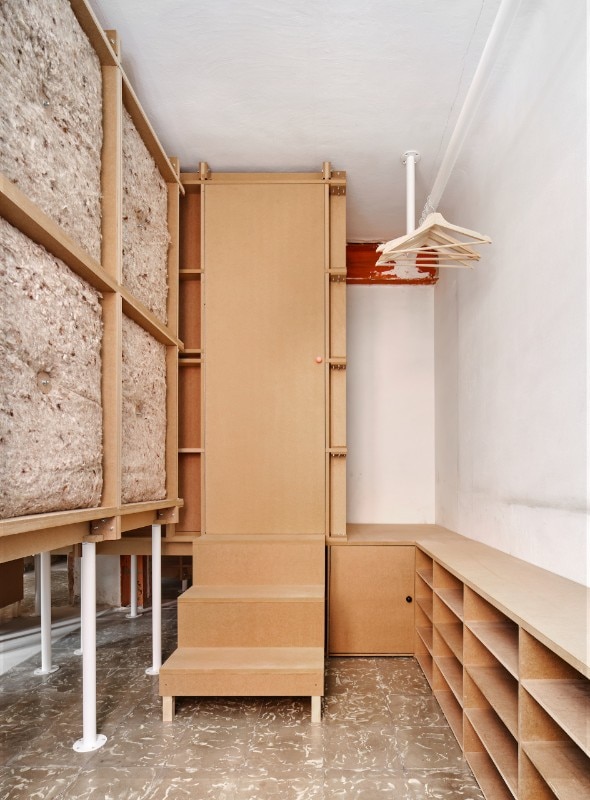 To meet budget demands, the project brings with it a reduction in the palette of materials by eliminating the need for coatings such as paint, plaster or tile. For the insulated rooms, on the other hand, the use of standard MDF panels and locally sourced natural sheep's wool gives the project a raw character, chosen to keep the cost-structure and energy efficiency ratio as balanced as possible. The renovation also used recycled table legs to elevate all built elements, allowing plumbing and electrical fixtures to run freely without the need for joints in the walls.

The long light façade is occupied by space for the bathroom and kitchen, understood in a hedonistic and playful vision as spaces to be used even when crowds are present.
To preserve the character of flexibility, the project also proposes a reform made exclusively through "dry" assembly work that allows the incorporation of non-experts in its construction process. As if it were a piece of furniture, the different parts of the house arrive at the construction site previously cut from the plans drawn by the architectural firm. Once on site, simply using standard screws, they are assembled by the architects and the client according to a small instruction manual, without the need for specialists.