In large metropolitan centers, progressive densification and the continuing rise in the cost of real estate, not even dented by the Covid-19 pandemic, are pushing architectural firms to find inventive and tailor-made solutions to readjust existing buildings to contemporary needs and constraints. This is also true in the specific case of workspaces, which today find in basements – as London has anticipated on the European scene – a chance to expand their operations.,
The project developed by Buero Wagner, located in the inner courtyard of a building in the Au district of Munich, not far from the Isar River, is a case in point. The pre-existing office on the ground floor, adjacent to the owners' apartment, was reconnected to the basement by creating a large cavity where a steel-grating staircase is located. To ensure a perception of brightness also in the basement, the windows were enlarged so as to increase the inflow of natural light.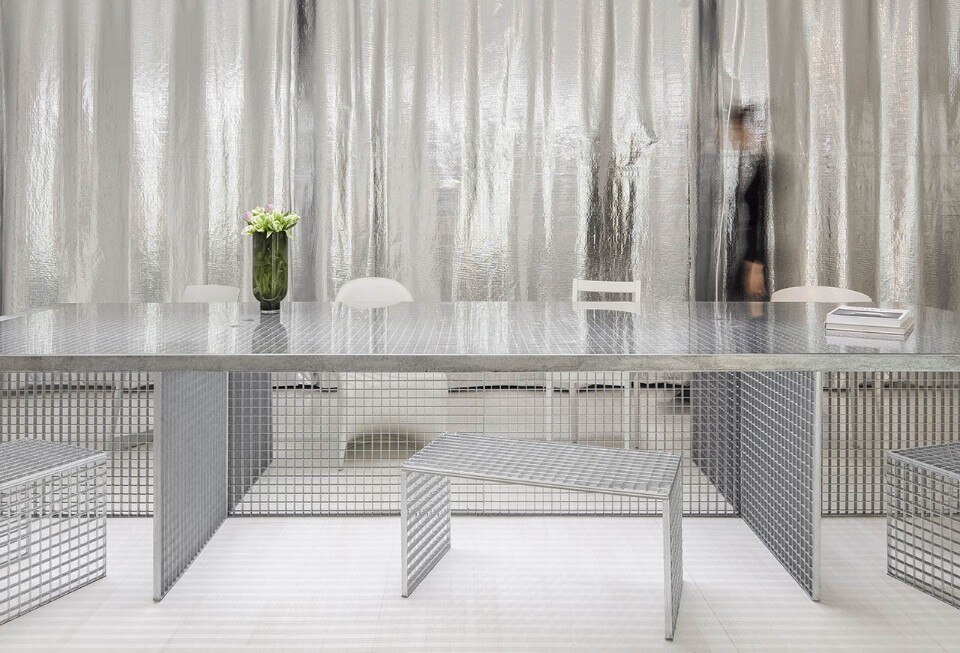 The need to enhance the perception of brightness has also guided the choice of materials for the upholstery and custom-made furniture, which veered toward a total-look declined in silver and metal tones. Large silver curtains made of aluminum vapor barriers are placed in front of the kitchen and all service spaces, so as to protect working moments by immersing them into an abstract, almost timeless space. The combined effect of the galvanized furniture and the curtains, a kind of monochrome non-color that dilates the environment by enhancing reflections, merges with the white walls and concrete floor of the basement, delineating an aseptic place that nonetheless finds a note of pleasantness and glamor of its own, thanks to unique light effects.
Program:

Interiors

Architects:

Buero Wagner

Team:

Fabian A. Wagner, Louise Daussy

Structural Engineer:

Maxi Wagner

Area:

140 sqm

Year:

2022