"Hot Wire Extension" is an innovative manufacturing process developed by Studio Ilio: an attempt to reuse waste dust from the SLS 3D printing process. It was born from the encounter between Fabio Hendry and Seongil Choial at the Royal College of Arts in London, where the first prototype is exhibited during the summer exhibition in 2014.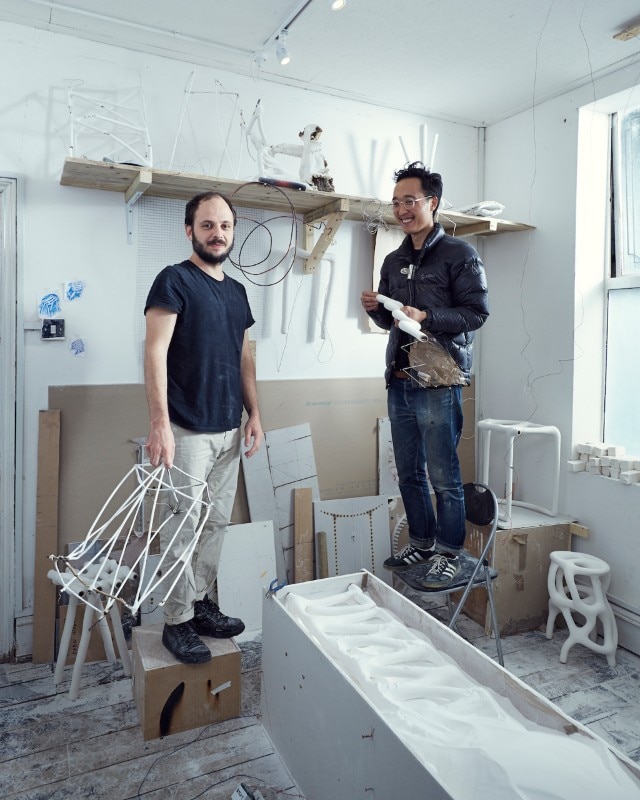 Using a very thin nichrome wire, inserted inside a cable, they model free forms, leaving the process almost totally free to influence the final formal result of the product. The wire, shaped, is placed in a container and then filled with a mix of silicate sands and nylon dust from the waste of 3D printing. The ends are then connected to a battery that aggregates portions of material more or less thin depending on the power of the voltage applied, generating mysterious surfaces that translate the starting geometry into prehistoric-like forms.
In the OKRO collection, the first attempt at serial-production, the word Basic appears in two of the three series of objects on display: a stool 'Basic Stool' and a bench 'Basic Bench' of extreme and essential formal simplicity. The latter is in fact reminiscent of a longitudinal extrusion of the stool. In both objects, the quantity of material gathered around the thread is the minimum necessary for structural requirements defining thin, empty lines, giving a general sensation of lightness. It is in the 'Random Lights' series that the process is left completely free to design the shape: the table lamps curve freely each in a different way into knots that allow the lighting to be adapted and placed in different positions and on different surfaces. In addition to the great expressive potential, the process of modeling by addition of material has excellent potential to be brought to the architectural scale. As the London based duo reveals, it is in their future ambitions to apply it to larger and more complex structures.
Set Design:

Studio Ilio per Design Switzerland

Where:

Palazzo Litta, Corso Magenta 24

When:

8th-14th April 2019

Venue:

Fuorisalone 2019