In occasion of Milan Design Week 2018, Bulgari decides to participate tot the event as a protagonist, calling three designers who often put in discussion the dogmatic basis of designing. The exhibition, called "Reinventing Design" takes in consideration three topics, relevant because inherent to experience and perceptions. The Chilenian artist Ivan Navarro, mostly known for his artistic research on lights and his sensorial distortion, plays with the topic of colours. The senses of the visitors are constantly tricked by the maze designed by Navarro, which is dematerialized within the obsessive repetition of colourful pattern colonising the space. Walls, floors and ceilings constitute a single super-surface flattening and expanding rhythmically. Only the writing lights provide an orienting reference.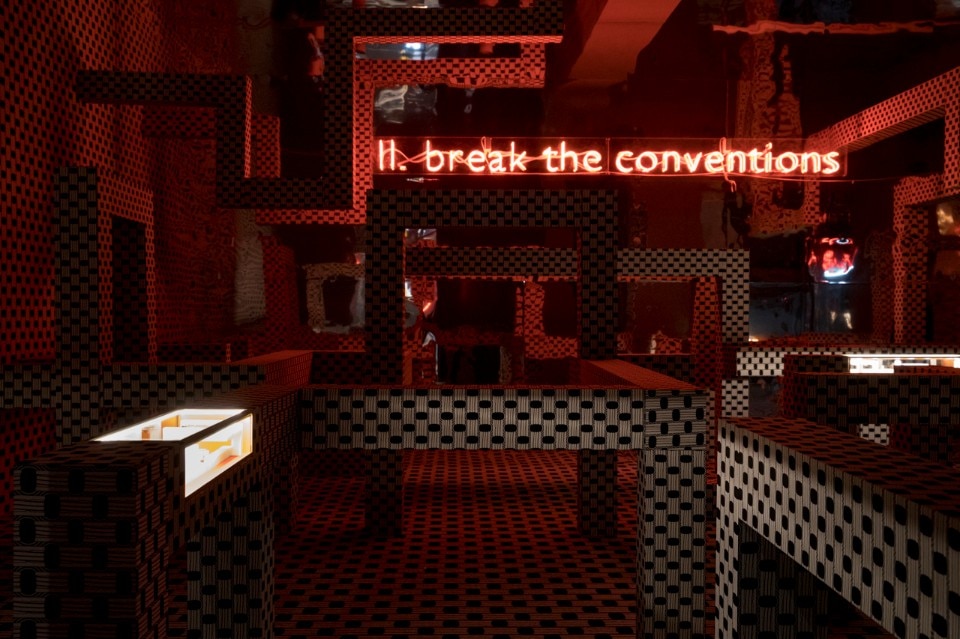 MVRDV instead dazes and confuses the senses using a rich material variety. The Dutch architecture firm builds a vaulted space out of a repertoire of industrial elements, which informs on the productive history of Bulgari. It's a sequence of tiles extended endlessly through the mirroring surfaces for deceiving playfully the visitor projecting himself in the story of the brand. 
Not least, the work produced by Storage associati, who reflects on modularity, topic that helped to form the aura around Bulgari for decades. Long tubular elements are repeated along perfectly shaped boundaries and embellished by the reflection of the material. Modularity is coupled with the geometrical aspect of this "enclosures", echoing the multiform cuts of the stones and enhancing the material differences between copper, brass and steel.
Img.1 MVRDV, Bulgari, Via delle Erbe 2, Fuorisalone 2018
Img.2 MVRDV, Bulgari, Via delle Erbe 2, Fuorisalone 2018
Img.3 MVRDV, Bulgari, Via delle Erbe 2, Fuorisalone 2018
Img.4 MVRDV, Bulgari, Via delle Erbe 2, Fuorisalone 2018
Img.5 MVRDV, Bulgari, Via delle Erbe 2, Fuorisalone 2018
Img.6 Ivan Navarro, Bulgari, Via delle Erbe 2, Fuorisalone 2018
Img.7 Ivan Navarro, Bulgari, Via delle Erbe 2, Fuorisalone 2018
Img.8 Ivan Navarro, Bulgari, Via delle Erbe 2, Fuorisalone 2018
Img.9 Ivan Navarro, Bulgari, Via delle Erbe 2, Fuorisalone 2018
Img.10 Ivan Navarro, Bulgari, Via delle Erbe 2, Fuorisalone 2018
Img.11 Ivan Navarro, Bulgari, Via delle Erbe 2, Fuorisalone 2018
Img.12 Ivan Navarro, Bulgari, Via delle Erbe 2, Fuorisalone 2018
Img.13 Ivan Navarro, Bulgari, Via delle Erbe 2, Fuorisalone 2018
Img.14 Ivan Navarro, Bulgari, Via delle Erbe 2, Fuorisalone 2018
Img.15 Ivan Navarro, Bulgari, Via delle Erbe 2, Fuorisalone 2018
Img.16 Ivan Navarro, Bulgari, Via delle Erbe 2, Fuorisalone 2018
Img.17 Ivan Navarro, Bulgari, Via delle Erbe 2, Fuorisalone 2018
Img.18 Ivan Navarro, Bulgari, Via delle Erbe 2, Fuorisalone 2018
Img.19 MVRDV, Bulgari, Via delle Erbe 2, Fuorisalone 2018
Img.20 MVRDV, Via delle Erbe 2, Fuorisalone 2018
Img.21 Ivan Navarro, Bulgari, Via delle Erbe 2, Fuorisalone 2018
Img.22 Ivan Navarro, Bulgari, Via delle Erbe 2, Fuorisalone 2018
Img.23 Ivan Navarro, Bulgari, Via delle Erbe 2, Fuorisalone 2018
Img.24 Ivan Navarro, Bulgari, Via delle Erbe 2, Fuorisalone 2018
Img.25 Storage associati, Bulgari, Via delle Erbe 2, Fuorisalone 2018
Img.26 Storage associati, Bulgari, Via delle Erbe 2, Fuorisalone 2018
Title:

Le Regole del Design

Architect:

MVRDV, Ivan Navarro, Storage Associati

Manufacturer:

Bulgari

Address:

via delle Erbe, 2