Awaited as ever with grand trepidation, the Fuorisalone exposition by COS has become a byword for quality and exceptional attention to detail. An appointment in which the scenographic aspect is not merely grandiose but is a structure capable of establishing a veritable relationship of affection with the public, involving emotion and spatial perception. Characteristics which can also be identified in Open Sky, the new project by Phillip K. Smith III. the virtuoso artist who works with light, reflections and colour, which he uses to amplify the beauty of the Californian desert and the ocean's beaches. In Milan, instead, Phillip has worked for the first time on an urban dimension, in the courtyard of Palazzo Isimbardi in Corso Monforte. Transformed into a place of meditation, with mirrored surfaces disintegrating the colonnade into fragmented images which blend with the sky. Ever-changing, according to the time of day. A spectacle which Phillip suggests people return to see on different occasions: "Because at sunset it can be one thing, while in the morning, another".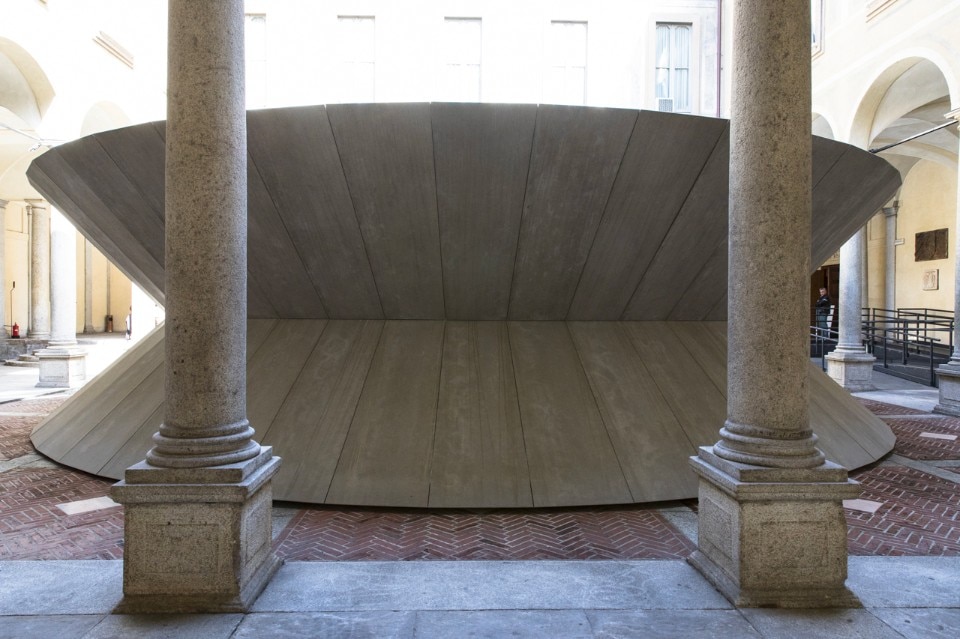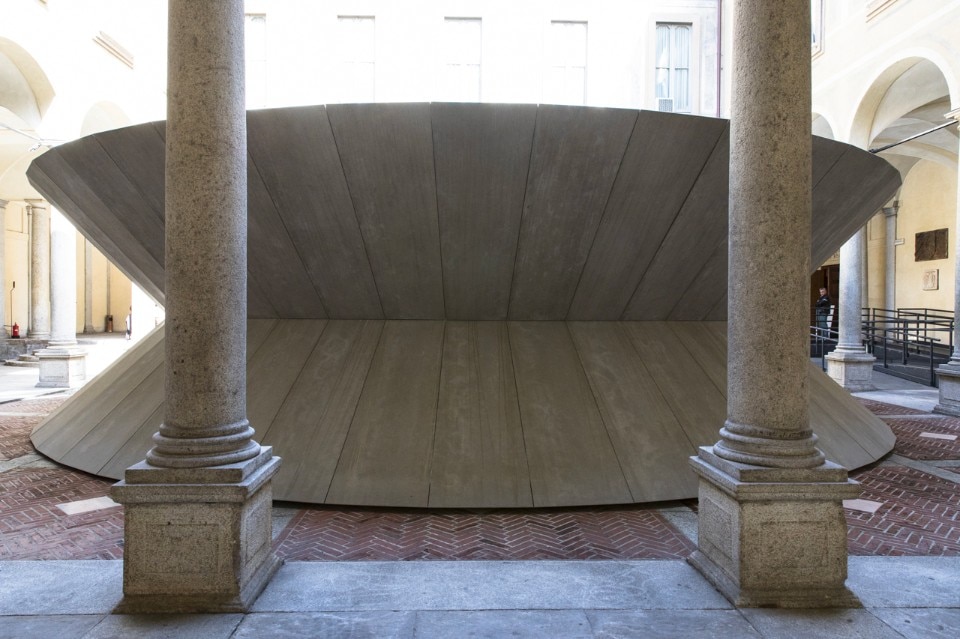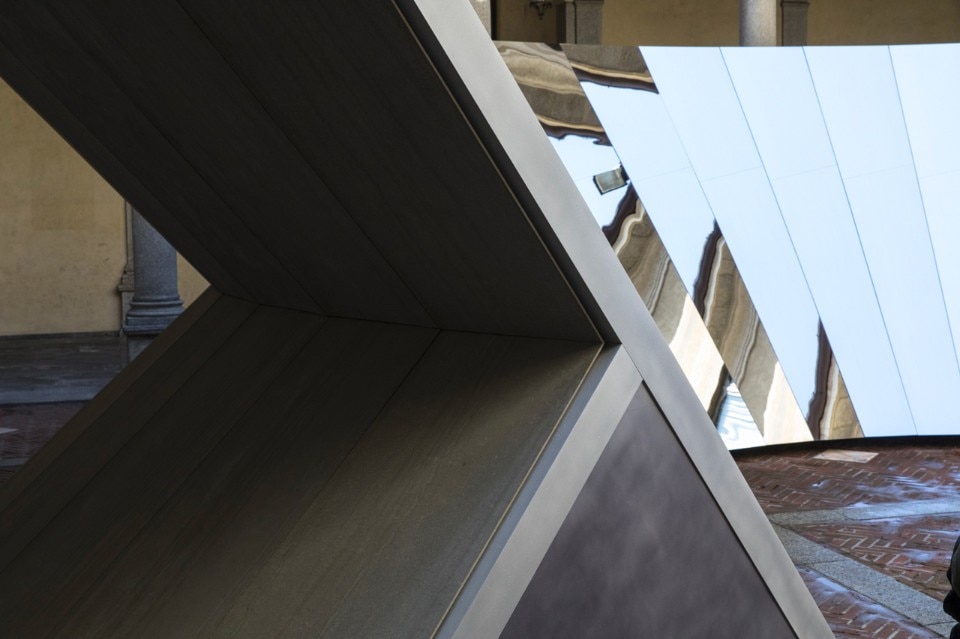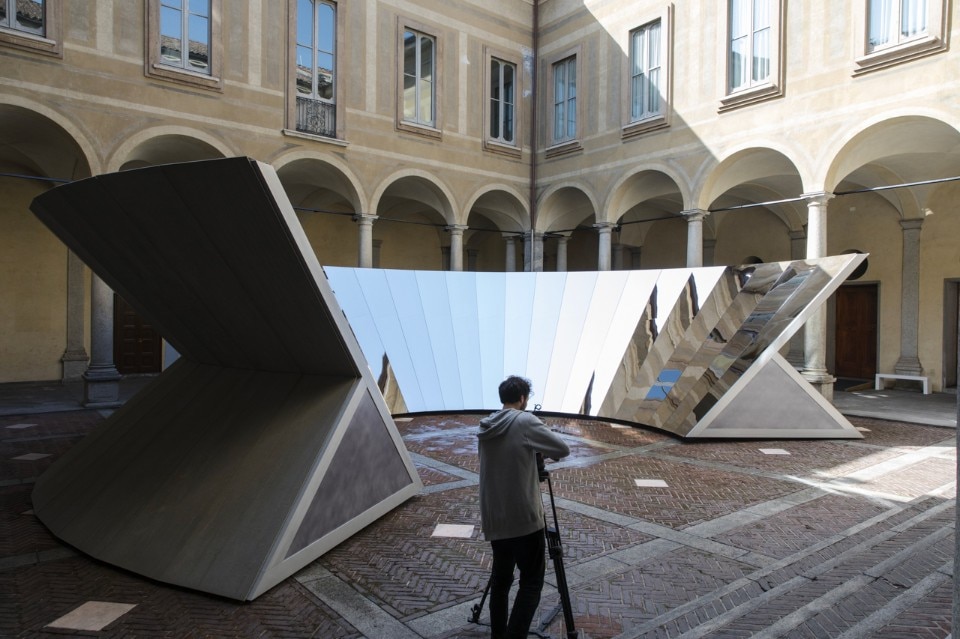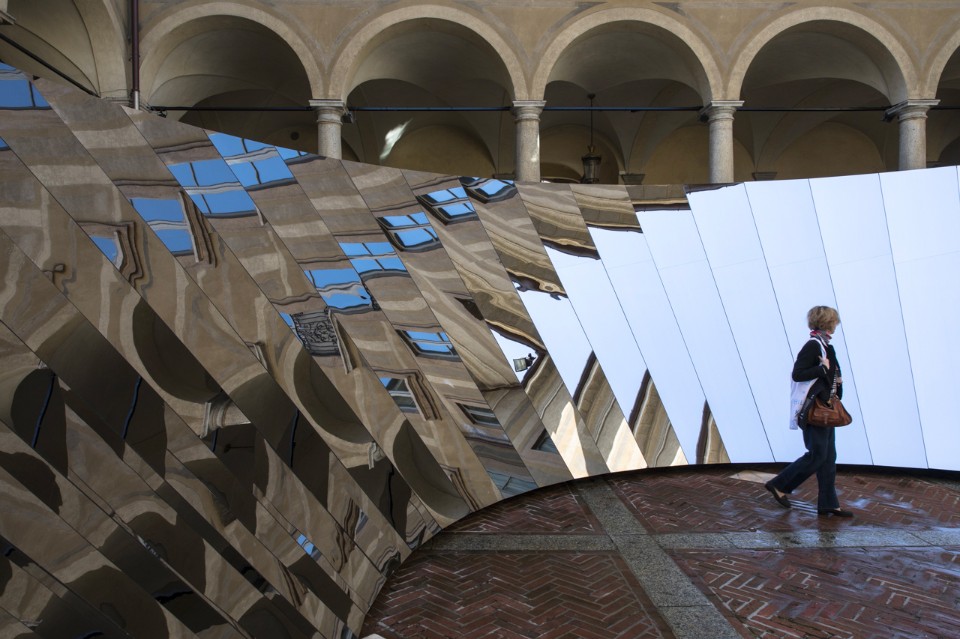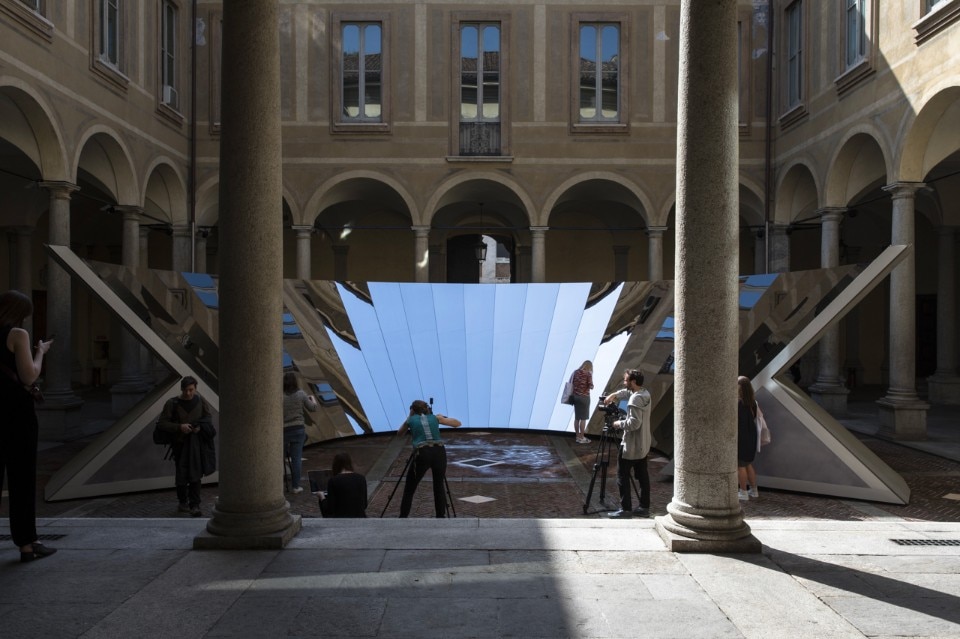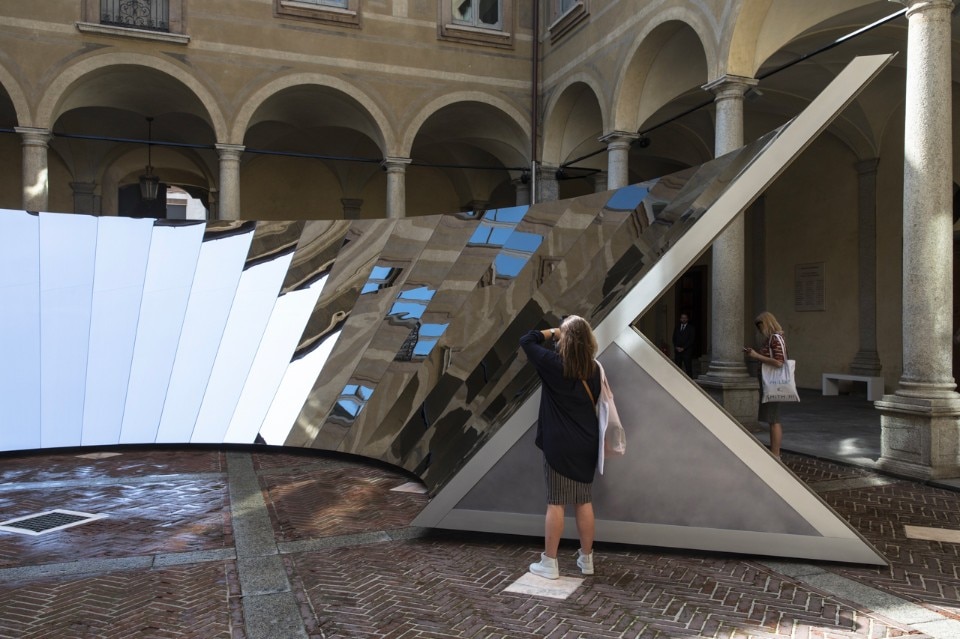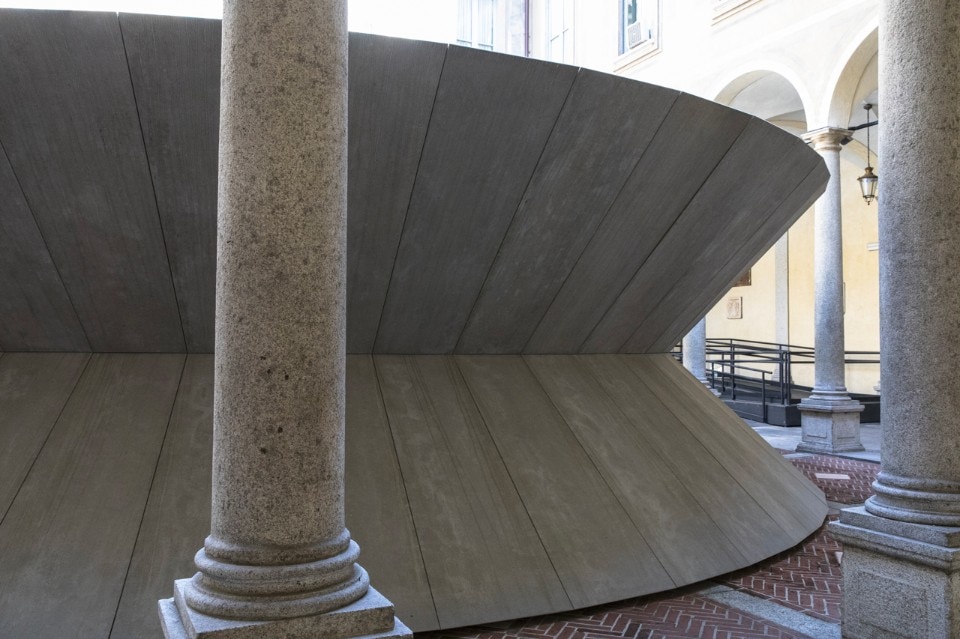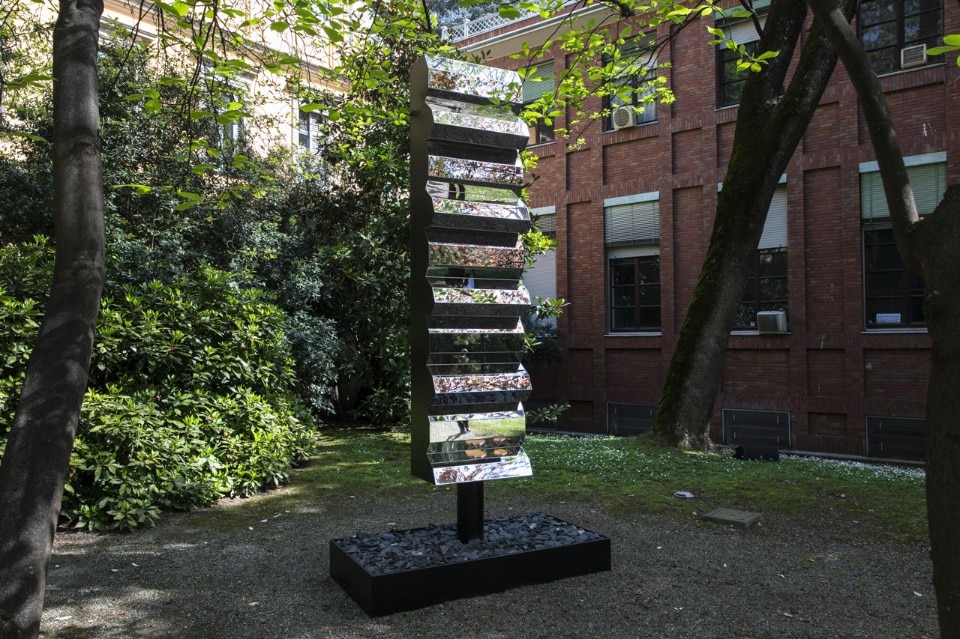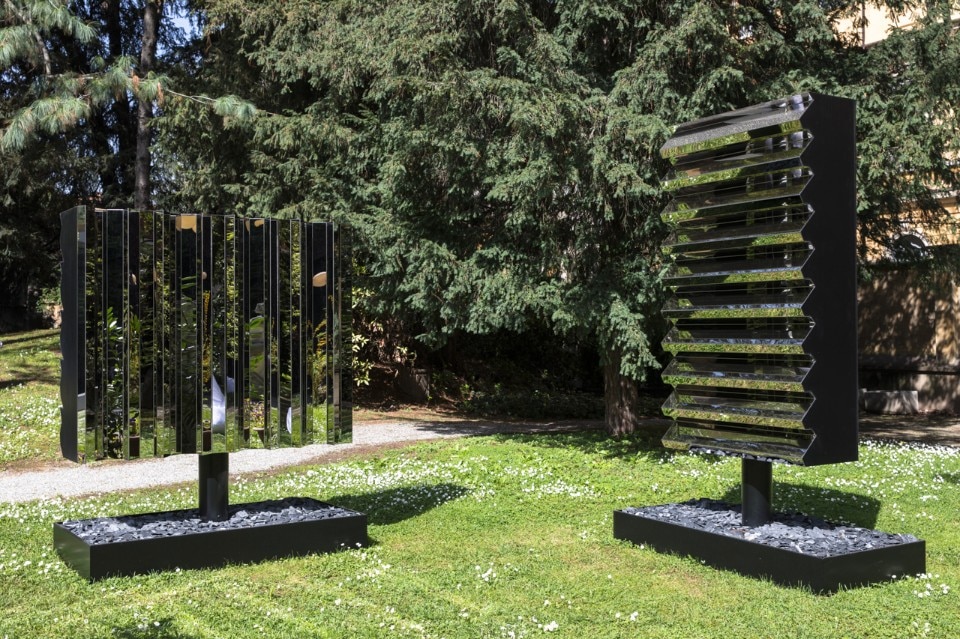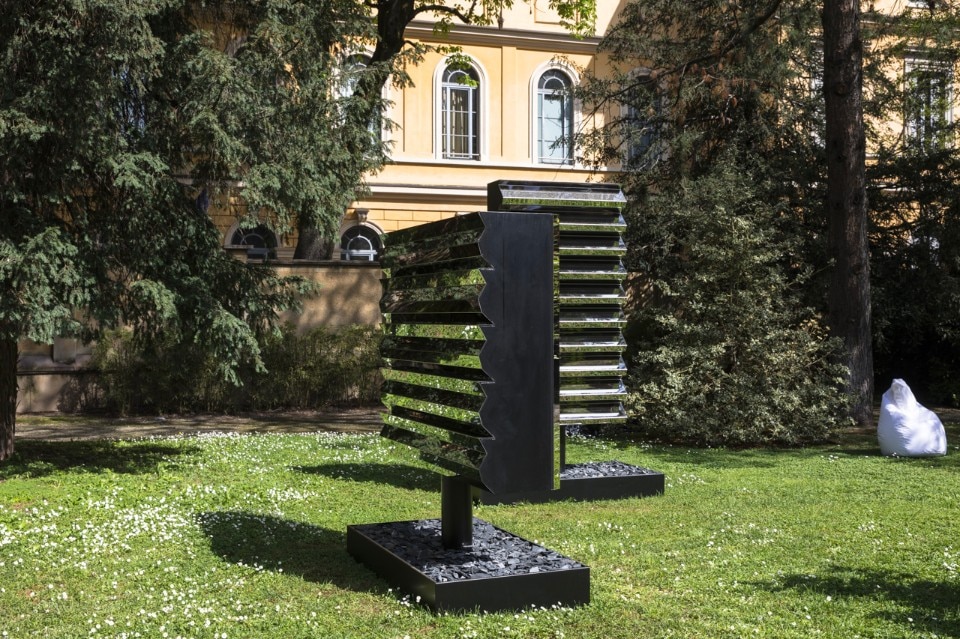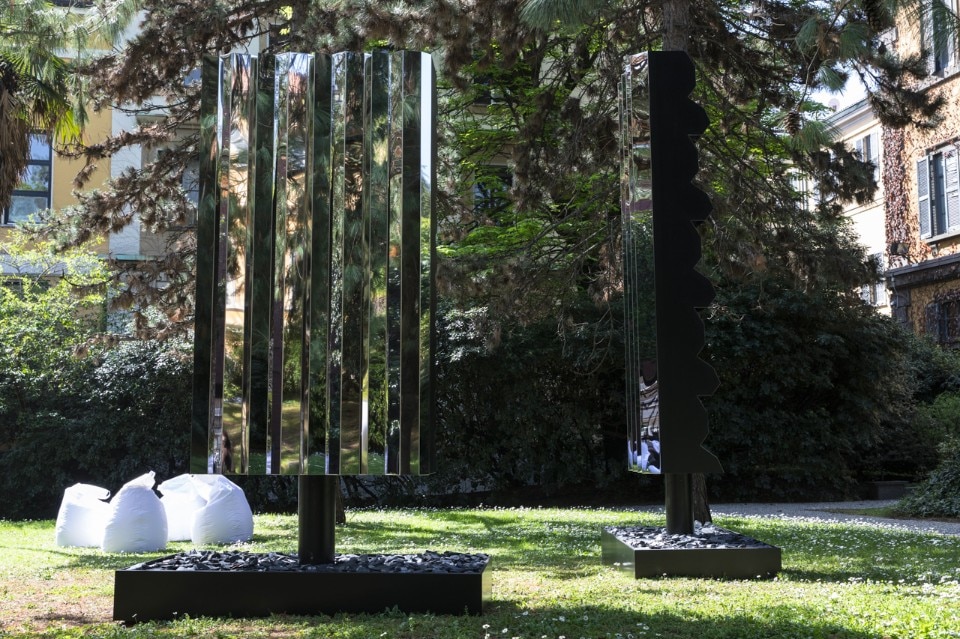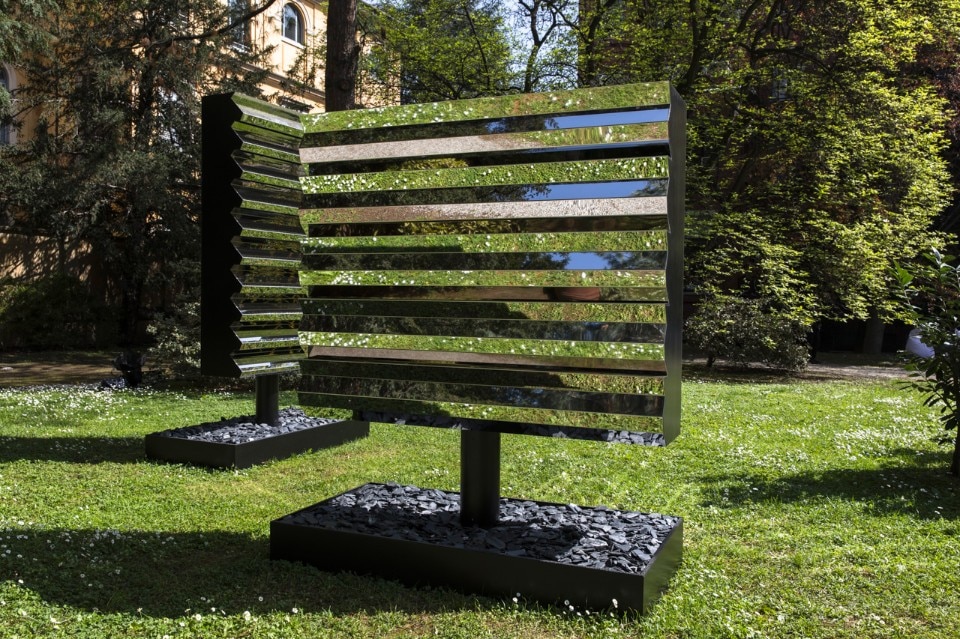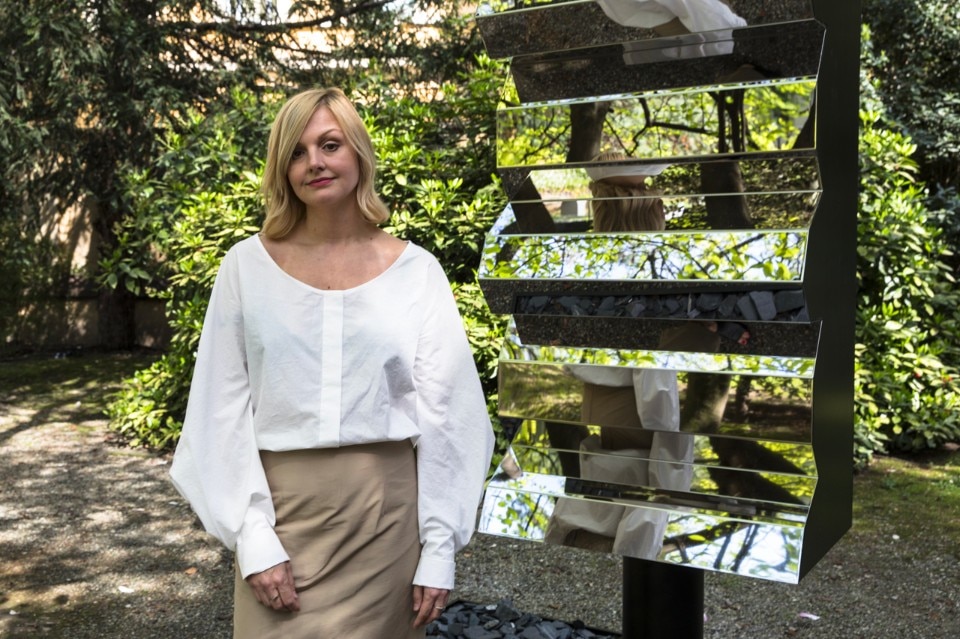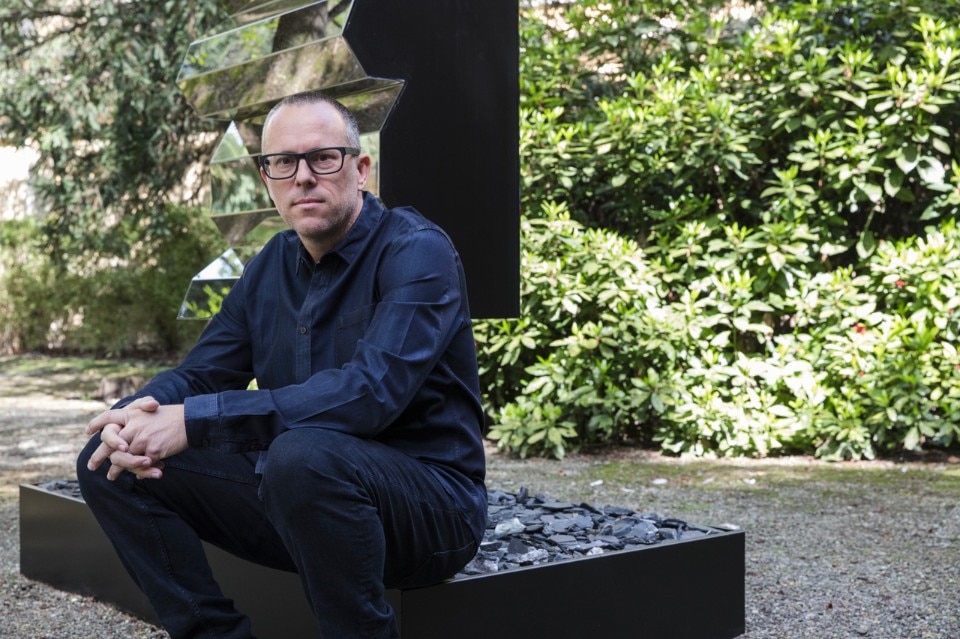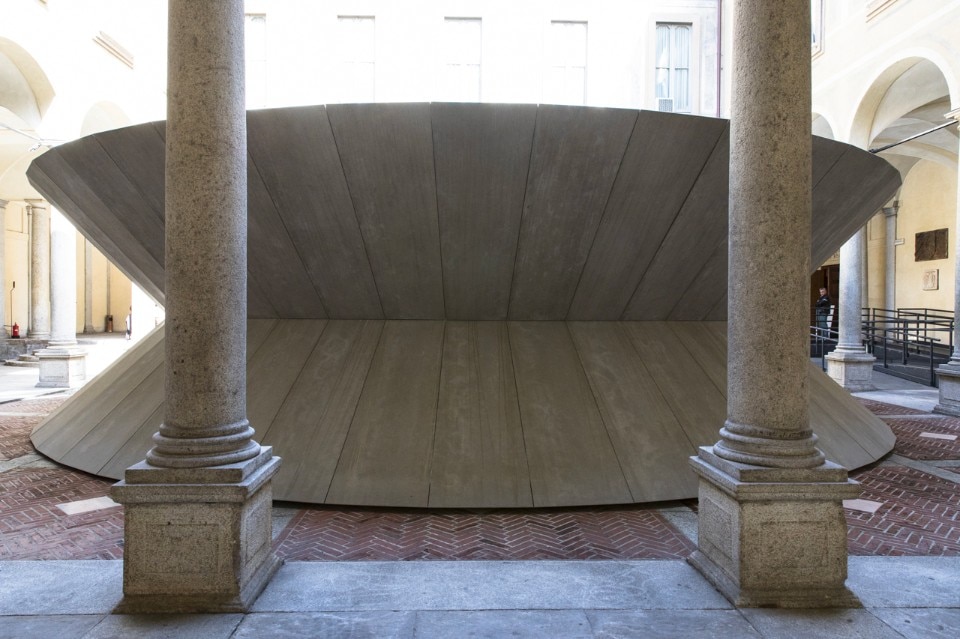 Img.1 Phillip K. Smith III, Open Sky, Palazzo Isimbardi, Milan, Fuorisalone 2018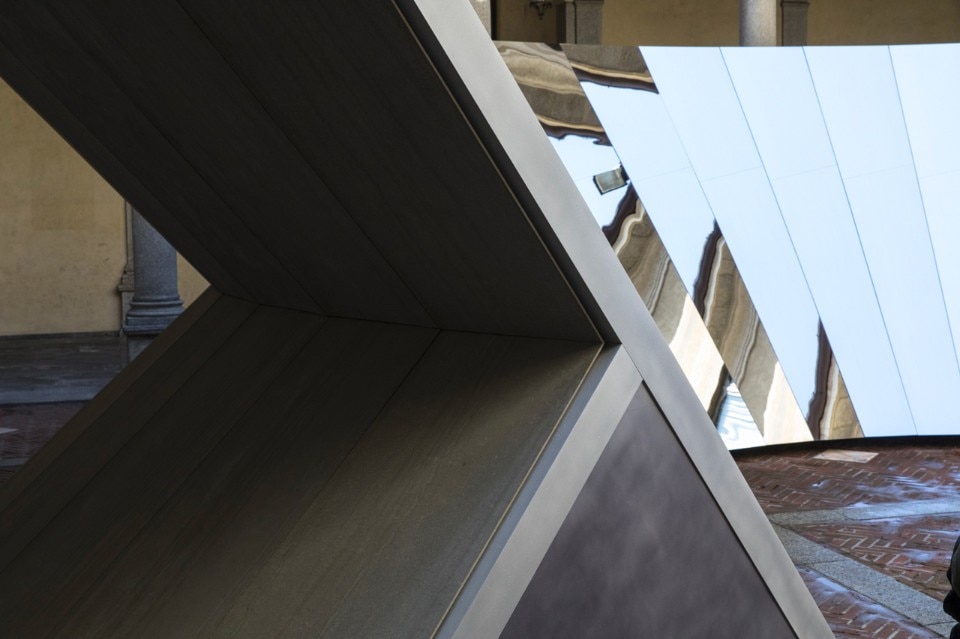 Img.2 Phillip K. Smith III, Open Sky, Palazzo Isimbardi, Milan, Fuorisalone 2018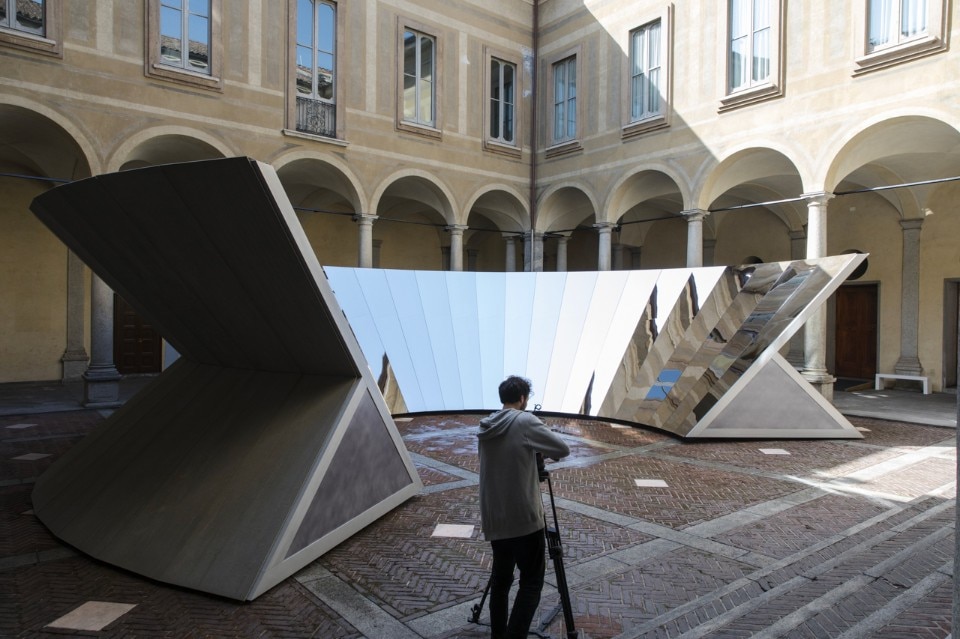 Img.3 Phillip K. Smith III, Open Sky, Palazzo Isimbardi, Milan, Fuorisalone 2018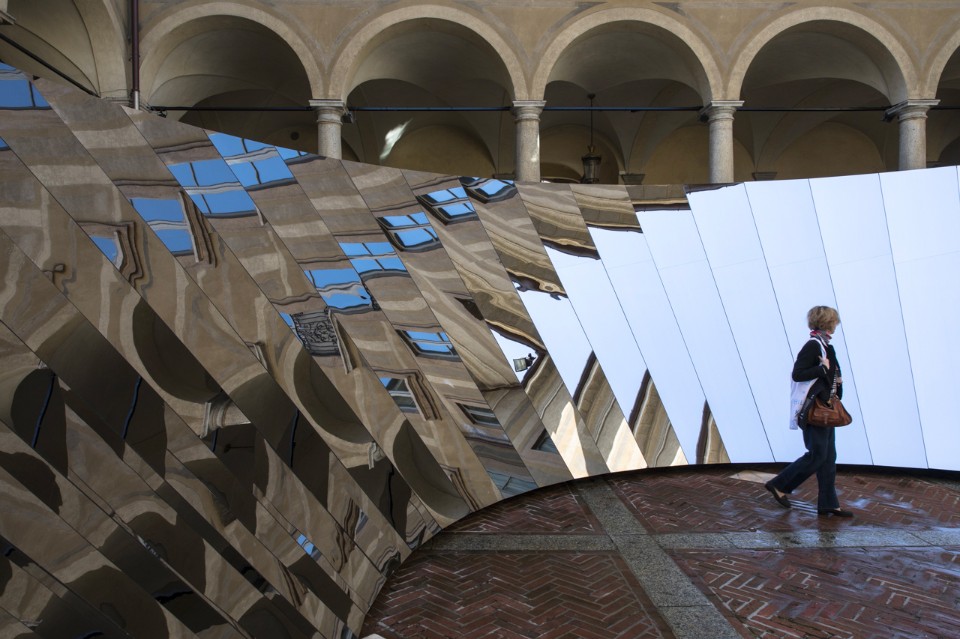 Img.4 Phillip K. Smith III, Open Sky, Palazzo Isimbardi, Milan, Fuorisalone 2018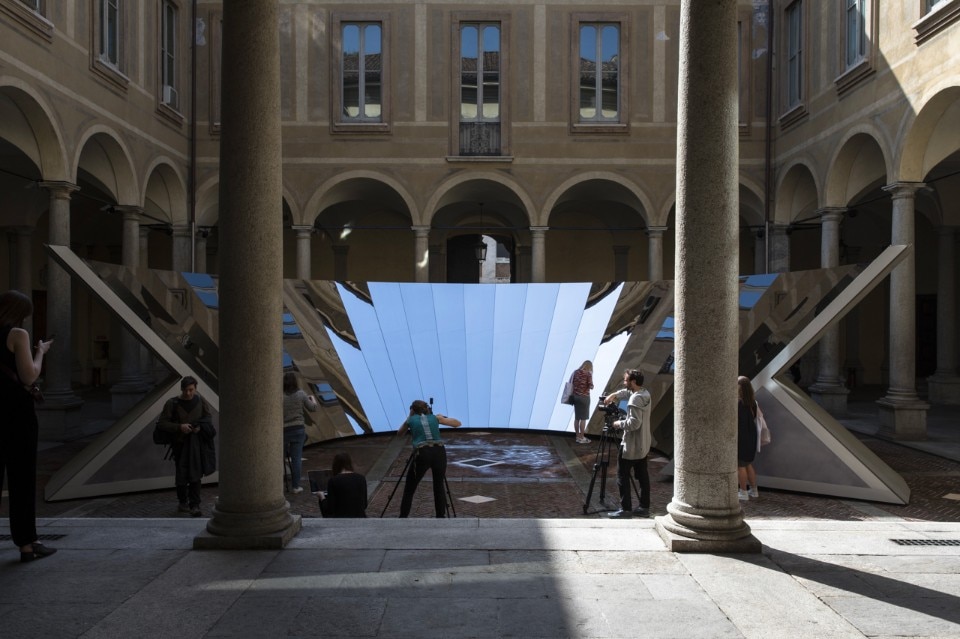 Img.5 Phillip K. Smith III, Open Sky, Palazzo Isimbardi, Milan, Fuorisalone 2018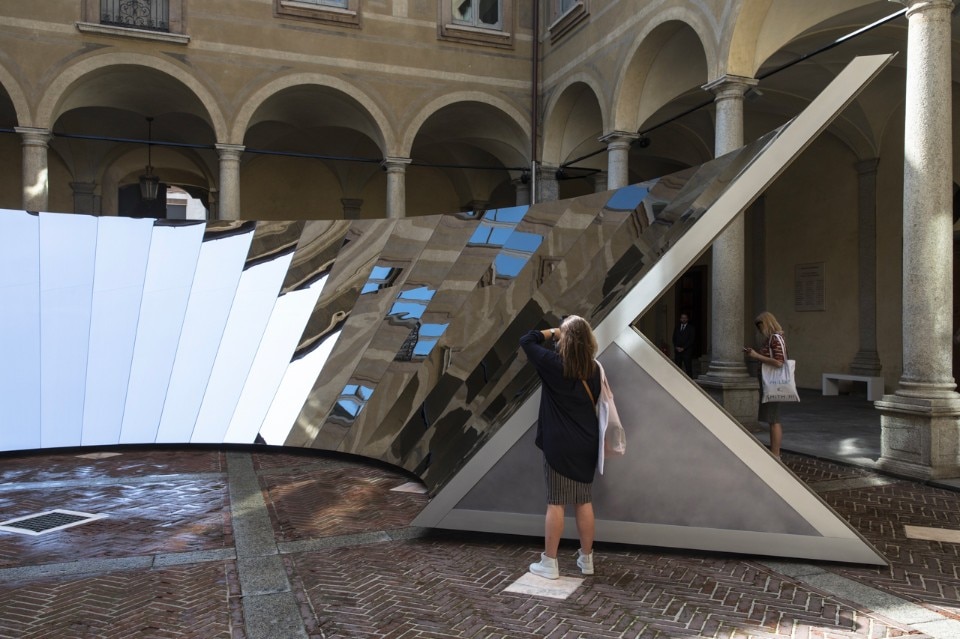 Img.6 Phillip K. Smith III, Open Sky, Palazzo Isimbardi, Milan, Fuorisalone 2018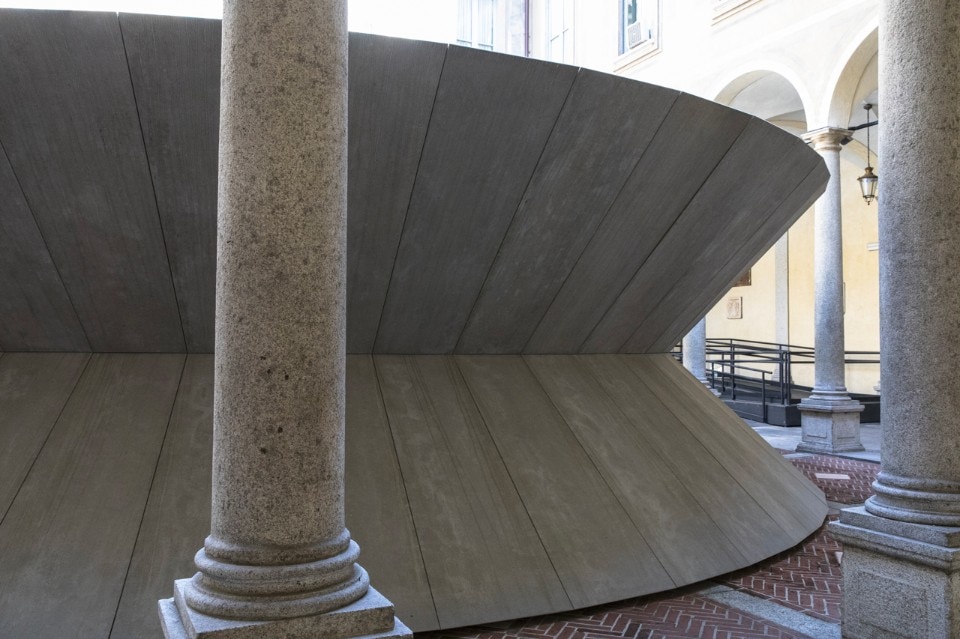 Img.7 Phillip K. Smith III, Open Sky, Palazzo Isimbardi, Milan, Fuorisalone 2018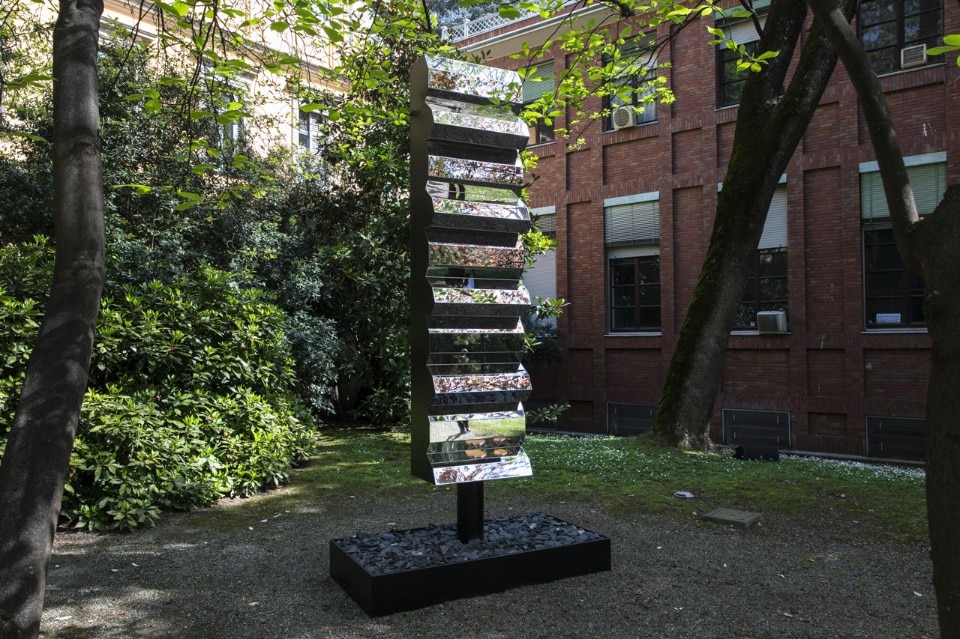 Img.8 Phillip K. Smith III, Open Sky, Palazzo Isimbardi, Milan, Fuorisalone 2018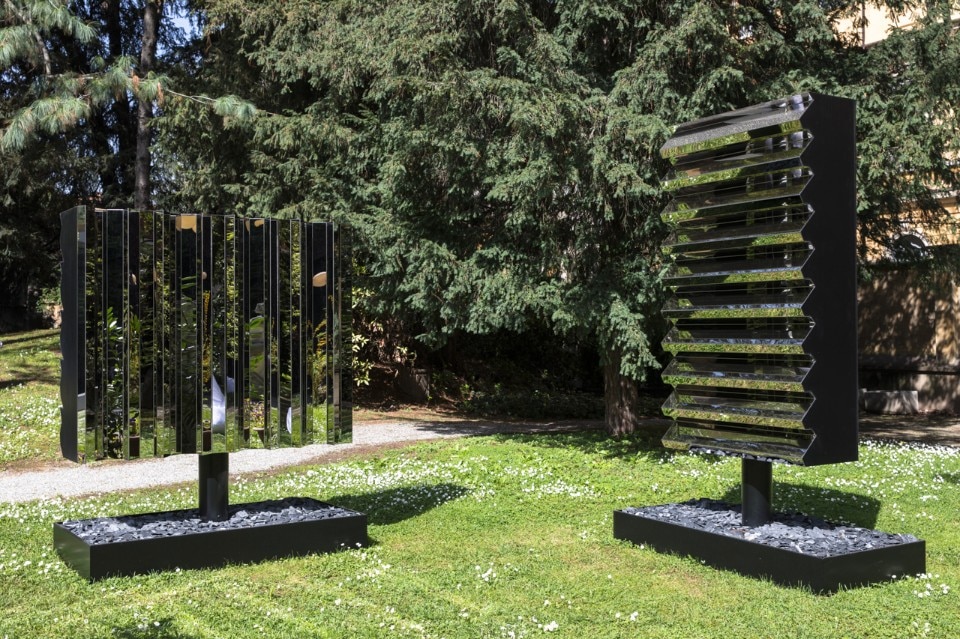 Img.9 Phillip K. Smith III, Open Sky, Palazzo Isimbardi, Milan, Fuorisalone 2018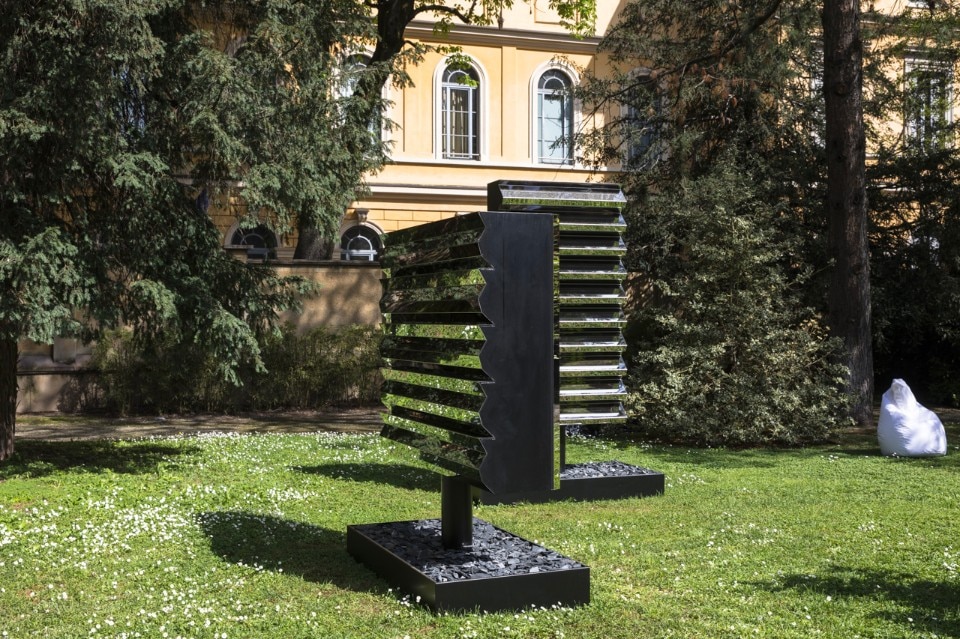 Img.10 Phillip K. Smith III, Open Sky, Palazzo Isimbardi, Milan, Fuorisalone 2018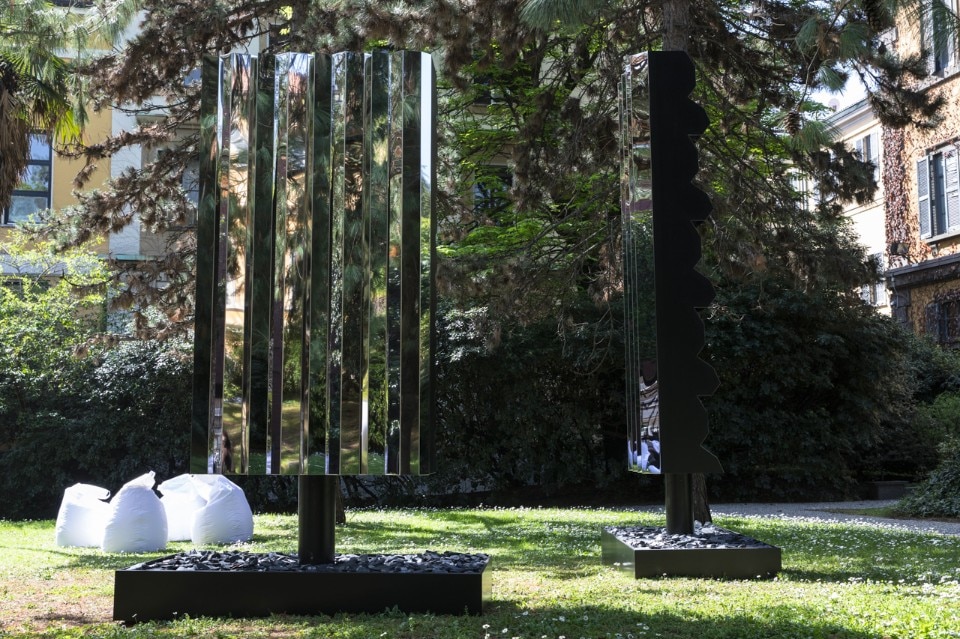 Img.11 Phillip K. Smith III, Open Sky, Palazzo Isimbardi, Milan, Fuorisalone 2018
Img.12 Phillip K. Smith III, Open Sky, Palazzo Isimbardi, Milan, Fuorisalone 2018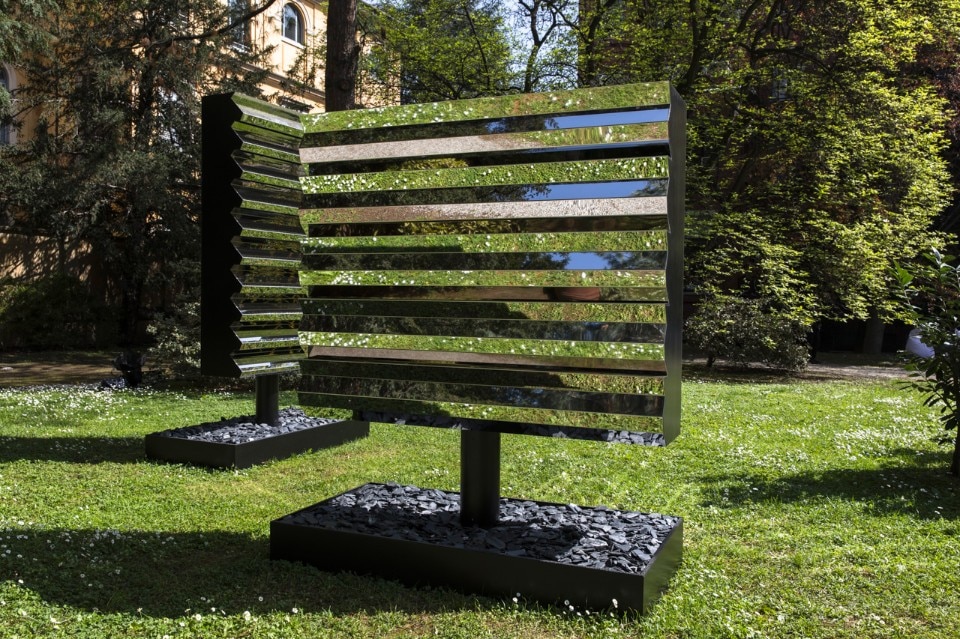 Img.13 Phillip K. Smith III, Open Sky, Palazzo Isimbardi, Milan, Fuorisalone 2018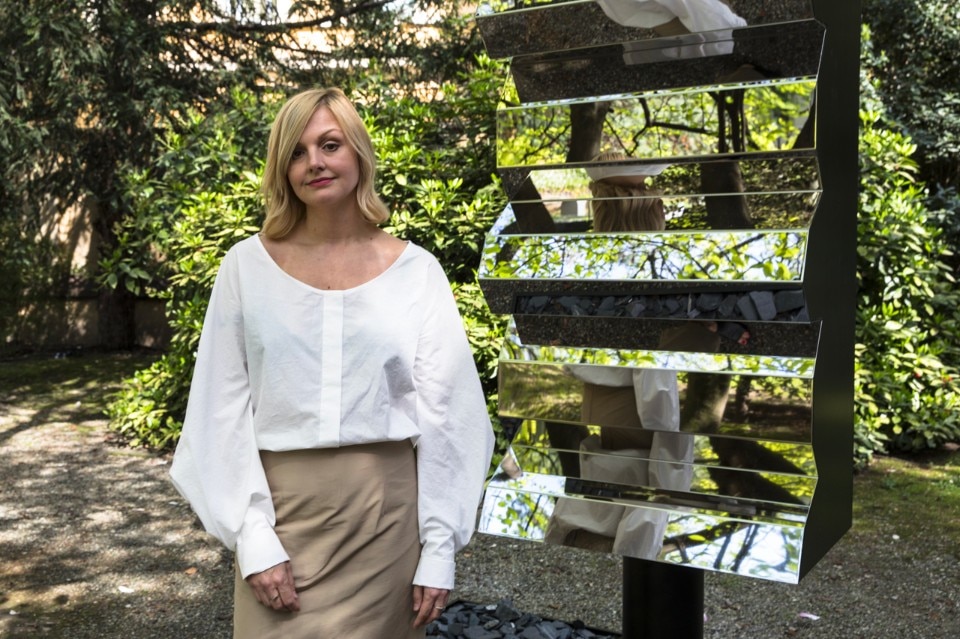 Img.14 Phillip K. Smith III, Open Sky, Palazzo Isimbardi, Milan, Fuorisalone 2018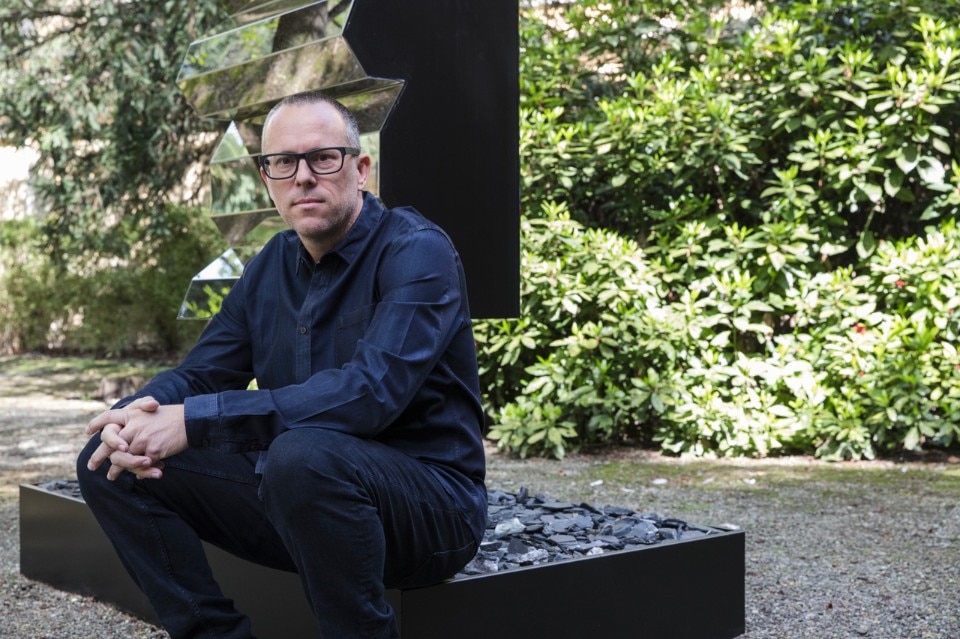 Img.15 Phillip K. Smith III, Open Sky, Palazzo Isimbardi, Milan, Fuorisalone 2018
What is the most concise way to describe your work?                                 My work is inspired by light and change. By 'light', I mean the movement of the sun and the effects of refraction and reflection which it causes, together with colour. Instead, with 'change', I mean the changing of something before our eyes, of a LED surface programmed by computer according to the changing of the clouds and the colours of the sky when it is carefully observed.
Are these aspects of life which have accompanied you during your childhood and which, now you are an adult, you wish to recreate or examine?                                                                                                                                As a child, I don't believe I ever imagined that one day I would have begun this career.  But the desert landscape of southern California, where I grew up, had a profound influence on me, both consciously and unconsciously. Actually, I would say more unconsciously. when I was young, and I spent much of my time on excursions into the Mojave desert and in Death Valley, trips which I always made alone. After eleven years spent on the East Coast, in Boston and New York, I returned to California in 2000. Suddenly I was once again aware of the strength of the desert, especially of the incredible light phenomena which take place every day.
What have been your artistic influences? Above all, are they still the same?                                                                                                                               At the beginning, I had what could be considered spiritual guides, in particular James Turrell and Dan Flavin. These are artists who boldly maintained that using light as a material was nothing to be ashamed of, a concept which, at the time, was completely revolutionary. In comparison to them, I consider myself to be a second- or third-generation light artist. Another aspect which made these artists stand out, together with Brancusi and Sol Lewitt, was their ability to distil their ideas down to their essential elements, to the point of touching on the most intimate aspects of human nature through works which are simple and full of beauty. However, I have also been heavily influenced by architecture. Among many, I am particularly taken by Louis Kahn, Le Corbusier, Gio Ponti and Arata Isozaki. During my current stay, I am discovering Milan, and today I passed by the Feltrinelli Foundation, by Herzog & De Meuron, which is splendid.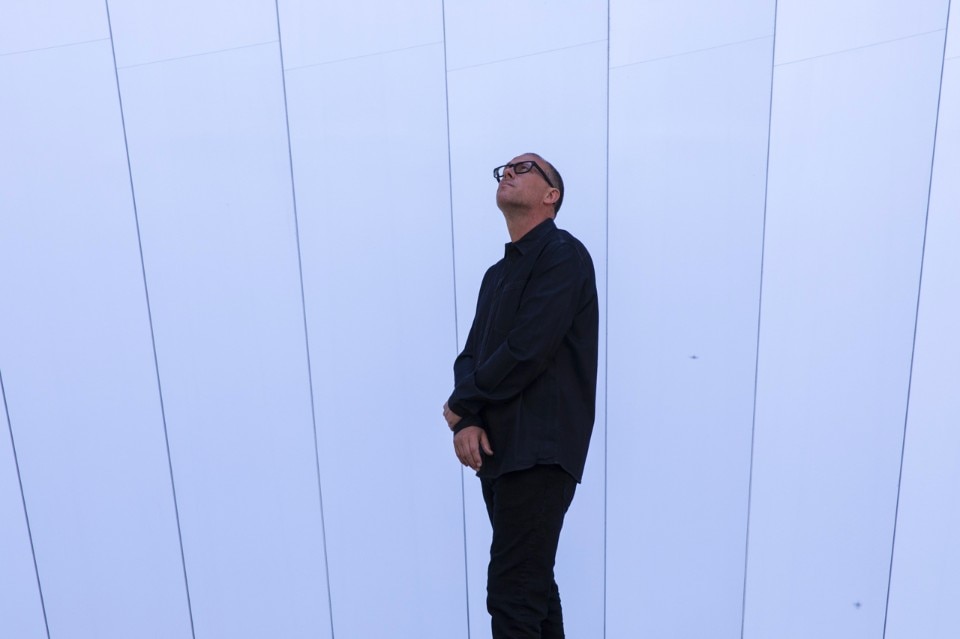 How did this collaboration with COS begin? Did you already know about their projects as part of the International Furniture Fair?           I was very aware of them, yes, and when they contacted me it was a great surprise. I think this was around September of last year. I have always received many requests to work with fashion brands, and others, but this is the first time I have accepted, and I did so because of these Milan installations. I have only seen one live, New Spring, from last year, a tree from which bubbles full of steam fell. It was on display in Miami while I was preparing an installation on the beach. It is a high-quality work, so simple and effective. Whoever came into contact with it became a child once again. It was clear that the artists had had much freedom in creating it, which is a characteristic of COS that I have had the opportunity to experience during my creative career.
Would I be exaggerating in imagining that the working method was more or less "this is the space, do what you want"?                                      I would say that it was practically like this. They told me that they liked my work, and wanted to collaborate with me, and that it would have been their first time with an outdoor project in a historical location in the centre of Milan, the courtyard of Palazzo Isimbardi, followed by an informal "see you in a month". The project for the Open Sky installation which I then presented in their London offices is almost exactly the same as the one that Fuorisalone visitors will see with their own eyes from 17 April.
Is it the first time that your language has been used to dialogue with 16th century architecture?                                                                                 Yes. It is also my first international project. The opportunities that I have had up to now have always involved open spaces, near to oceans or in the middle of the desert. Now I am not only adding the urban environment of such a historical city as Milan, but the confined space of an inner courtyard of a 17th century building, albeit renovated. It is a venue which, as is always the case with site-specific works. had a lot of influence on me, even though the classic structure of Italian architecture, with inner courtyards, was familiar to me. I discovered them in the mid-1980s, when I spent two semesters in Rome at the European Honours Programme. It was therefore very exciting to be able to work on this Italian archetype.
How does Open Sky work, exactly? Were there any obligations or restrictions regarding size and height regarding the courtyard?         If there were, I was not aware of them. Also, because when we presented the project to the Municipality. there were no objections, it was immediately and warmly approved. Furthermore, Open Sky is independent of the architectural structure of the courtyard. Basically, it is a semi-circular cone-shaped structure, with the surfaces covered in faceted mirrors. On entering the interior of the building, what one sees is the back of Open Sky, an abstract structure in concrete panels. What I imagine is that at this point the people begin to move around this structure, until they reach the internal mirrored part, which from a distance reflects the building, while from close up, it reflects the sky.  
Open Sky is therefore a moving installation, but only in relation to the position of the viewer.
The viewer is free to move and to experience the installation in both a physical and sentimental relationship, which changes according to the time of day, or to whether it is sunny, raining, cloudy. A moment which can never be exactly the same.
So, the idea of Open Sky is to return to see it at different times of the day?                                                                                                                Personally, that is what I suggest, and it is the case with all of my works, which have become a way to have an augmented experience of an atmospheric phenomenon, usually the sunset. In the case of Open Sky, it is how the sky and the building react together in regard to the light. As well as the main structure, in the garden which is reached by going beyond the courtyard, Open Sky has another five structures which reflect the greenery, the sky and, one again, the building, but this time a view of the rear of the building. These are vertical and horizontal pieces which have a corrugated surface that destroys spatial coordinates, with reflections that invert land and sky, east and west.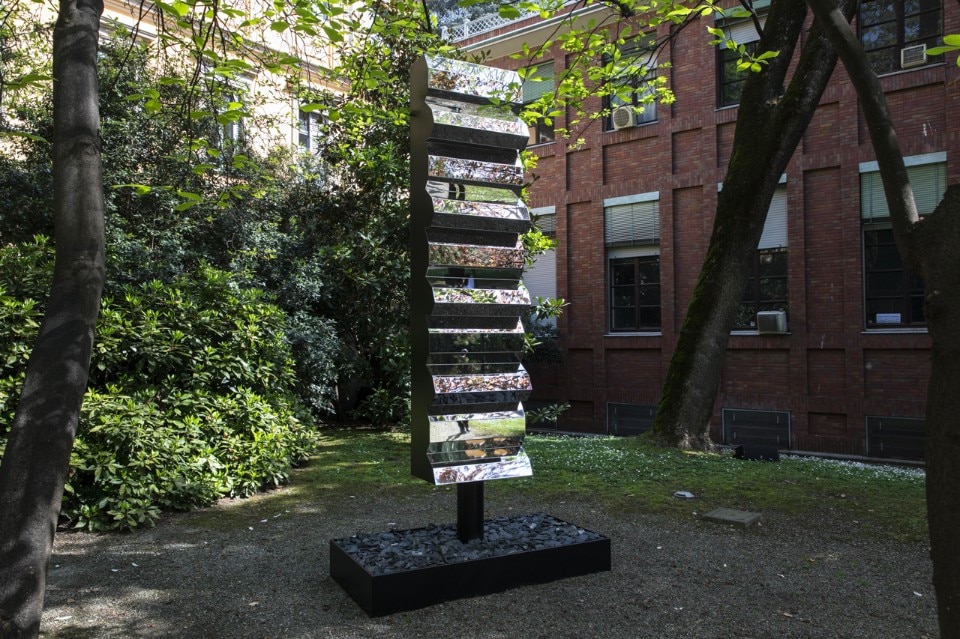 When you begin to consider an installation, where do you start? From intuition, from materials, or form the location?                                    I am always inspired by the characteristics of the location. One of the first - and largest - mirrored-surface works that I have created was an arch which followed the natural curve of a beach in Laguna Beach, in California. It was made up of mirrored pillars inserted into the sand. My brief was to represent the location by doing something that was in competition with the Californian sun, with the sense of the infinite quality of the horizon, which was, quite simply, an impossible challenge. The only acceptable solution was to invite the landscape into the work through reflection. Thus, as the landscape changed, the work changed with it, acquiring life and changing size.
In the specific case of Palazzo Isimbardi, I was inspired by the square portion of sky presented by the architecture. I wanted to bring the sky down to ground level, making it tangible.
With regards to the materials used for construction, did you work with Italian or foreign suppliers?                                                                    Both. Some parts were made in Italy, others in Brooklyn. It was an Italo-American collaboration. I have four full-time workers in my studio, as well as another six/eight part-timers, who are involved according to the scale of the project. We mainly work with constructors, however. Even though the invitation for Open Sky only carries my name, there are, in reality, about eighty people involved. After all, my background is architecture, and I like this process of collaboration, which is typical of this discipline, very much, as every one of the people involved is capable and motivated, like me, to produce the best results.
Have you transferred these aspects of transparency, reflection and dematerialisation which are present in your works into the interiors of your home? In other words, do you live in a house full of mirrors, or is there also furniture in there?                                        [Laughing] I like design and I also like furniture. In the house in which I live, in Palm Springs, there are qualities of natural transparency and reflection which I have neither sought out or created, but which suit my personality very well. I am a great believer that the environment in which one lives has a precise effect on our way of thinking. Of course, in that area, all of the architecture is mid-century in style, therefore characterised by the use of floor to ceiling windows, and so light is very much a protagonist in interiors. My house has terrazzo floors which completely reflect the sky and mountains.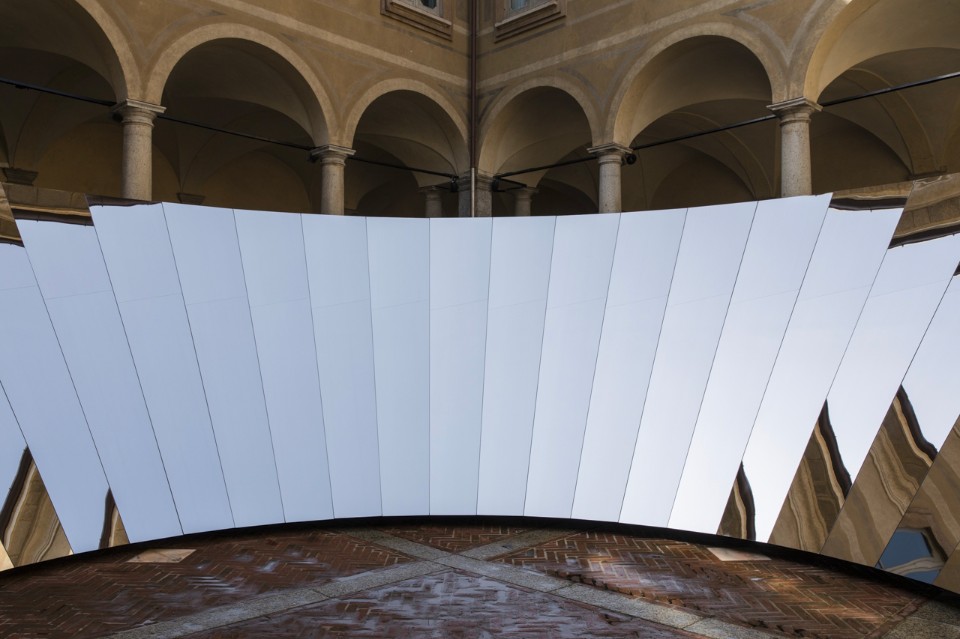 When I saw that you were to be a protagonist of the Fuorisalone, I immediately made a connection with two things: the fact that the ten events from the 2017 fair most posted on Instagram were interactive installations, and that there is an ever-increasing use of ground and fluted glass, which distorts the image of shapes which lie behind. What do you think lies behind this fascination that people have for the immaterial?                                                                                I think that the use of glass, and above all the use of glass associated with technology, has become an important aspect of the communication business. Why? Because we have an immense need for the magical and the mysterious. What other material is capable of translating these categories of feeling? Technology also allows us to blend glass with colour, thus obtaining shading, colour shifting. Much of the popularity of glass also comes from architecture, from constructions which experiment with brand new effects of transparency, both for external and internal surfaces. With regards to the success of the tern installations, I believe that the season is the desire to hold on to the memory of a unique experience, which surpassed the barrier of ordinary reality. One confirmation of this is the huge request for large scale installations commissioned by museums to furnish their entrances, or those in musical festivals to intensify the group experience, such as the one I created for Coachella. This is a phenomenon that almost represents a new artistic genre, one which I am very happy to be part of.
What happens to the installation once its period of exposition is over? Are some parts recycled? Is it disposed of completely?        The Open Sky project can be dismantled to the point in which it is stored almost entirely in a single container, as though it were an item of flat-pack furniture. With regards to the future, we are working on this, and it also depends on how the Milan public receive the work.
What direction do you think your career will take? Do you have any dream projects you'd like to be working on in Times Square, or Red Square?                                                                                                                    Following the oceans of the East and West Coasts, the Californian desert and now Milan, I would like to add other natural scenery to my work. I can say that I am currently preparing three large-scale installations, all characterised by the use of mirrors, colour and LED lights, which allow for the blending of reflections and colours in a controlled manner. These works are programmed for the end of this year and the beginning of the next.
Do you have books, or works of art, that you consult or regularly observe for inspiration?                                                                            Immediately following Milan, I have programmed a conscious trip to the Donald Judd foundation in Marfa, Texas. This is an isolated place where one can admire the works of the artists that I mentioned earlier. However, I gain inspiration for my work from all sources, I watch and read everything. However, one important source of ideas is Mark Rothko, and his special use of colour. I have always wanted to admire the surface of one of his paintings through my techniques. We will see.
Title:

Open Sky

Artist:

Phillip K. Smith III

Opening dates:

17 April 10am-8pm | 18,19 April 10am-5pm | 20,21 April: 10am-20pm

Venue:

Palazzo Isimbardi

Address:

Corso Monforte 35, Milan