There is a guy in Paris, France: let's say his name is Franck. Franck is a big music fan. With the money he gets from his first work, Franck invests in a brand-new BeoSound 9000, Bang & Olufsen's now iconic, high-end CD player, launched in 1986. This was happening 32 years ago – the date also justifies that a young guy on his first salary can afford such a luxurious piece of music equipment. We imagine that time passes, Franck gets a promotion, then a new job, buys a larger house in a nice neighborhood, only not so near to the city center as he used to live. He has never given up on his CD player and now has an extensive collection of discs, listening to which he still prefers over streaming services. But recently, his BeoSound 9000 breaks – and so does his heart, we clearly visualize that. So, he goes to a repair center, and… they fix it. As incredible as it sounds, the device gets back from Denmark fully repaired and with a 12-months guarantee certificate.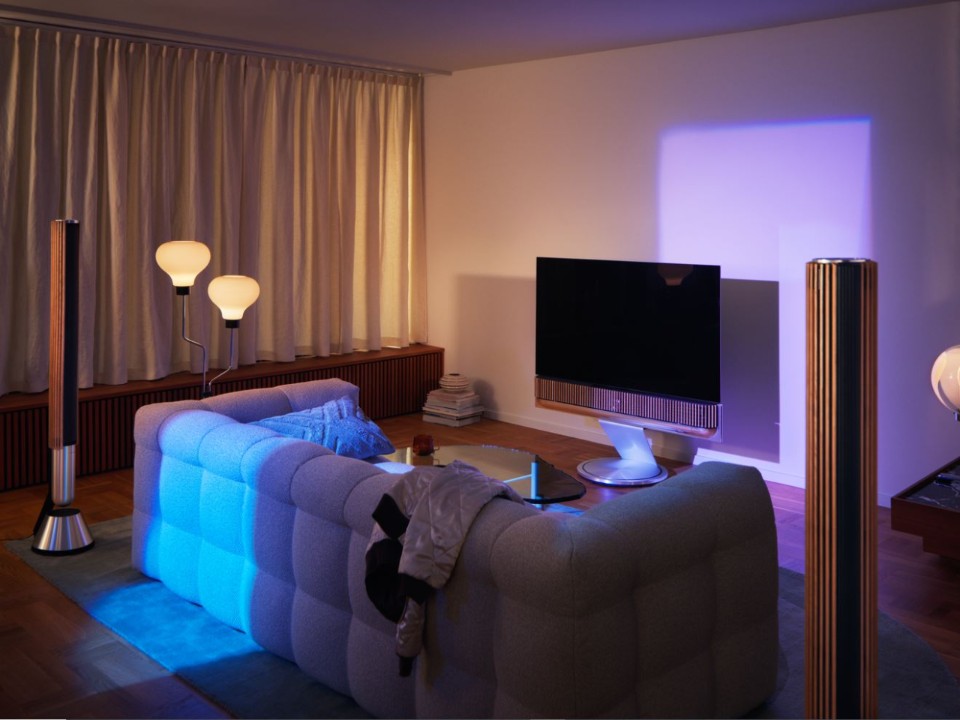 This is (more or less) the story – a true story, he says - that Kristian Teär, CEO of Bang & Olufsen, narrates in Berlin during his press keynote in the days of IFA, Europe's most relevant tech fair, to introduce the company's new flagship product, the Beosound Theatre: a gorgeous soundbar in the company's style, and "built to last for decades due to its modular design, which allows you to update, rather than replace it".
Sustainability is probably the most hyped narrative of the consumer market today, and this product fully represents Bang & Olufsen's approach to the environmental discourse and the climate crisis, continuing – but with a far more ambitious scale- into the path of what the company began with Beosound Level, the modular wireless speaker launched last year, designed "to last a decade" (looks like decades are B&O's favourite time unit, ed.). So, whereas other audio brands mostly play the eco-friendly ace presenting products made of recycled materials, Bang & Olufsen focuses on the longevity of its product, and in guaranteeing a potentially never-ending repair service.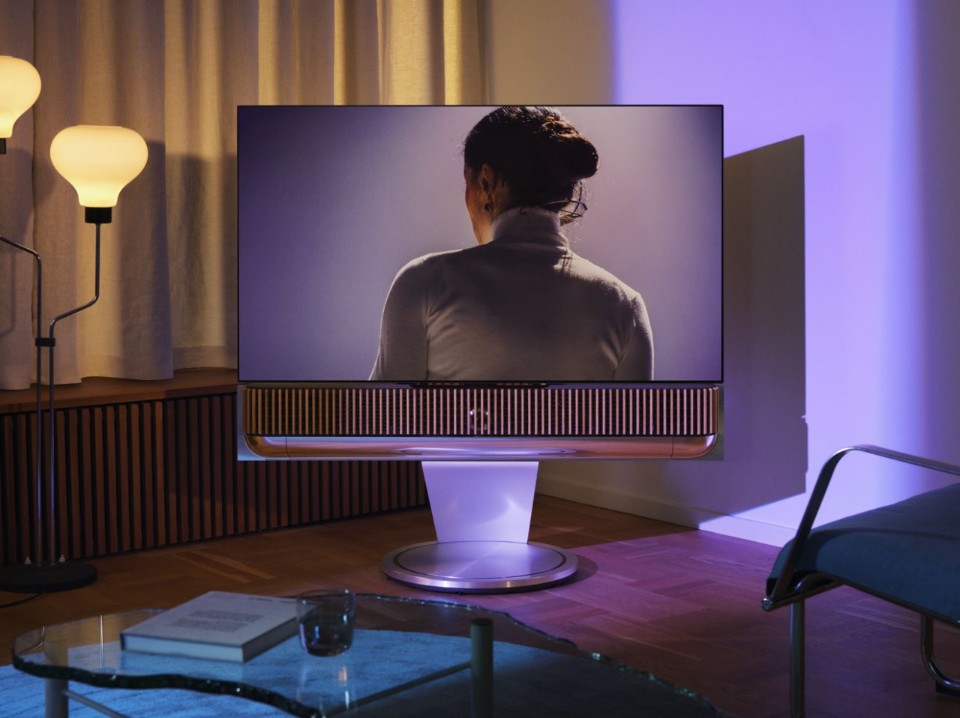 Enter Beosound Theatre
The new soundbar sports a design that continues along the path of previous Bang & Olufsen products which make a heavy volume appear to balance on a pinpoint: the company cites as examples classic music speakers Beolab 8000, and more recent products as Beolab 18 and 28.
Employing both metal and wood (optional) as materials and inspired by "the effortless grace of sailboats", the soundbar's keel-like body – the design was developed by the German agency Noto – looks like resting on an aluminum blade, floating under the TV screen, an illusion crafted at Bang & Olufsen's factory 5 in Struer, Denmark, the epicenter of the company's expertise on metals. Looked at from the side, the soundbar looks a bit like the prow of a Venetian gondola.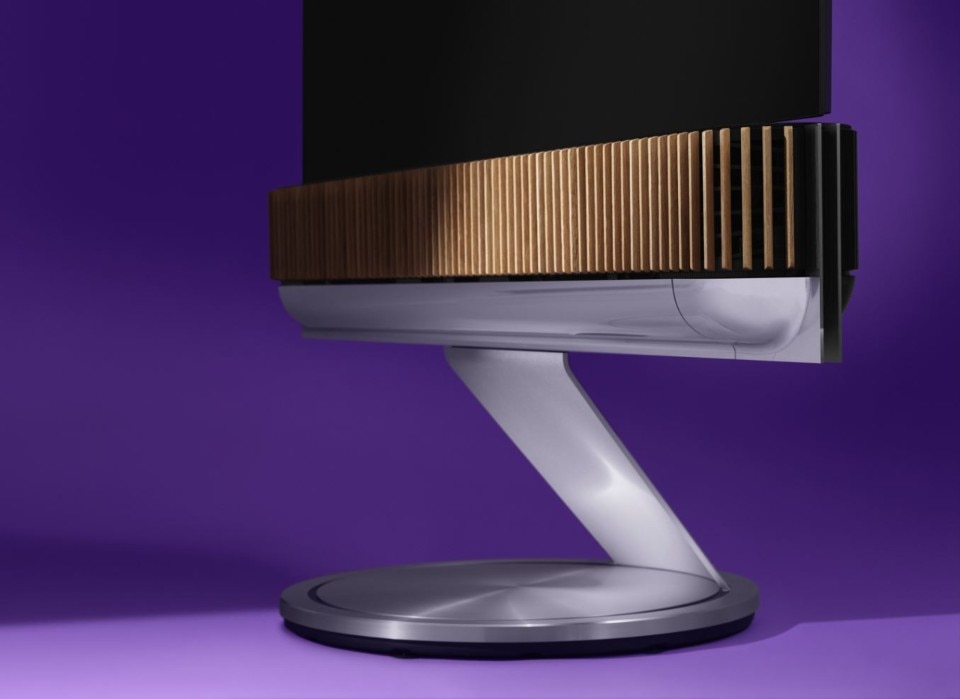 The look and feel after the installation process is not that of a simple soundbar to lay on your living room's buffet, since Beosound Theatre was designed to dock to your home TV screen through a custom accessory, composing an integrated television system, with the screen suspended above the sound device.
Not just a soundbar
According to Miklu Silvanto, Chief Design Officer Bang & Olufsen, this new product represents the solution to two different challenges: the first is if it's possible to pack a whole home theatre system into a soundbar – and the answer is obviously yes, and during the press event in Berlin, B&O's engineers gave a full showcase of what the device, equipped with 12 powerful loudspeakers, is capable of.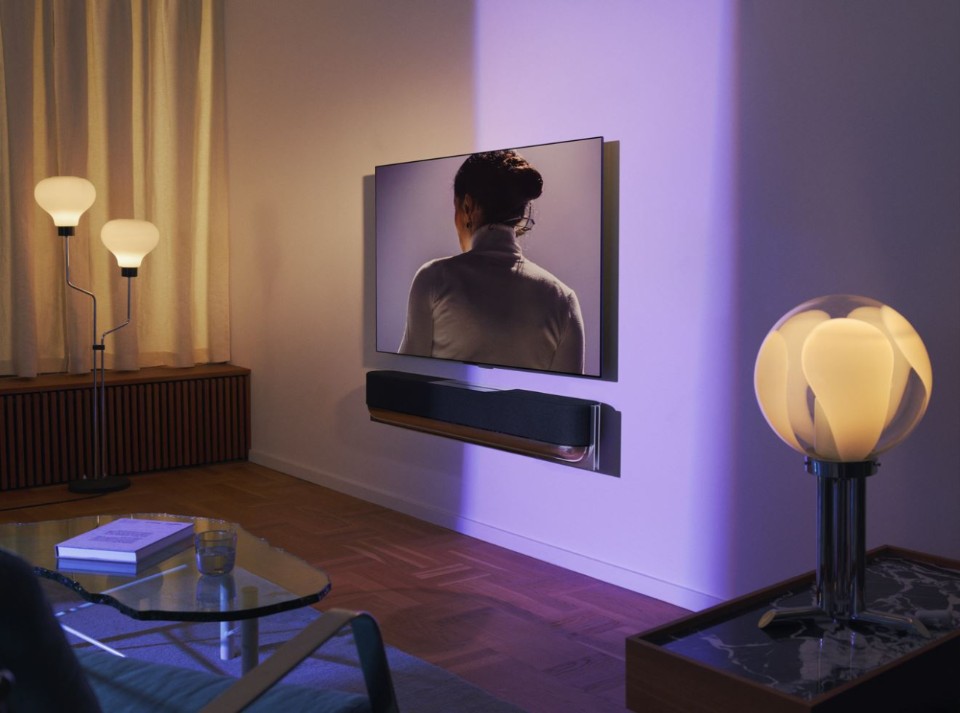 Second, if it's possible to forge a soundbar that outlasts TVs. The idea is that of an audio device that ages with consumers instead of being replaced every few years – like Franck's Beosound 9000.
To achieve this result, the soundbar was created to dock the vastest possible array of TV sets during its life cycle: the cover is replaceable, with aluminium wings that can be extended if users upgrade to a larger display. So, the soundbar size will always fit with the TV set: you only need to replace the old wings with the right-sized ones, and it will still appear as a bespoke television system as the day you bought it, embellished with the Bang & Olufsen design under the anonymous TV screens that will turn over. With this Copernican design, the Danish company inverts the factors, making the soundbar the constant, and the TV screen just an add-on.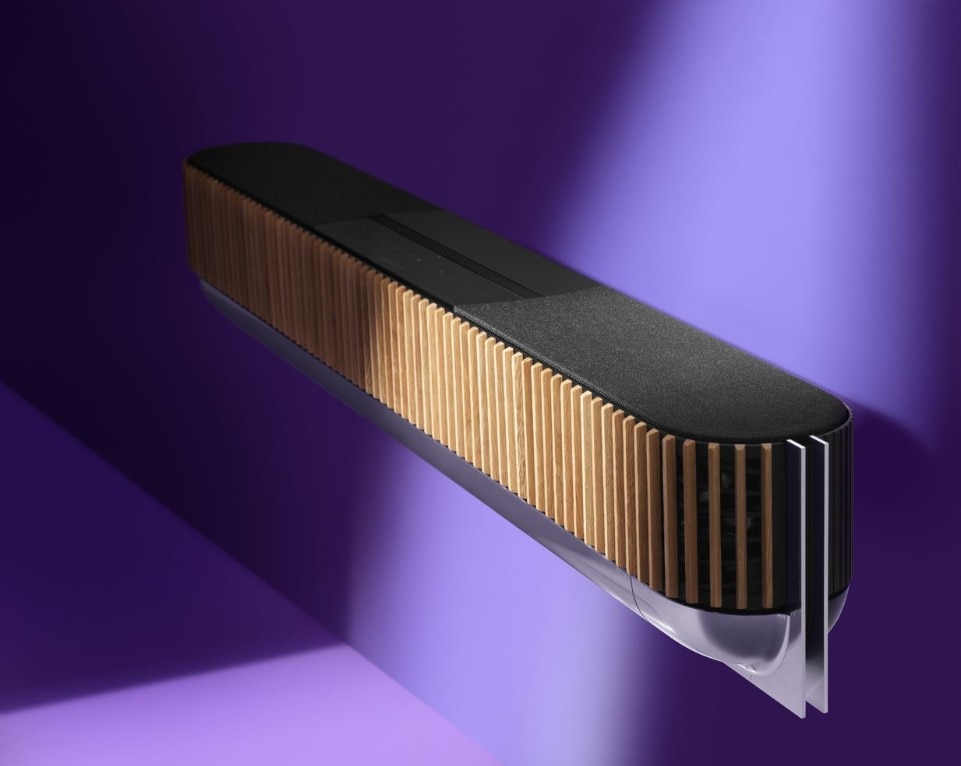 As the leading design concept, modularity finds a vast array of applications in the new Beosound Theatre. The hardware was engineered so that it would be possible to upgrade single parts of it, while the electronics was concentrated on the back of the box, to keep it the safest from possible heat damages. If something breaks, technicians – and maybe users in the future? – will just have to fix or swap the damaged part, and not even consider to trash it and get a new soundbar ASAP as we consider "normal" nowadays. This is something that's happening more and more in product design, from Nike's new Ispa shoes to Apple's Macbooks and VanMoof's bikes. Modularity is the design of our age (as it was in our grandfathers', but that's another story).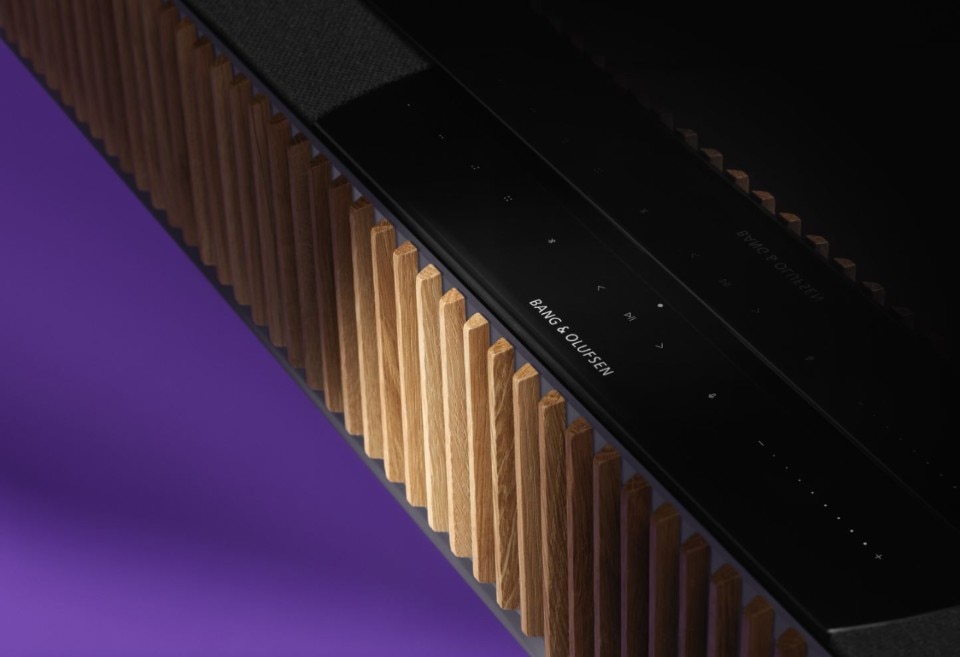 Where past and future meet
Silvanto, who has a past at Apple, compares the Beosound Thetre to one of the most iconic devices of the last decades: "This is our iMac moment", he says – and he's not not referring to the fact that, when it stands on its base, the television system envisioned by Bang & Olufsen reminds of a giant-size iMac, actually.
For Silvanto, this is the product in which many different Bang & Olufsen recent projects and platforms, intuitions and innovations come together in just an integrated item, while it still connects with the past – through the Beolink platform, during the Berlin showcase, he'll later connect the new soundbar with a half a century old turntable and some speakers that are 30 years old, making it all work seamlessly together.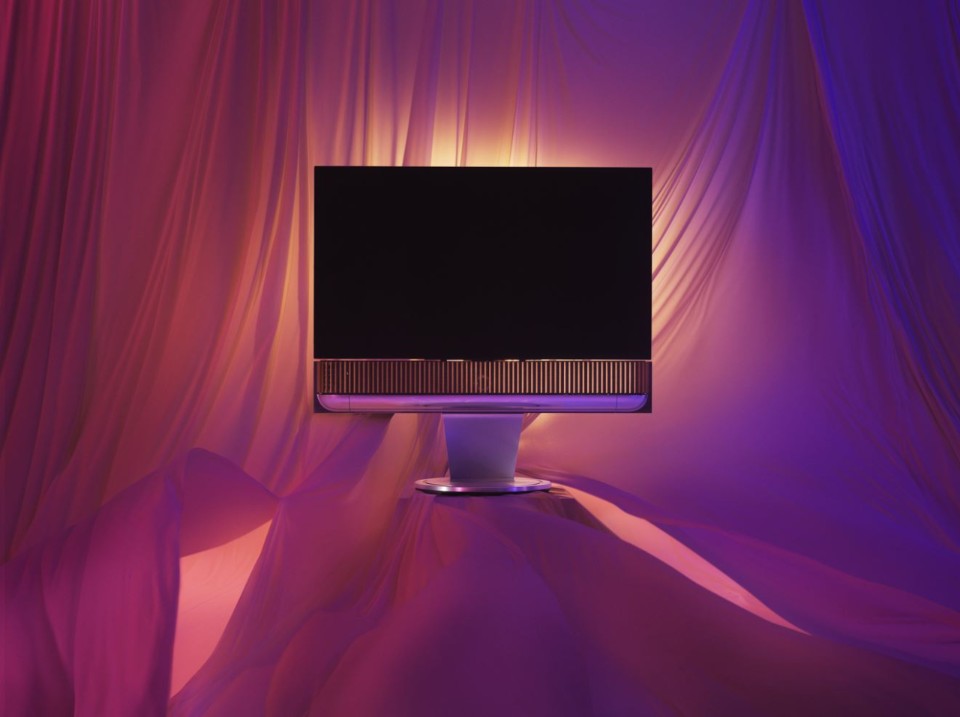 He talks about the company's design evolution, its glorious past – how exciting is working for a brand that has repaired and refurbished 20,000 products in the last year in its service centre in Struer – and the future looking so near, and why he thinks that past and future are values that Bang & Olufsen has to offer, first of all, not to the most affluent customers, but to kids; we discuss how people today enjoy collecting electronic devices, like gaming consoles, which was impossible to think about just a decade ago. We talk about the recent collaboration with Balenciaga and what a luxury brand like Bang & Olufsen is today – "a company that stays at a high level for a long time", he outlines. And while we browse through decades of Bang & Olufsen's hardware design, it emerges that, in his vision, software today has a leading role, because it's where the magic is happening, in a way that could be compared to the emotion that every Franck around the world experienced while loading a new Compact Disc on his Beosound 9000 system: "it was a ritual versus the routine, that of putting the disc onto the tray of a normal CD player".
Beosound Theatre, available in wood or fabric finish, has a recommended price starting at 6,490 euros.